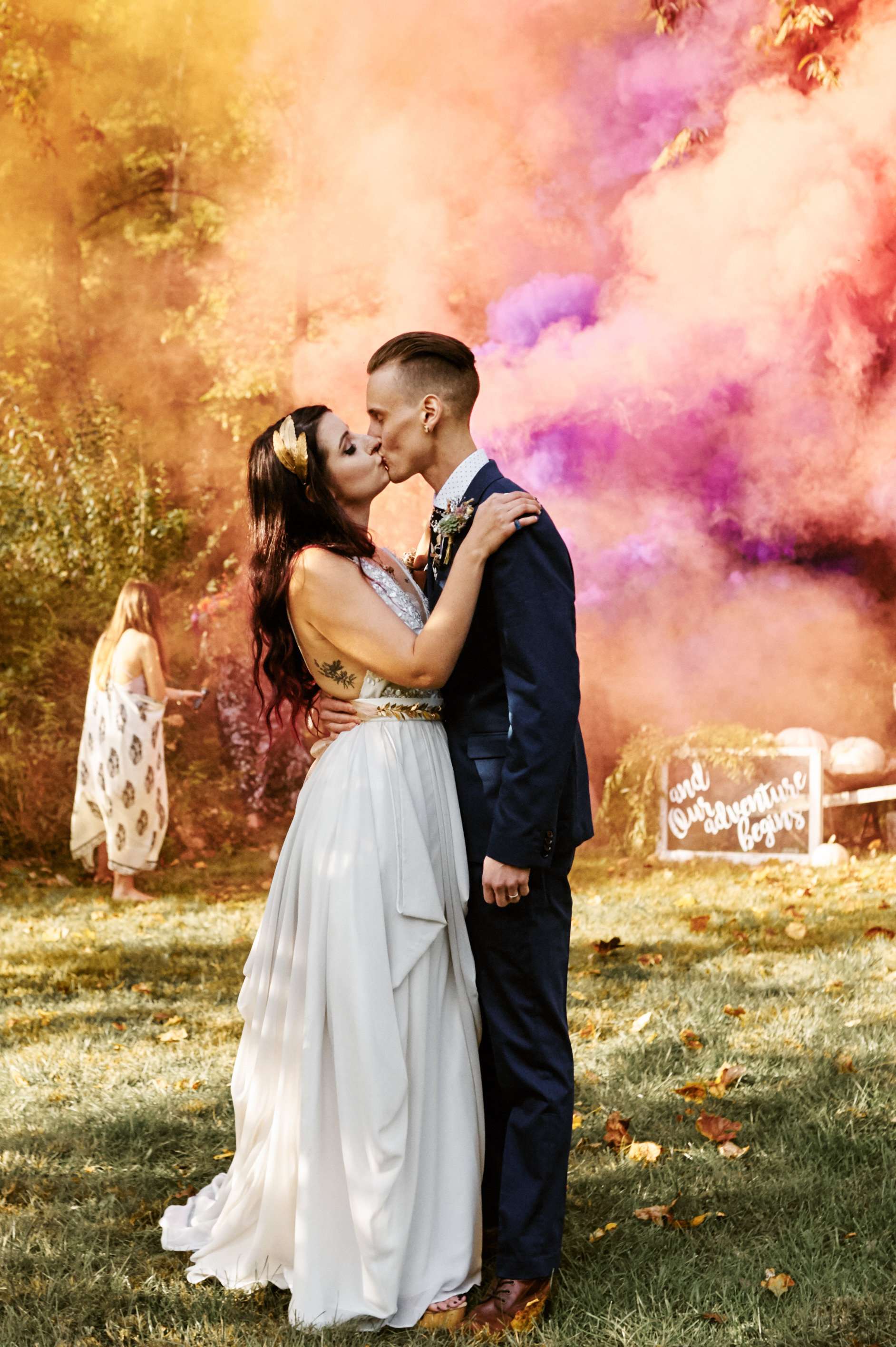 Megan and Mason wanted their wedding to feel like 'them'. While the bride scoured the Internet for real-wedding inspiration, ultimately they just wanted it to represent them as a couple. They planned the day together, equally, and were able to incorporate lots of little personalised elements.
"We included Mason's artwork, my desire to be a woodland fairy princess, and even our love of Lego!" Megan said. "We also wanted it to be as locally sourced and organic as possible, which was a difficult task when planning a wedding so far from where we live. Our theme was kind of all over the place. If I had to pinpoint it I would say it was mostly inspired by bohemian style. We wanted all of the colours and nothing was really off-limits."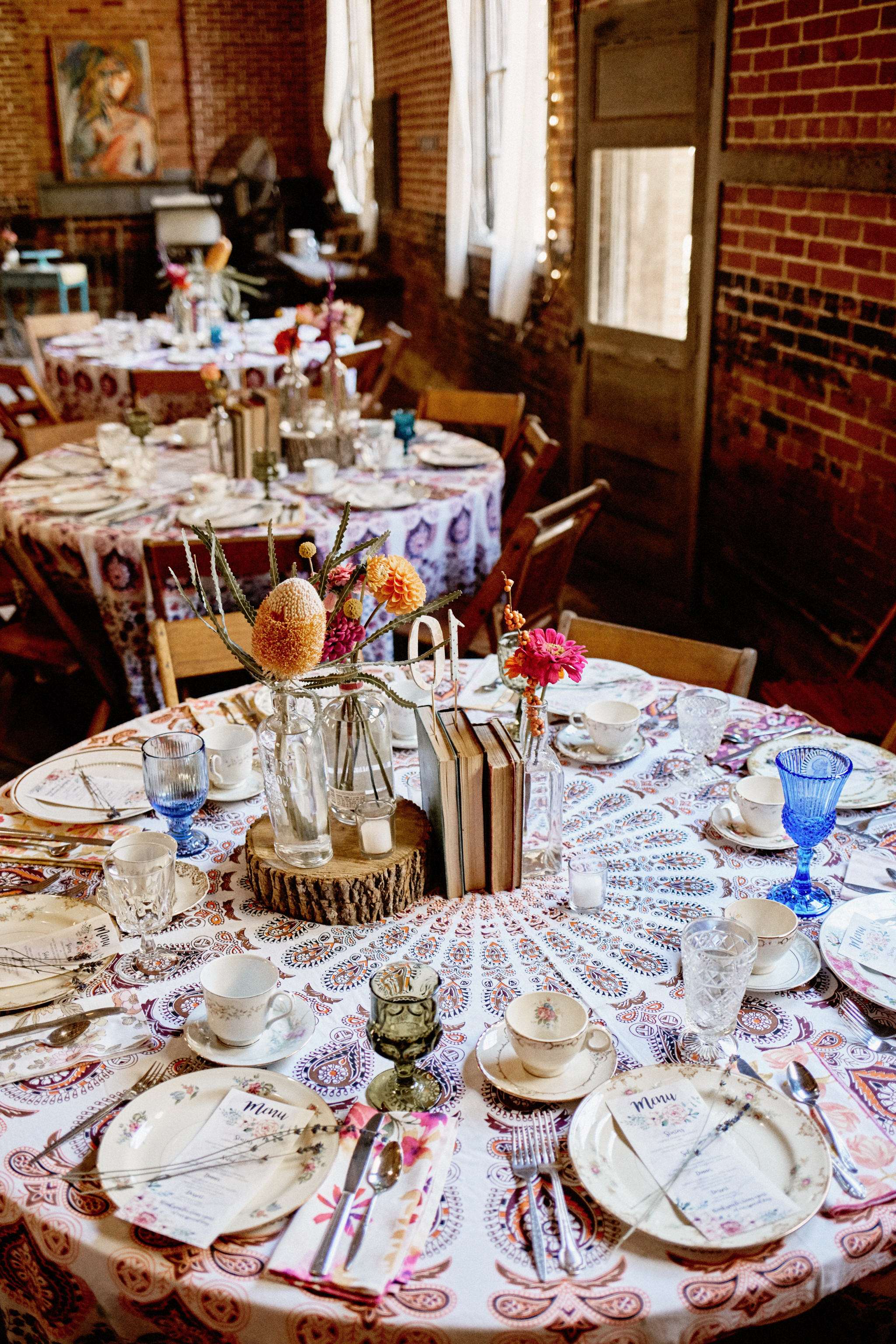 The day took place at the Pump House B n B in Bloomsburg, PA. The day was Vegan friendly too from the food and drink to what everyone wore. "One thing that was very important to me was that it was as vegan friendly as possible, and we definitely achieved that", Megan continued. "Our farm-to-table caterer did an amazing job keeping things plant based, we were able to get our cake from an incredible vegan bakery, our favourite Portland plant-based cheese makers shipped 25 blocks of delicious vegan cheese, even the bridal boutique I went to was willing to accommodate my no silk request. This was something that made me feel incredibly grateful. I am vegan but Mason is not, but he was fully committed to making my vegan wedding dreams come true."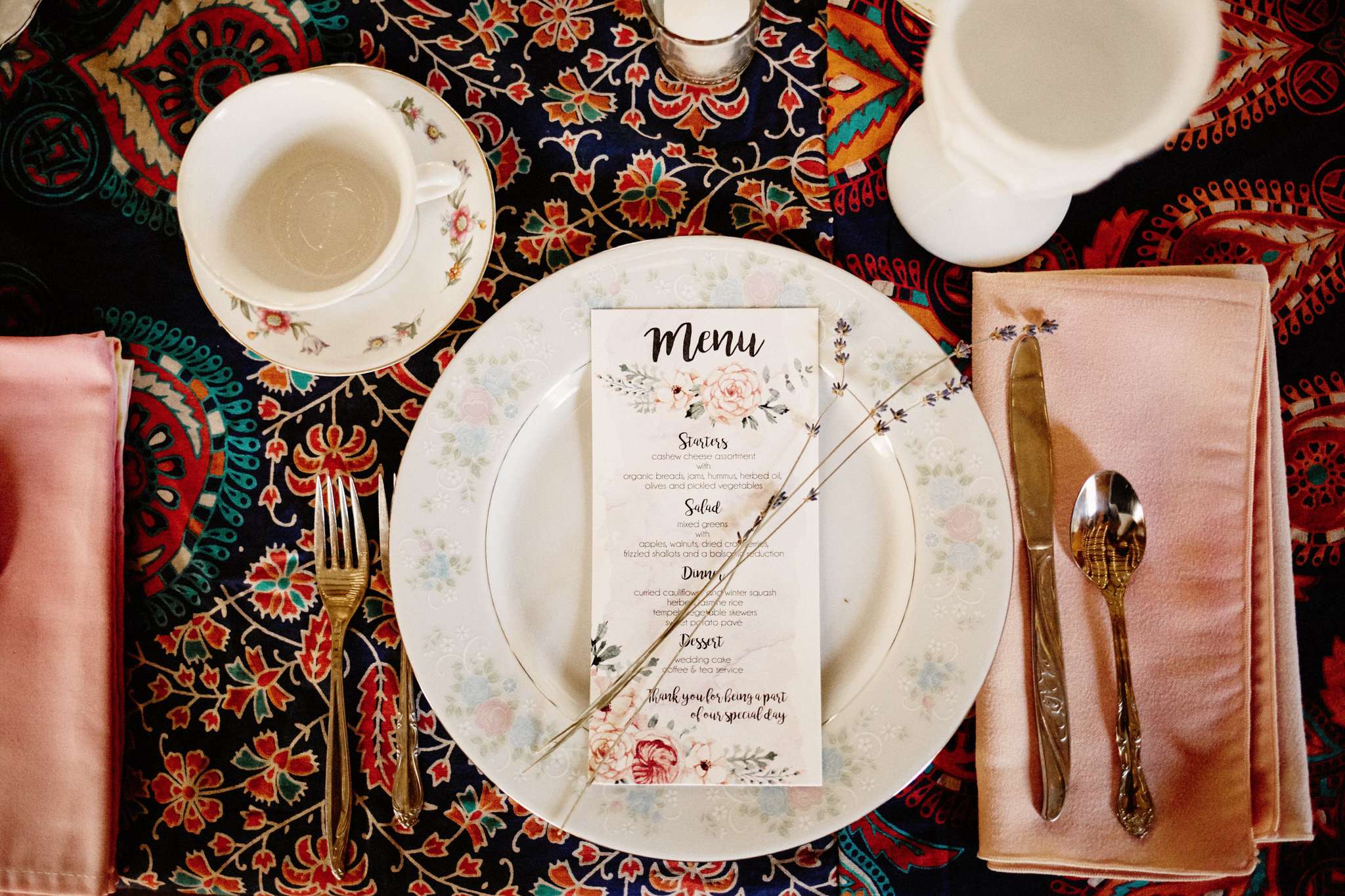 The ceremony was very emotional and ended with a colourful surprise! "It was surreal, magical and terrifying all at once. I cried (happy tears!) almost the entire time. The space we chose was rather small and enclosed by trees, it made for a very intimate ceremony. We wrote our own declarations to read, as well as our own vows to each other. At the end of the ceremony we had a smoke bomb exit, I think it was a fun surprise for our guests, and the explosion of colour was the perfect end to our ceremony (and a great way to kick off the party!)"
The couple made most of the decor themselves. "We made thee signs, the ceremony aisle markers, the favours and the crane chandelier for our sweetheart table. I folded 1000 cranes over the course of four months. When we got to Pennsylvania, two weeks prior to the wedding, my father and I constructed the chandelier our of embroidery hoops. I used beads and fishing line to string all of the cranes, and then we added some twinkle lights for something extra (like 1000 cranes isn't extra enough).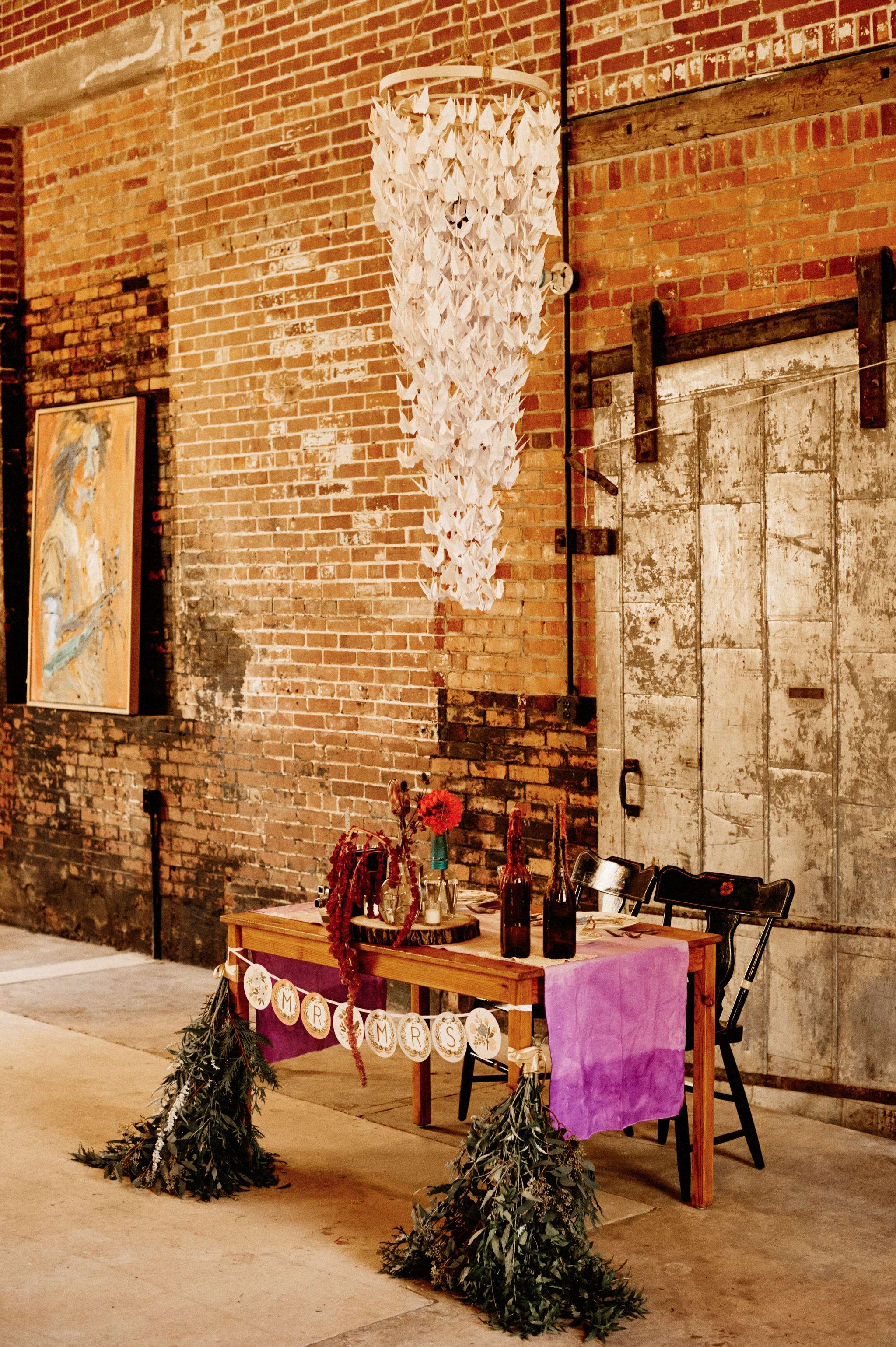 "My father is a bourbon aficionado and he saved any interesting looking bottles to use as vases, as well as collecting bottles from friends, for over a year. The table cloths were a subject of contention for me (and only me!) I was unhappy with what was available. It seemed that everything was synthetic and incredibly overpriced. Luckily, with some creative thinking, we found these amazing tapestries that fit the tables provided by the venue!"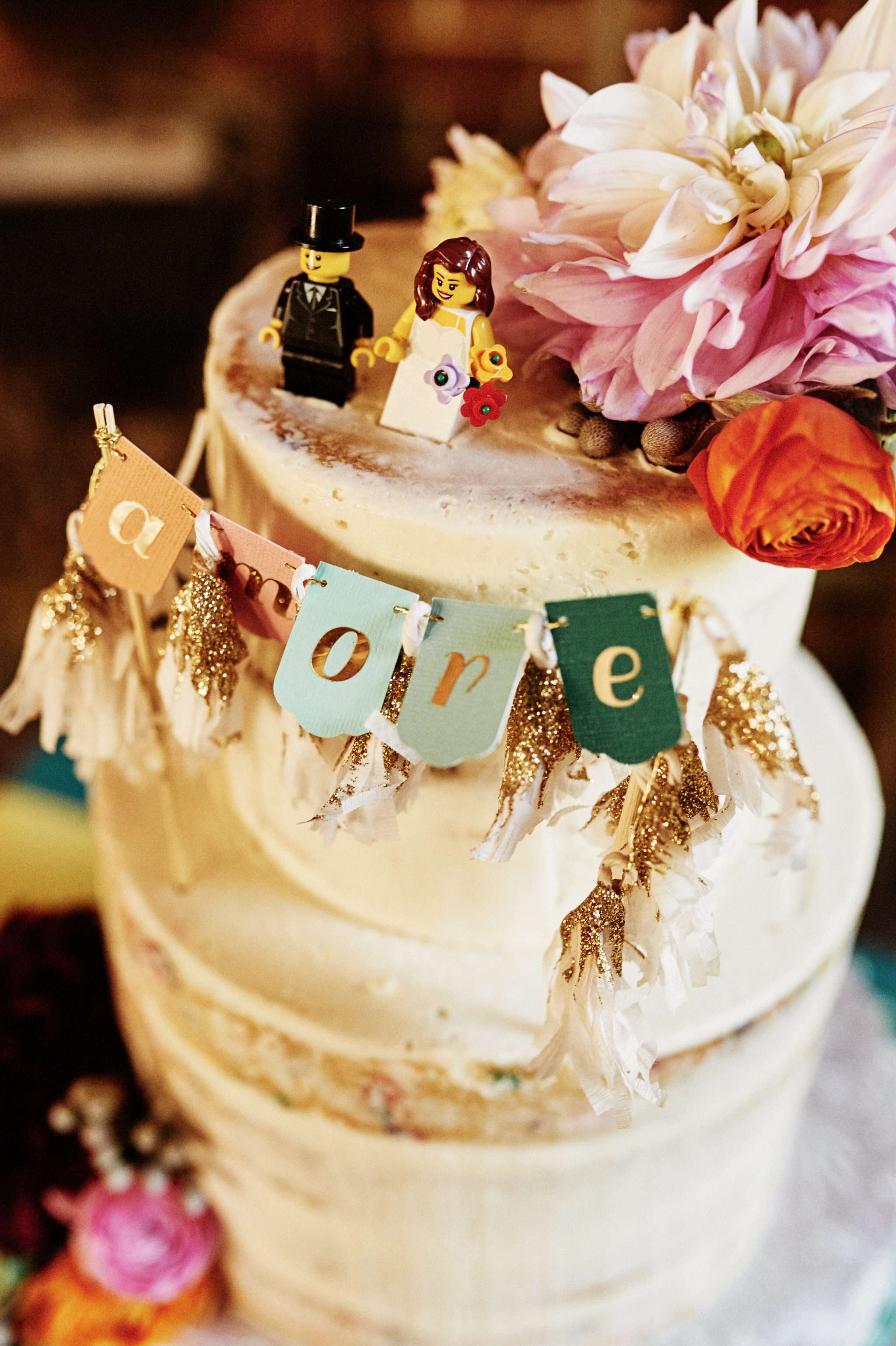 "I also have to make a note regarding our flowers. Joslyn, who did them, is a friend of ours and offered to help us with all of the floral elements we wanted (but couldn't afford). She was outstanding! When we saw everything finished I nearly cried, we had no idea that she would go all out! Ultimately, I think the flowers really made the wedding style, and perfectly tied all of our wacky ideas together."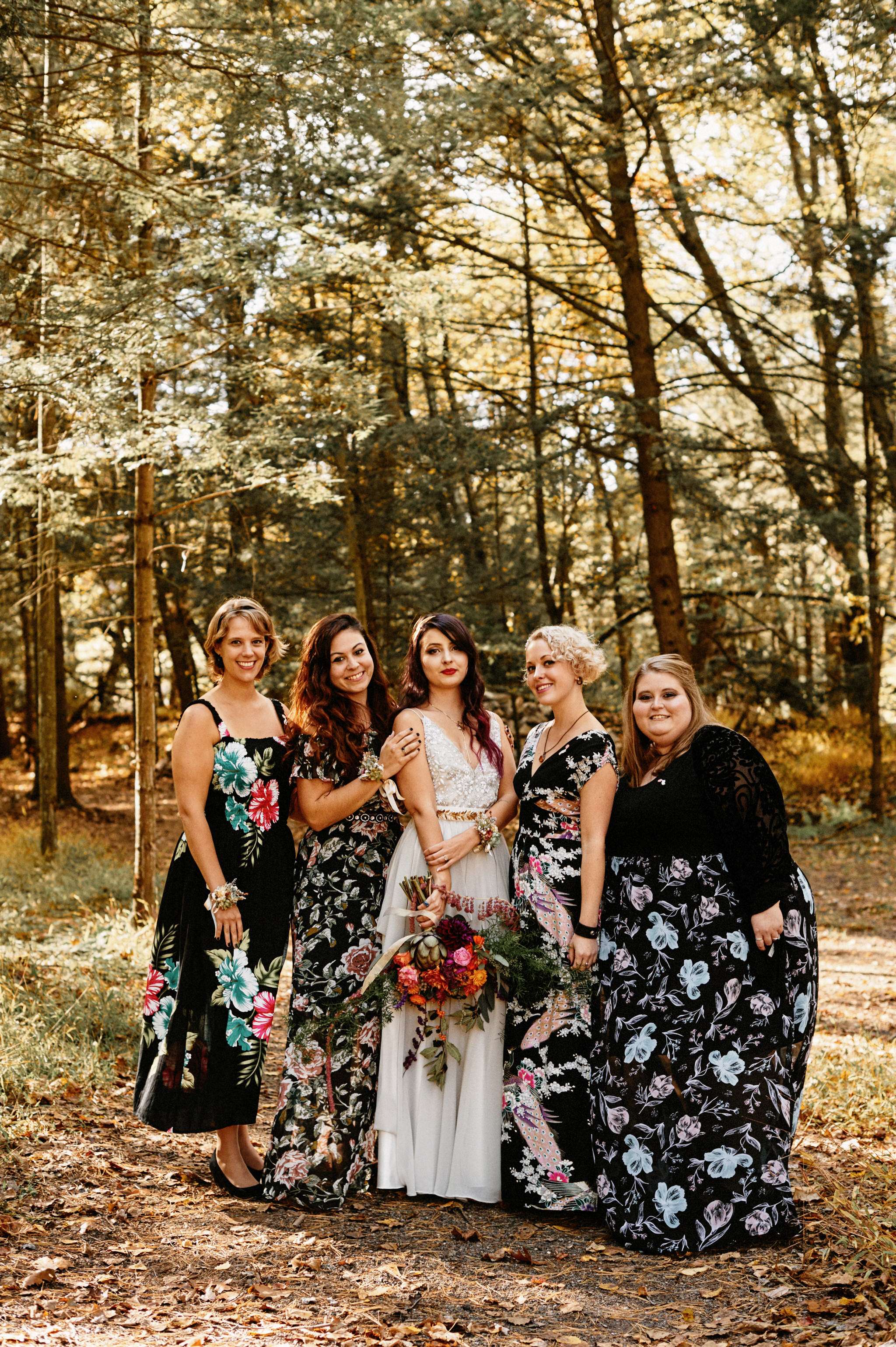 "A lot of people seemed surprised when we said we were sharing the load and planning everything together", she concluded, "but I couldn't have imagined it any other way. We wanted it to represent us, both of us, and according to our guests we succeeded. I don't think we would have been as successful if we didn't work together on everything, down to the tiniest details. There was some give and take, and we definitely learned a lot about each other during the year of planning, but we wanted to make sure every detail was something we both were happy with."