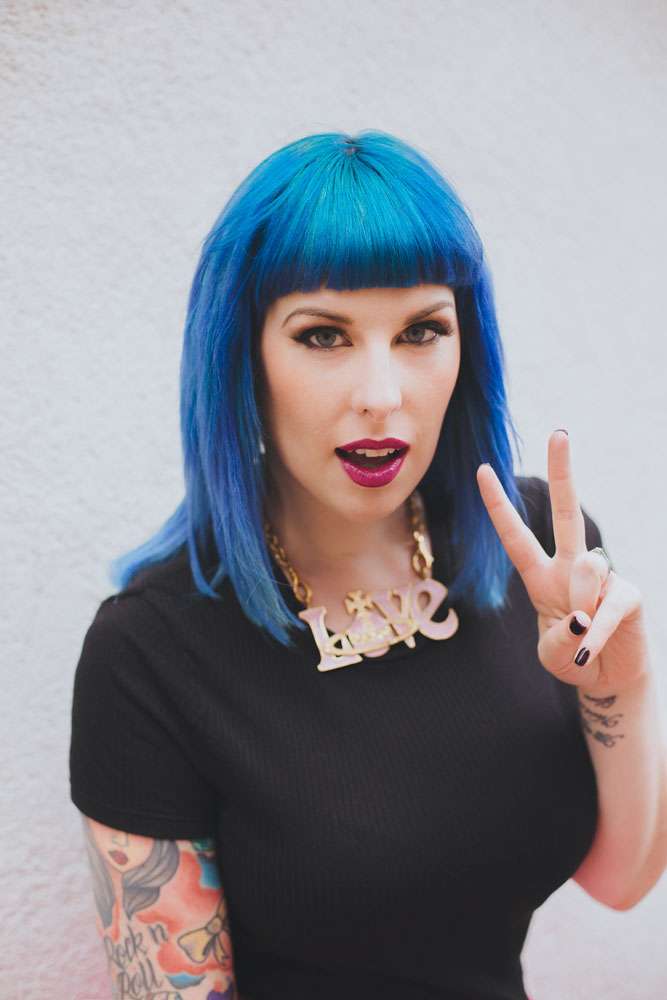 One of the things I get asked about more than anything else is my hair and some of the most popular articles I've ever written are about it too. Maybe I should just ditch the whole wedding thing and become a hair blogger instead!? HA!
Maybe not, but I got so many questions when I posted about my new pink-blue do, that I figured I'd do a quick Q&A.
How much does it cost to get your hair dyed?
The cost will vary depending on where you are based, the products used, the length of your hair and the expertise of your stylist. I get my roots bleached every 8-10 weeks at Blue Mango Salon in London, by Elbie. Elbie is at the top of her game, specialises in unnaturally coloured hair and is based in London, so the price I pay reflects that. Bleach, Olaplex (more on that below), cut and colour costs me around £150 a time.
I love the idea of having colourful hair but am holding off because I don't want to destroy my locks with bleach. Any ideas on how to dye my hair a funky colour without bleaching it first?
The short answer is, unless your hair is naturally very light blonde, you can't. Unnaturally coloured dyes such as blue, purple, green, pink etc only show up on light bases so the blonder you can get your hair before you add colour, the brighter the result will be. If your hair is light brown, some colour MAY take, but you certainly won't get the vibrant results you want.
My hair is naturally very, very dark brown (see!) and it taken a long time to get it light enough to hold the colour that it does. When it comes to putting bleach on your hair I would always recommend going to a professional. Take that from a girl who used to bleach hers herself and completely destroyed it! You may also need to bleach it slowly over time to get it light enough (in order to keep it healthy) before you can get it to the colour you're hoping for.
I also can not rave about the magical properties of Olaplex enough! It is a 3-step salon product meaning you need to go to a hairdressers that carries it to have it done. When your stylist uses it with bleach, it not only enables you to get your hair lighter in way less time, but it also protects it from the bleach's damaging effects and repairs past damage. It is truly AMAZING and since using it, my hair is in almost as good condition as it was before bleach came anywhere near my head.
Olaplex isn't cheap. The treatment on hair my length is £50 on top of the usual cost of having it dyed, and a 100ml bottle of the Step 3 (which you use regularly at home) is £37. I know this sounds mega expensive but it is soooo worth it. The instant Elbie used Olaplex on my hair it felt softer, smoother and unbelievably silky – and it's stayed like that ever since. As long as you regularly use No. 3 in between going to your stylist to have your roots done, there's no reason your hair shouldn't stay happy and healthy forever!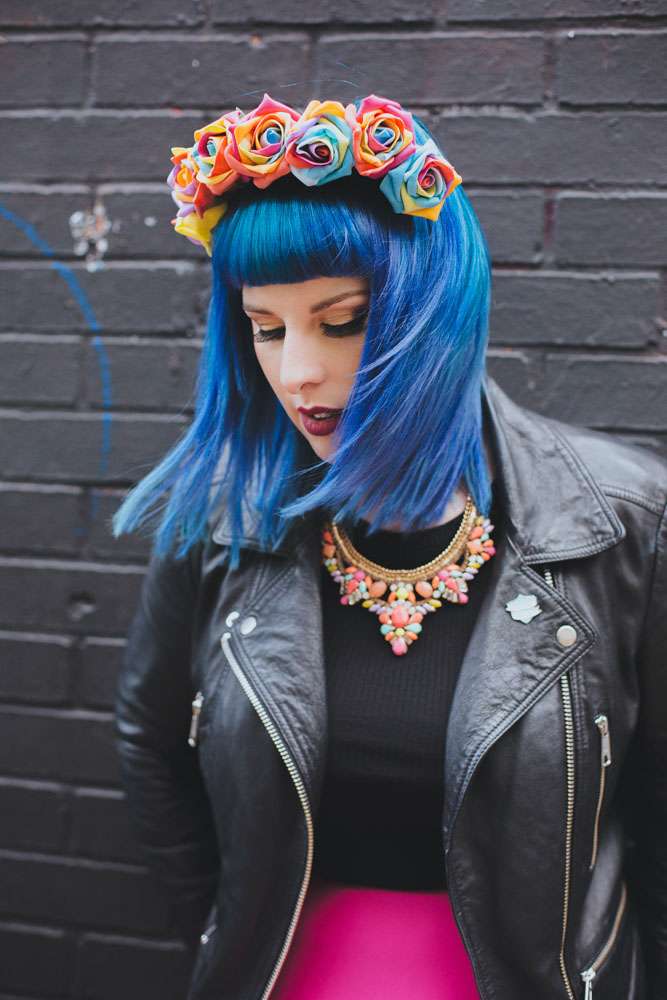 What products did you use? Your hair always looks absolutely beautiful!
I think a lot of people think you can just bleach the shit out of your hair and then go back to using you supermarket shampoo and all will be fine. This is certainly not the case.
I want my hair to look the best it possibly can so I invest in the products I put on it. For shampoo I use Redken Extreme
 and for conditioner I rotate between Redken Extreme Strength Builder and Moroccanoil Intense Hydrating Mask
. I also use Redken One United
 and Hask Placenta (which are both leave in conditioners) on my hair when its wet and a heat protector spray before I blow dry. I use Olaplex Step 3 about once a week as well.
Have a chat to your hairdresser though and ask for their recommendations. Everybody's hair is different and other products may be more suitable for you.
I love the idea of having rainbow hair but I can't be bothered faffing around with dying it every few weeks. Your hair is always so bright, do you just dye it all the time?
I used to but since discovering oVertone I NEVER HAVE TO DYE MY HAIR between root touch-ups! It's a colour-depositing conditioner that comes in a range of unnatural colours (red, blue, teal, pink, purple, orange, yellow, green, silver) that are made to fight the fade. I use it every time I wash my hair, after shampooing and before I use a deep conditioner.
Again, oVertone isn't cheap. It's only sold via their own website and they're based in the States so if you're in the UK it it costs around $25 to get it shipped over and you sometimes get stung with customs charges BUT for me, its 100% worth it.
Your hair looks so shiny, whereas most vibrant crayon coloured hair looks dull, what is your secret?
This may be a mass generalisation, but I think a lot of people who dye their hair bright colours, simply don't invest in the products needed to keep the hair healthy and shiny. My hair used to be so, so, sooooooooo damaged from bleach. I bleached it myself for years and ravaged the fuck out of it, plus I only ever used cheap shampoo and conditioner. My hair was dry, dehydrated and wouldn't grow past my chin. If you want brightly coloured hair you have to be prepared to look after it!
I've read your posts about your hair before and one of your tips was to not use heat. I'm just wondered how do you style your hair without using heat?
The majority of the time I leave my hair to dry naturally. However if I have to style it, I leave it until it's almost dry and then give it a quick blast of the hairdryer and a speedy once-over with my straighteners (on the lowest setting) at the end. If your hair is in a really bad state, you should avoid heat at all costs, however if, like mine, its in pretty good condition then using heat on it occasionally isn't a big deal. Just make sure you always use a heat protecting spray.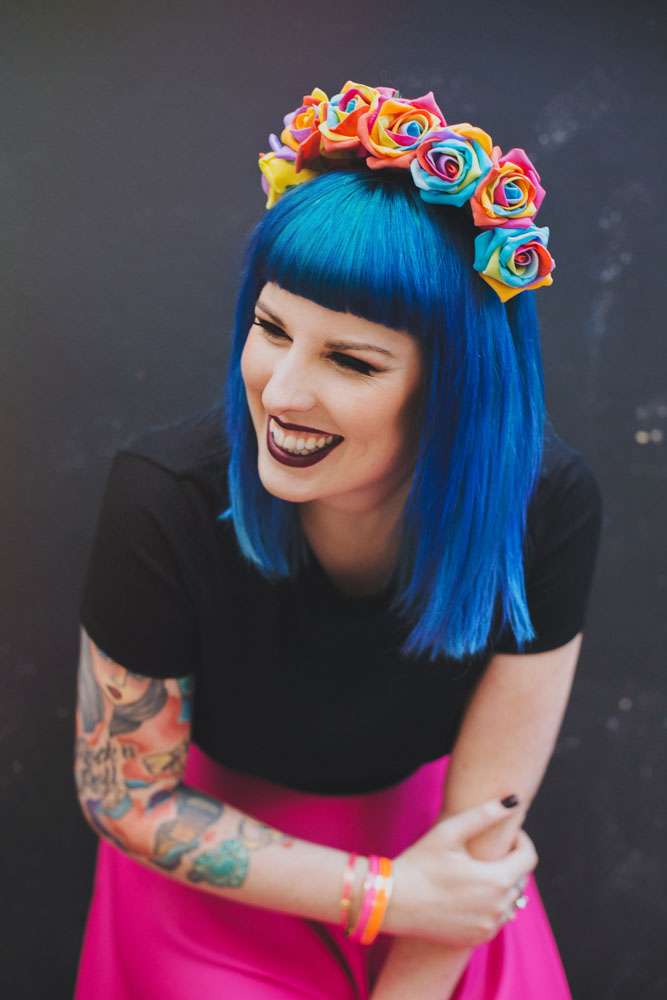 Do you ever struggle to keep your roots them the same colour as the rest of your hair? For some reason my roots will just not take colour until I bleach them a few times.
I'm no expert, but I'd imagine the reason the dye isn't sticking is because you're not getting your roots light enough, you're not leaving the colour on long enough, or your hair simply doesn't agree with that brand. I've tried plenty of different colour brands, some of them work super well on my hair, others don't really stick at all, no matter how long I leave them. Take my advice about going to a pro to get your roots bleached and then experiment with different colour brands!
What are your favourite colour brands?
In the past I've used and loved Stargazer
 (the pink I used to use was baby pink and I like their coral and azure blues), Crazy Colour
, Special Effects
, Rusk and Adore. However there are so many brands available these days and part of the fun is experimenting, mixing and finding the ones you love the most!
Have you ever had your hair stripped? I dyed my hair black and now I want to go lighter again. Any advice?
Ugh, your hairdresser will hate you for this! Getting permanent black dye out is probably one of the hardest things to do. You'll have to bleach it out sloooowly, over a number of different sessions to get it light again. Please, please, please use Olaplex to protect the hair if you're going to do this too!
I hope you've found this helpful and if you still have questions, feel free to pop them in the comments and I'll try my best to help you too.
Further reading:
How I rescued my bleach ravaged hair
Solve these three common bleached hair problems FAST!
How to dye your hair unnatural colours – and make it last