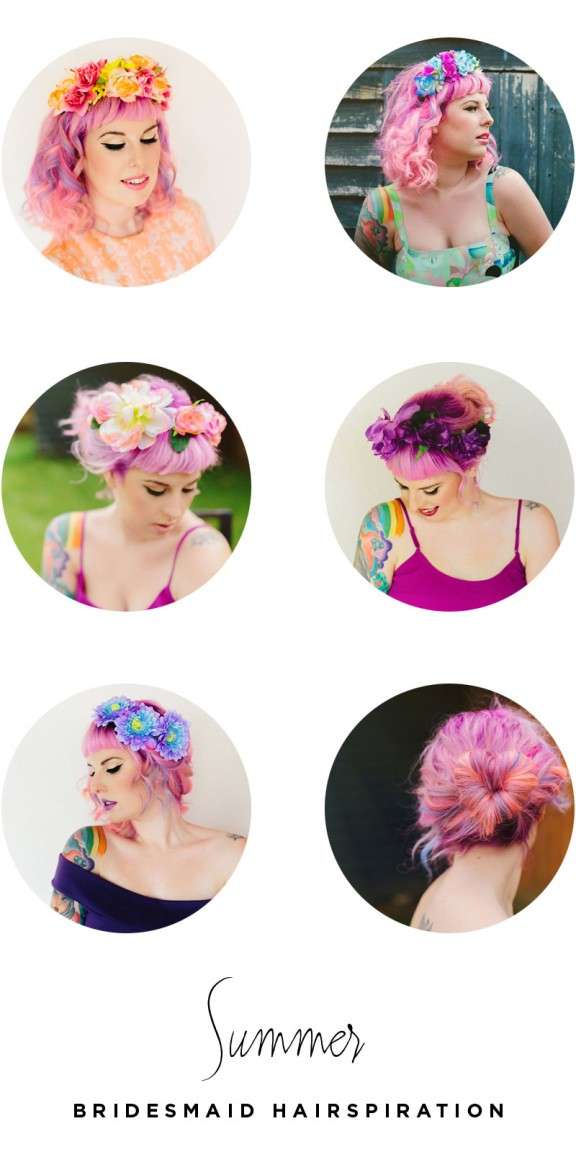 You know me, I'm no wallflower, so when Claire's asked me if I'd like to play dress up using some of their brightest of the bright brand new hair adornments, I really couldn't say no. When that trademark lilac packaging landed on my doorstep and I tore into it, I was greeted with so many pretty florals and bright colours that it instantly lifted my hump day mood. I immediately started thinking of ways I could dress them up, bridesmaid's style!
So, on a slightly damp Tuesday afternoon, Shell and Elbie jumped on a train bound for Reading and we brought our own kind of sunshine to the proceedings! This was such a fun project, and from Shell's amazing photographs you'd never tell we shot these in my (definitely not very glamorous) kitchen and back garden!
Neon Pop Flower Princess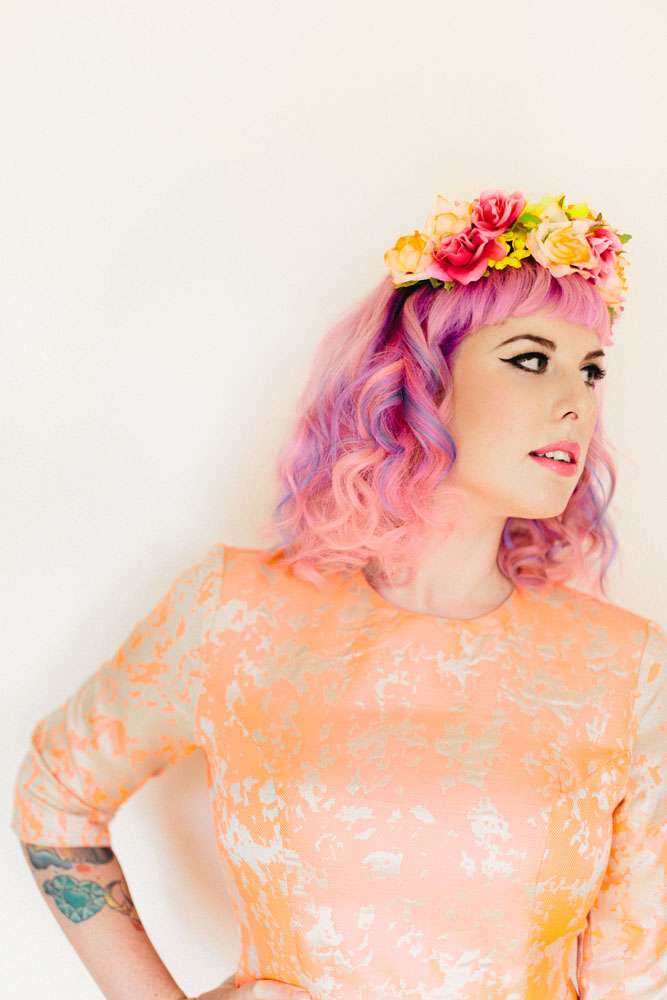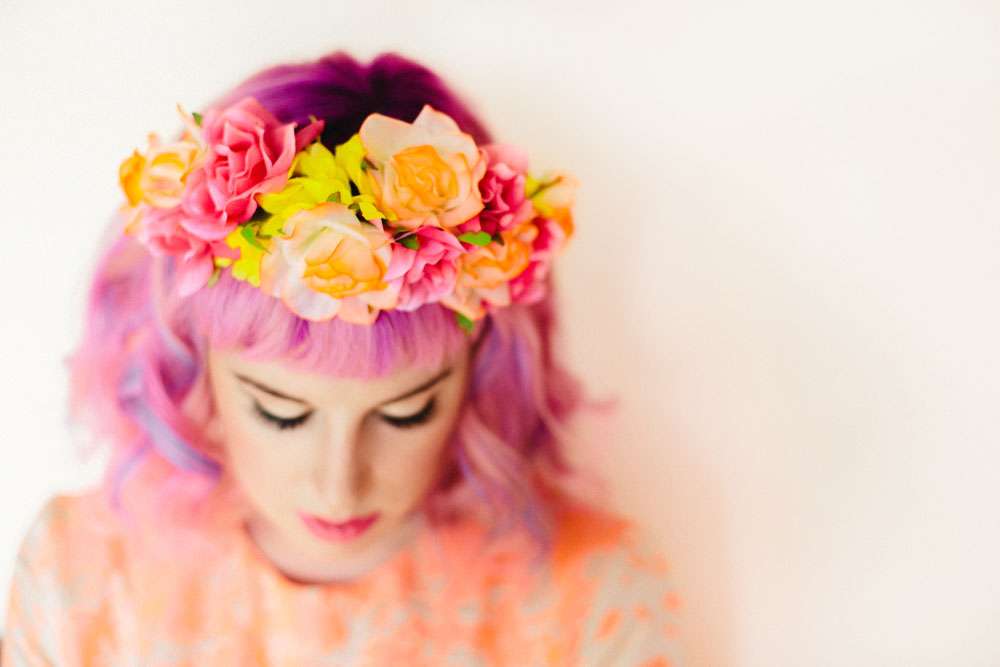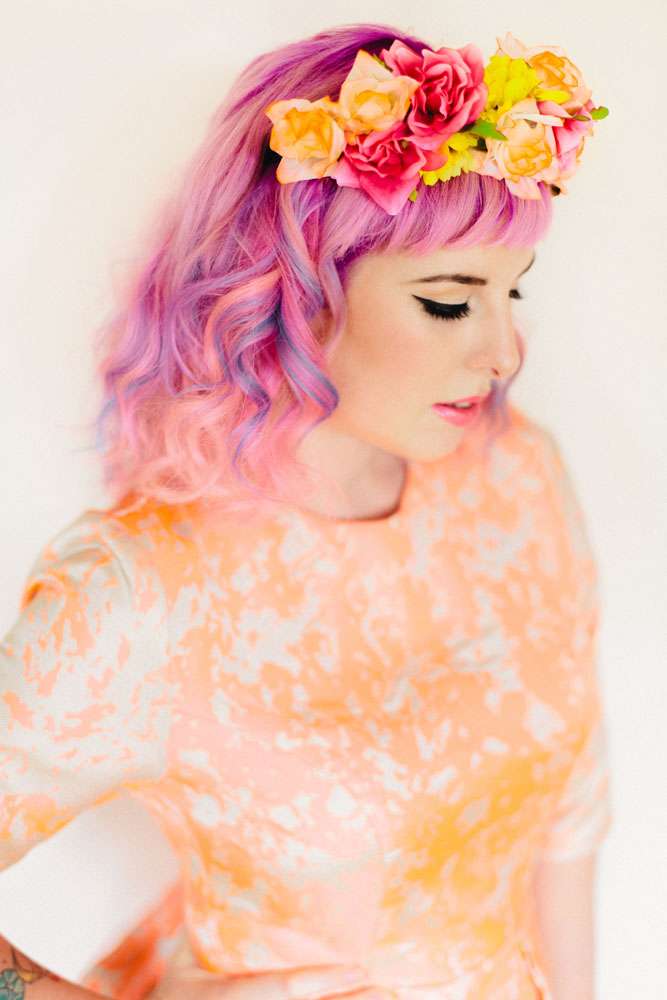 This was probably my favourite look of the entire shoot. As Elbie was doing my hair and make up, my long-suffering ASOS delivery man (I swear he judges me more and more each time he hands something over) showed up with my latest purchase. I hadn't planned it but it just happened to perfectly match the coral and pink version of this flower crown. Talk about photo shoot serendipity!
Claire's actually sent me two of these crowns so I thought it would be fun to double them up and create an all-over flower look. It reminds me of a vintage swimming hat or something!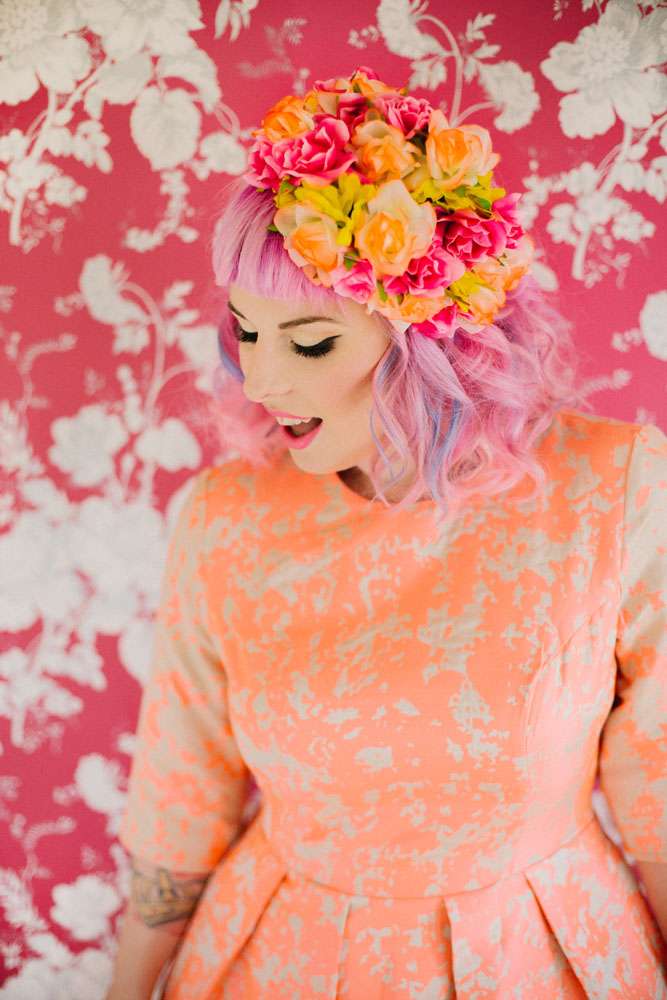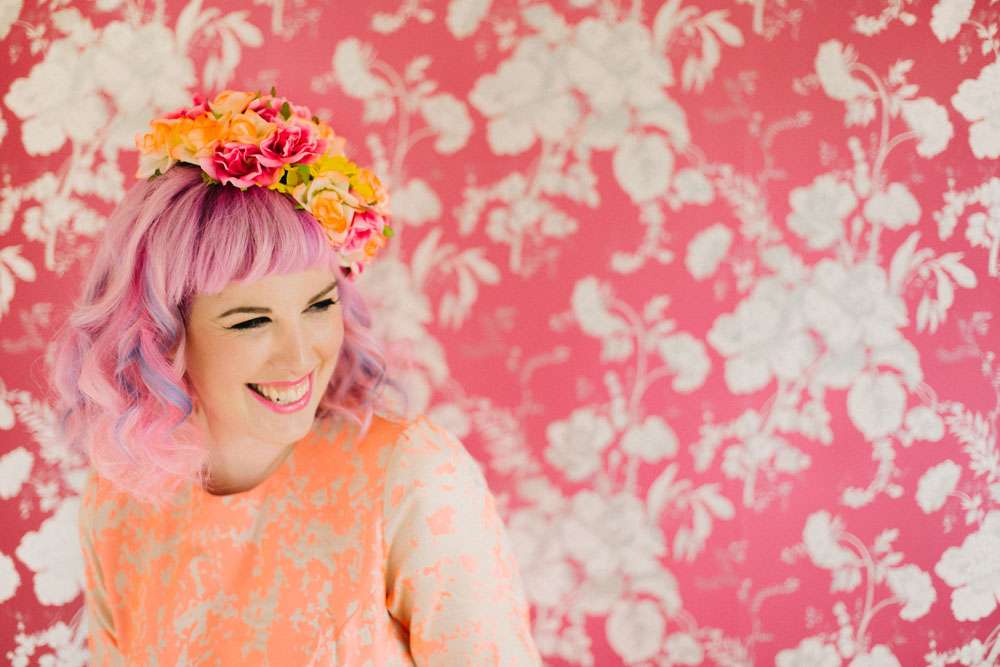 'Bloom' flower crown – £12, Claire's | Neon skater dress – £65, ASOS
Just one flower crown wasn't enough for me though, I also nabbed myself the purple and blue version too, isn't it pretty?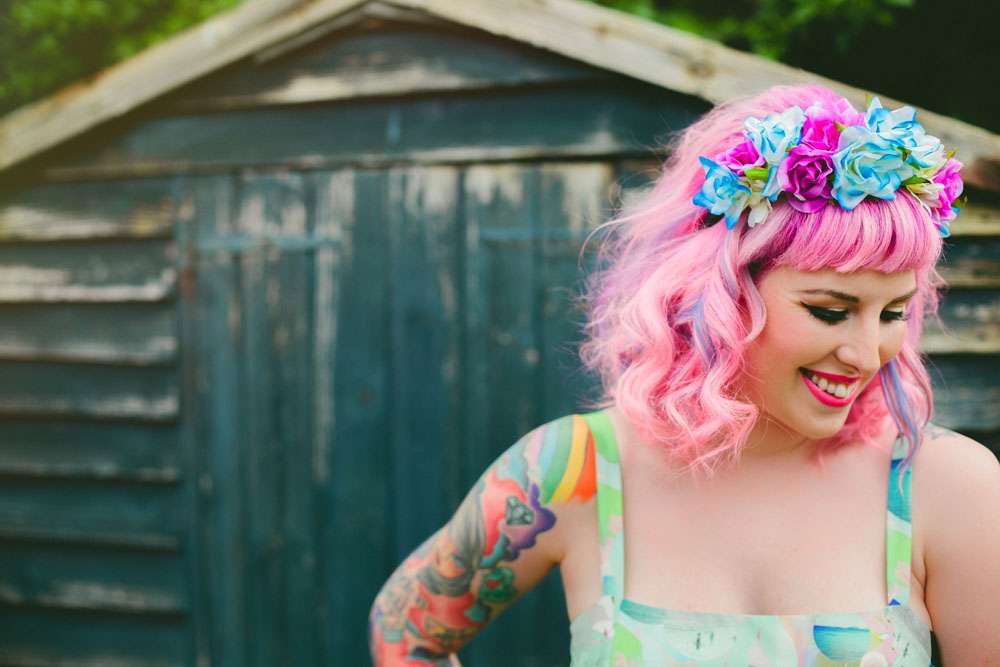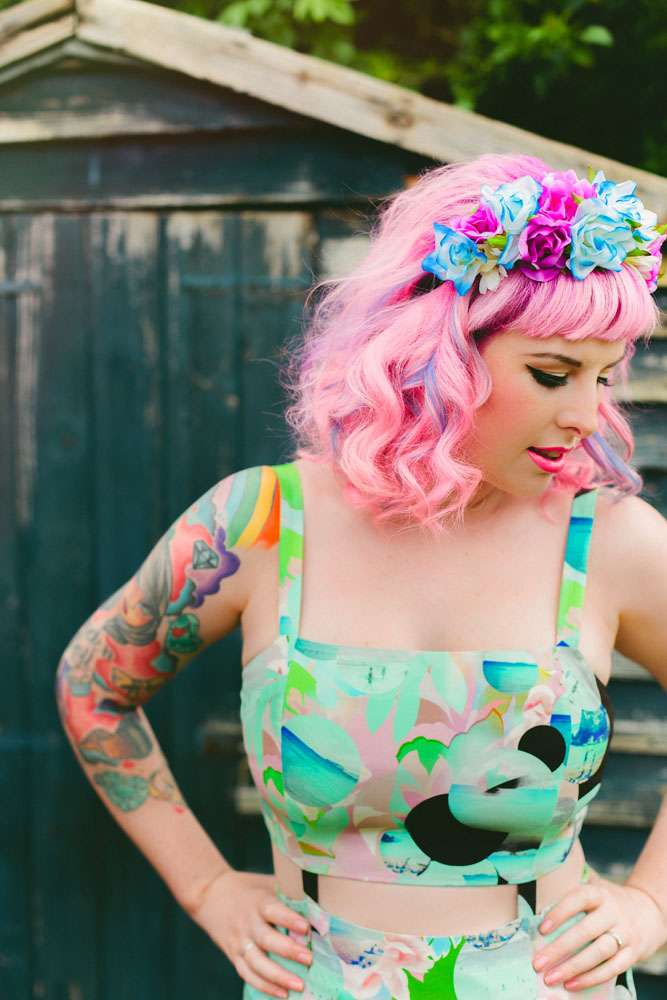 'Bloom' flower crown – £12, Claire's | Dress – Topshop (no longer available)
Whimsical Flower Fairy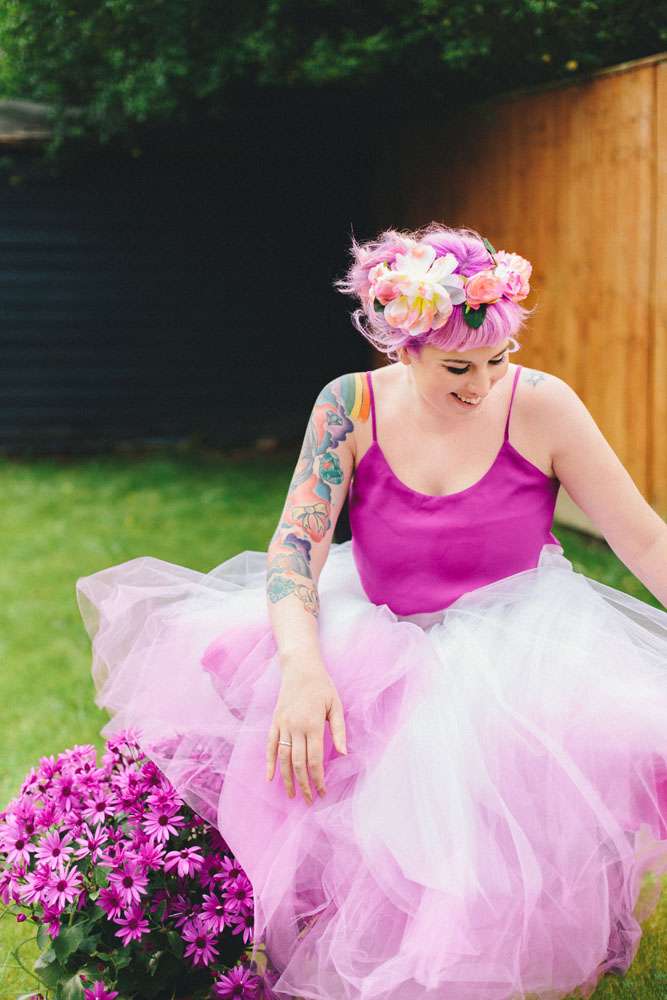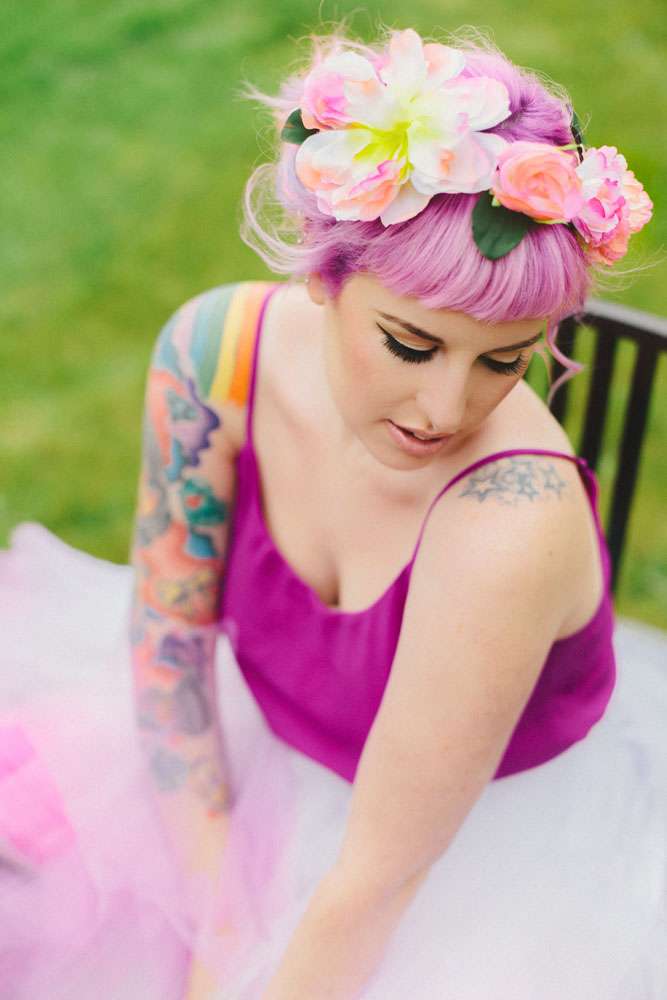 I actually nearly donated this amazing ombre tutu on my last clothing clear out, but when when it came down to it I just couldn't say goodbye… and thank goodness because it formed the base of this whimsical flower fairy look!
It's so weird seeing myself with nude lips, I usually don't leave the house without some kind of statement colour slicked across my smacker. The peachy flower garland really makes this look extra lovely dontyathink?!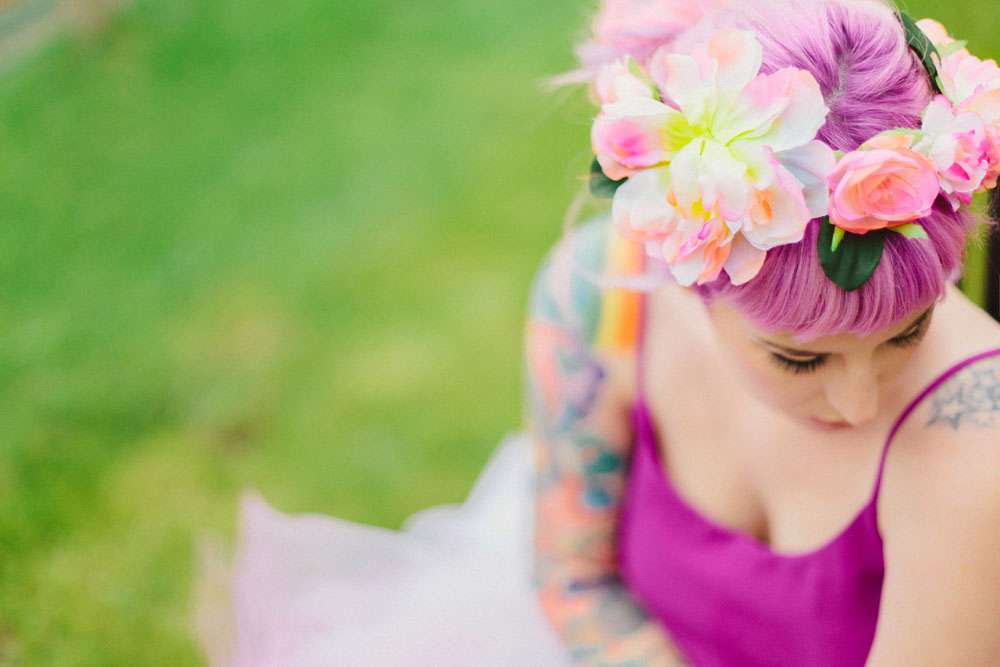 Mixed flower garland – £10, Claire's | Pink Ombre tutu – custom ordered, Ouma | Dip hem cami – £22, Oasis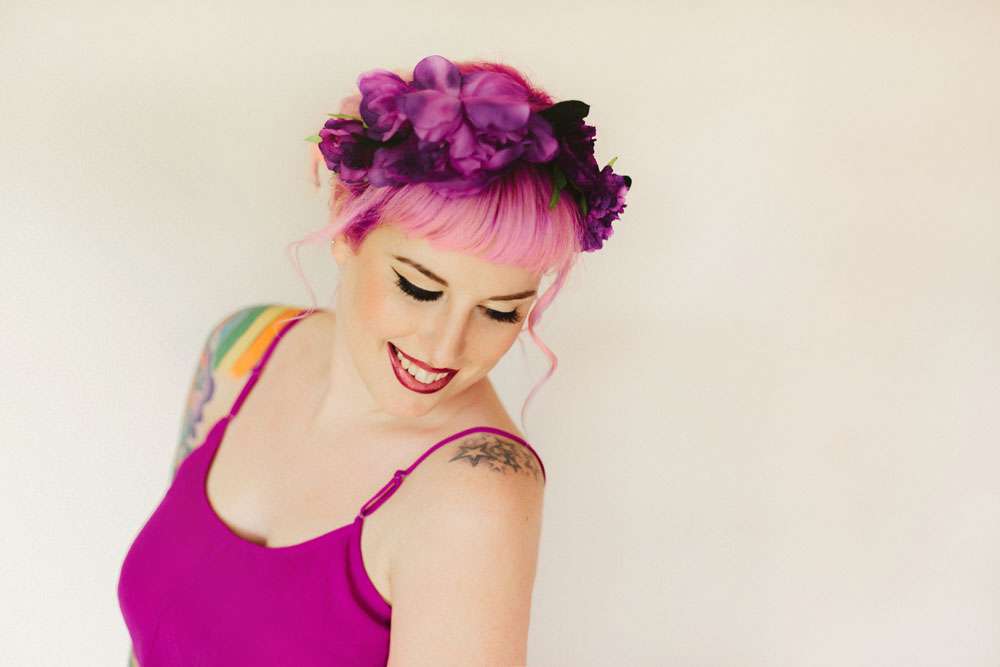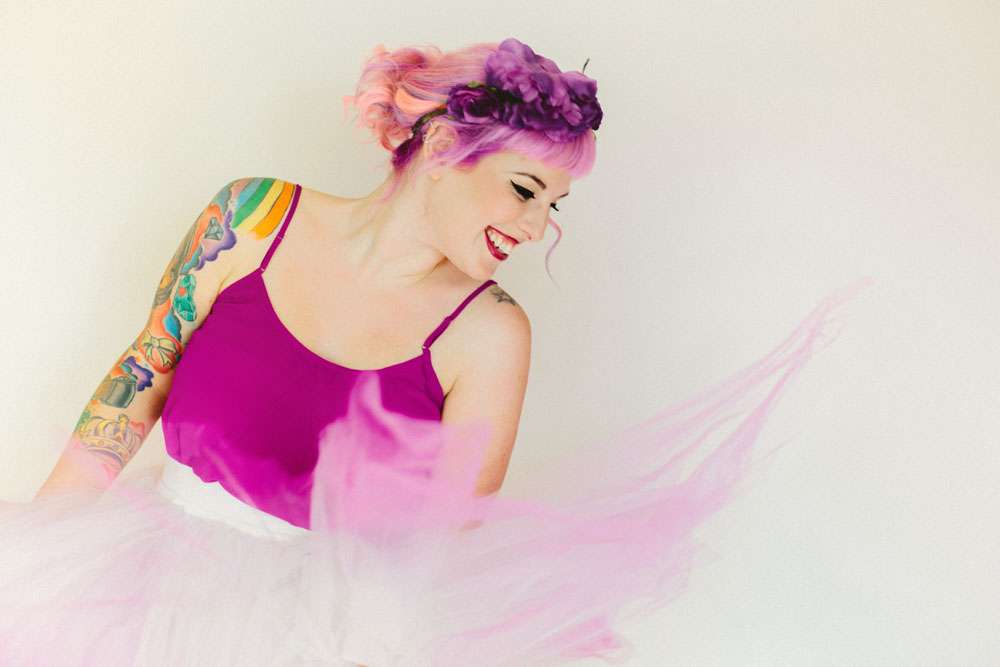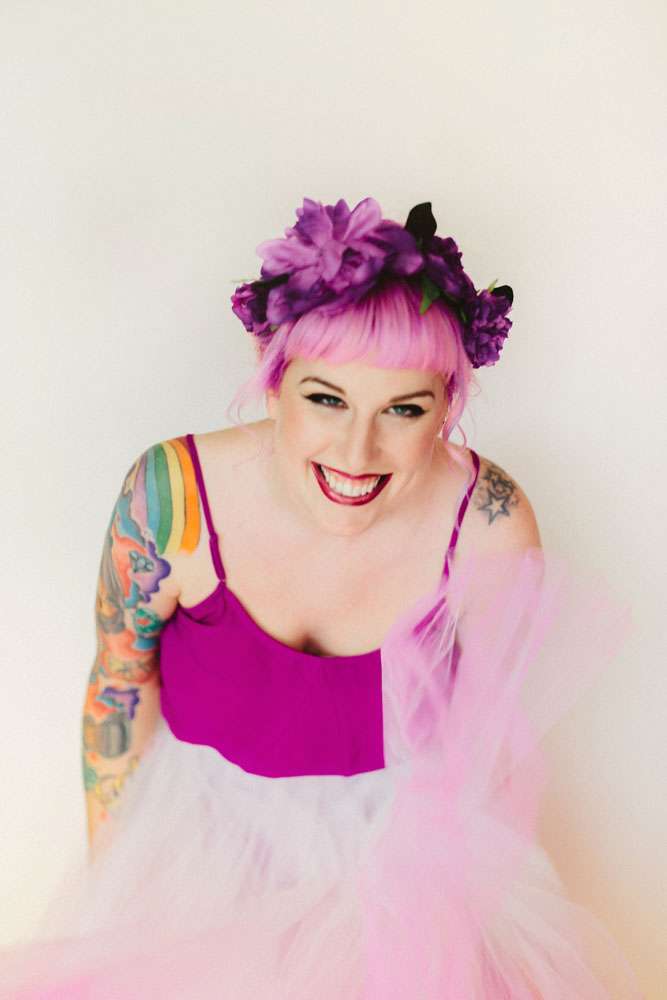 For the deep purple version of the same garland, Elbie vamped it up a bit with deeper purple plum lips using OCC Lip Tar in Black Dahlia.
Lilac n Lovely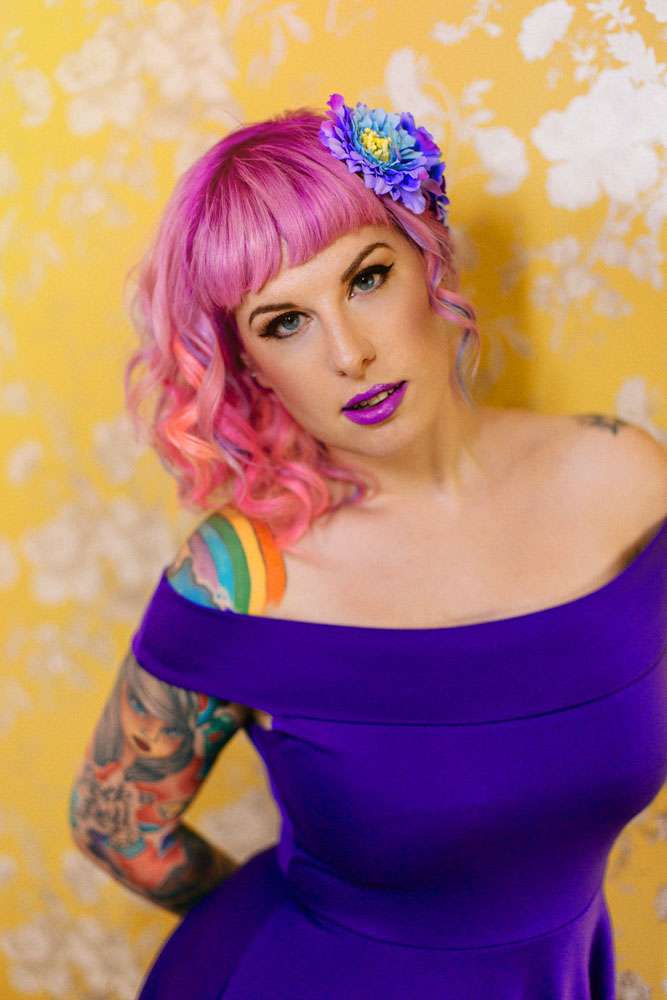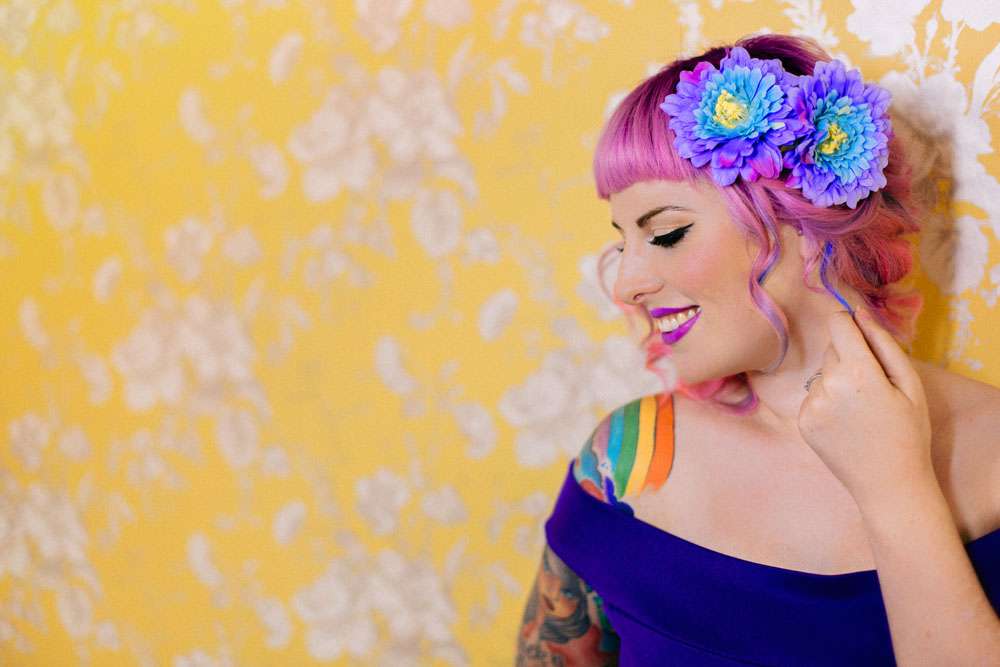 I've been wearing more and more purple these days so these lilac flower hair clips, paired with my purple off-the-shoulder scuba dress was right up my current style street. For a more casual bridesmaid look this could be just the ticket, plus the combined total cost of this entire outfit is just £30! Now who could say no to that?!
Elbie thought we should go bold with the lips (and why not!) Again we used OCC Lip Tar. Oh la la!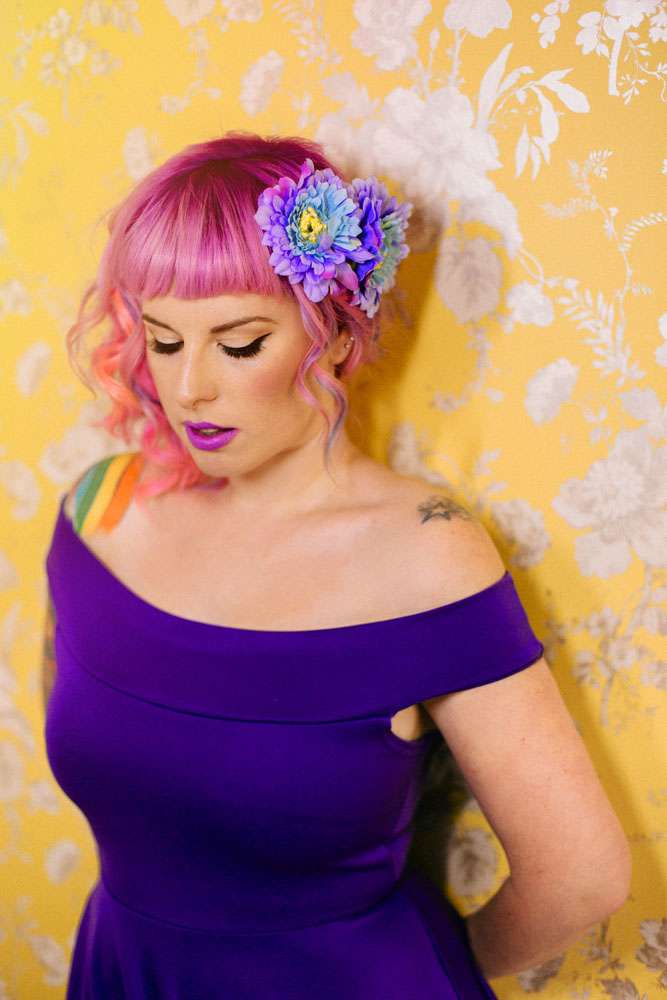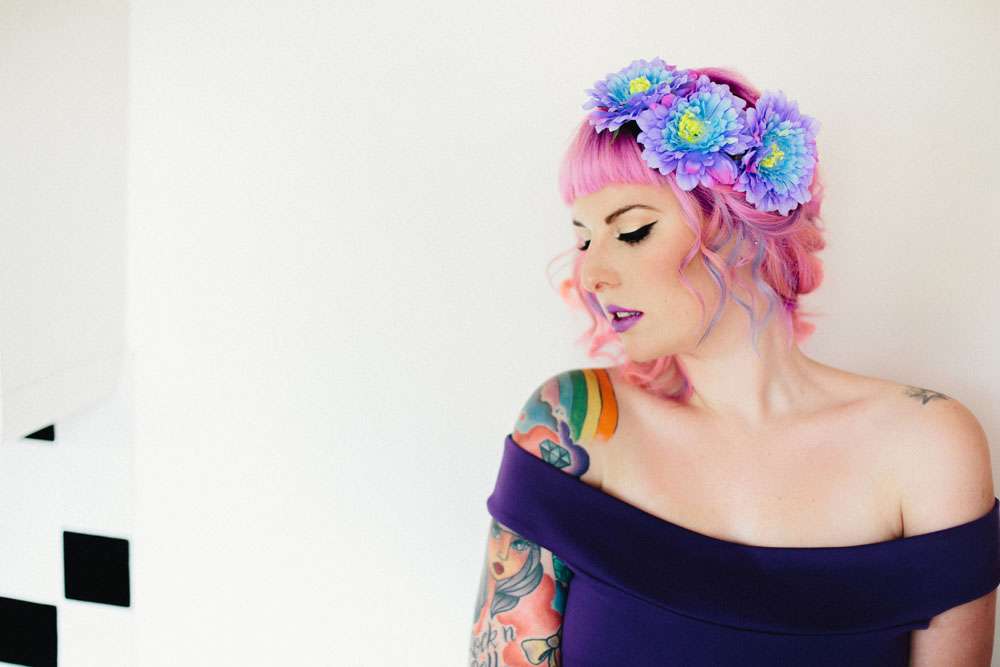 Lilac flower hair clip and brooch – £5 each, Claire's | Purple off the shoulder scuba dress – £15, Boohoo
Wear Your Heart in Your Hair…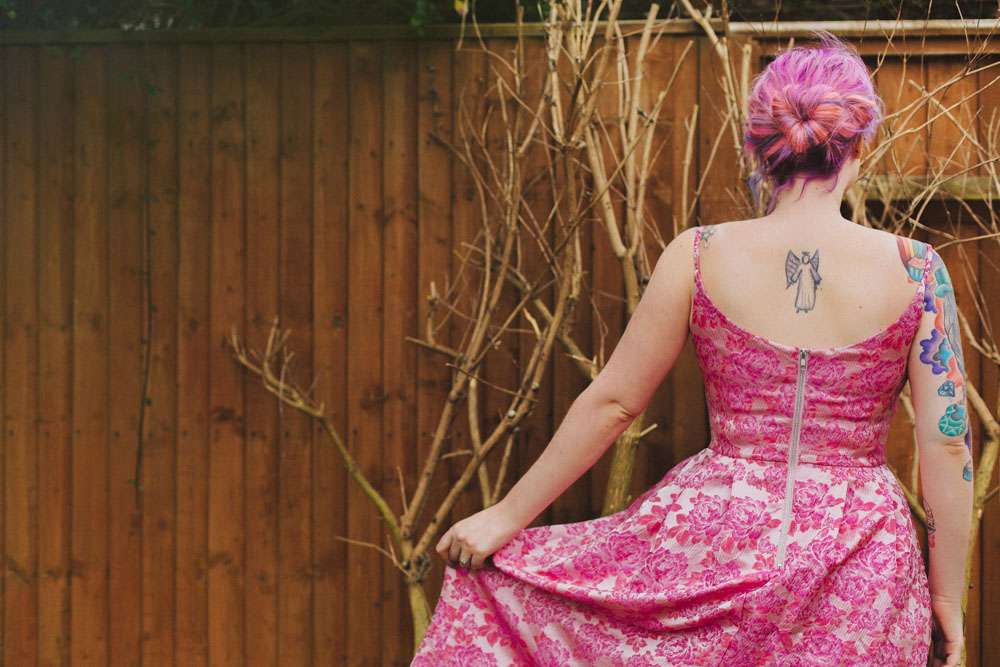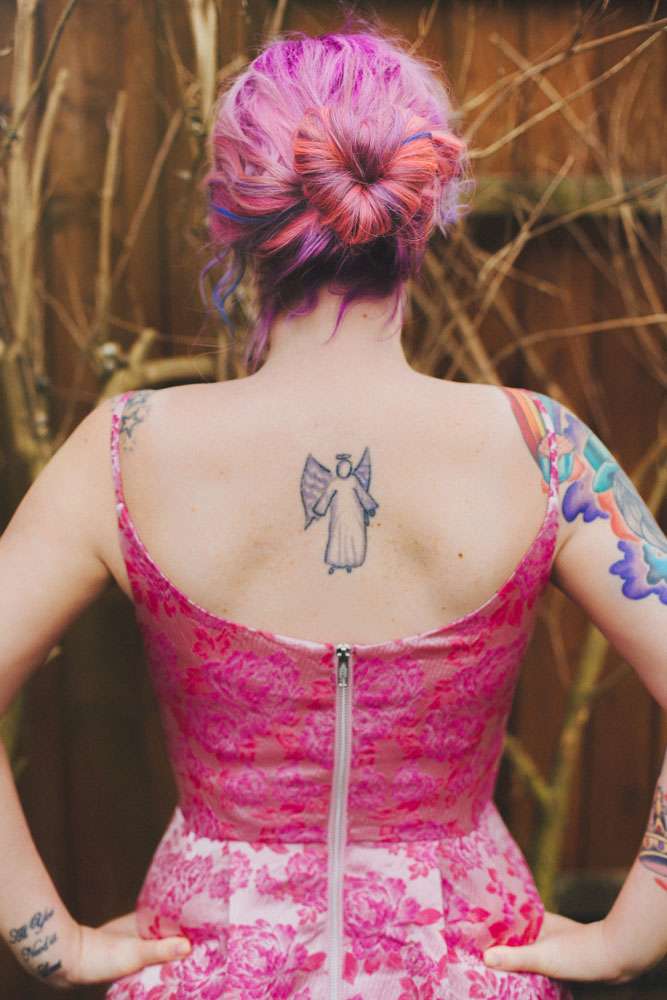 For the grand finale, and our last bridesmaid look, I wanted to go for something completely different. So I ditched my beloved flowers in favour of this fun – and quite frankly genius – heart bun!
Isn't this just so super sweet? I've actually never seen anyone, anywhere do this before, have you?
It's also really easy to use. You pull your hair into a ponytail, hold the heart shaped donut in place, and pin your hair around it. OK so there's no way in hell I'd be able to do this on myself, but with the help of a friend, you could totally rock this look too!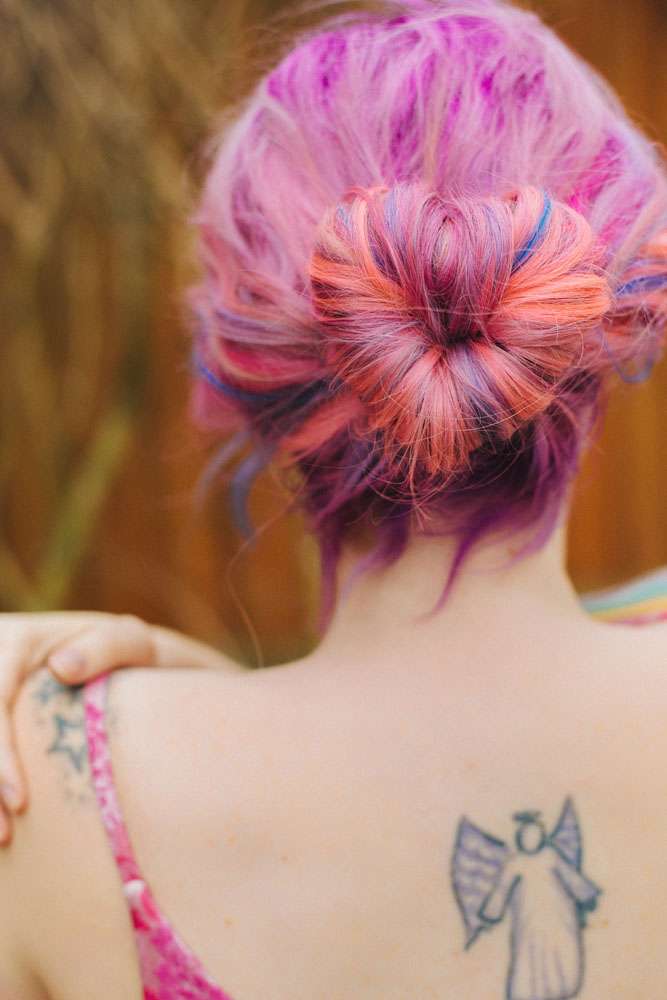 Love heart donut bun – £8, Claire's | Tiffany jacquard dress – £85, ASOS
As we were shooting this, Elbie said "I think this will get pinned a lot… shoot this for Pinterest Shell!" which really made me laugh. What do you think? Is the idea Pin-worthy?
Go bright or go home I say! What are your bridesmaids up to for their hair and make up?