No, you haven't gone all Marty McFly and been transported back 24 hours, I really am posting Thursday Treats on a Friday this week. It's because I've been at Carly and Tom's three-day house party wedding in Somerset since Tuesday so there was no time for internet browsing or link compiling!
As you can see I used and abused the photo booth somewhat… some things just never change. The fact that there was a blue wig in the prop box entertained me endlessly. It took quite some convincing to get Gareth to put it on for a photo but I think you'll agree it was so worth it! Thanks to The Flash Pack for keeping the whole wedding entertained and laughing hilariously all night long! And if anyone is wondering, my bridesmaid dress was from Maid to Measure. Aww, aren't weddings just the best ever!?
In other news, the pre-order and subscriber copies of Issue 5 are showing up our office (translation: our tiny two up/two down house – eek!) today and we'll be starting to pack and ship them out this weekend! If you want to guarantee you nab a copy and maybe even get it before they hit stores on the 10th, you should definitely order one today.
Weddings & Weddingy Things
♥ The matching suits at this Vegas wedding will fill your heart with floral-covered joy
♥ This couple's wedding proves bullies are no match for true love
♥ Science-meets-botanical wedding inspiration
♥ Whimsical desert wedding inspiration
♥ Australian wedding for a couple who met on Instagram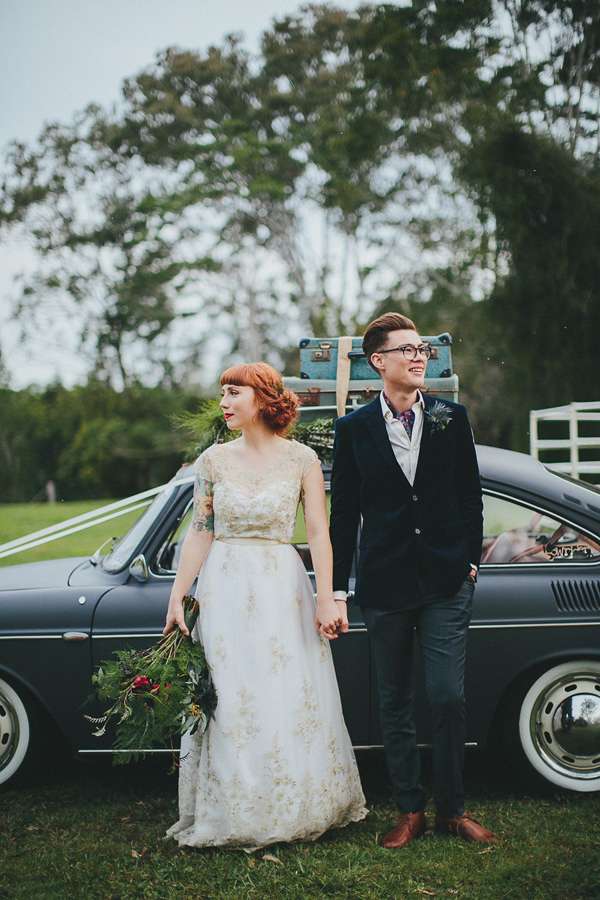 ♥ A British celebration filled with flowers, wellies & gin!
♥ Up-cycled Star Wars Lightsaber bridal bouquet
♥ A colourful rockabilly Las Vegas elopement
♥ Here's the 'Back to the Future'-themed wedding we wish we were invited to
Business Bites
♥ How to do it all
♥ 8 tips for getting publicity (without a PR agent)
♥ 5 reasons why your business needs a media kit
♥ 9 hurdles I've faced as a blogger and how I got over them
Best of the Rest
♥ Making an Alice in Wonderland portrait with 12 hours of Photoshop
♥ 6 Photographers were asked to shoot portraits of one man… with a twist
♥ What it was really like being married to Elvis, according to Priscilla Presley
Have a great weekend everyone. Its a busy one for me with MOH duties for my sister's wedding and getting ready for the Rock n Roll Bride for Crown and Glory veil collection (eek!) photo shoot on Monday. Be sure to keep those peepers peeled to my Instagram if you want a sneak of all the behind the scenes action!