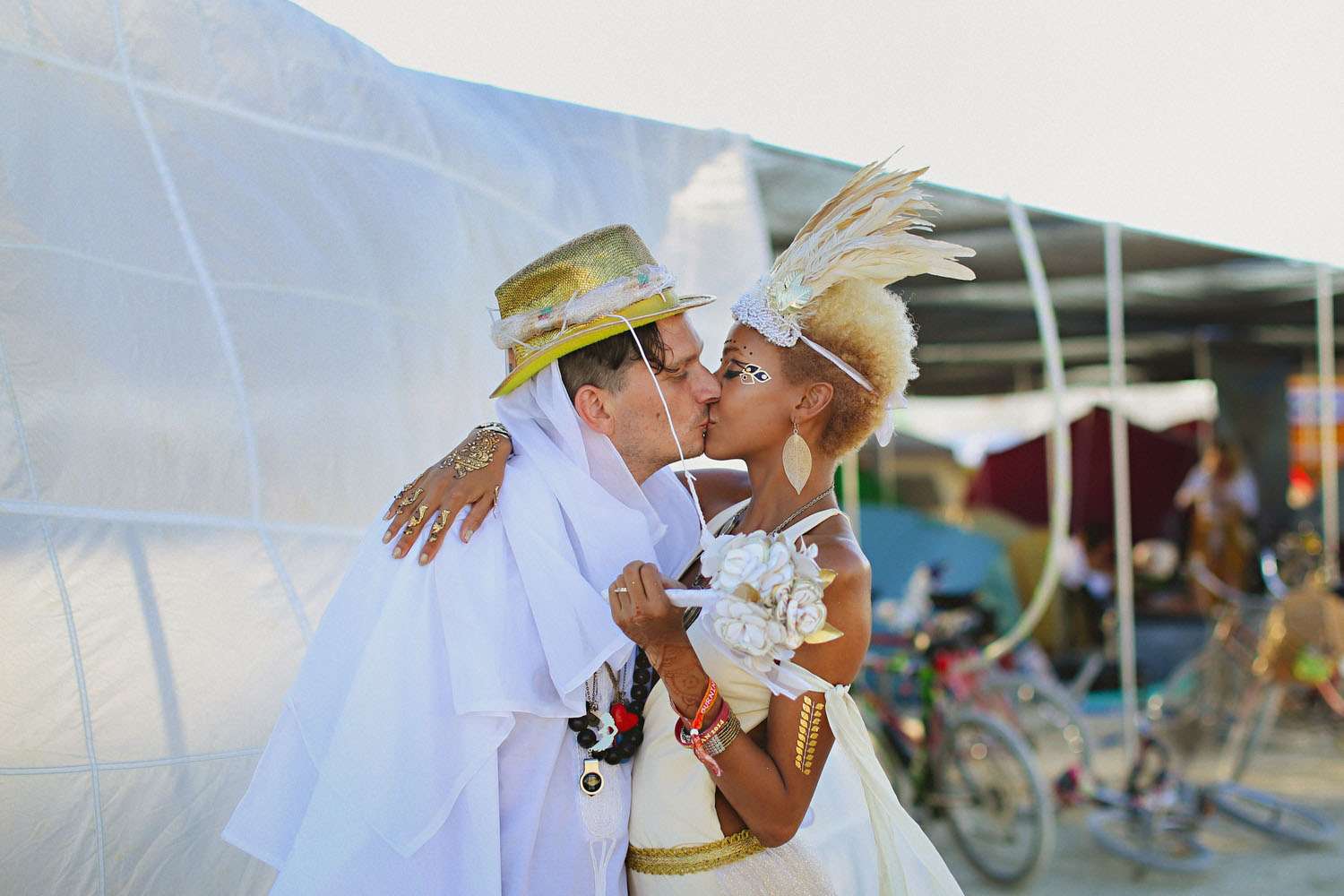 Stand by and prepare to flip out over this incredible Burning Man wedding. It wins EVERYTHING. The day was the truest expression of love. There were no flowers, centrepieces, stationery or cake. They had the ceremony at the Heart Phoenix Art Car by the Embrace Sculpture with 500 people looking on.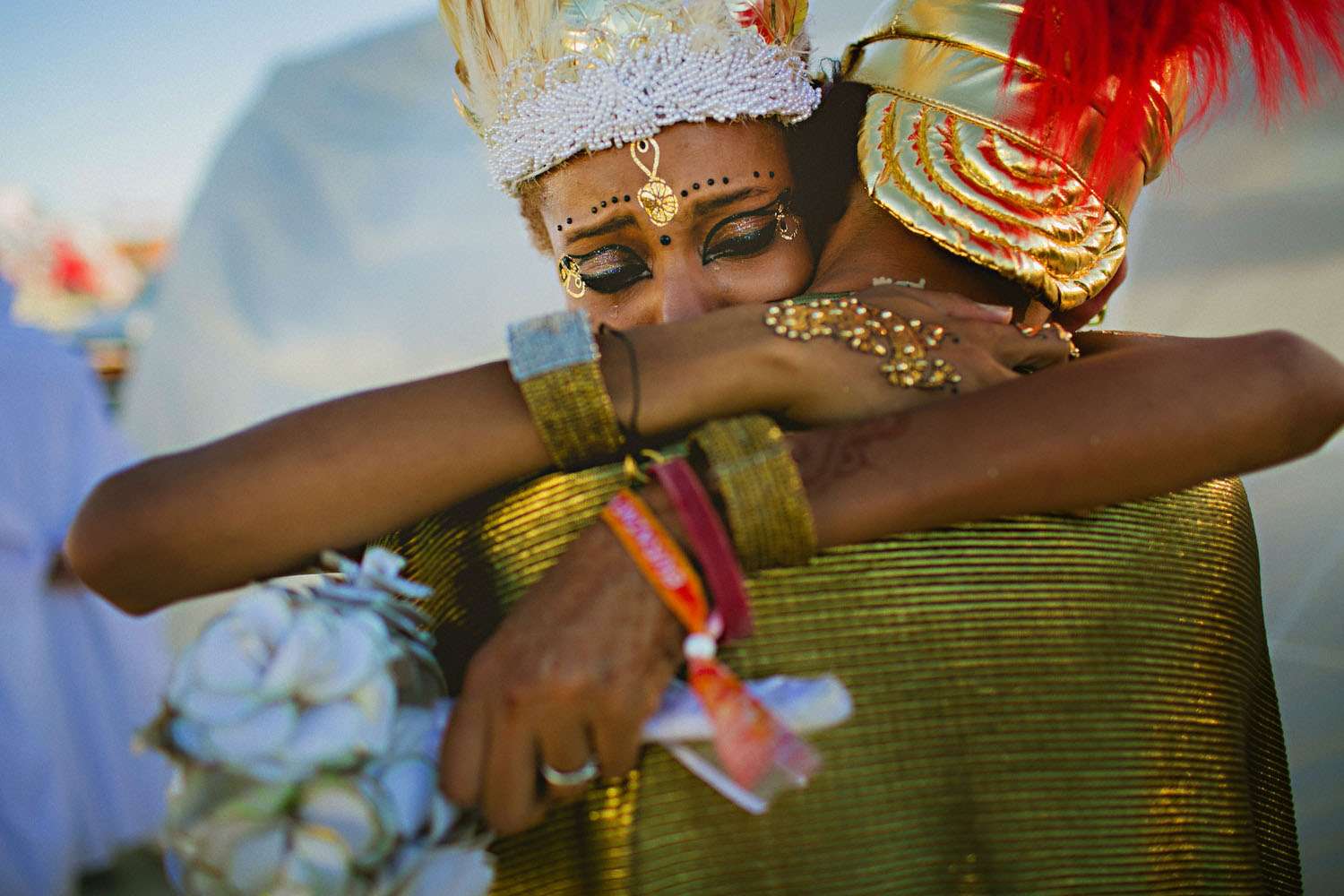 "The inspiration for our wedding was desert, caravansary, flowy, bedouin, Aladdin (with my name being Jasmine and all… haha), white and gold", wrote the bride. "What made it unique was the fact that it was a HUGE production at Burning Man, over 500 people dressed to the nines in white and gold showed up to celebrate our union. The challenge prior was having no way to communicate. It was like taking it back to the old school days before the internet and relying on people's memories. We did a lot of running around to different camps to remind people that the wedding was on Wednesday, which actually faired the best in terms of weather. The universe definitely worked in our favor."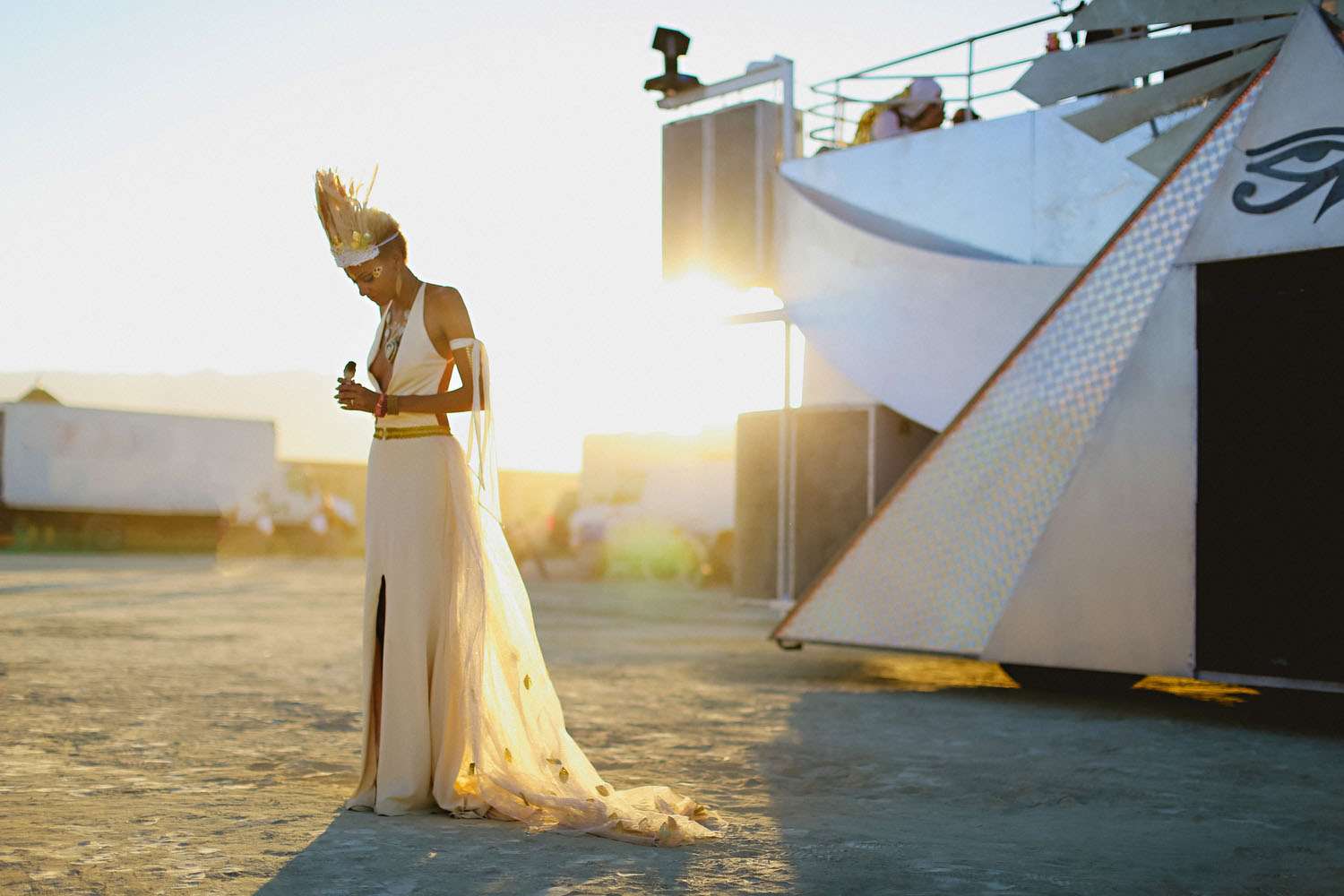 Jasmine's dress was custom made by Lucky Dress Shop, her iridescent platform sneakers were by Urban Outfitters and her headdress was homemade.
"The theme this year for Burning Man itself was Caravansary, which actually fit perfectly for us on so many levels", she continued. "It was almost serendipitous if you will. We had already decided lonnnnnng before that we were going to do the white and gold theme. I imagined this being quite picturesque in desert landscape. It was more befitting after the theme was announced and worked perfectly for the costumes we had already decided upon. I was finally getting to marry my Aladdin, except he's Icelandic."
"In terms of DIY, My friend Anne Kohlhagen helped me make my wedding train. I drew out what I had in mind, but she made it come to life. The train is made of gold glitter tulle with large gold leaf sequins that were sewn on by hand toward the middle and base of the tar. I also made my bouquet which is made from paper, mostly inspired and as a tribute to my love of paper. I actually have a paper blog I love it so much!"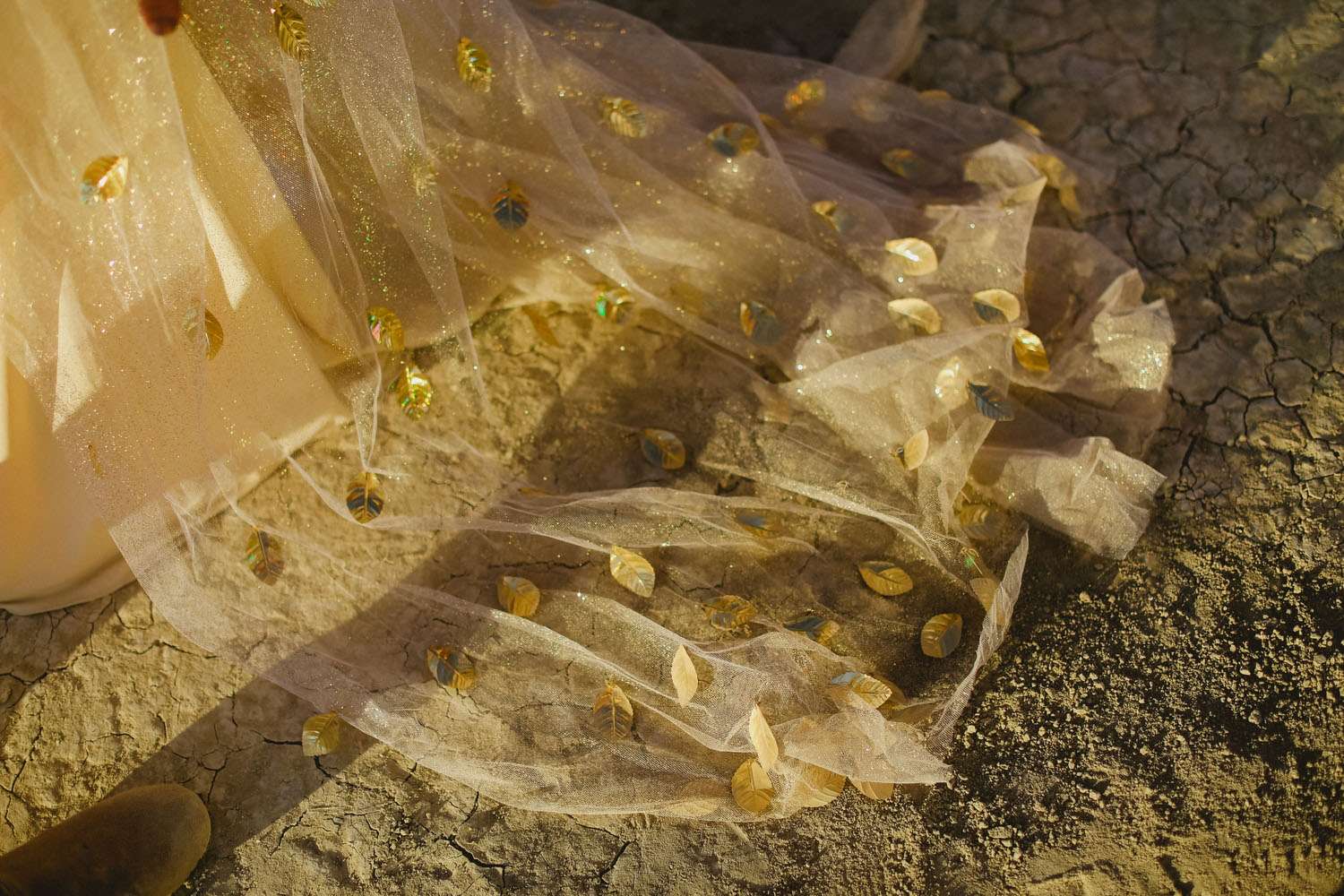 "A big part of getting married at Burning Man is that things happen that you don't plan for", the bride concluded. "It's a completely harsh environment that presents itself with unexpected challenges, even when you think you have planned things well. In our case, our accommodations that were presented to us as a wedding present from very dear friends of ours, turned out to be less than perfect. Long story short our friends, were duped into renting a converted Greyhound bus that had none of the advertised amenities: air conditioning, bathrooms, showers, etc. It basically ended up being a sweat bath plus most of our food for the week going bad within the first few days."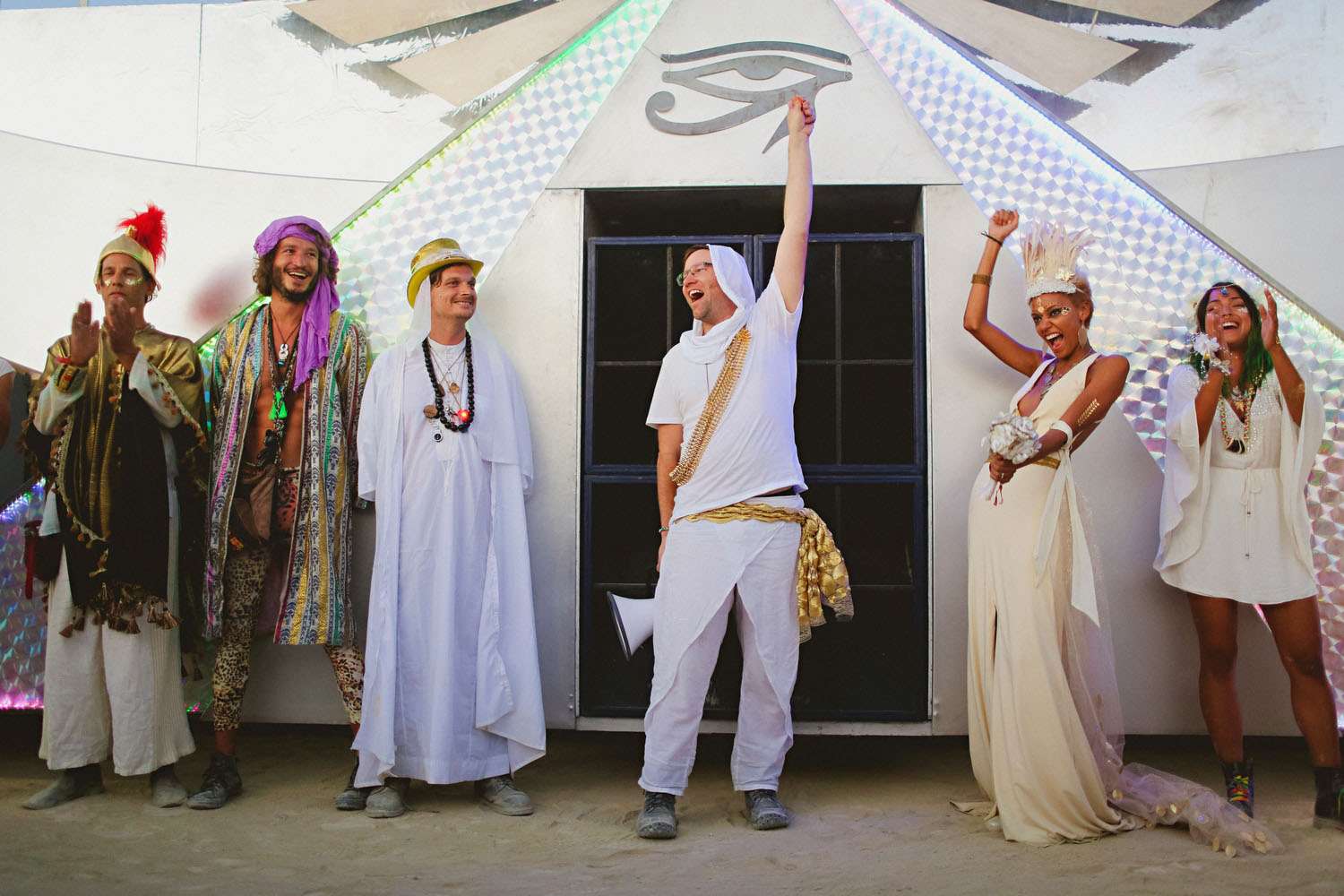 "For all of the things that we could have done differently, I wouldn't have changed anything for the world. I think there is only so much we could have done that would have most likely yielded the same results. Burning Man is a place of wonder and magic and I think part of the fun in that is expecting the unexpected and rolling with the punches. You take what you get and you accept it for all of it's glory, because in the end it's still pretty damn awesome."