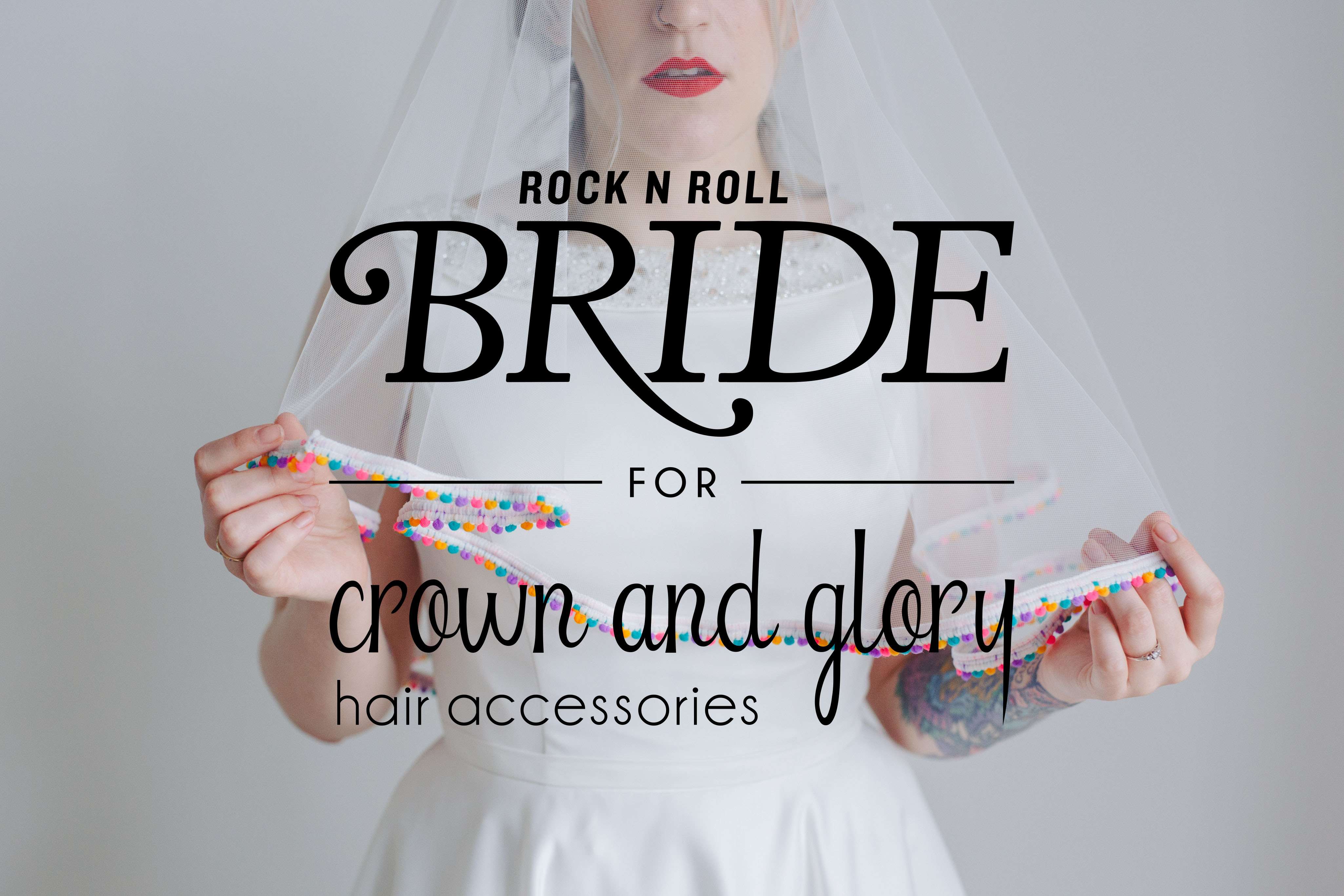 When Sophie of Crown and Glory reached out to me three years ago to ask if I'd like to do a headpiece collaboration with her, I didn't hesitate in saying "Hell yes!" I'd only ever met her in person once, very briefly, but I knew it would be the perfect fit. Since then we have gone on to collaborate on 30+ pieces together, over three collections.
Last summer we started discussing what our next range might entail and I suggested we do something completely different; veils. I know a lot of my readers buy our headpieces to wear on their wedding days, so it felt like an obvious evolution.
This capsule collection is made up of six pieces can all be customised to suit your own, distinctive style. The glitter bows come in 30 colour options, the Liberace heart encrusted gem veil can be created in any colour, and the Circle Slogan Veil was designed specifically to allow you to stamp their own word or phrase on it! These pieces are designed to be as individual as the brides that will wear them.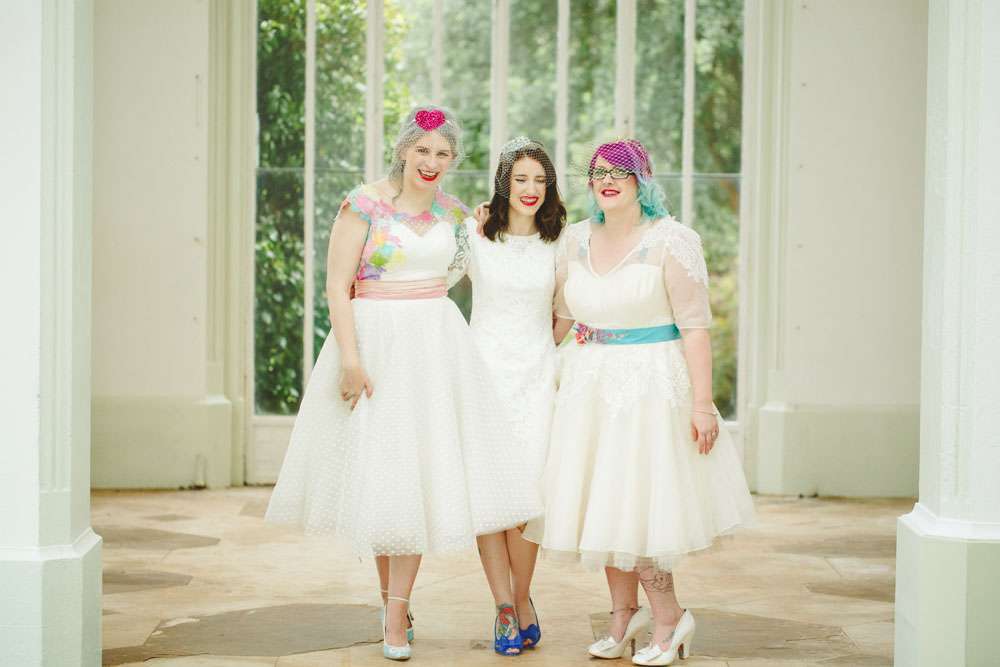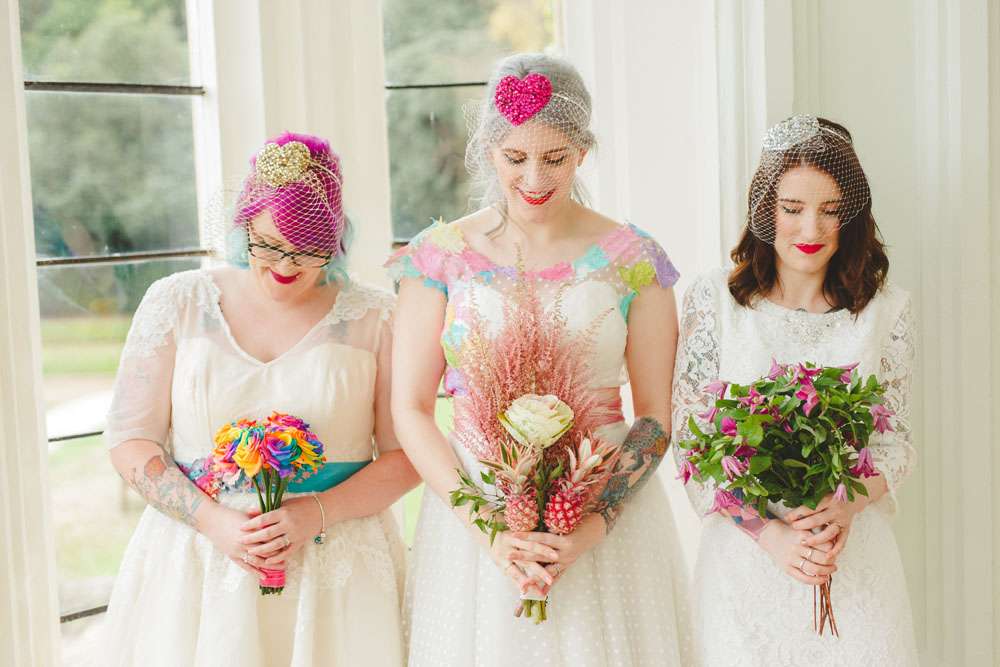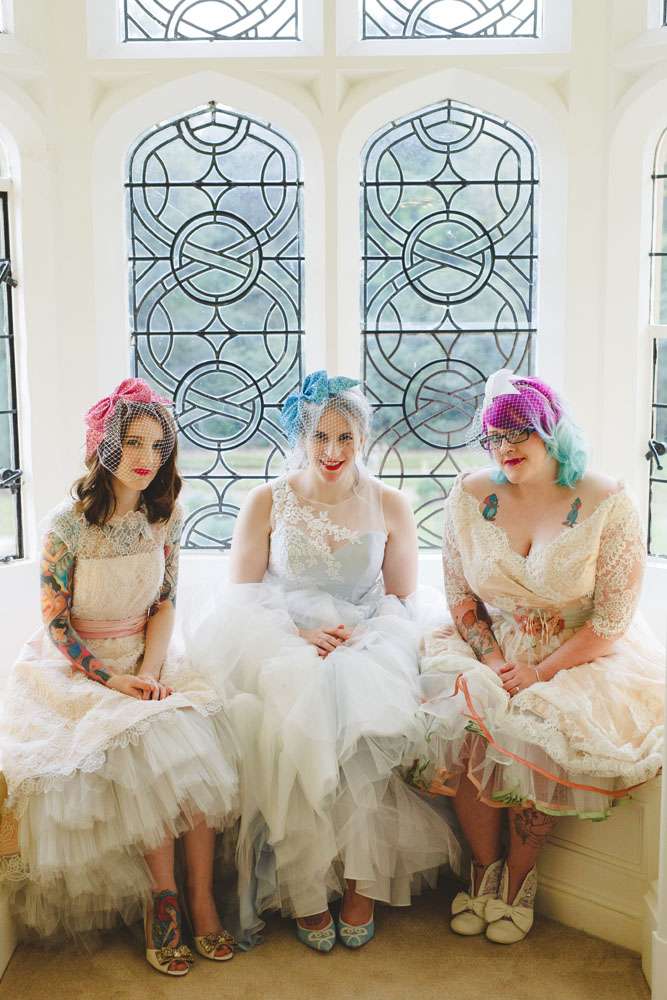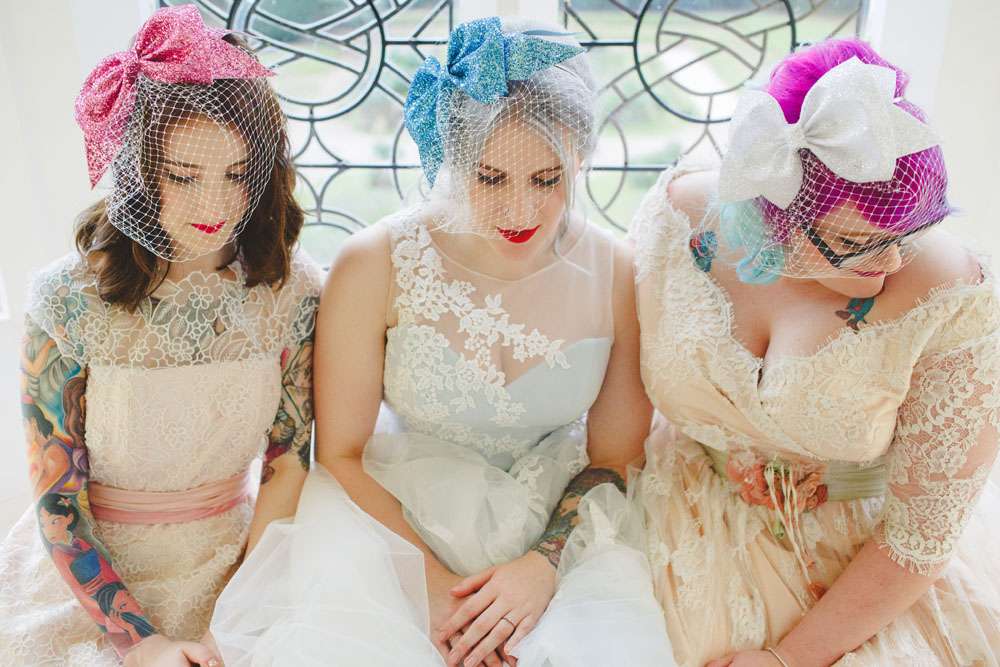 Before I move on to sharing the entire range piece-by-piece, can we stop for one second and just admire the beauties that are our real bride models in these images? You may remember that in August we ran a contest to find the faces of the collection and after much deliberation we picked Claire, Kirsty and Hannah as our babes.
God damn, Claire is so photogenic.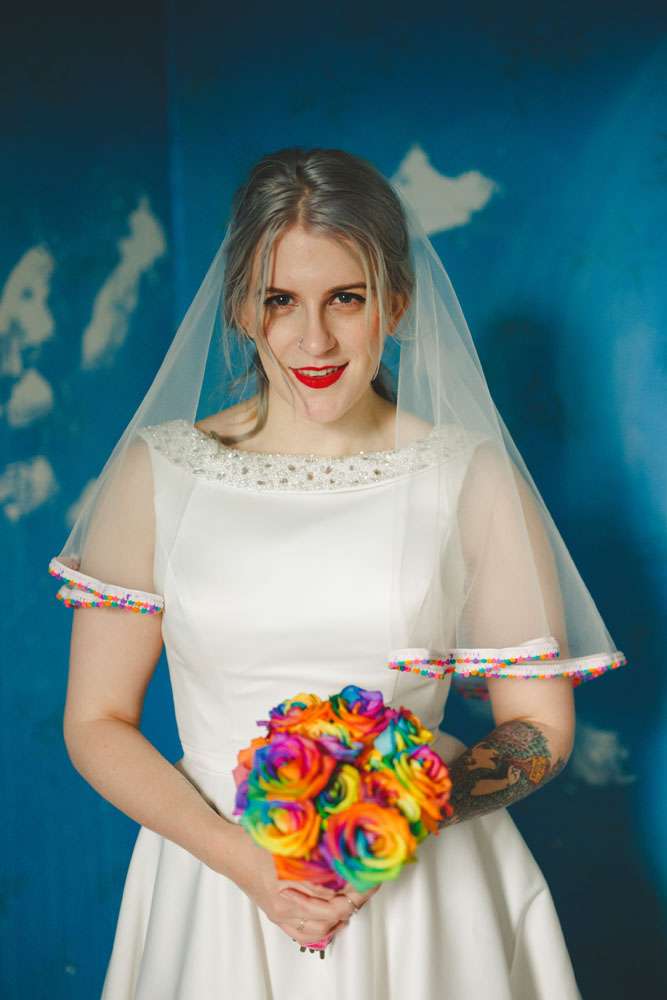 Teeny tiny Kirsty is such a doll, plus she has the most bad ass Disney sleeve I've ever seen!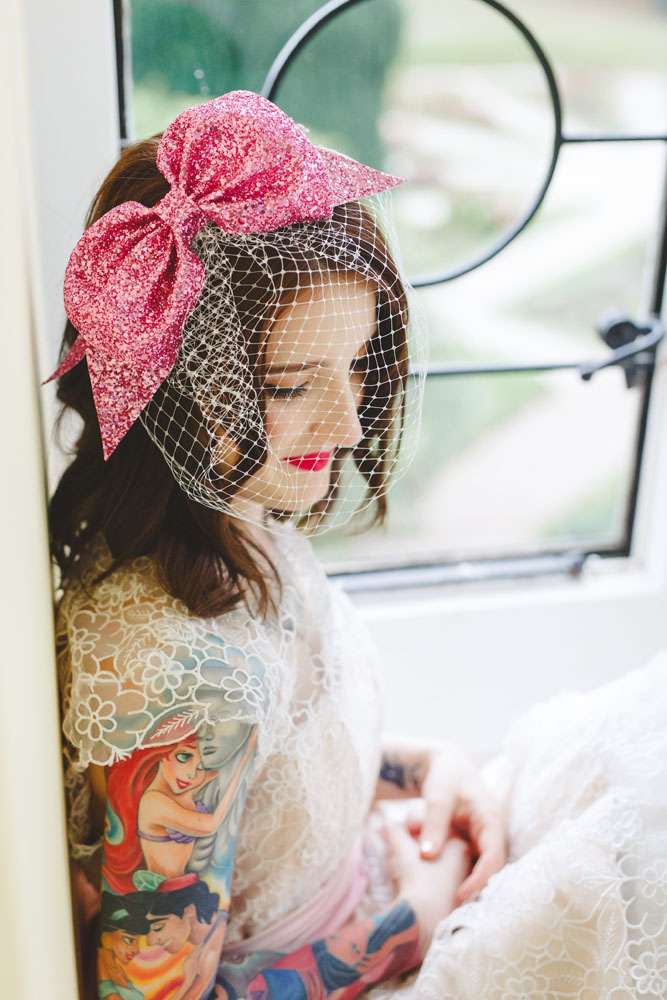 Hannah, what a fitty. We were obsessed with her pink to teal hair and she looked good in everything!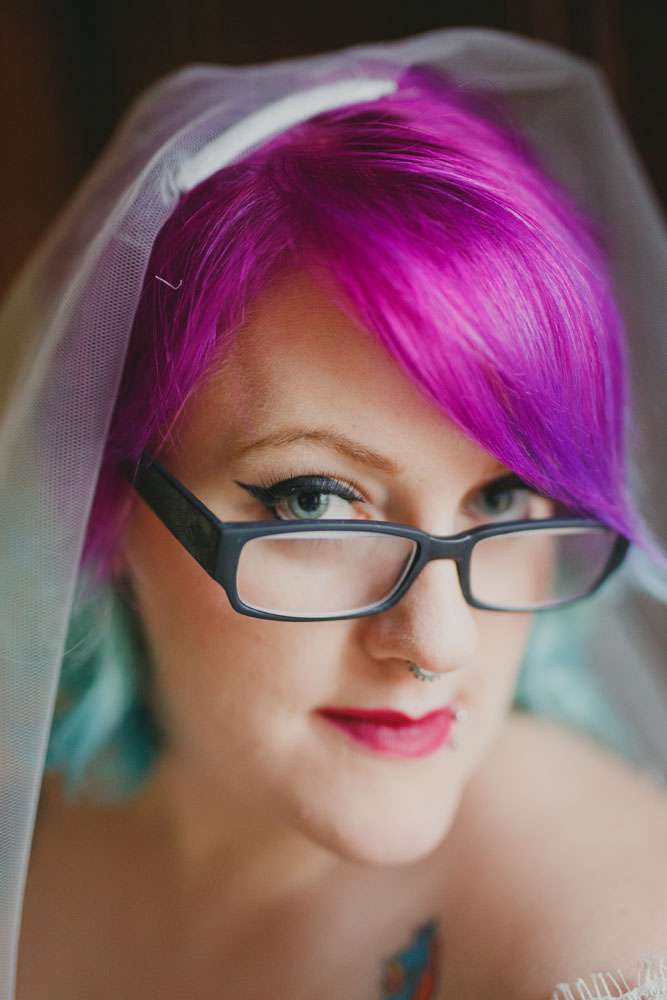 The shoot took place at the amazing Mamhead Estate in Exeter. We even got to stay over that night in the 35,000 square foot home and pretend to be all fancy. Of course they do weddings too, you can enquire via their website.
OK, OK enough of my gabbing, let's move on and go through each of the pieces!
Glitter bow with birdcage veil: £30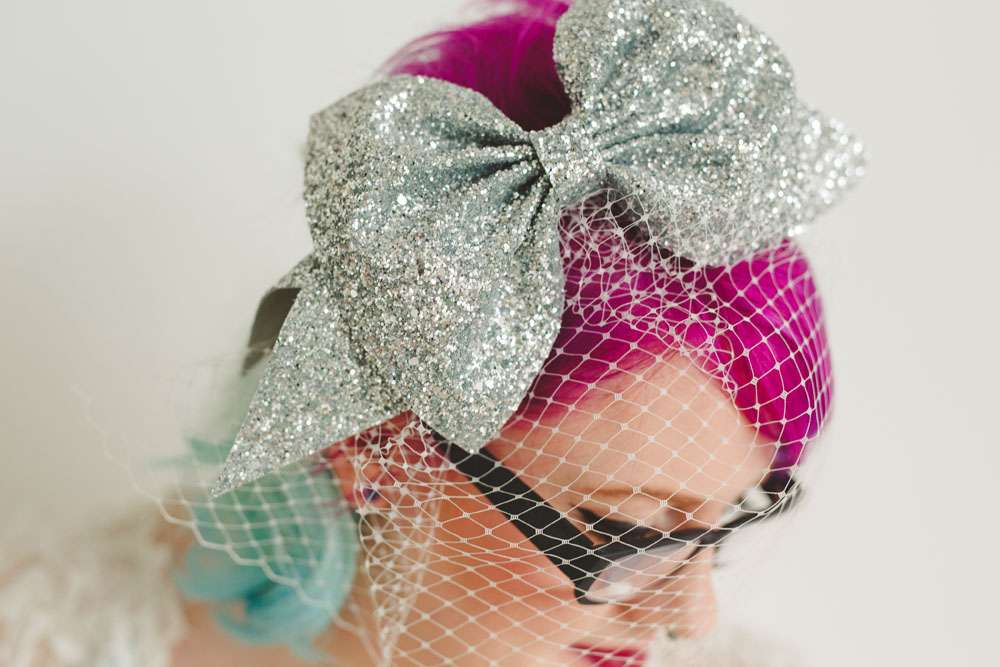 Oversized glitter bows are my jam and I just know you're going to love these just as much as I do. Available in 30 super sparkly colours, each bow comes attached to an ivory birdcage veil on a comfortable silvertone aliceband.
Buy the Glitter Bow Birdcage Veil
Liberace Heart with Birdcage Veil: £40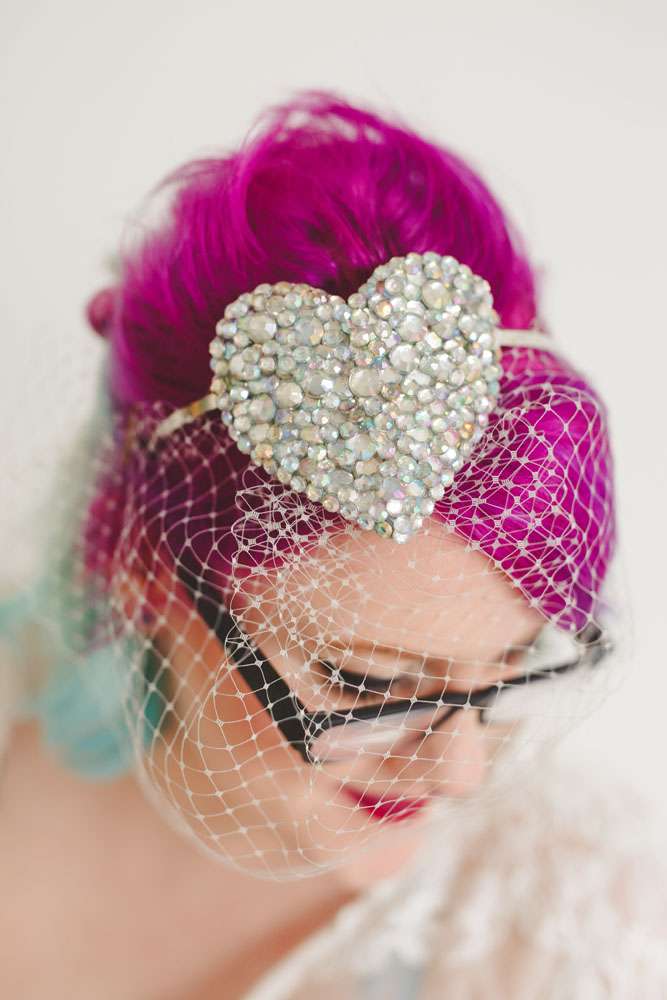 The Liberace heart headband continues to be one of our best sellers, so turning it into a veil was a no-brainer. A hand-embellished gem heart is attached to a silvertone aliceband and a colour-matched birdcage veil. Available as standard in silver, pink, black and gold (with custom colours available on request).
This is one veil you are not going to want to take off at the end of the night!
Buy a Liberace Heart Birdcage Veil
Pom Pom Trim Circle Veil: £40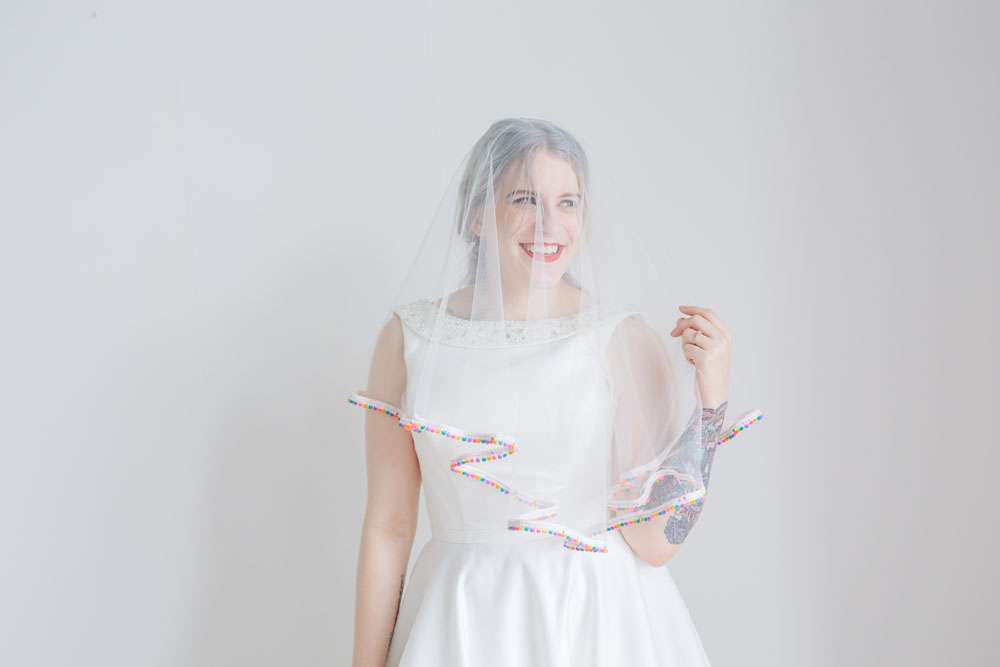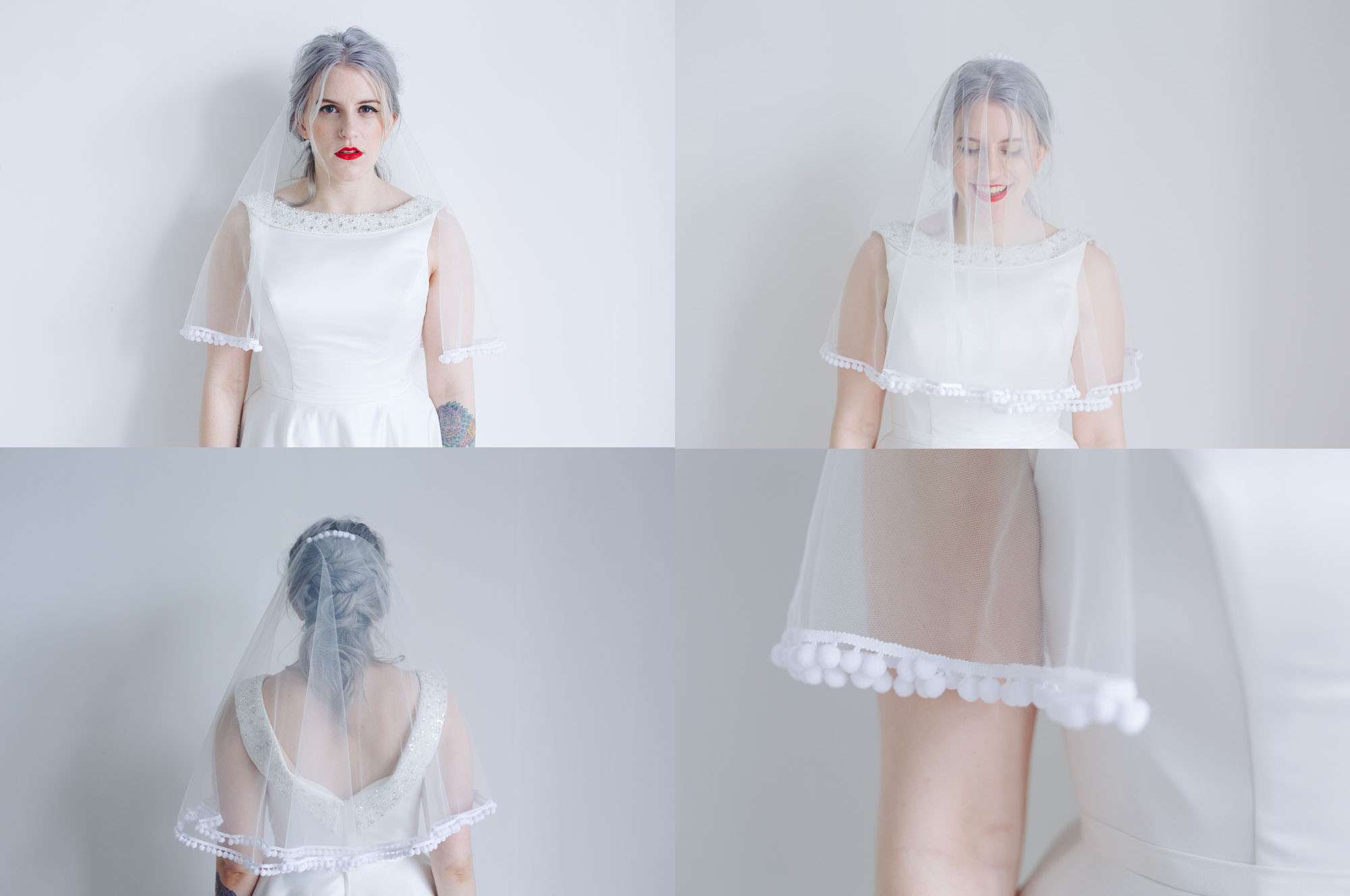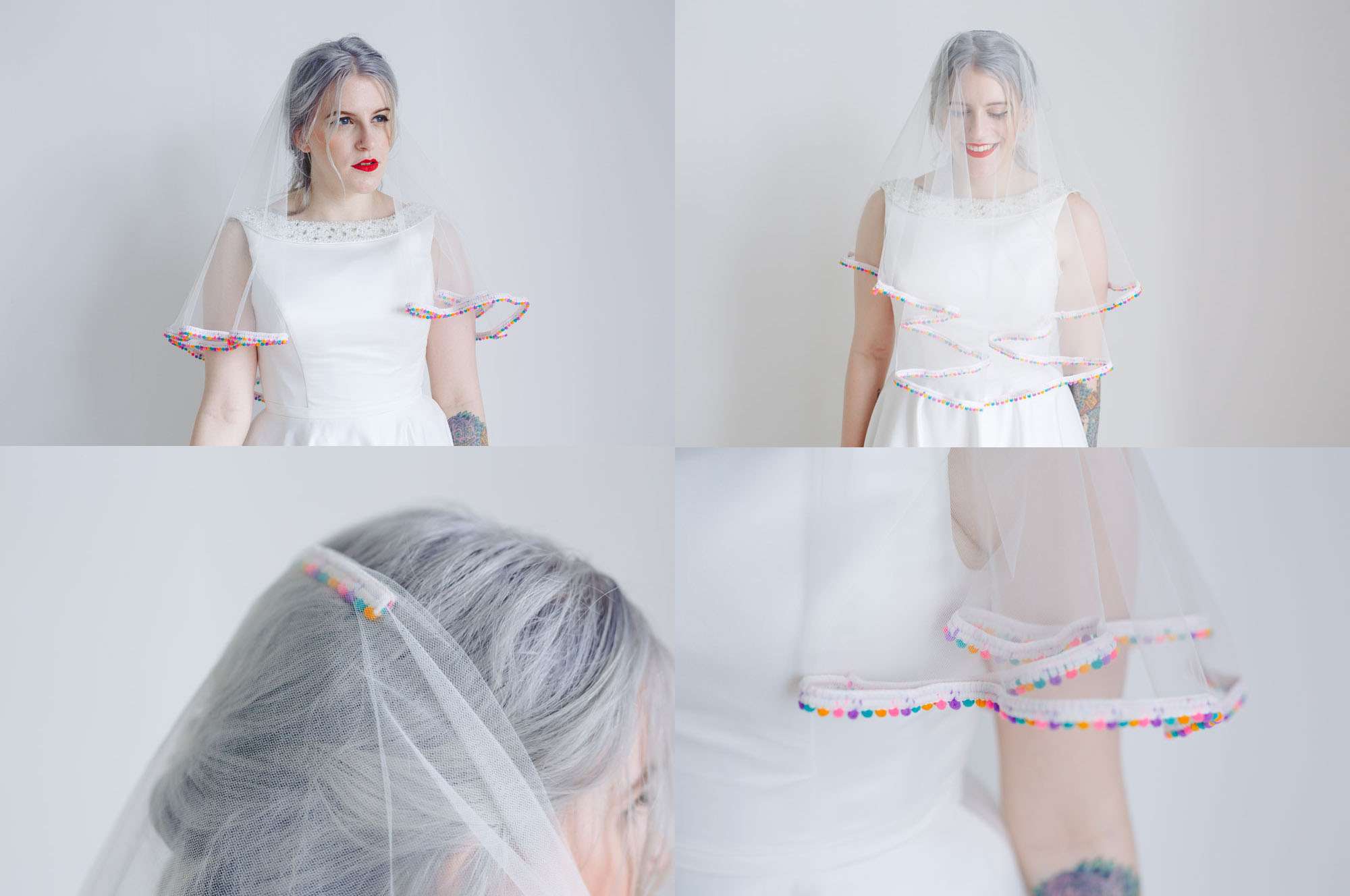 This is my very favourite piece from the collection… I wish I could wear one everyday! The double layered shoulder-length tulle veil comes edged with delicate poms in either ivory or rainbow!! The veil attaches to your head with a subtle clear comb and will add a fab retro twist to your wedding day look.
Buy a Pom Pom Trim Circle Veil
Custom Slogan Circle Veil: £35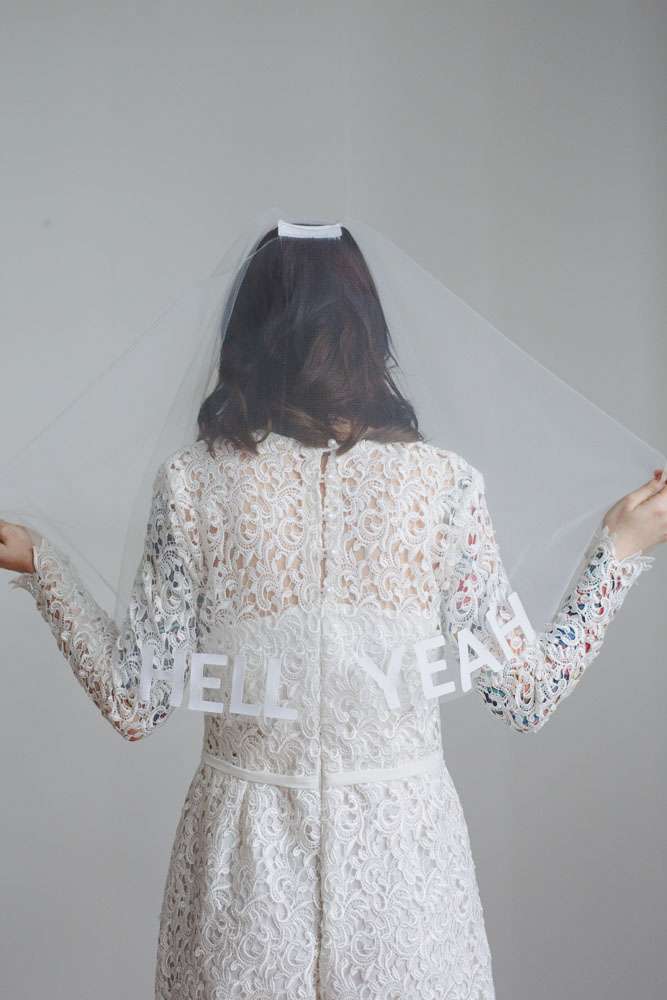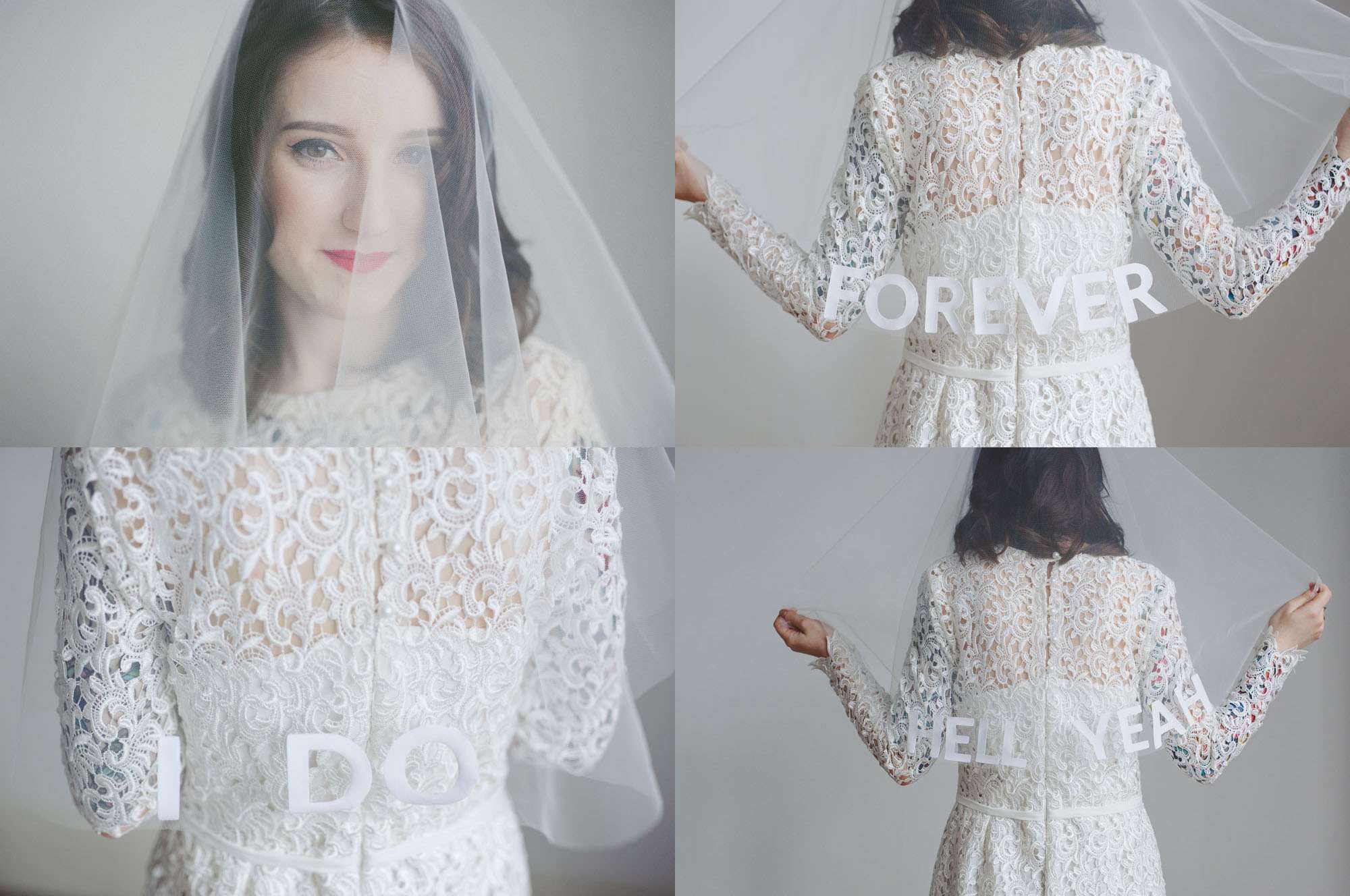 Say it loud and shout it proud with the flocked velvet slogan veil! This double layered, shoulder-length veil will be handmade to order meaning you can have yours say whatever you damn well please (up to 12 characters). Simply add your word or phrase at the checkout.
Buy a Custom Slogan Circle Veil
How about having one with your new married name on it?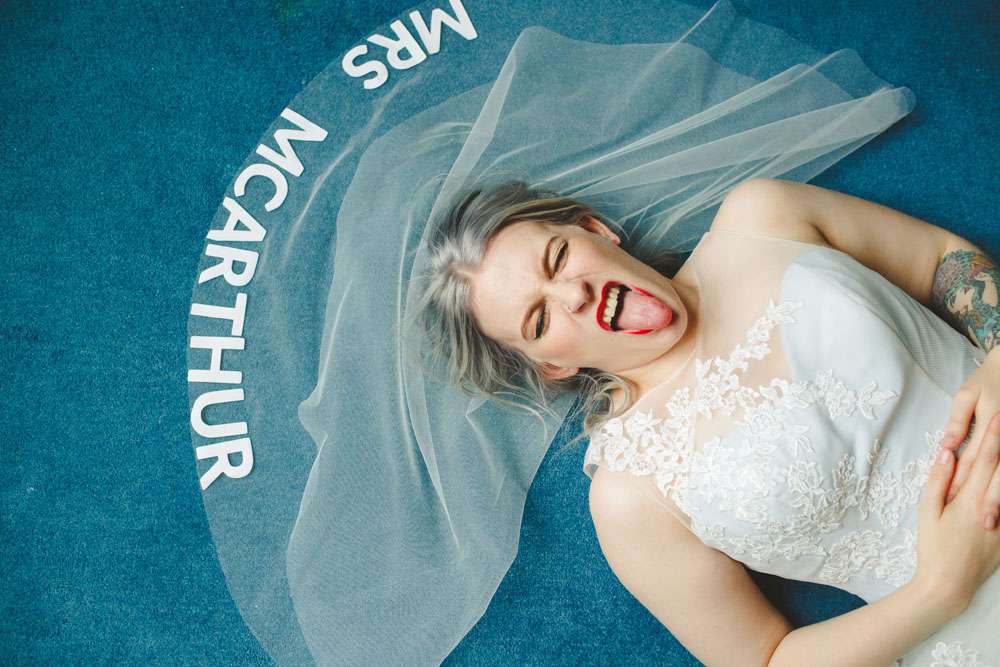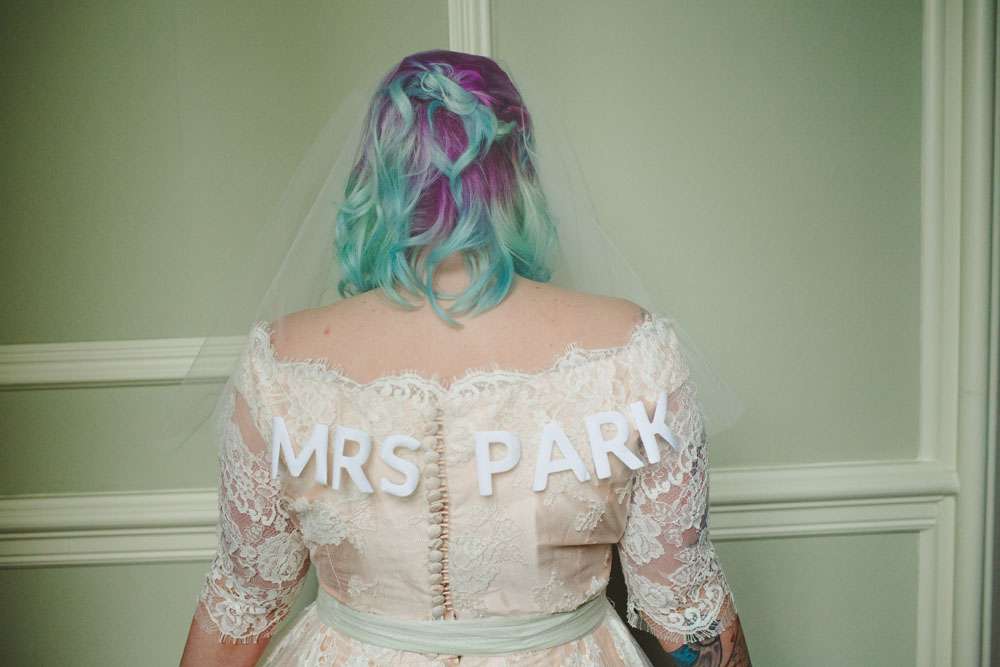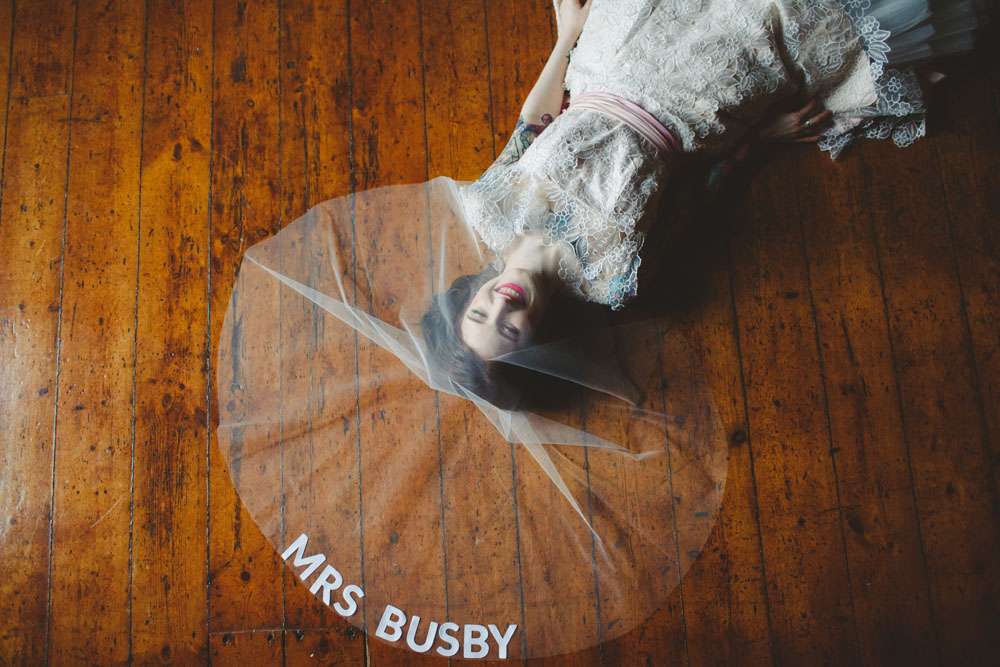 Glitter Edge Circle Veil: £30

If you prefer the look of a tulle, but still want to add a bit of glitter, then this is the veil for you. The double-sided glitter trim is non-shedding and as sparkly as you like. The trim is also colour-matched to the veil itself. Available in classic white, baby pink and soft dove grey.
Buy a Glitter Edge Circle Veil
Rainbow Gem Encrusted Birdcage Veil: £50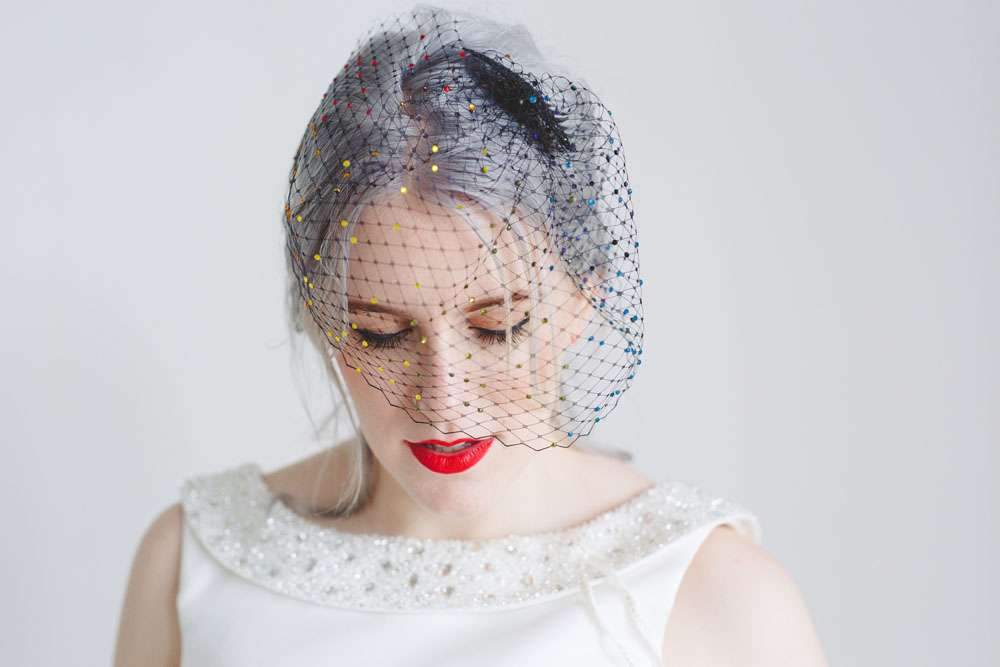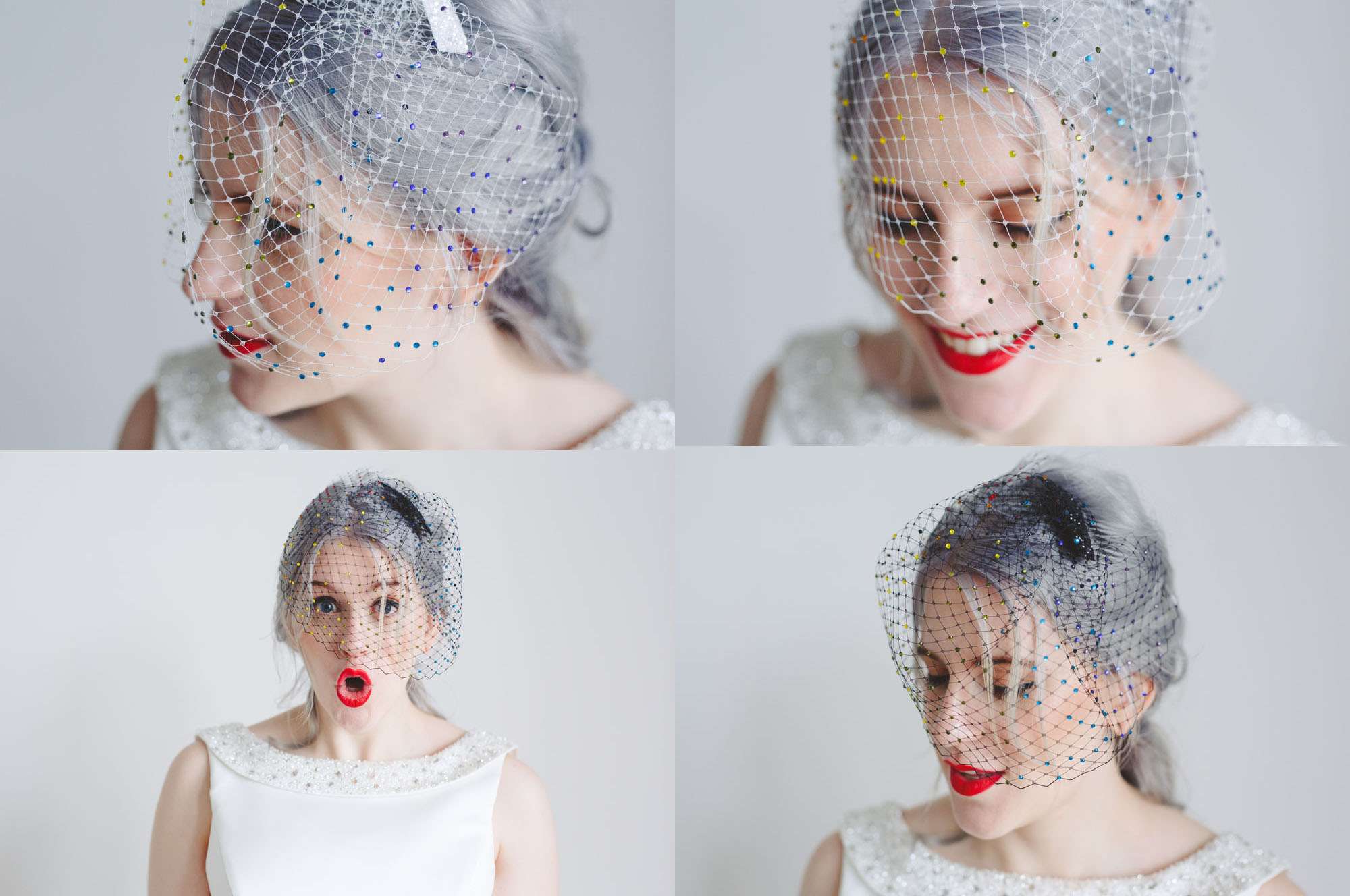 The show-stopper of the collection! Available in either classic white or striking black, each of the rainbow crystals are painstakingly hand-embellished resulting in a veil that will shine as bright as you do! This birdcage veil is perfect for brides to want to add some colour, but in a really unique way. Just you wait until the light hits the hundreds of crystals, this piece looks truly incredible in person!
Buy a Rainbow Gem Encrusted Birdcage Veil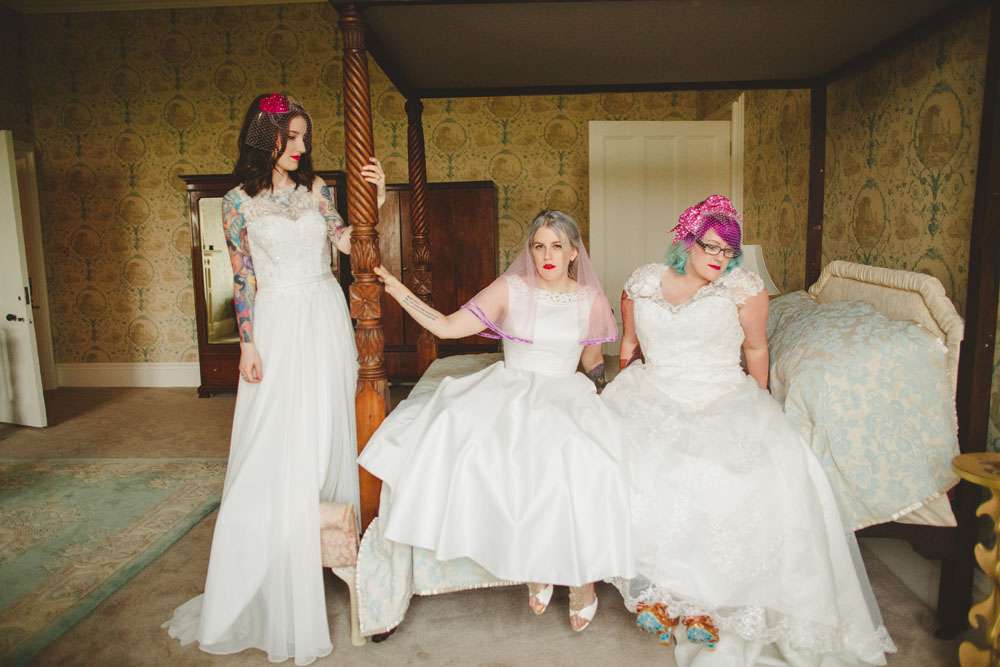 These veils have been designed for Rock n Roll brides who aren't afraid to stand out from the wedding crowd. If you'd prefer to wear a 1950s vintage dress, or an elegant black ball gown, or a jumpsuit over something traditional, then these are for you.
You've got a bold sense of style so why should you turn into a bridal clone as soon as you start to plan a wedding? These veils are for the babes with punk rock in their hearts who leave a trail of glitter and magic as they stomp down the aisle. They're for girls who match their hair to their favourite lipstick. They're for brides who want to rock their own breed of weirdness on their wedding day.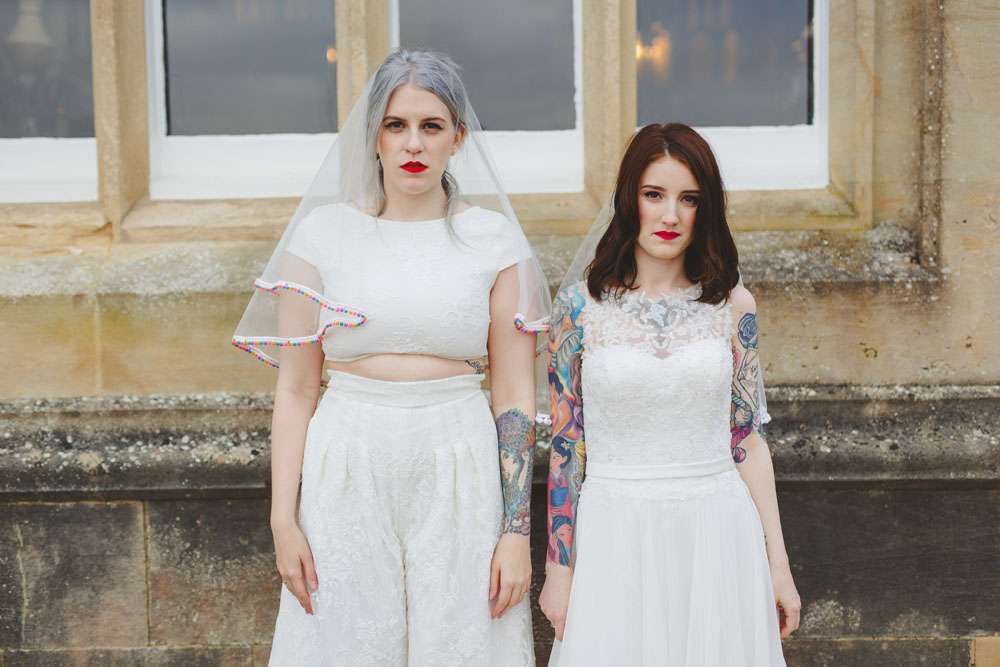 Each of these new head turning veils costs less than £50 (!!) and have been added to the shop section of our site. To purchase, simply click the item you want and, by the magic of the internet, you'll be transported to the Crown and Glory website where you can shop away to your heart's content.
Each piece will be handmade for you by the Crown and Glory elves and will arrive beautifully wrapped in a branded dust bag or gift box to protect your veil before and after your wedding.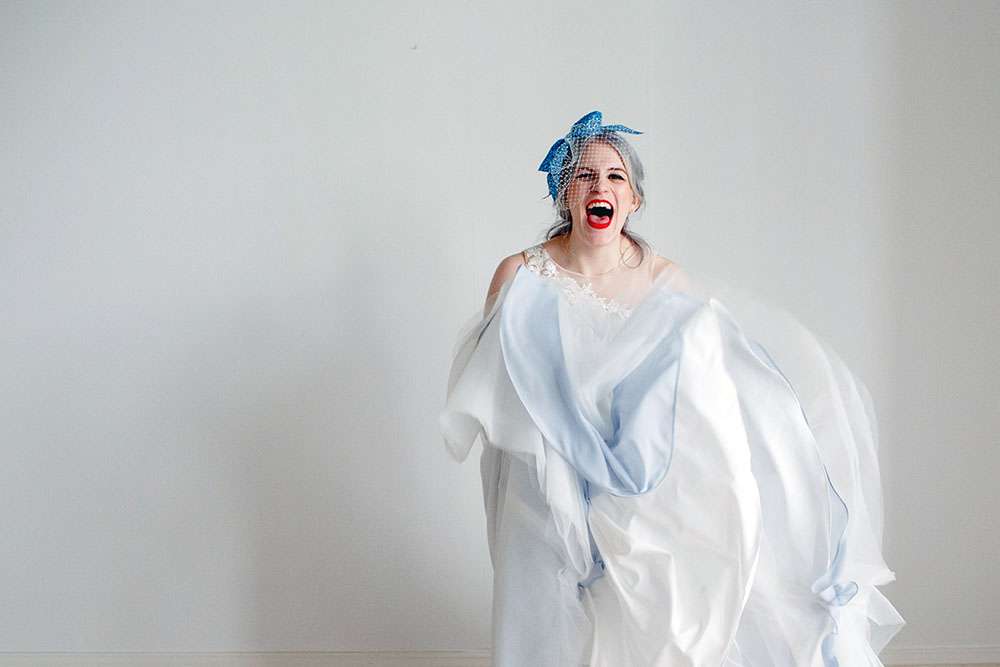 Rainbow kisses and excitable jumping up and down forever!