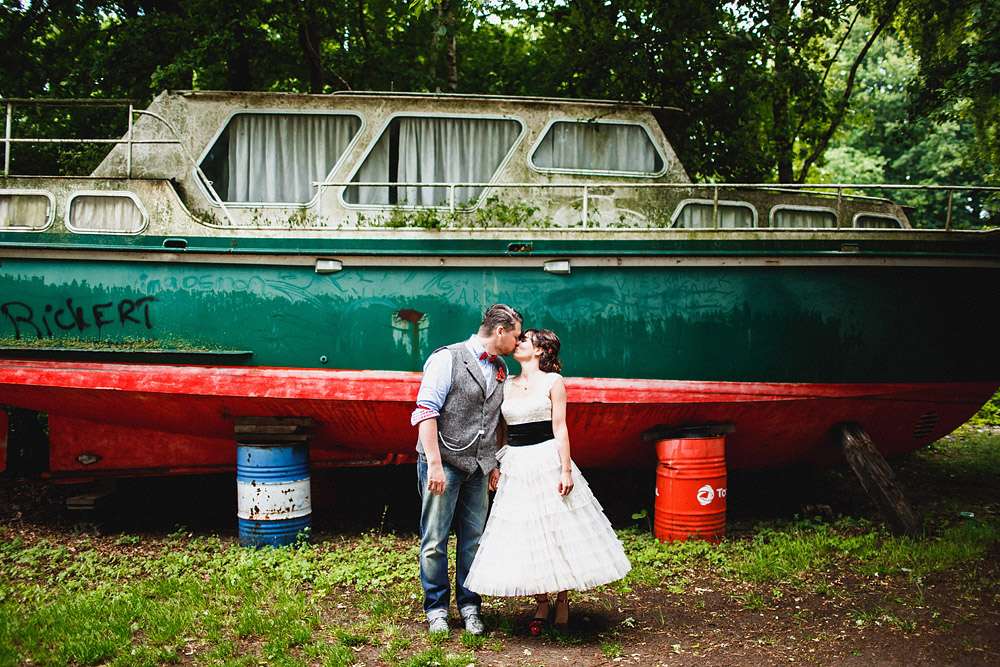 This two-day wedding in a forest in The Netherlands is sure to take your breath away… if it doesn't then I'm really not sure what else I can do for you! Celebrations like Eva and Jean's make me feel so ecstatic that my job is sharing such gorgeousness with the world. I just know you're going to love this one.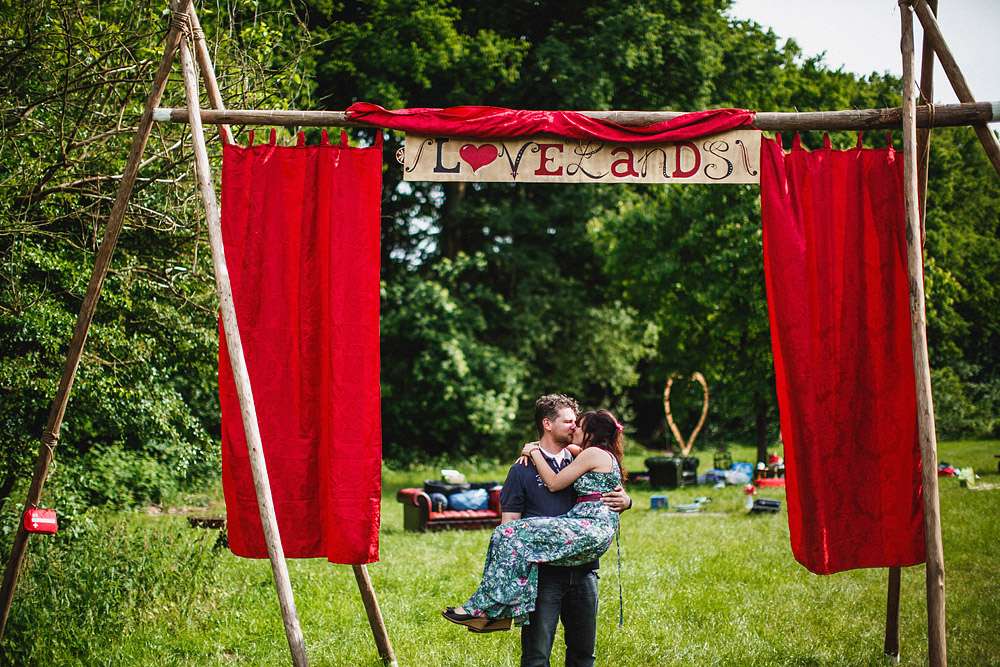 They kicked off the weekend with a their legal ceremony on the first day – a low key affair with their closest family and friends. But it was day two when the real magic happened. The ceremony was held at a ruined chapel in the woods, called St. Walrick in Overasselt, the Netherlands. The bride explained, "A long time ago this spot was a popular hide out for criminals but today there's a wishing tree where everybody can hang a ribbon in the tree to make a wish (which we all did of course). We all camped at a tree lined field in the nearby scouting area."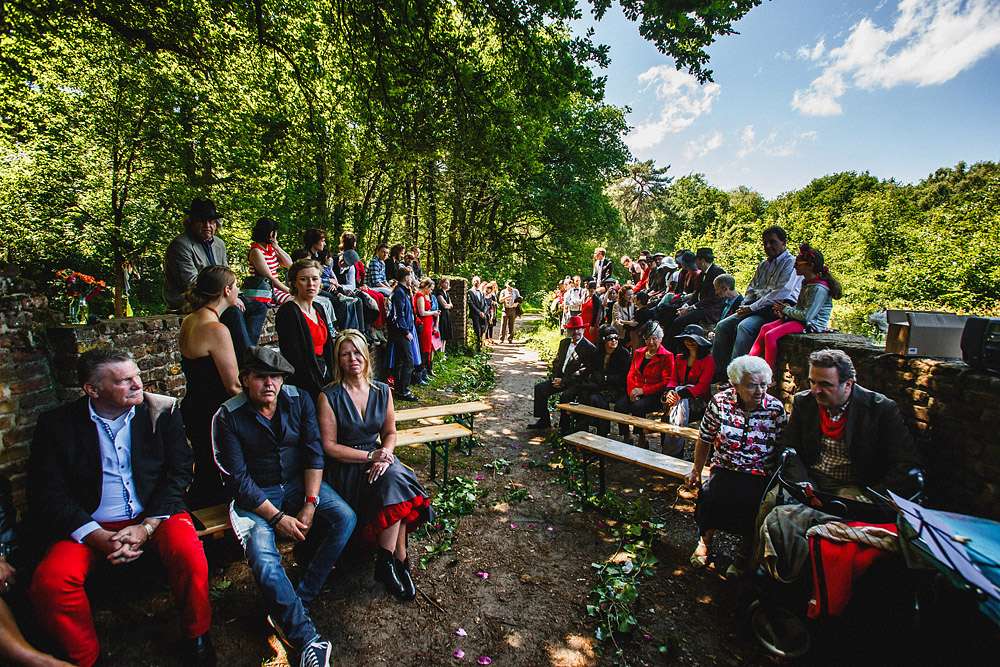 The ceremony was an emotional one, with their photographer Lucky describing what happened, "There was one particular moment where I felt moved like I've never felt at a wedding before. The newlyweds walked down the aisle of the robber's chapel hideout and Eva, who was jubilant with happiness, started crying. When I turned around and saw what was behind me, I realised the cause of these tears. A few years ago, Eva's father had passed away and he'd always said that he'd learn to play the bagpipes for Eva's wedding. Sadly, he didn't live long enough to achieve it. But Eva and Jean's friends had organised a bagpipe player to attend. In the end, even though Eva wasn't with him, he was very much with Eva. I don't cry at weddings, but I'd grown to love these two beautiful and wonderful people in front of me, and my emotions overtook me for a moment and a tear rolled down my cheek."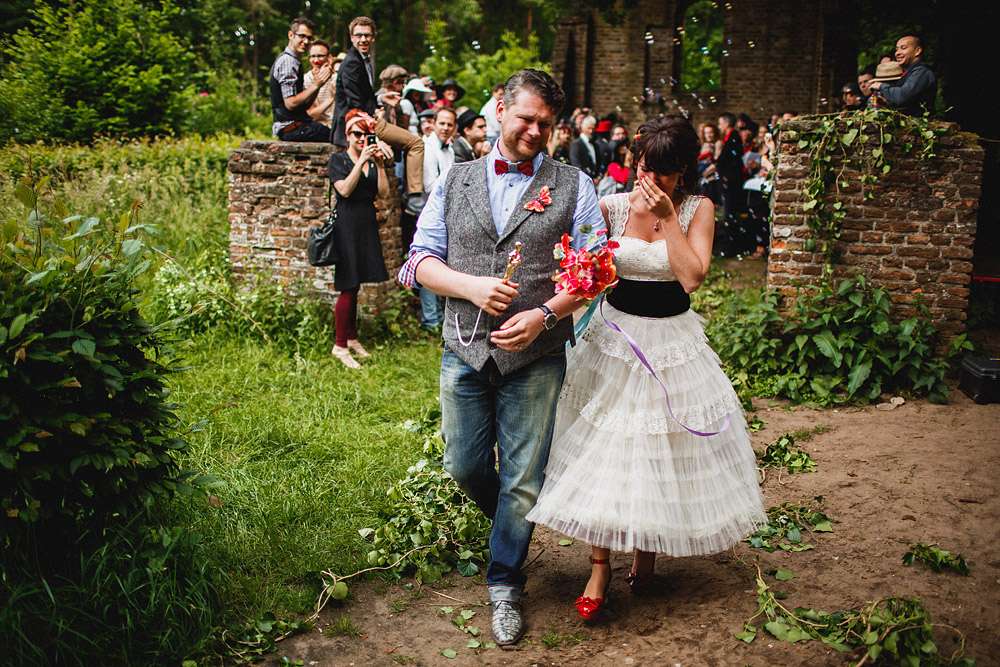 The bride wore three different dresses throughout the weekend. The first, her legal ceremony dress, was from H&M, the white one was a vintage 1950s dress which she and her mother cut up and redesigned and her final number was a gold and black long gown from the 1970s.
"Our wedding was inspired by old movies and festivals", Eva continued. "We were influenced by the gypsy party in the movie Chocolat with Johnny Depp, the Dutch festival Lowlands (hence our wedding was dubbed Lovelands) and old school camping vacations with family."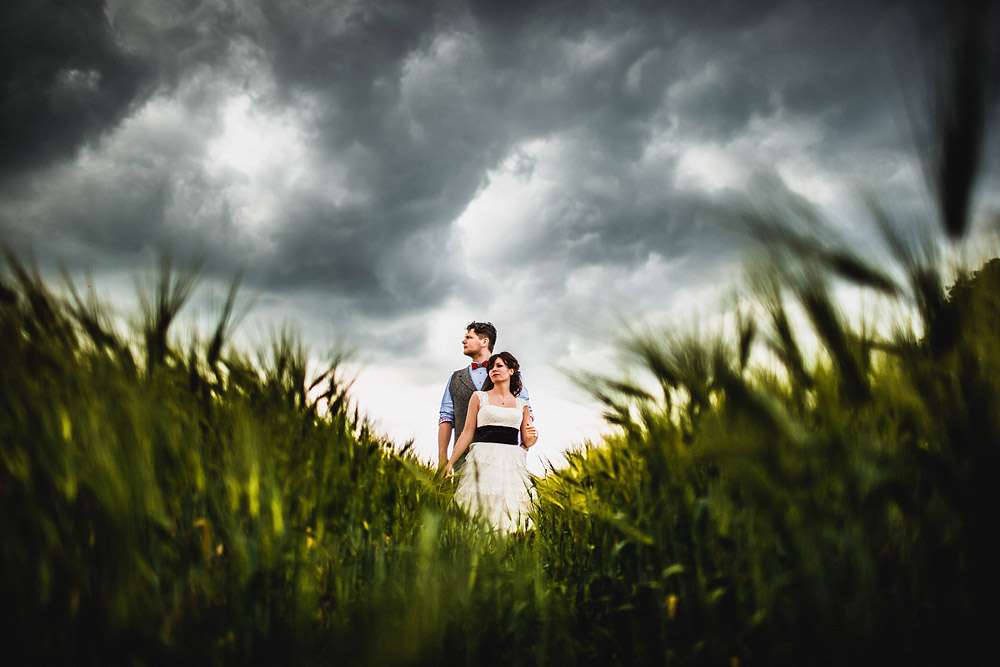 "When we started planning, our goal was to do everything exactly the way we wanted to without making exceptions. We knew there probably would be some people who wouldn't be very thrilled about camping, or about the dress code (vintage with a red accent), or about the ceremony being in the open air, but that was what we love so we did it our way. One of the nicest reactions afterwards from one of our friends was: 'it didn't feel like a wedding at all, it felt like being at an amazing festival!'"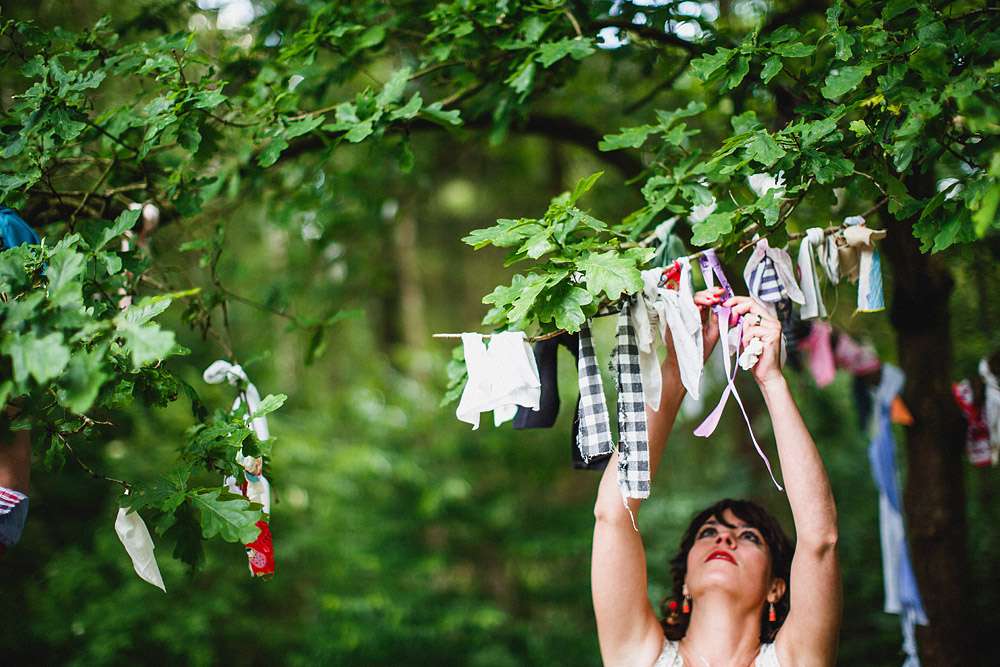 "Another thing was that we asked our four witnesses to 'do' something in the ceremony, instead of just signing their name. This was what made the ceremony (written by ourselves) so emotional. My brother had prepared a quiz for us, my friend Isabelle had composed a song on the piano based upon an interview she'd had with the both of us (about each other), Jean's brother had nothing prepared but ended up leaving all the guests in tears, and Jean's friend Ralph had prepared an Oscar ceremony in which the movie from our DVD 'A camping trip to Lovelands Paradise' won the Oscar, of course. The rest of the weekend there was no planning, there were just some activities and everybody could do whatever they wanted!"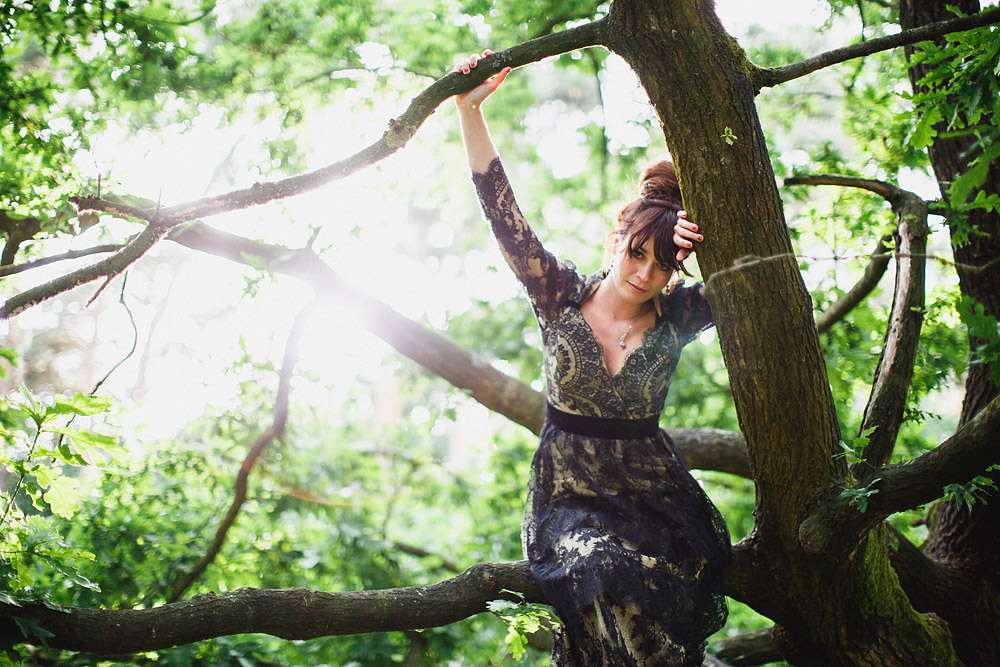 "The best thing about our wedding was the feeling that everything was possible", Eva concluded. "Being overwhelmed with all the love and emotions involved at the ceremony was also a favourite moment.  We loved working our asses off with friends and family to turn the forest and field into our magical paradise and taking a moment during the ceremony to look at all the happy faces of our guests. We danced by the campfire, slept in a warm tipi and looked at the stars."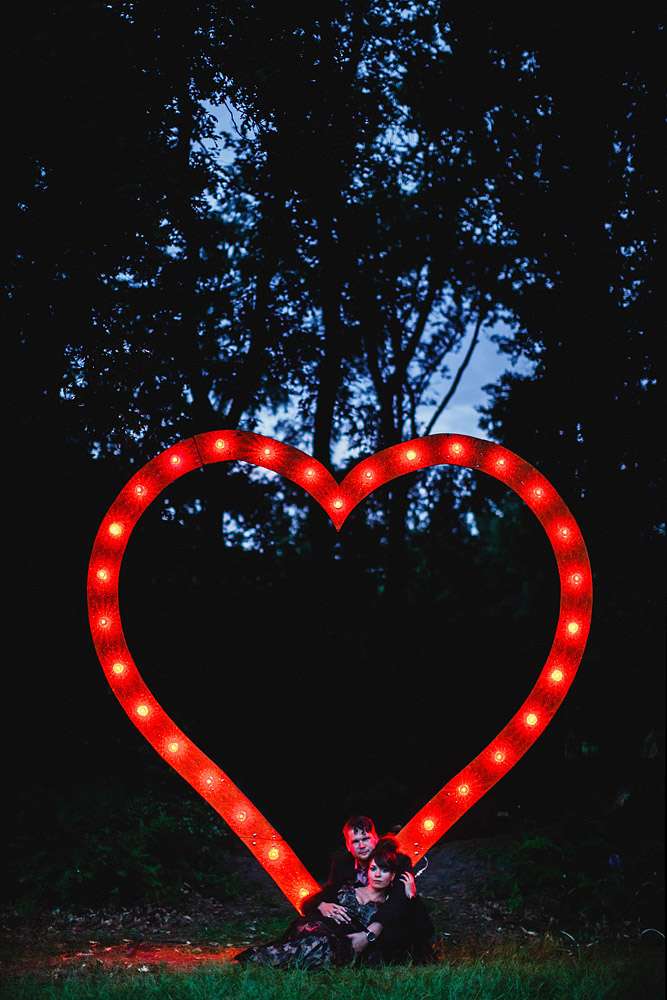 British brides, pay attention! The incredible Lakshal Perera, usually based in Australia, is leaving Oz for a few months, from May-Aug 2014, to come and live in the UK. If you love his work as much as I do be sure to take advantage of him being here and check him out for your 2014 weddings!