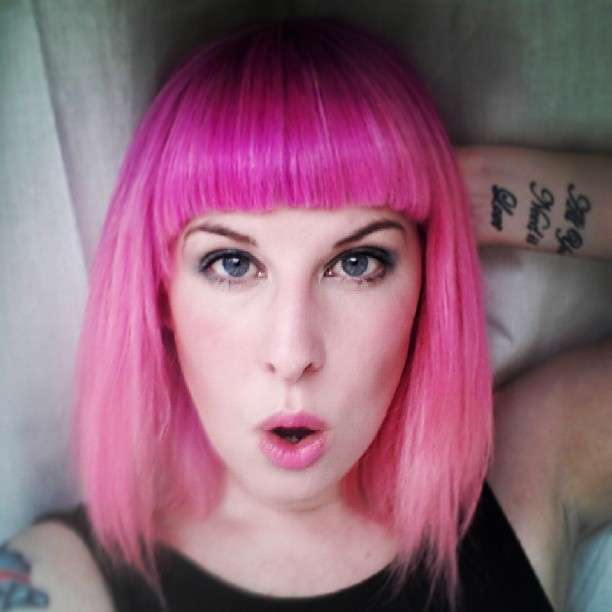 Phew! What a week. I kicked it off with a trip to see Elbie to get my scary roots sorted out and decided, on a whim to go for something new. Don't worry, the pink is still very much intact, but with some added lavender to my roots! Its quite hard to photograph and is actually a lot more purple than it looks in the photos but what do you think?
Then on Tuesday I continued my style makeover with a trip up to Birmingham to get some tattoo work done. I've had my sleeve for about two years and while I loved it there were always a few bits of it that bugged met. The red bits were too red (sounds stupid but I was really after something more – surprise, surprise – pink!) and some of the details were a little flat. I wanted it to be more colourful and girly basically! I found Leah Moule via Instagram and immediately knew she was the girl to help me out. Her candyland-esque designs just made my heart sing!
I was super nervous on the drive up. I know it's stupid as I've already spent 18+ hours under the needle with this sleeve but I find tattoo studios weirdly intimidating places. I also didn't have any totally solid ideas about exactly what I wanted Leah to do. I was putting my faith in her completely to just 'make it better'! But I need not have worried. Leah, and everyone at Spear Studios, was super friendly and put me at ease instantly. The walls were decorated with Cath Kidston pink wallpaper and there were cupcake motifs everywhere. I slurped tea and we gossiped about trashy tv shows as she worked. I had clearly found my people!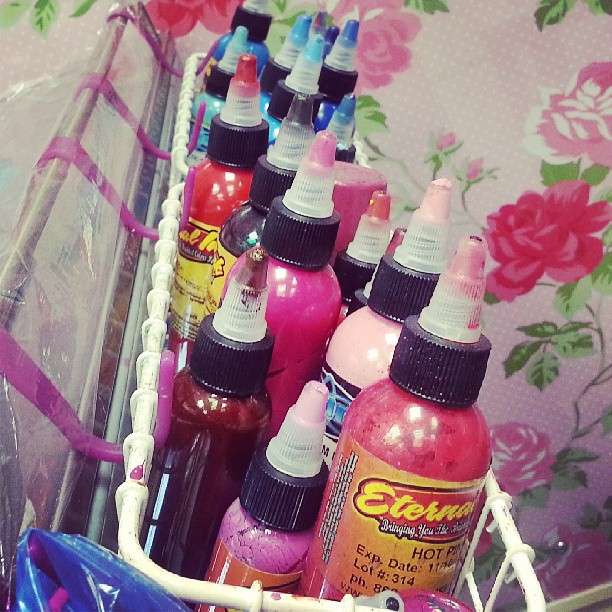 Leah asked me what it was I didn't like about my sleeve to help her come up with some ideas. I also showed her a pinterest board where I'd collated some designs. We decided to add some purple clouds to offset the red, to add definition to the face and to add some new details to fill in some of the weird gaps. Anyway, I'll stop boring you with this long ass story now… but needless to say I'm thrilled with the changes already. I have to go back in August for one final session but I'm already so much happier with how it looks. YEY! Having such a huge tattoo that I wasn't 100% happy with was really starting to get me down so I am over the moon that I've finally been able to get something done about it.
I'm now trying to decide if I'm brave enough to continue the design on the underside of my arm too… I have a cool idea for what it would be but it's pretty ouchy down there!
Weddings & Weddingy Things
♥ What marriage means
♥ Love this bride in blue
♥ Joshua Tree elopement
♥ Fairytale Disneyland wedding
♥ Incredible woodland elopement
♥ Cornish cliff top wedding
♥ 15 awesome wedding tattoo ideas
♥ Crafty eclectic wedding
Photography: Apryl Ann Photography
♥ Lovely garden wedding
♥ The wedding code (one for Gareth!)
♥ Rustic Missouri wedding
♥ DIY gold Martini glasses
♥ Whimsical circus wedding
♥ California love
♥ Amazingly colourful Malasian wedding
♥ Fun bachelorette party ideas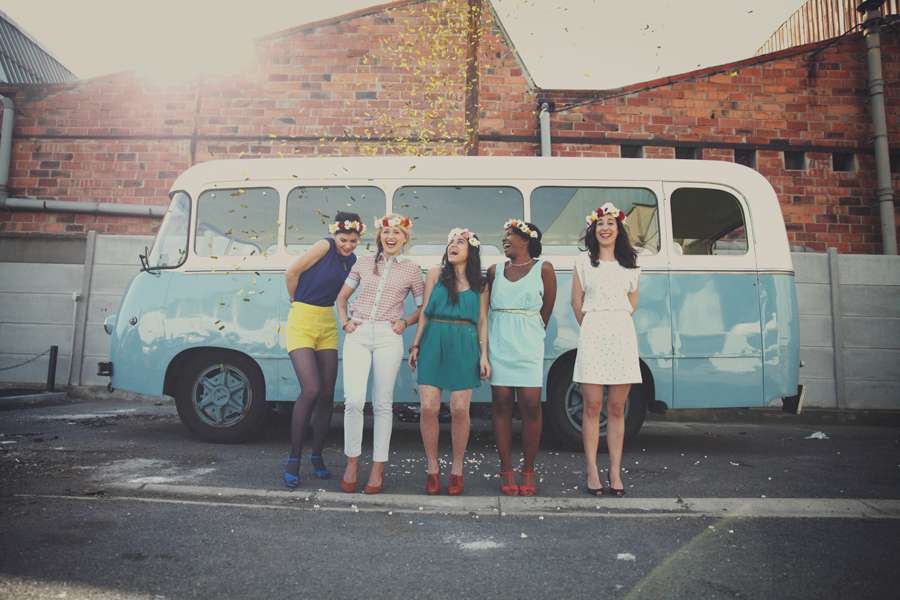 Photography: Epouse-moi Cocotte
Best of the Rest
♥ How differently American's speak across the US
♥ If Disney movies had honest titles
♥ 14 kinds of Facebook people you want to block, but you can't because they're sort of your friends (so funny and so true!)
♥ 8 ways to be a better person in the digital age
♥ Alcohol soaked gummy bears – er yes!
♥ 27 Disney easter eggs you may not have noticed (OMG!)
♥ Emma from A Beautiful Mess got married. I've been eagerly awaiting any updates this week and they certainly haven't disappointed! Here, she speaks about why she chose to DIY her day.
♥ Adobe pranks pedestrians with live Photoshopping – ha!