Photography:  Photo Philosophies via Bitchless Bride
This week has been nothing short of a whirlwind. Since we last spoke I've taught a workshop in Brooklyn (at the fabulous Rent Patina who rent out amazing vintage furniture – more on them soon!) quickly followed by a Q&A livestream which we did from our New York apartment floor – oh the glamour! If you missed it and you'd like to check out the hilarity (but also hopefully the really informative blogging chatter too) you can still buy a ticket for an iddy biddy $7 which will give you access to a recording of the event.
Then, on Tuesday we hung out with the amazing photographer and our brand new BFF June Cochran who came to New York to meet us all the way from Hawaii! We wondered around the West Village, stopping to pose in front of as many perfectly coloured walls as possible. We then popped over to Bite Beauty to custom create our most perfect lipstick shade. Mine turned out the most fabulous violet/pink hue. I adore it! That afternoon we also met up with some past Blogcadettes at The Smith, which not only serves delicious food and cocktails but has a black & white photo booth downstairs!
(I'm not done yet…) Yesterday we had another shoot, this time with Rent Patina around the streets of Brooklyn. It was about a million degrees and we were hot as balls but hopefully the photos will be worth the sunstroke. The Patina babes set up these amazing vignettes on street corners and in front of the amazing graffiti artwork that illustrates the Bushwick streets – we were quite the attraction believe you me!
Today we fly to Minneapolis for our next leg of our world tour. I can't wait to see what this new city has in store for us but PHEW didn't I tell you we've been busy!?
So, how has your week been?
Weddings & Weddingy Things
♥ LA gallery wedding
♥ Colourful Texas roadhouse wedding
♥ Relaxed alternative Brighton wedding (love those bridesmaids carrying balloons!)
♥ DIY ombre yarn vase centrepieces
♥ Gold and pink wedding ideas
Photography: Alison Conklin Photography
♥ Homemade cider farm wedding
♥ Adore this calligraphy cake topper.So cute!
♥ Beautiful dudes on a beautiful beach
♥ Sooo in love with this galaxy wedding inspiration
♥ Opulent and playful inspiration (OMG that dress!)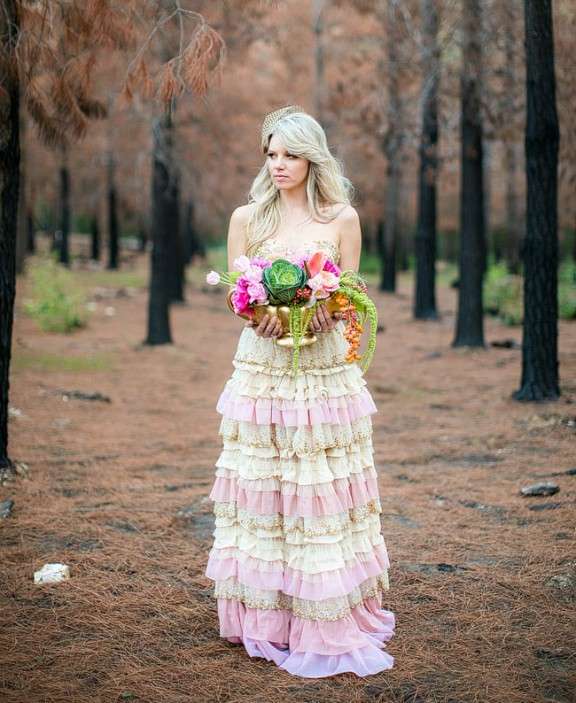 Photography: Adene Photography
Best of the Rest
♥ How to live an easy life
♥ 19 brutal truths about life that no-one tells you
♥ 16 Twitter behaviors hat warrant an immediate unfollow
♥ Daughter connects with mother she never knew through photographs
♥ Five dogs wearing bunny ears – yes!
♥ It's pretty random but I think you'll like it…
♥ Trippy Mirrored Hyperlapse Videos Shot on Japanese Monorail Systems