Photography: Adam Richardson for Idol Magazine
This week has been brought to you by central heating and gallons of tea. I've been watching the snow fall from my office window with no real desire to venture out. There's something about weather like this that just makes me want to hibernate.
But today I've braved the cold to head to London for Mark's Valentines bloggers brunch (I'll be instagramming snaps if you're at all interested!) Each year he does some kind of fancy swanky Valentines party (you can see past ones here and here) and I always wonder how the hell I've managed to get invited again… Despite having to get up rather early to get there on time, I'm excited to meet the other bloggers, especially because I managed to sneak some of The Blogcademy graduates onto the list!
Afterwards I'll be popping in to see my girls at Fur Coat No Knickers for a glass of Cava and to pick the winner of our Flaunt It competition. Oh the excitement!
Until next week…
Weddings & Weddingy Things
♥ Simple engagement shoot in their own home
♥ Amazing tea ceremony wedding
♥ Red roses and 50s Rock n Roll
♥ Mexican heritage at Plaza Pavilion
♥ Colourful bohemian wedding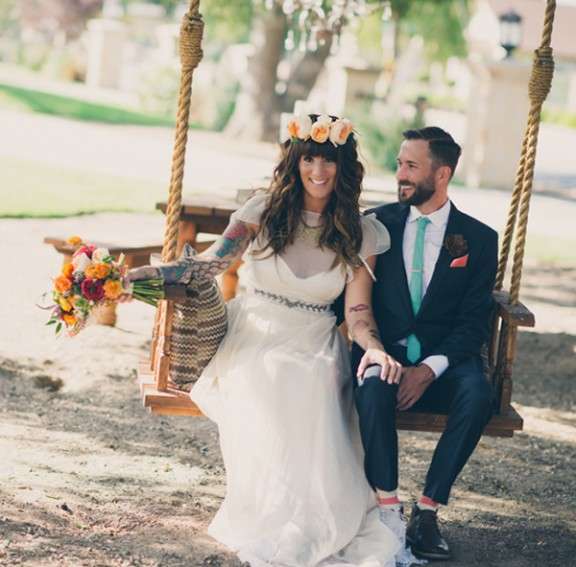 Photography: Renee Bowen 
♥ Vintage rockabilly wedding in Canada
♥ Magnolia manor wedding
♥ Rock n Roll chic
♥ 'You and Me' styled shoot
♥ Tattoos and lace with an iceberg backdrop
♥ Brazilians have the coolest weddings
Photography: Frankie e Marília
Best of the Rest
♥ Did you know that the clocks in Grand Central station are permanently wrong? And it's on purpose!
♥ This photographer photographed his own wedding. It's an odd idea and quite a strange article… I certainly don't agree with much of what he's saying and, forgive me, but I don't think he quite pulled it off either… Thoughts?
♥ The perfect pairing – another odd one but I love the concept!
♥ A bouquet of unicorns! You know you want to carry this at your wedding…
♥ Cats that look like pin up girls – so funny!
Anyone that knows me at all will know that Back to the Future is my favourite movie series of all time. This is genius…
I love Postsecret. Their valentines video is touching, sad and heartfelt
Loving this editorial for Terry Fox Bridal