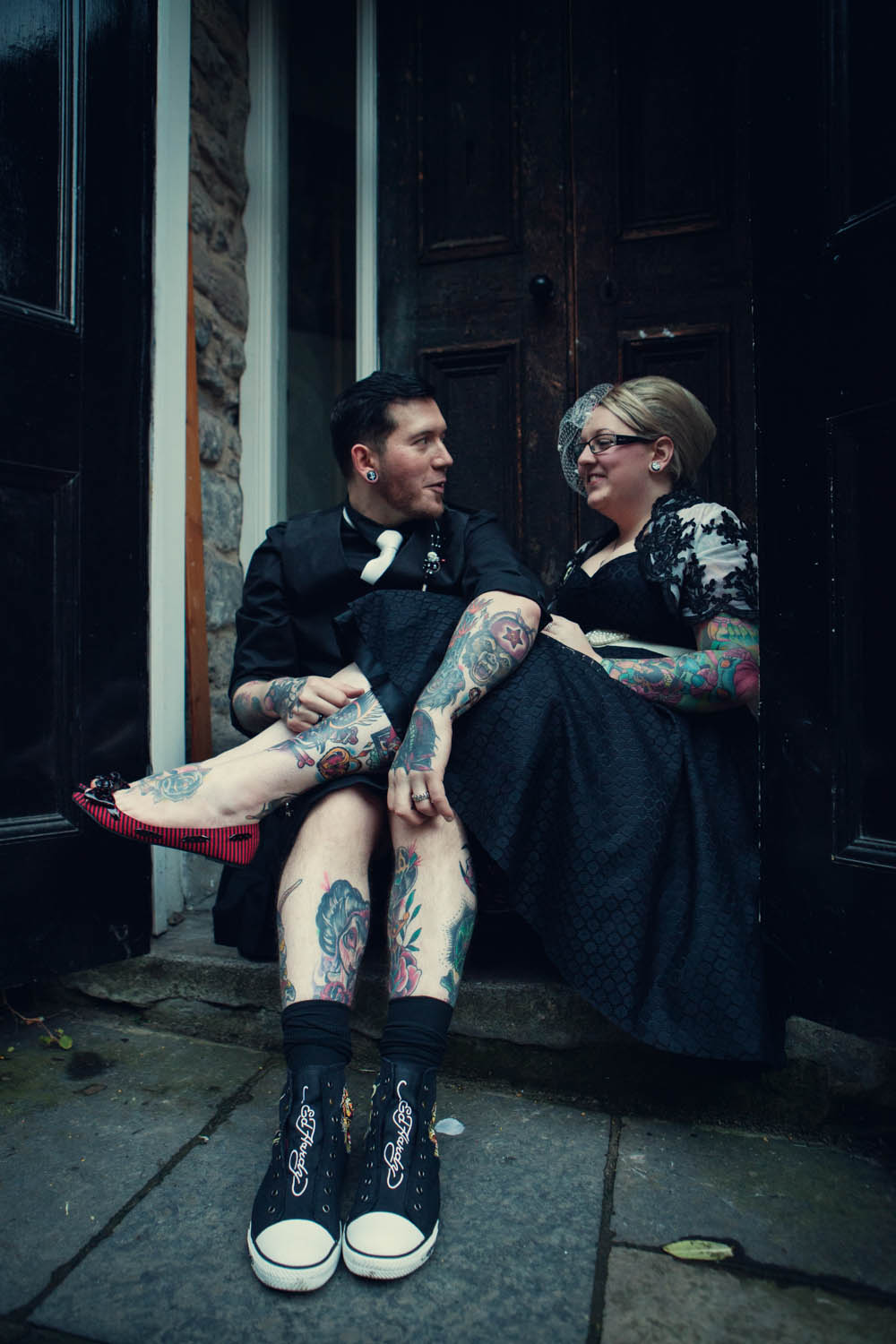 Corrinne & Duncan were married on 9th November in The Caves, Edinburgh. The heavily tattooed couple wanted a wedding that reflected them so the bride wore black, the ceremony was humanist ceremony and the personal touches were a-plenty!
"Duncan and I are quite heavily tattooed and it was important for us to to be true to ourselves on our big day", the bride began. "We didn't want to hide who we are. Rock n Roll Bride gave us the confidence and some of the inspiration to be us, and we wanted everyone to just enjoy the day and have fun and that was important for us. Things like the candy bar (as I have a HUGE sweet tooth), temporary tattoos and having a humanist wedding made our day great. It truly was the best day of both our lives. I'm a sucker for the little details so those were important to me – we had little Jagermeister miniatures for favours for the adults, a candy bar, matching 'pick n mix' cupcakes and homemade button bouquets and buttonholes."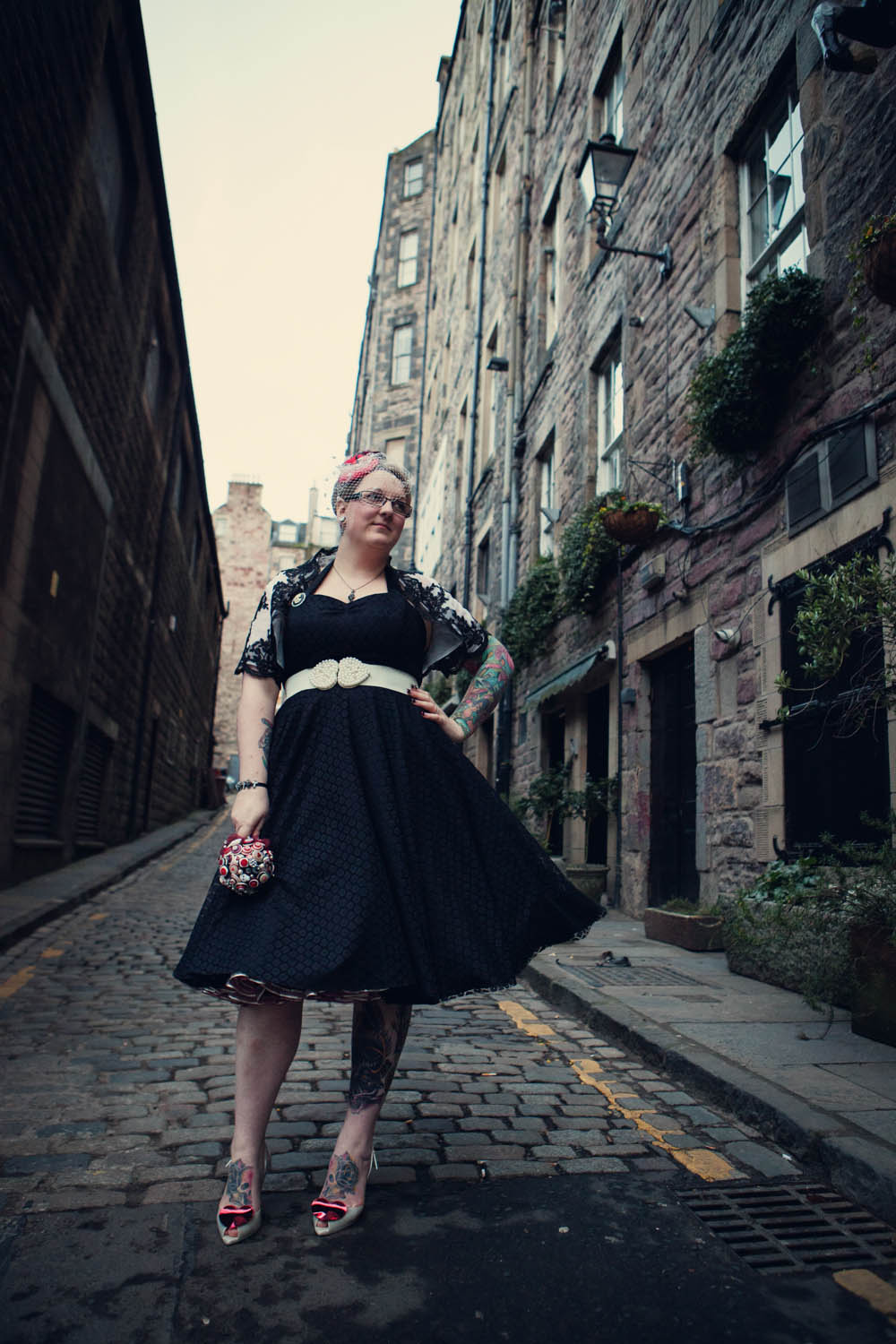 "We opted for a humanist wedding as we wanted the ceremony personalised to us and our family as much as possible", She continued. "We both loved it from start to finish and we would recommend everyone to have one now! Juliet, our humanist, was truly amazing. We had a lot of faith in her and she did not disappoint. We could have had anything in the ceremony that we wanted, it really was an open book and for that reason that's why I'd recommend it. We had one of our good friends do a reading in-between the ceremony and our other friend sang and played and an acoustic version of 'Everlong' by the Foo Fighters. Everyone commented on how beautiful the ceremony was and best wedding they had ever been too. It really was overwhelming."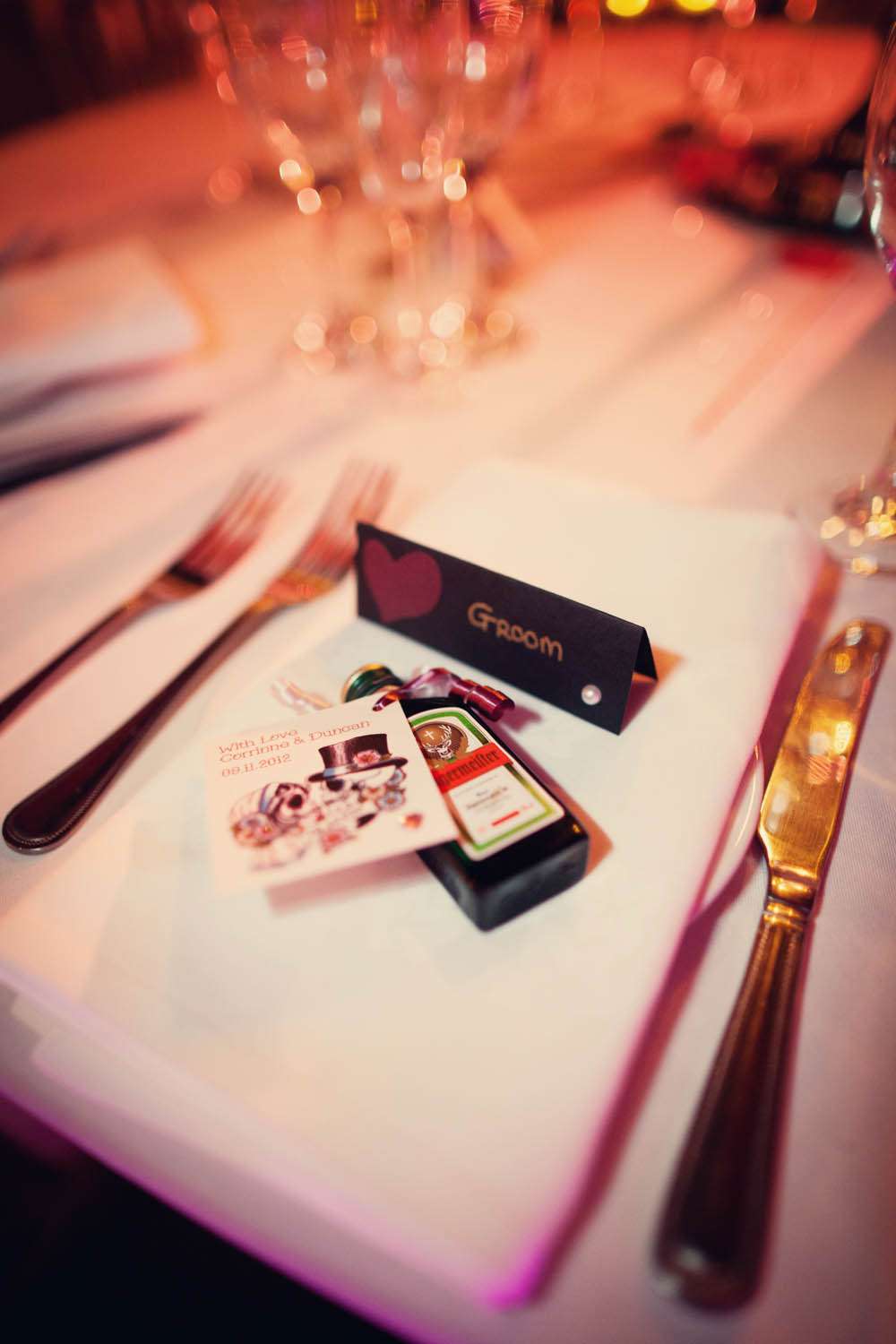 "One of the most important things for us on the day of our marriage was having our little chihuahua fur-baby, Dexter, with us being part of and enjoying our special day together as a family. We're not those type of crazy pet people, but Dexter is part of our little family and having him there made us both very happy. He looked very dapper in his little suit and bow tie. It was funny hearing everyone gasp when Juliet announced we were having a new addition to the family next month… a little canine brother for Dexter!"
"Two other details worth mentioning was the venue and Sassy, or photographer!! The Caves was THE ONE for us. We both instantly fell in love with it as soon as we viewed it. They really took a lot of the stress away for us and we couldn't have been more thankful for that. It really fitted in well for the theme of the day. Sassy was brilliant. We actually found her through Rock n Roll Bride after we got engaged. Sassy was stealth on the day. Most of times we didn't know she was there capturing all the big moments and that was really important to us. We didn't want a lot of posed and formal shots and Sassy really delivered on that – we couldn't have asked for a better photographer."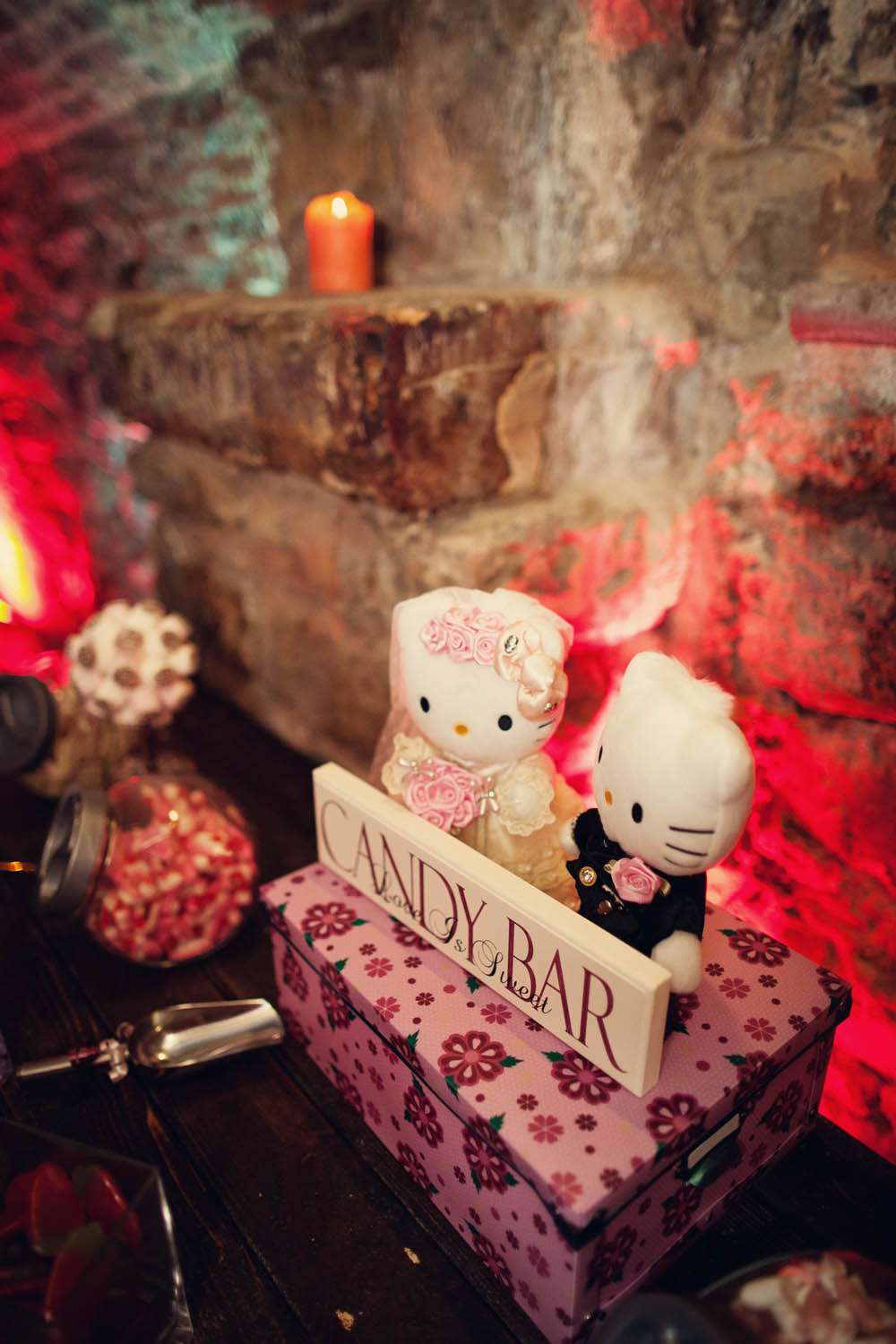 Corrinne's black wedding dress was from Vivian of Holloway and on her feet she wore Vivienne Westwood shoes which actually set the colour scheme for the entire wedding! "The biggest secret about our wedding was that the whole colour scheme was based on my Vivienne Westwood shoes", Corrinne laughed. "A must have for any woman! Our inspiration was to fuse our interests and personalities into every aspect of the wedding. We are both big lovers of tattoos so little temporary tattoos for the tables was so fun. I am a huge Hello Kitty fan so our Hello Kitty bride and groom at the candy bar was awesome. Jagermeister is our favourite drink so of course there was only one option on deciding what to give our guests for favours and having a Rock n Roll covers band was the best idea ever!"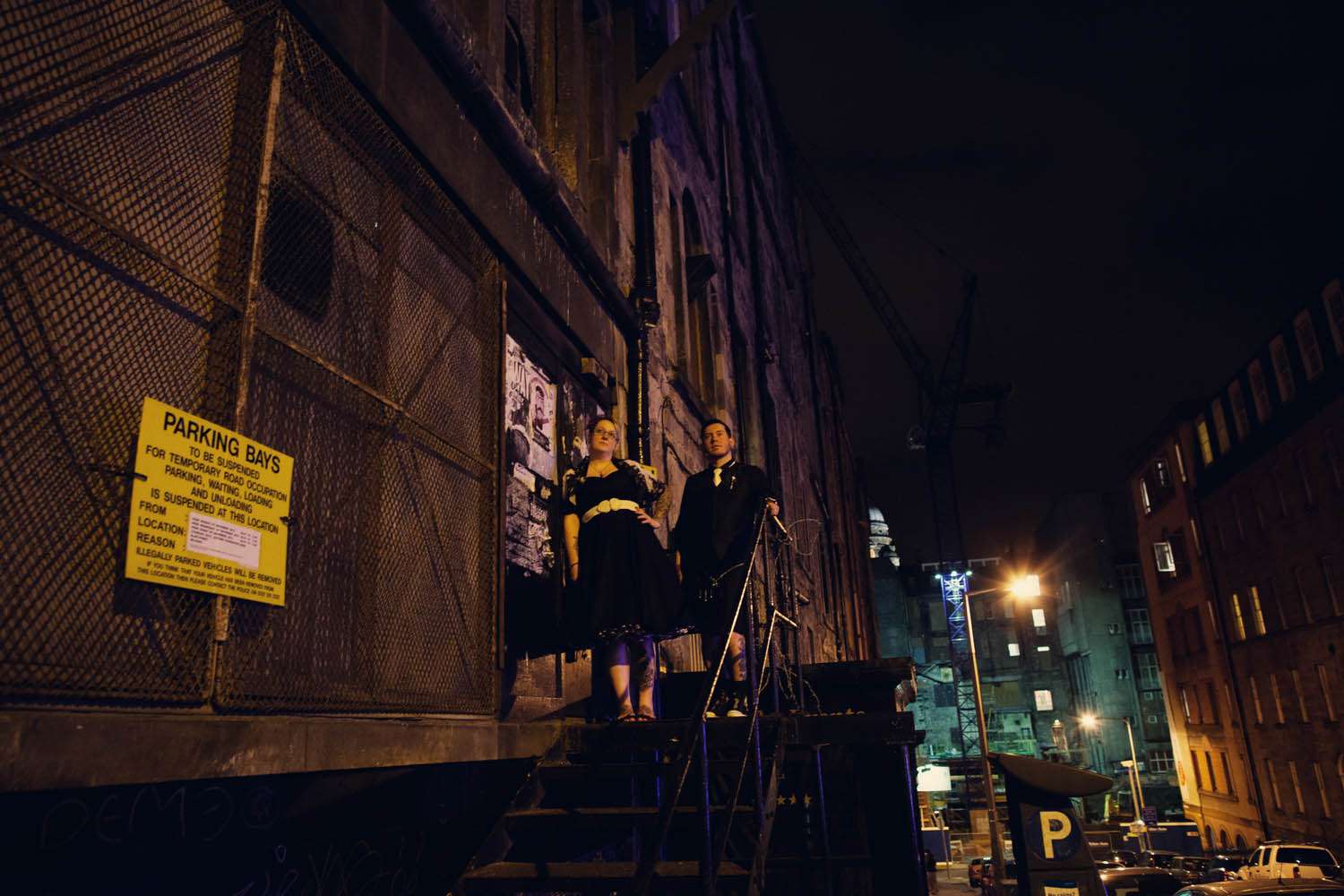 Thank you to Corrinne & Duncan and their awesome photographer Sassy of  Assassynation for sharing with us today. I love it all!
Supporting Cast
Photography Credit: Assassynation
Venue: The Caves, Edinburgh
Bride's Dress: Vivian of Holloway
Bride's Shoes: Vivienne Westwood
Bride's Headpiece: Diablo Jo's
Cupcakes: Candy Cupcake, Edinburgh
Flowers: DIY
Hair: Tony – Parć Hairdressing
DJ: Big Tuna