Photography Credit: Devlin Photos
Oh yes, that's me… in a rainbow. Isn't that Lisa Devlin so ridiculously clever?!
So this week was a fun one! On Monday Gareth & I were invited to attend a cupcake decorating class hosted by Restoration Cake. It was seriously awesome, not least of all because it was a tattoo themed class! Gareth put the whole class to shame with his amazing skillz (no joke!) I'm gonna share some more about this over the weekend so pop back on Sunday if you have a penchant for fondant!
Tuesday saw Lisa & me hotfooting it to London for the launch of Kirsty Mitchell's Wonderland exhibiton. We've both been serious superfans of this lady and her incredible imagery for so long that we were literally giddy with excitement to have been invited. Seeing Kirsty's amazing work in real life was just magical. I even saw things in each shot that I hadn't noticed before and I've swooned over them online for years! Some of the handmade costumes were also on display – it was so ace to see every little detail that Kirsty and her small team had painstakingly put together to create each iconic scene. Inspiration overload! You can check out my faves on my instagram & a short video of the event (blink and you'll miss me…) via vimeo.
Kirsty was also, like, ridiculously lovely and sweet. I was sooo uncool about meeting her and I totally babbled my way through our conversation. I also might have held on with our hug for just a few. seconds. too. long. (oops)
If you want to go and see the exhibition yourself it's at SW1 Gallery near Victoria. You"ll have to be super quick though as it's only there until Saturday! After that the show moves to a few other locations.
Next week I'm off to the Photography Farm again (home from home)! The shoots we have planned are going to be seriously fun and seriously Summery. I can't wait to share them with you already… three words – ice cream & airstreams – pah who says Summer is over?!
Oh and also… Gala just reminded me that it's only 36 days until The Blogcademy. Eeeeeeeeeeeeek.
Until next week lovers…
Weddings & Weddingy Things…
♥ This SA wedding had a zebra in attendance… as you do!
♥ Stunning snow white themed wedding shoot
♥ At this year's Dragon*Con, Redditor GreenArrowFL not only re-enacted one of the biggest covers in Marvel history, he also married his boyfriend of 20 years in the process
♥ Wedding Inspiration from The Night Circus
♥ New Zealand Autumn Wedding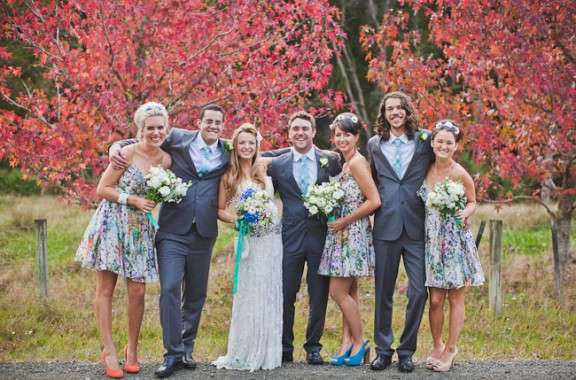 Photography Credit:  Coralee & Alex
♥ Adore this cute DIY of an unraveling ribbon that says 'Will You Be My Bridesmaid?'
♥ Summer camp wedding
♥ Palm Springs retro wedding
♥ Rustic French wedding
♥ Santa Margarita Ranch Wedding
Sales & Events
♥ Have you heard about the Eclectic Wedding Extravaganza? This alternative wedding fair is taking place in Birmingham on 4th November & tickets are just £3 when bought in advance or £6 on the door! I'll be there hanging about and causing havoc as will some Rock n Roll Bride faves including Lisa Devlin, Assassynation, The Couture Company, Elbie Van Eeden & Restoration Cake! See you there?
Best of the Rest
♥ Stunning Photos of Chiang Mai's Floating Lantern Festival
♥ Is The Pursuit Of Happiness A Bunch Of Bullshit?
♥ Feather crown DIY – want!
♥ Betsy is back! And her Spring 2013 collection is better than ever
♥ Kitty ears DIY!!!