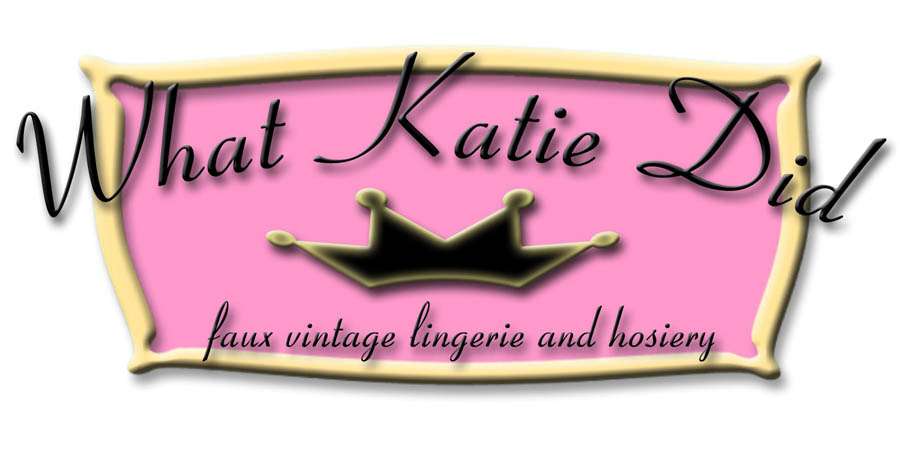 Allow me to start this post with a short disclaimer: this post is shameless. This post includes mentions of boobs, bottoms, and other jiggly bits. In this post, you're going to see me in my undercrackers. This is a sight that few have dared to peek at – similarly; it's a sight that I don't dish out very easily. Like most women, there are bits of my body that I dislike for a myriad of silly reasons ("they're too small!" – "it's too big!" – "but that scar is so unsightly" – "overdue for a wax, much?"). For all of these reasons, and many more, I was beyond terrified at the idea of baring all at my first 'public' underwear fitting. The only other time I've ever let a professional handle my bits and bobs* was way back in my mid-teens, when I found myself crying in the middle of Marks & Spencer's lingerie section because I couldn't find a bra to fit my silly diddy boobs. My mum promptly marched me into a cubicle with a lovely member of staff who measured me properly, and I walked away with two beautiful new sets of underwear, and a whole load of new-found self-confidence. Such an ego boost! On the tube to Ladbroke Grove, I had a cheeky spritz of deodorant and tried to harness the emotions of that previous positive experience – hopeful that this one would be just as good, if not better.
* (N.B. Sorry, previous boyfriends – no offense)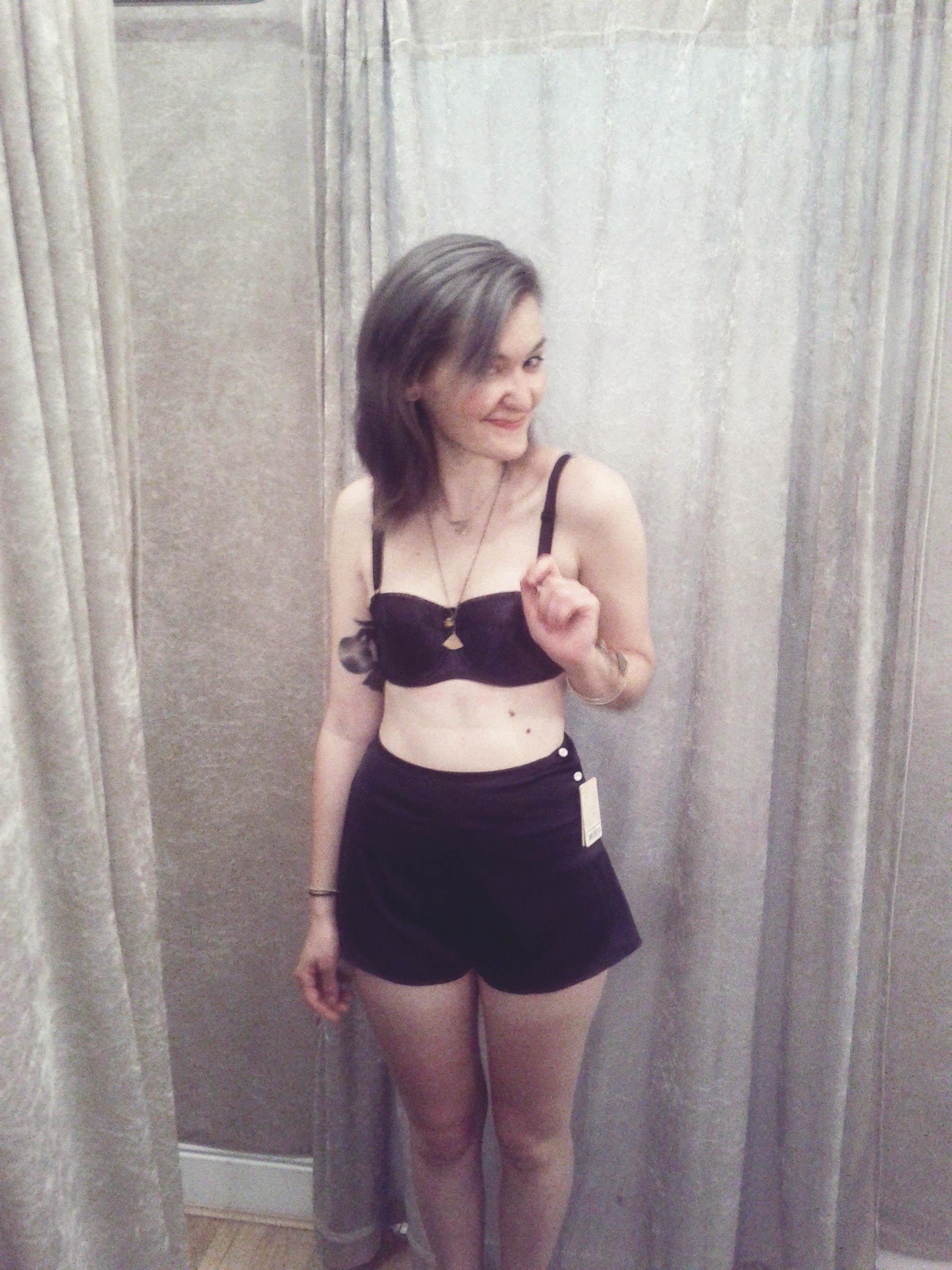 Walking into What Katie Did exceeded all my expectations from the get-go. Kat and I were lead to a private changing area, offered cupcakes, and even gin cocktails in teacups! Our hostess, Vicky, chatted with us for a while about what it was that I needed – what my wedding dress looked like, what size I took, and what colours I preferred. We toured the shop floor, ogling cuts and hues, while Vicky steered me towards shapes that would best flatter my shape. We had the initial intention of finding the perfect underwear set for my wedding day – but after a lot of deliberation, we figured that going for a bra and brief set wouldn't work, as my wedding dress was backless. Totally unexpectedly, Vicky offered me a beautiful pair of peach high-waisted knickers to wear with my wedding dress – plus a silky black bra and French knickers set to wear after hours… oo la la!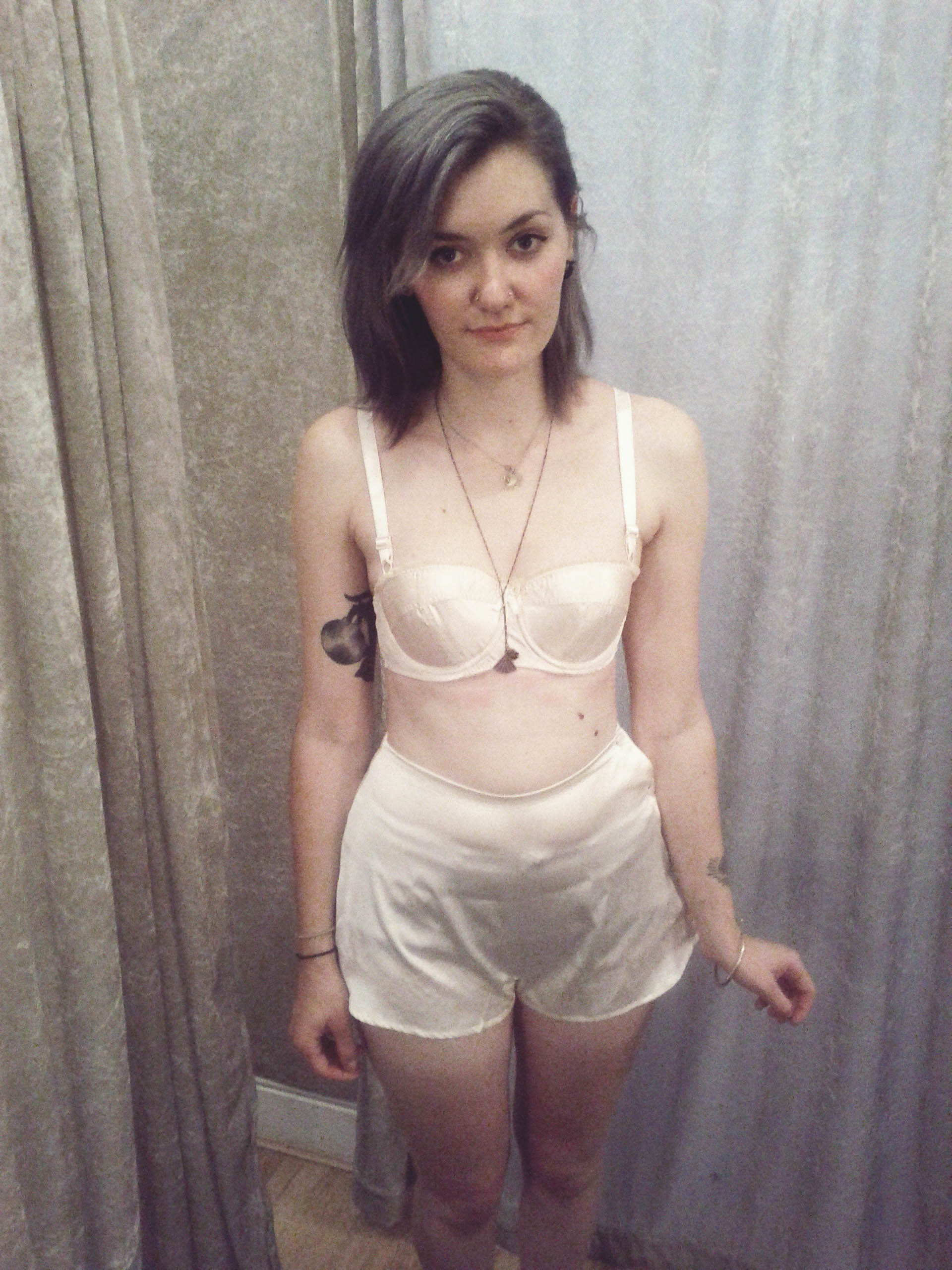 I'll admit that to the non-connoisseur, getting these panties on is somewhat of a struggle. Vicky told us (yes, us – Kat even got involved!) that the key was to step into them, then stand with one leg crossed in front of the other. This narrows the silhouette and makes these figure-hugging, super sexy beauties a liiiittle bit easier to get on – but it is a battle. Vicky assured us that they wouldn't rip, no matter how hard we fought, and she was right. Once on, complete with bra, I stared at myself in the mirror and was gobsmacked. I actually felt like what I guess you'd call a 'bombshell'! The bottoms hugged my waist and flared out to skim my bum and flatter my thighs (both of which I'm pretty self-conscious about!) As an added bonus, the bra fit me better than any other I've worn before. I've been wearing a size 32B for years, but found that the 32C suited and fit me much, much better – an instant boob job, perfect!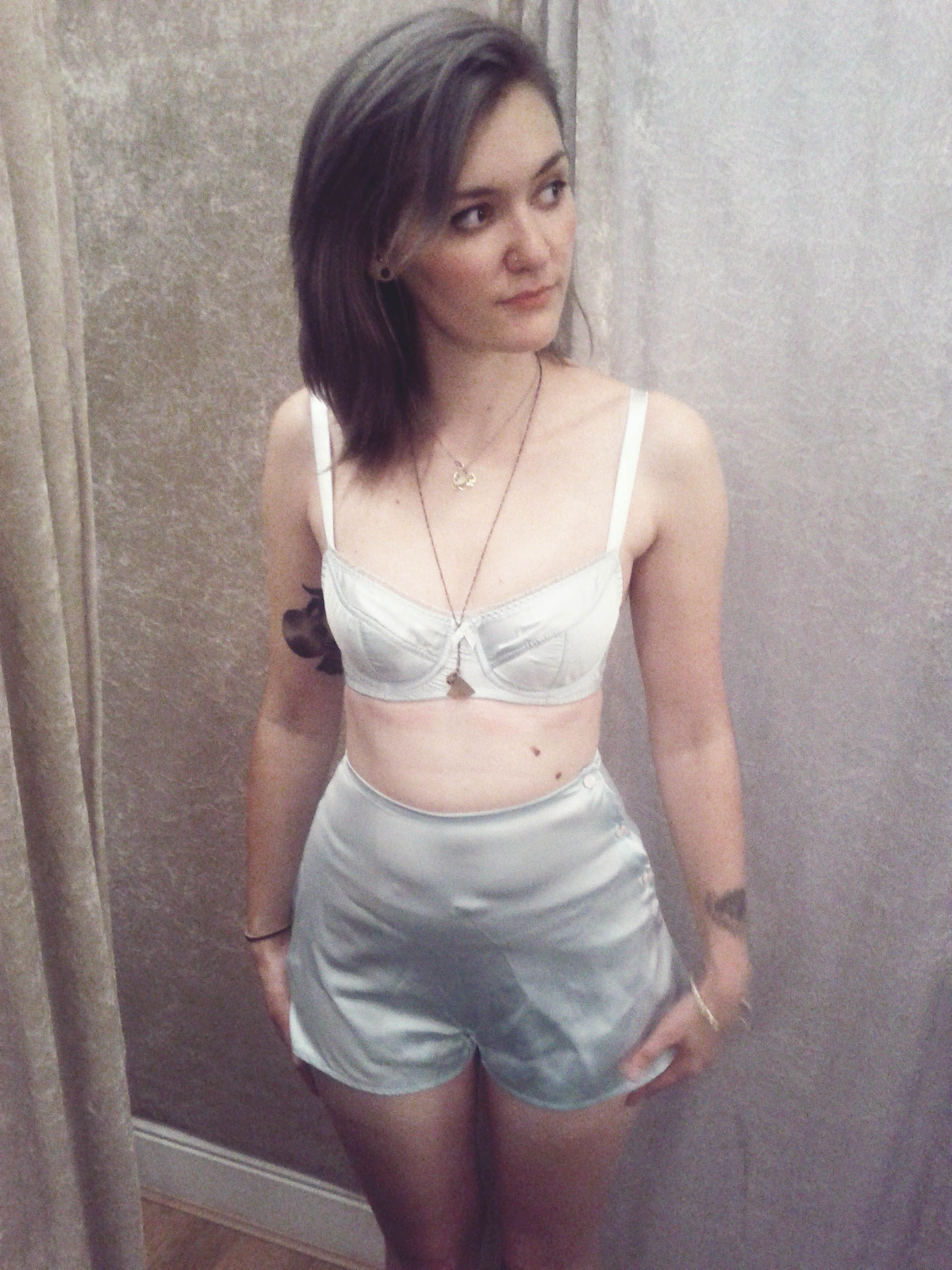 Kat and I walked out of What Katie Did feeling lighter than air. For the rest of the day I flounced about with my complimentary tote bag almost daring passers-by to ask me what was inside. I have since recommended What Katie Did a few of my friends – one is due to be married next May, and the others were simply wanting to invest in some pretty undies that would make them feel a million, bazillion dollars. I'm trying my best to keep mine for ultra special occasions only, although it's proving pretty difficult not to throw ridiculously OTT dinner parties every night…
Thank you to Vicky and her wonderful team for a truly unforgettable experience – I'm saving my pennies to come and see you again soon!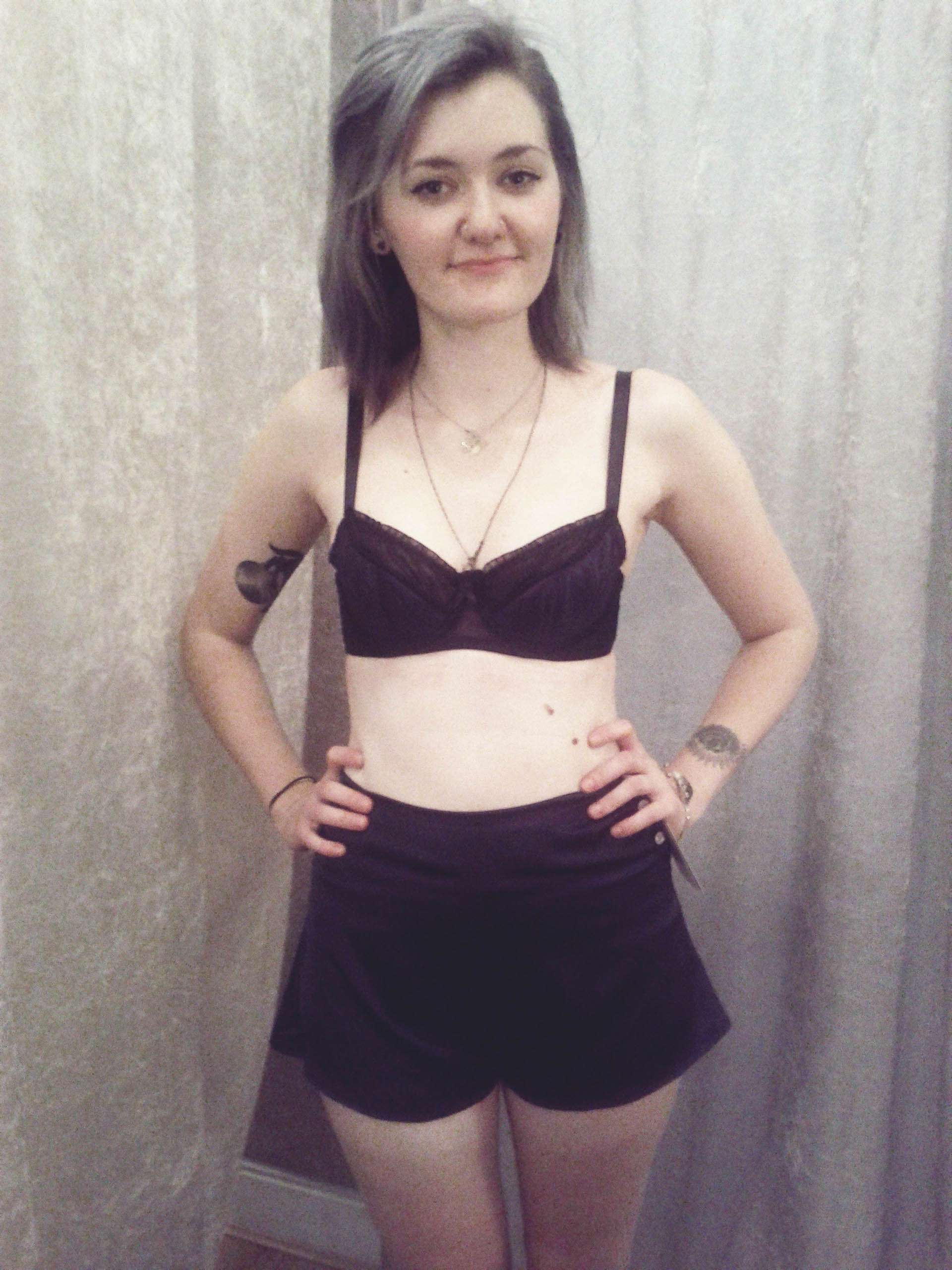 From Kat:
It is with a heavy heart that I close today's post with the announcement that this will be the last blog post from the fabulous Roo for the foreseeable future. It's been so amazing to have her on-board as my real bride intern and I'm so thrilled to have been able to work with her. Her writing is amazing and her contributions have been second to none. I'm so sad to say goodbye… but I'm sure this isn't the last we'll see of her! If this gal doesn't have a magazine column or a ridiculously successful design business in the future I'll be very very surprised. I'm sure you're going to miss her contributions as much as I am. I love ya girl.
This is not a sponsored post although the lovely ladies at What Katie Did were kind enough to send us both away with the rather generous gift of a set of undies each. Ohh la la!