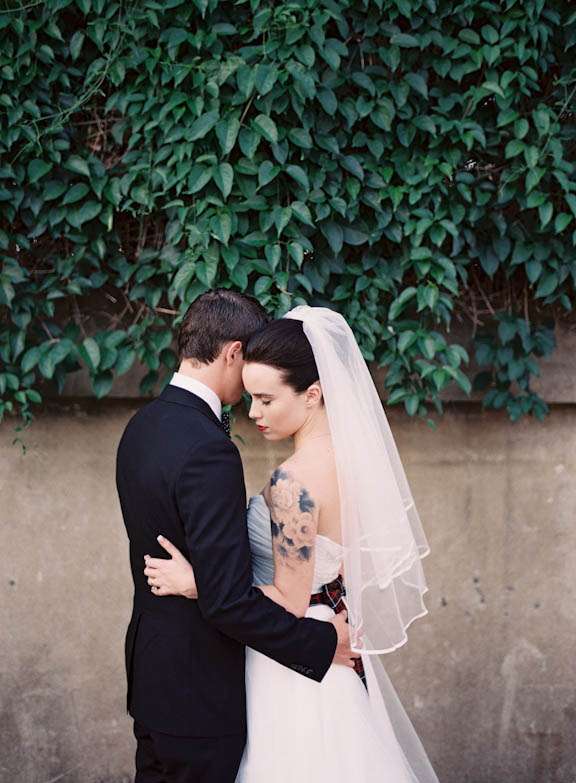 Can I be biased and express my total and unapologetic love and adoration for my Aussie readers right now? The weddings you guys have been having and sending me are nothing short of amazing!
So needless to say I was rather thrilled to see Kate & Chris' wedding in my inbox. Sent over by their gorgeous wedding photographers, husband & wife team Feather and Stone, I just about whooped with joy when I laid eyes on it. There's just something about a simple but classy wedding with a true Rock n Roll soul that makes my heart sing… plus Kate's amazing tattoo gives me some serious envy!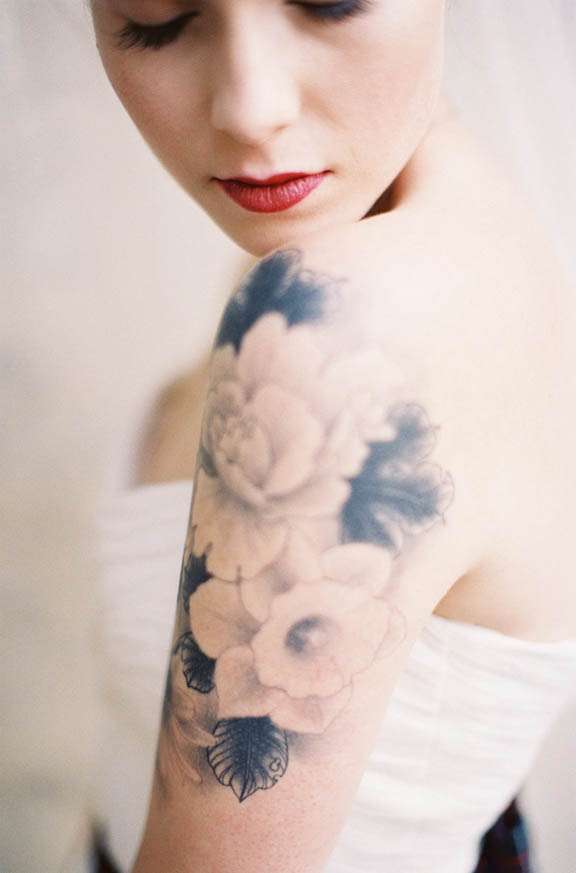 "We are ecstatic that Kat would like to feature us", began the bride, "I'm a massive fan of her blog and it was a huge inspiration to our wedding." (awwww!)
"We got engaged young, I was 19 and Chris was 21, he proposed to me a year after we started dating. We planned our wedding for a week after my 21st birthday so we hoped that vibe would carry through. We wanted our wedding to reflect us as a couple – young, edgy and a little offbeat, so my Aunt, who was our wedding planner, sourced most of our decorations from thrift stores or handmade them to ensure we had a bespoke feeling."
"Our inspiration for the wedding was industrial meets romance. We kept our ceremony fairly traditional as it was held at our local white chapel. I walked down the aisle to 'Holocene' by Bon Iver. The reception was held at Brisbane Powerhouse as we loved everything from the graffiti to the glass room looking over the Brisbane river. A friend of ours DJed the reception and Chris' cousin put on a fire twilling display for some entertainment."
"We wanted to whole wedding to be a little off", Kate continued. "We didn't want anything too perfect and none of the bridal party wore the same thing. We wanted them to pick items that looked amazing on them, not just something I liked. Instead of favours that nobody would ever use we did a lolly buffet with keepsake lolly bags that everyone loved – from my 4 year old cousin to my 80 grandfather!"
Kate wore a dress by Karen Willis Holmes. It was the first dress she tried on and she instantly fell in love with it. "I didn't try on anything else because I knew nothing would compare", she explained. "After my dress was sorted Chris and I spent hours digging through Google to find the right photographers. We wanted someone who would capture the day as we saw it while still adding their own creativity. After many talks we agreed on the amazing Feather and Stone. They were exactly the style we were after so it was a easy choice."
"In the end our day was exactly how we hoped everything from our letterpress invitations to our communal disposable cameras", Kate concluded. "Chris and I are so grateful for our amazing family and friends who pulled the day together and made the dream we had come to life."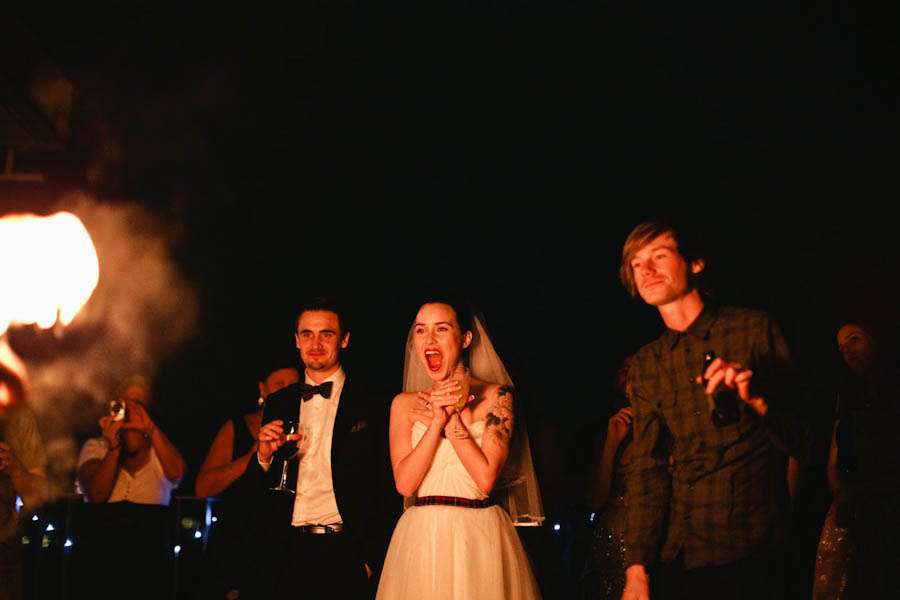 Eeek soooooooooo gorgeous! Surely it's not just me who has ink envy either now right?! Thank you to Kate & Chris and the phenomenal Feather and Stone for sharing this wedding with us today.
Supporting Cast:
Photography Credit: Feather and Stone
Ceremony Venue: LaTrobe Wedding Chapel, Paddington QLD
Reception Venue: Brisbane Powerhouse, Paddington QLD
Bride's Dress: Karen Willis Holmes
Groom Suit: Mitchell Ogilvie
Catering: Zen Catering
Flowers: Flower Chic
Stationery: The Creative Emporium