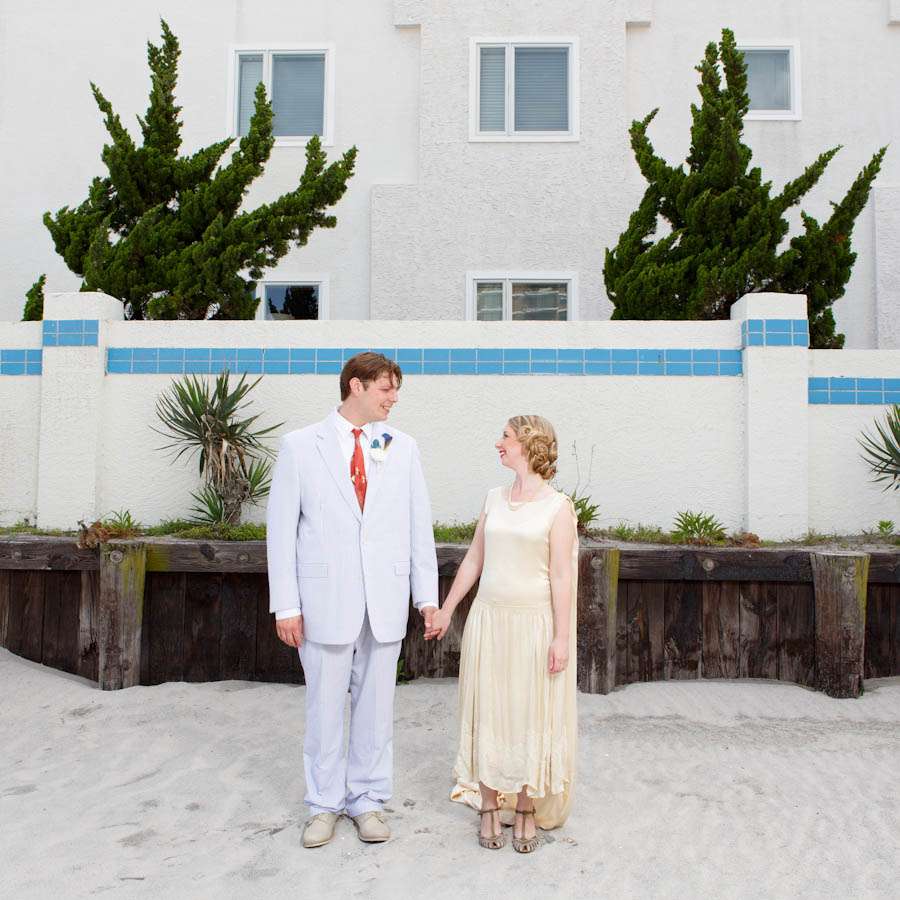 The Atlantic City wedding of Carla & Dave had a distinct vintage vibe. From the bride's authentic 1020s wedding dress to her Grandmother's pearls, from the vintage postcards that decorated the centrepieces to the historic restaurant that hosted their reception, the day was one that truly reflected the likes and loves of them both.
"I love vintage themed weddings and knew that I really wanted to wear a gown from the 1920s", wrote the bride. "Before we even thought of a place to have the wedding, I had run across the perfect dress and no changes needed to be made to it. The dress was last worn in 1924 by a bride in New Jersey. When I had bought the dress, I also received the invitation from the original bride. It seemed perfect!"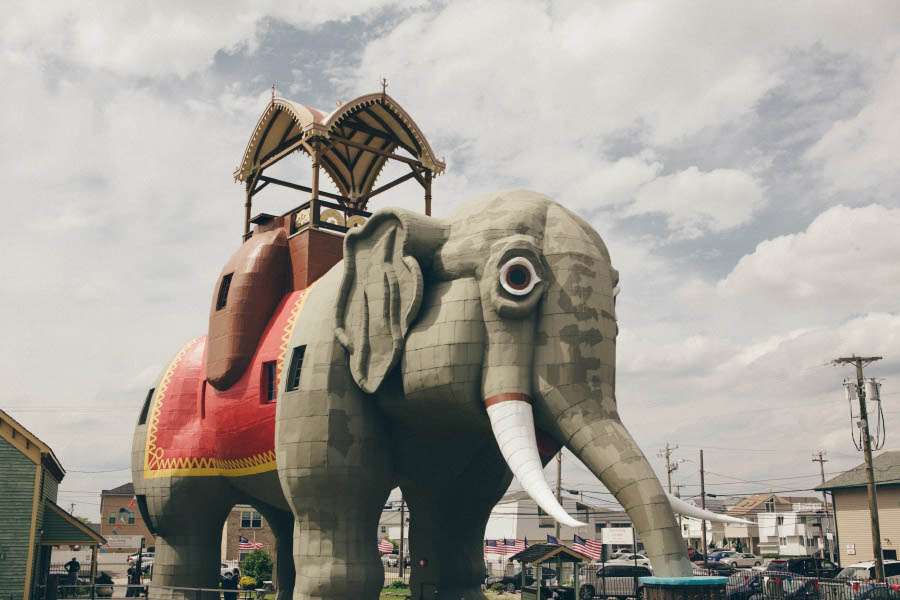 "We chose to have our wedding in Atlantic City", she continued, "not only for its history, but because it is a place that is open all night and it would give us a chance to party with our friends into the wee hours! We broke our wedding into three parts. First, we had our wedding ceremony in Lucy the Elephant, a large wooden Elephant structure built in the late 1800s by a shipbuilder. We then had a sit down dinner for all the guests at the Knife and Fork Inn, a restaurant that has been open since 1912. From there, we all met at the Trump Plaza, where everyone was staying, and had a late night dance party (no history there, just a good dance party with tacky decorations). I did however have to change dresses for the party. I wore a 1950s Hawaiian halter dress, just because I knew it would be fun to dance in!"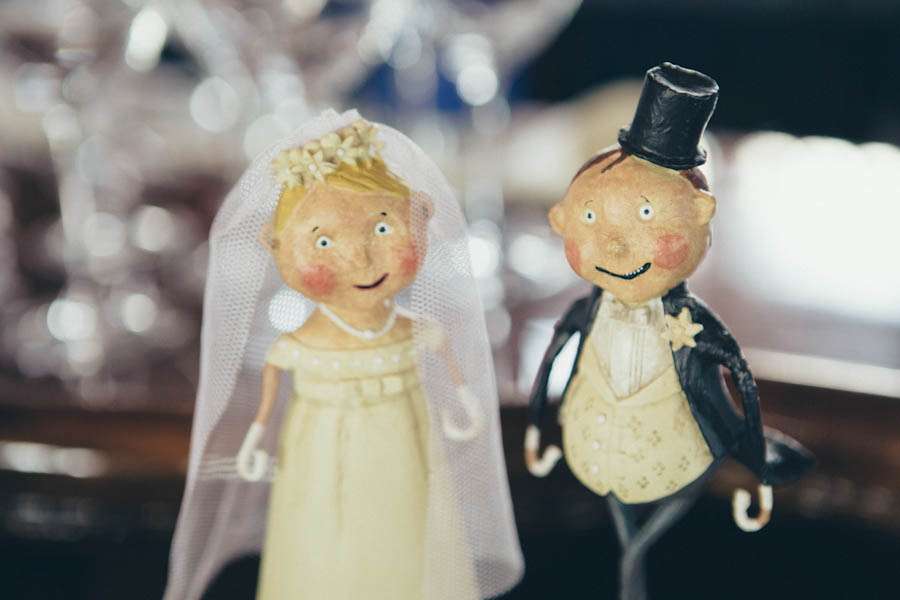 "For the reception decor we used postcard pictures from the turn of the century. Each one featured places where events from our wedding would take place. We also used these images for our save the dates, invitations, response cards and thank you cards. To go along with the vintage Atlantic City feel, I made photo holders as centerpieces and added old postcards to them. Our guests had a great time looking at the postcards and reading the original messages that people had written to their friends and family."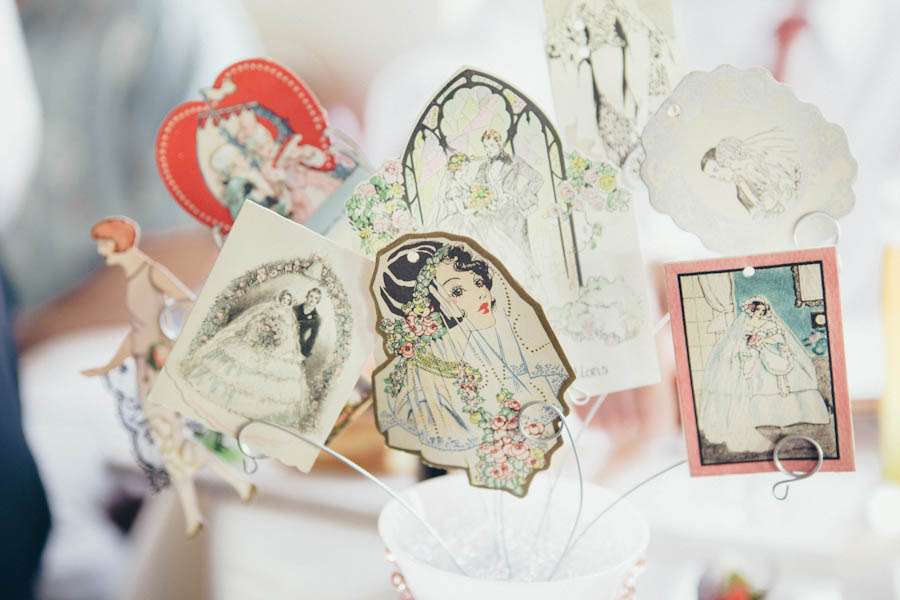 Gorgeous. I see so many 'vintage-inspired' weddings these days that it's awesome to see one done authentically and as well as this. Thank you to Carla & Dave and their photographer Gene Smirnov for sharing today.
Supporting Cast:
Photography Credit: Smirnov Weddings
Ceremony Venue: Lucy the Elephant
Reception Venue: Knife and Fork Inn
Bride's Dress: Vintage (via etsy)
Bride's Shoes: Seychelles
Groom's Outfit: Geoffrey Beene
Cake: Knife and Fork Inn
Flowers: DIY
Make Up: Make-Up By Caroline
DJ: Coltrane of Business Casual Disco
Transport: Jitney