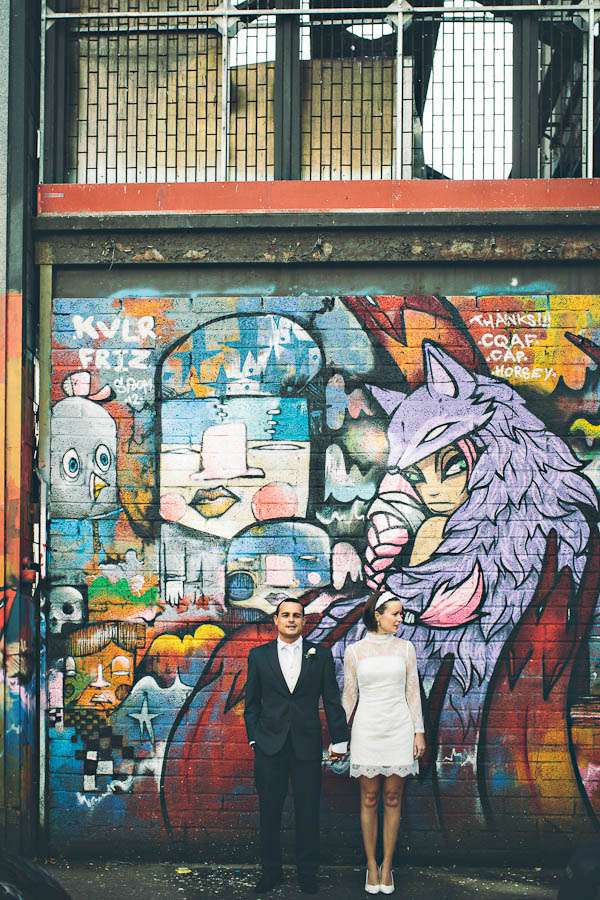 The Irish wedding of Andrea & Paulo was held at Belfast City Hall. After the intimate ceremony the couple hosted a low key reception at Made in Belfast, a quirky restaurant in the Cathedral Quarter. The couple had just £6,000 to spend but managed to make the most of their budget by making unconventional choices.
"Paulo and I met in a place called Praia da Pipa, near Natal, in Northeast Brazil" Andrea explained. "I was backpacking on my summer holiday from teaching and he was on a surfing weekend away with his friends. He is originally from Fortaleza in Ceará, Brazil, where we now live, and I am originally from Northern Ireland so it proved quite serendipitous that we were both out on that particular evening! Neither of us big drinkers, we had been dragged out to socialise with friends and I caught his eye. He plucked up the courage to come ask me my name. We started to talk, and something changed for both of us, we just clicked! Between us we spoke enough Portuguese and English to find one another curiously interesting and since then we have never looked back. We have spent four years travelling back and forward between the UK and Brazil to spend time together, juggling work, study and family commitments along the way. Paulo proposed to me on my summer holiday in August 2010, he got down on one knee at sunset on the balcony of our apartment, it was so romantic! I was leaving to go back to the UK that night so it was very emotional too, I couldn't stop crying because I didn't want to leave!"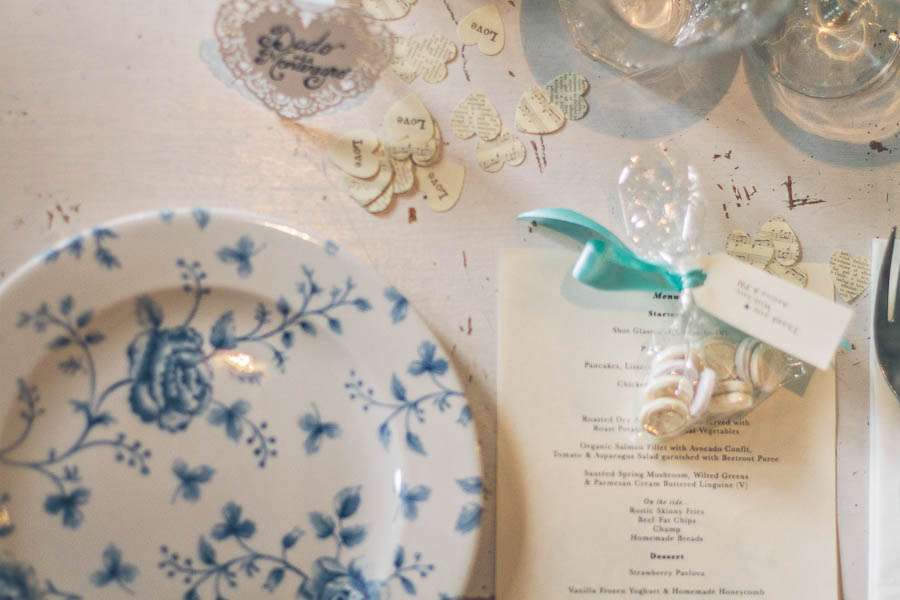 "We are both pretty soulful individuals and like to do things differently, in our own way" she continued. "So when it came to our wedding neither of us wanted to get sucked into the commercial wedding machine and waste loads of money conforming to the wedding packages on offer in most conventional venues. The most important things to us were simply getting married, eating good food and sharing a relaxed, fun day with family and friends. The City Hall in Belfast is such a beautiful building and the staff there made the whole legal side of getting married so straightforward – an important factor for us in the midst of sorting out visa and immigration paperwork! I loved the idea of photos on the marble staircase and in the halls, with the added advantage of minimal cost in terms of the venue."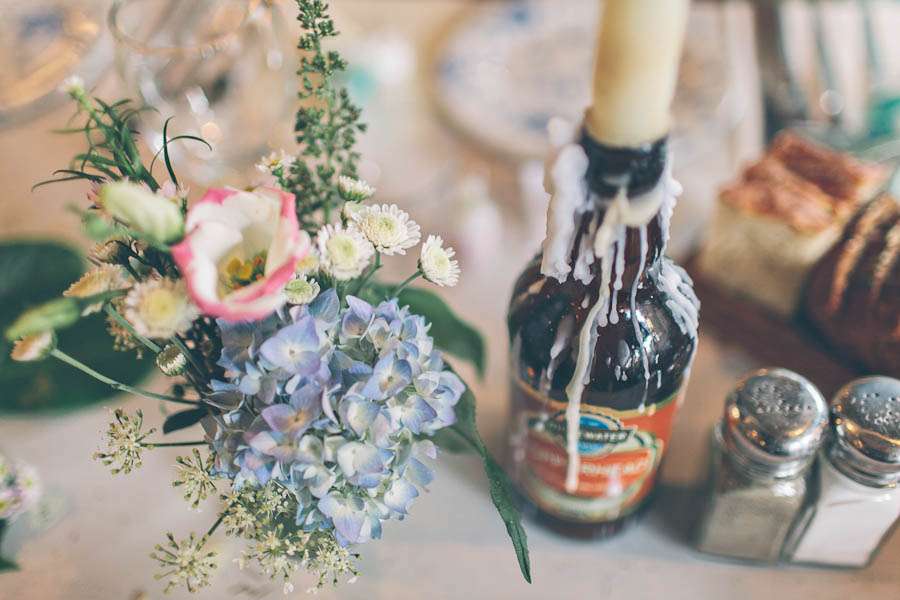 Their reception venue also allowed them to have the simple wedding of their dreams. "Made In Belfast is such a quirky restaurant and it really appealed to both of us in terms of decor. It was a dream venue for our reception. Claire, the manager who dealt with all the pre-wedding organisation, was fantastic and their chef Stephen was really accommodating in terms of the menu that we wanted. All of our guests commented on the delicious food and the excellent service. We were delighted with them and wouldn't hesitate to recommend them to anyone thinking of a vintage style wedding."
"We didn't decorate anything in the restaurant except for some table confetti and the placecards. Everything was kept as simple as possible. I printed my own Order of Service and Menus, and hand-wrote the placecards but that was about it. We bought the table confetti and placecards from notonthehighstreet.com – a great website for anyone looking for some very pretty and quirky decorations! The Save the Date cards and Invitations were a simple postcard design and our cake was inspired by a photo we saw in our photographer's sample wedding album. I can't eat egg so a cheese cake it was!"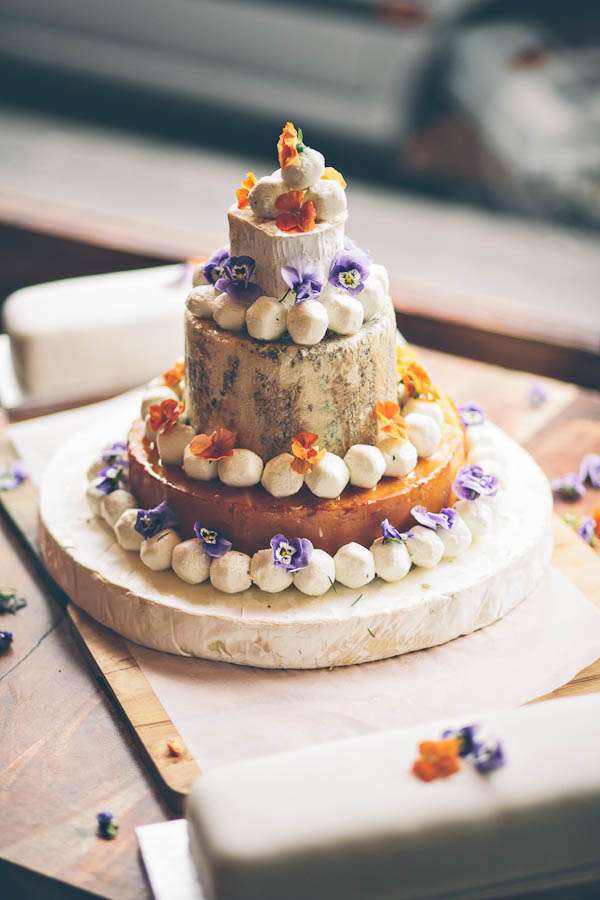 Andrea wore a vintage inspired dress from Lily-An, an independant dress maker. "We went a bit little vintage with our theme", she explained, "but we didn't go OTT! My dress was pretty different, vintage inspired and amazing! One of my best friends, Christina, gave me a wedding magazine about nine months before the big day, I think she was trying to give me a hint that I needed to start organising some of the details. When we were flicking through it over lunch I saw a picture of a dress which was short, with a high neck. I loved it because it was so different. I took the picture to Lily-An and we had many, many conversations and fittings until we figured out how to make the dress look the way I wanted it to. My mum and I bought the Chantilly lace and silk satin from Craftswoman Fabrics & Products in Ballylumford and Lily-An worked her magic to make the dress into what I wanted. She was wonderful, and out of all the dreams that I'd had in my head for the wedding, she really made that one come true."
Gorgeous! Thank you to Andrea & Paulo for sharing their quirky wedding with us today.
Supporting Cast:
Photography Credit: Campbell Photography
Ceremony Venue: The Ceremony Room, Belfast City Hall
Reception Venue: Made in Belfast
Bride's Dress & Headpiece: Lily-An (Lily Anthony, Sixmilecross)
Bride's Shoes: Rainbow Club
Bride's Jewellery: Lauren May Jewellers, Belfast
Groom's Outfit: Ludlow Suit & Dress Hire, Belfast
Bridesmaid's Dresses: DIY & Lily-An
Bridesmaid's Accessories: Argento
Cake: Made in Belfast
Flowers: Flowers by Anne – Anne Johnson, Kilcootry Barn, Fintona
Hair: Priscilla's for Hair, Omagh
Stationery: DIY