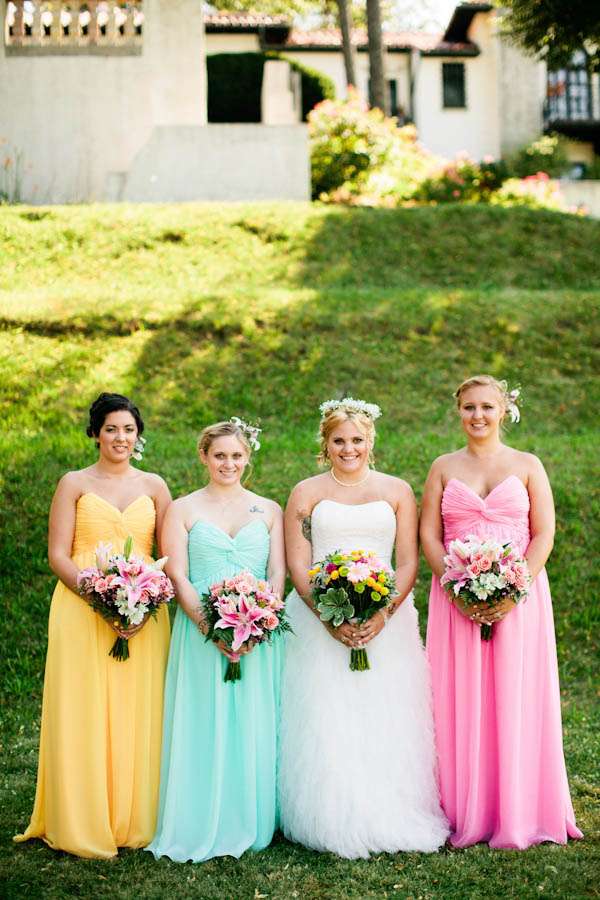 What could be better to bright up your morning than this incredibly colourful wedding which was held in the Vanderbilt Museum and Mansion in Centerport, New York?
"Our wedding was a kaleidoscope of all our favorite things in life: each other, colors, friends, family, booze, and good times", began Ali, the bride. "The inspiration was simple. For my husband and I, love is about accepting our separate lives as one, and building new memories within us. We wanted to be sure this day was not just about us, but our whole family. My friends had a really tough year – my best friend's dad fell off a roof and we weren't sure he'd make it (he did, and we thank our lucky stars), my other best friend battled cancer (and won!) and other bridesmaid lost her cousin. I myself lost two friendships during the planning process and dealt with a bout of shingles from the stress. It made me realize how important this day was for everyone and a chance to forget about the troubles that so often weigh us down. So I dreamt up the ultimate day, hoping we could all remember what it was like to witness love grow and beauty surround us. I wanted absolute peace and serenity for myself and for the many people we love. Moreover, I planned this day with our friends and family very, very close to my heart. I could not have wished for anything more."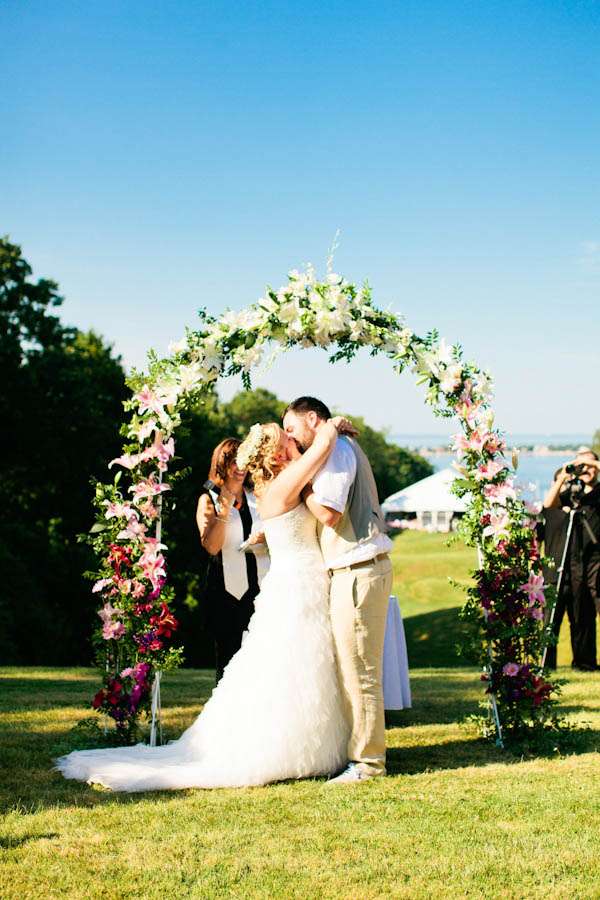 As for DIY projects, the couple called upon the help of their friends & family wherever they could. "Jason, his dad, and I made the lemonade stand and the cute signs from scratch", Ali explained. "It was a serious project that I had a blast doing. We sanded, painted, cut, and molded pieces of scrap wood into a beautiful lemonade stand and a handful of adorable signs. I absolutely loved it. I also made 1,000 paper planes for the tent and for Jason's boutonnière. A few years ago Jason's cousin, Michael, was killed in a car accident. He was 20. He had been training to be a pilot and absolutely loved air travel. His favorite plane was a Cessna and at his funeral Jason's family made origami planes to honor his memory. I never got to meet Michael, but he was Jason's best friend and an important part of his family. I remember crying months before the wedding with Jason about how sad I was I never got to meet him, and how devastating it was that Michael wouldn't be there. So I spent a total of 36 hours bending and folding multicolored origami planes to line the ceiling of the tent – so he would have a vessel to watch over us during the entire day. I also hid a photo of Michael deep in my bouquet so no one could see it, because I wanted to keep him close to me all night."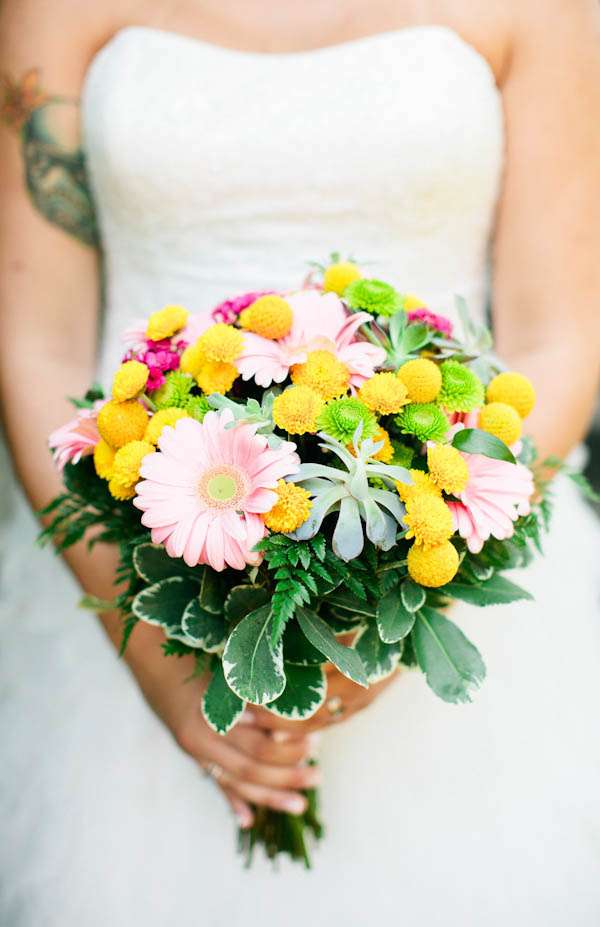 "Jason and I are such free spirits", she concluded. "I designed our wedding with this in mind. We didn't want a uniform theme, because that's not us. We wanted an explosion, a beautiful palette of all colors – just like us. We are Rock n Roll because we're together. In terms of wedding style, we absolutely did things differently. We had a barbecue, I didn't throw my bouquet, I kept my garter in Jason's pocket all night, and we encouraged our friends and family to express themselves with their clothes and accessories."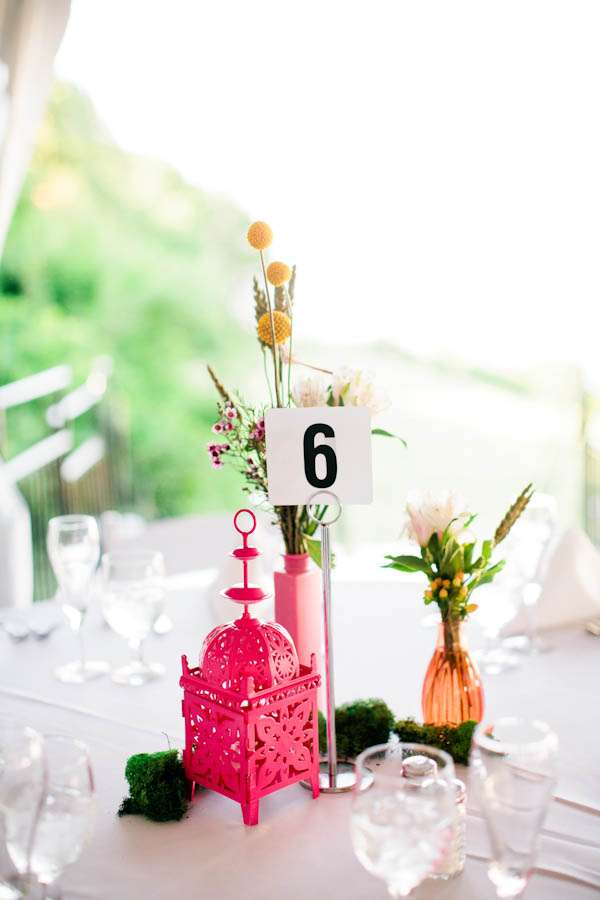 "We wanted to have fun, to be comfortable, and most importantly, we wanted our wedding to be 'us'. We didn't want a stuffy, traditional wedding because that's not what we're about. I mean, I walked down the aisle to Eddie Vedder, and I wouldn't change that if I could. Sometimes the definition of Rock n Roll isn't rebellion, but embracing who you are as a person and running through towns screaming about it."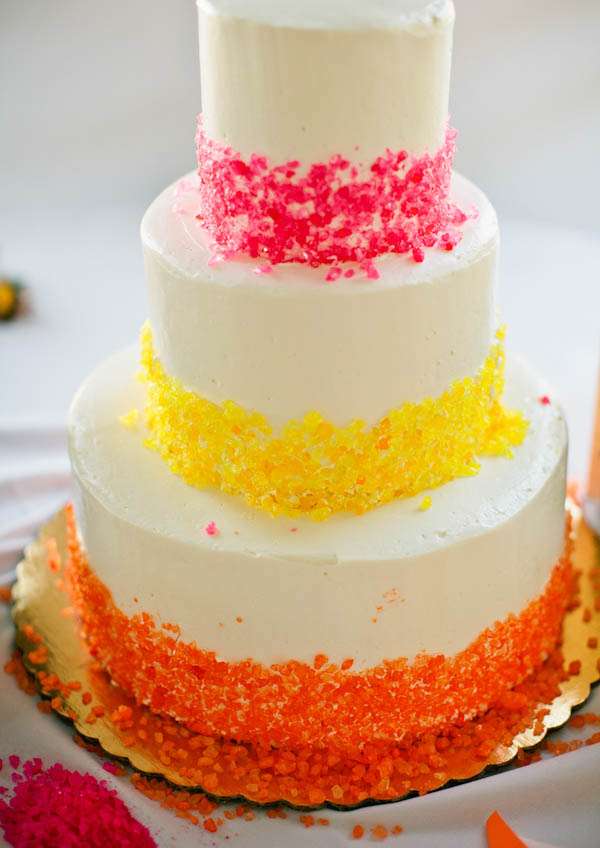 I couldn't agree more Ali! That's actually the whole ethos behind this blog – not to be a rebel or to plan a crazy wedding for the sake of it, but to style your wedding around things that you love and that reflects the two of you in the best way.
Thank you to you both, and your fabulous wedding photographer  Lindsay Madden for sharing with us today.
Supporting Cast:
Photography Credit: Lindsay Madden Photography assisted by Carmen Santorelli Photography
Venue: Vanderbilt Museum and Mansion
Bride's Dress: David's Bridal
Bride's Shoes: DSW
Groom's Outfit: Men's Warehouse
Bridesmaid's Dresses: Jordan Fashions
Cake: Main Street Bakery
Flowers: Town and Country Flowers
Hair & Make Up: Laura Raffa
DJ: Craig Stress of ProSound Events
Stationery: Two Pooch Paperie
Caterers: Northport Caterers
Officiant: Rev. Tracy Adamo