Ahh Palm Springs… one day I will be in you. But for now, I'll have to make do with lusting over Kelly & Ken's incredible wedding. Is everyone in Palm Springs as effortlessly cool as these two?
The wedding was held on the Bob Melk Estate, a privately owned home. "Ken and I met and bonded because of music", Kelly told me. "We fell in love through creating music together, so it's a huge part of our whole story. One of our favorite songs 'Albatross' by Peter Green's Fleetwood Mac. It has followed us through our courtship and became our processional song."
The day had a laid back vibe, one which was perfect for the Palm Springs location. Kelly continued, "Our inspiration was to take what was natural about Palm Springs and the desert but to not overplay it. We wanted it to be very 'us' i.e. LOW MAINTENANCE. All the touches were pretty subtle and we utilized materials that were natural for that environment. Lots of succulents & stones, and tons of my favorite elements that I work with in my art work: metal and wood. Ken and I are pretty casual people, and love the outdoors but we're both also very much into the style and music of the 60s and 70s, so we really wanted to combine our love of nature and our love of retro California style."
"I feel the most of the wedding was out of the norm," answered Kelly when I asked what made their wedding unique. "We only followed the traditions we believed in. Most of those had to do with the ceremony. We did a special handfasting ceremony and spent a lot of time making it very meaningful, but once that was over it was pure party time. We decided not to do the traditional dances, cake cutting, etc and just wanted to keep it fun and casual. It was important for everyone to be relaxed, feel like they could let loose and feel the type of energy that Ken and I feel when we're chilling together. Plus, we're both literally rock and rollers, along with many of our guests, so even the energy was not of your average cookie cutter vibe."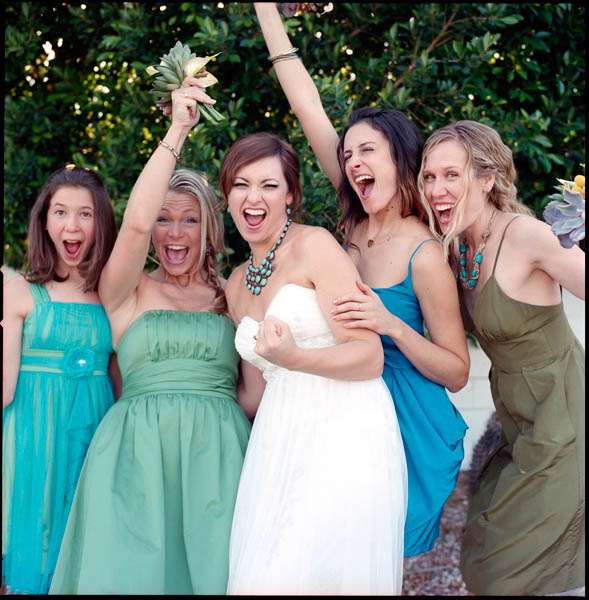 The couple added DIY elements to enhance the day. These included custom hot sauce as wedding favors to fit in with their Mexican themed dinner, the table runners and the spray painted animal figurines. "I also did a lot with small wood-working projects", Kelly explained. "The test tube vases, table numbers, etc were all very simple and inexpensive wood projects. I also designed and printed all the paper goods to save cost: escort tags, ad-lib questionnaires (in lieu of traditional guest book) and programs."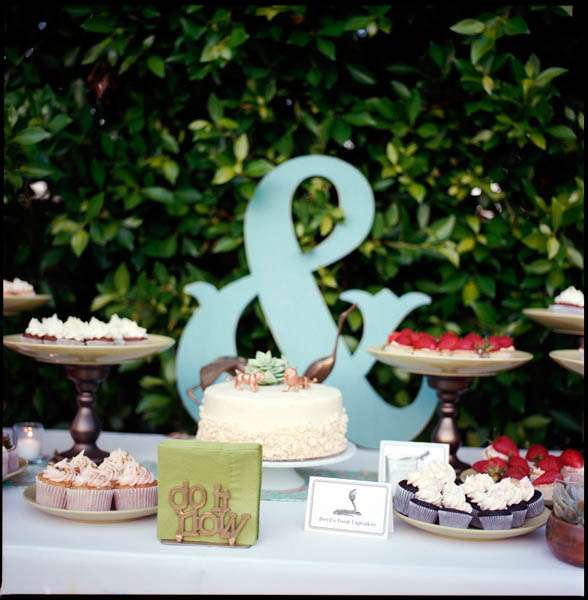 "The most rewarding DIY experience was creating the succulent/flower combo bouquets and table arrangements", the bride concluded. "I made the table arrangements out of vintage monkey pod trays and bowls and planted succulents with little Craspedia accents. They were perfect for me because I basically have a black thumb and needed to make something virtually impossible to kill. It was no easy feat but I'm really happy with how they turned out. There was a lot of prep and timing involved, but the greatest part about it is all my bouquets and table arrangements are planted now in the garden and in containers displayed on our deck or given to those who took part in the wedding. Succulents are great because of their heartiness. I was so busy with life after the wedding that I didn't replant them for almost 4 weeks and they completely held up."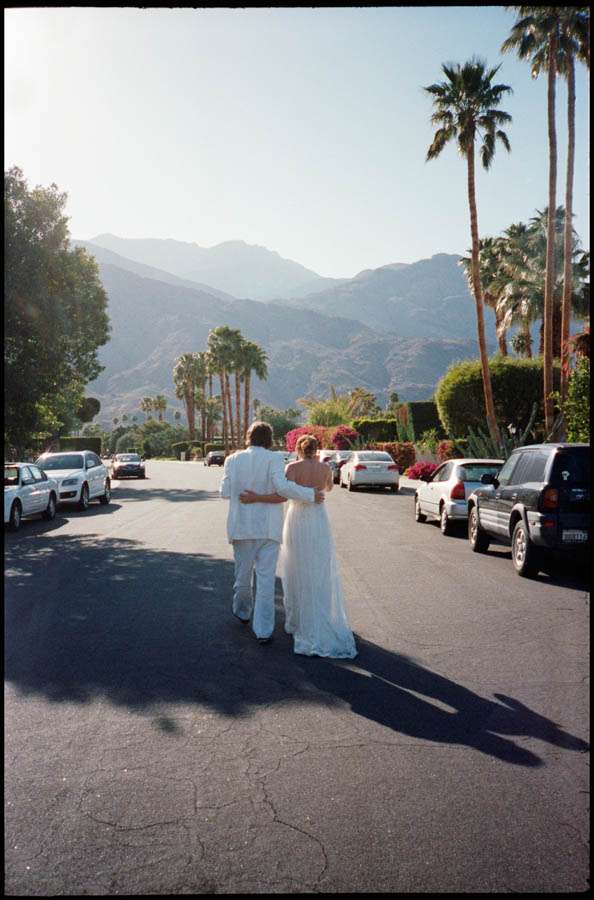 Gorgeous! Thanks you to Kelly & Ken and their fabulous wedding photographers Rad + In Love for sharing today.
Supporting Cast:
Photography Credit: Rad + In Love
Venue: Bob Melk Estate, Palm Springs, CA
Bride's Dress: Wedding Time (Korea Town)
Cake: XOXO
Flowers: DIY
Hair & Make Up: Cristina Waltz
DJ: Brian Waters
Stationery: DIY, Thru 79 Design (bride's company)
Caterers: Katherine King Catering