Renam Christofoletti Captures Katie Fogarty's Vegas Wedding for Vogue Brazil Novias via Fashion Gone Rogue
Welcome to that time of week again! As you read this I'll be mid-flow talking all things blog at my School of Rock blogging workshop in Birmingham. I'm seriously excited about this one as a few familiar faces have booked onto it (OK I'm lying… exchange the word 'excited' with 'nervous' and you're getting closer). I'm sure once I get going it will all be OK though… eeeek! If you're interested in attending one of my workshops, keep those eyes peeled, as I'll be announcing the next location and date on Monday 9th July. This event sold out in just 8 hours (OMG!) so you'll have to be speedy if you want to come on the next one.
Okey dokey, time for some Thursday Treats I think. Yummers…
Weddings & Weddingy Things…
♥ On 8th of July Luella's Boudoir Bridal Boutique in Wimbeldon are holding an event with accessories designer Victoria Fergusson from 11am till 4pm.
♥ The history of wedding dresses
♥ Spouse doused! Good on these guys for laughing about it. What would you have done?!
♥ Hill Country Wedding at The Serengeti Resort
♥ Rustic gorgeousness with a black wedding dress. SWOON.
♥ Breathtaking images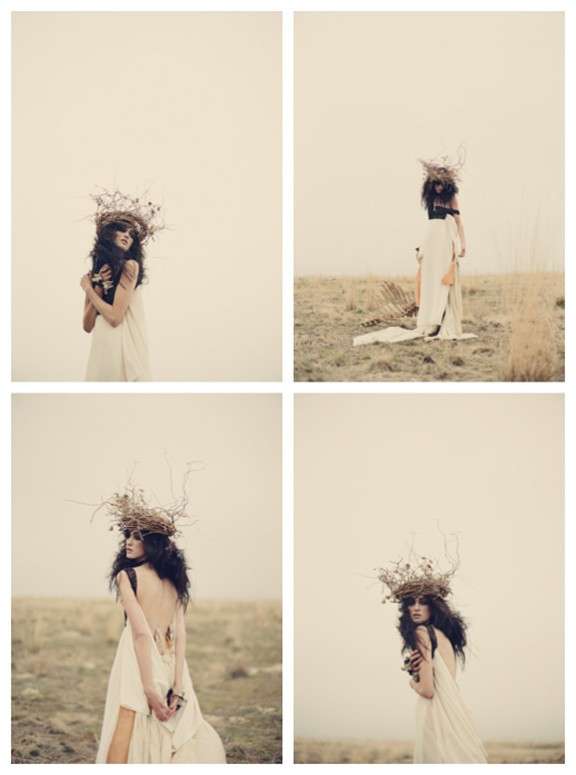 Photography Credit: Tanja Lippert
♥ A creepy and elegant gothic wedding – this bride has the best purple hair!
♥ Would you wait to kiss until your wedding day? – this couple waiting until their wedding day to kiss! Kinda sweet… but also kind of crazy. Imagine if the other person was rubbish at it!
♥ Apple Barn Farm Wedding
♥ Palm Springs elopement
♥ Jess & Russ' wedsite has got to be one of the best I've ever seen… The way the images move as you scroll is so clever!
♥ Vintage musical wedding ideas
♥ Love this travel themed wedding inspiration – globes as centrepieces anyone?
Photography Credit:  Erin Johnson Photography
Best of the Rest
♥ Ooh love Jean Paul Gaultier's Tattoo Bottle for Diet Coke!
♥ Lusted over those Miu Miu sandals but lacking the funds? Check out this ace DIY tutorial!
♥ You Can Do That? Great. Go Ahead – ace article about 'those people' who try and bring you down!
♥ 'Who Shot Rock & Roll' at The Annenberg Space for Photography
Spice Girls reunite for 'Viva Forever' musical launch – I'm not even ashamed to admit that I'm totally excited about seeing this.
Love this dreamy engagement video from Rock n Roll Bride readers Jonat + Rain!
Choccywoccydoodah's TV series is back on the Good Food Channel from Monday 2nd July. Here's a little sneak peek… oh and the song was recorded by the team to raise money for or treatment to six year old Toby, a cerebral palsy sufferer who appears in the first episode of the new series.