Photography Credit: Zuzanna Bijoch Plays Sexy Secretary in Catherine Servel's 25 Magazine Shoot
Do you ever feel like you're running towards something that's moving away from you at a frustratingly alarming pace? Well that's me this week month year. I'm not exactly sure what age it is that time suddenly starts speeding the hell up but recently I can't believe how quickly it's going. There is SO MUCH to do and seemingly so little time! Like that magazine… and the workshops… and the green room posts… and the magazine columns… and some crazy arse 'omg-I-can't-believe-I-actually-got-asked-to-do-this' top secret projects.
To all of you that have been asking me about the magazine in particular. I know, I KNOW it's taking forever. Believe me.  If I tried to explain the nightmare we've had with printers and ridiculous quotes and the stresses of organising it all as well as blogging and workshopping and planning top-secret 'omg-I-can't-believe-I-actually-got-asked-to-do-this' projects then my head might explode. So I won't… but I will promise, promise, that it will be ready SO SO SOON. And bloody hell it's gonna be worth it.
OK enough soul bearing and self-therapy, let's get on with these Treats shall we?
Weddings & Weddingy Things…
♥ Stunning sunrise wedding – who says 6am ain't happy hour?
♥ Freakin' stunning vintage glam & colourful wedding
♥ DIY woodsy mountain wedding
♥ Circus themed wedding
♥ Cute backyard wedding
♥ Nanette Lepore Got Her Weddings Dress at the Salvation Army for $45 (and I LOVE her for it!)
♥ Awesome downtown LA engagement with cinemagraphs!
♥ An eco-conscious upcycled wedding
♥ Handmade Perth wedding – the bridesmaids dresses are so good
♥ Melbourne garden wedding
♥ Bride who stole £200,000 for lavish wedding jailed for 20 months – !!!!
♥ Grace Ormonde Wedding have launched a digital edition of their magazine and it's super duper pretty
♥ Vibrant, Colourful 1960s Mod Style Palm Springs Elopement
♥ Soft and Rustic New Zealand Wedding
♥ What do you think about rentable bridesmaid dresses?
♥ Bohemian Bridal Headpieces For Free Sprited Brides – love this boho hippy 70s themed shoot
♥ Epically amazing beach wedding (and part 2)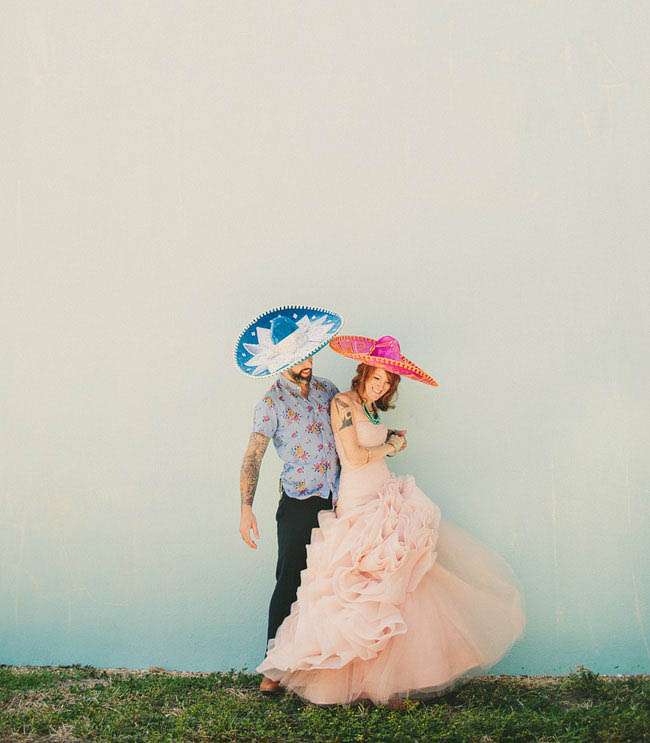 Photography Credit:  Our Labor of Love
Best of the Rest
♥ We all want our blogs to get a lot of traffic, but are you getting the right kind of traffic?
♥ So cute! I love this sharpie mug DIY
♥ Do you dream in ice cream?
♥ Hey, hair dye addicts – Crazy Colour are one of my favourite hair dye brands. Their colours are super rich and last for ages… and HURRAH they've just introduced a pastels range! I bought some bottles of Marshmallow, Lavender and Bubblegum this week. I'll let you know how they turn out!
♥ OMG the new Coco de Coeur (Audrey Kitching's fashion line) shirts are the best. I NEED this Kiss Cat tee and maybe the 'Rock n Roll Suicide' one too please!
♥ 21 Pictures That Will Restore Your Faith In Humanity (and probably make you cry a little…)
♥ Head over heels in love with Doloris Petunia's designs. Especially this INCREDIBLE ombre necklace!
♥ OOH! sheer nail lacquers from American Apparel. Perfect for two-tone and ombre or nail art!
♥ 100 Things To Do Instead Of Procrastinating On The Internet – I think I'll start calling Gala Guru Darling from now on…
Clients from Hell cracks me up at the best of times, but now they've started making videos! YES!
If you happen to have some 3D glasses handy, then check out the world's first 3D wedding video!