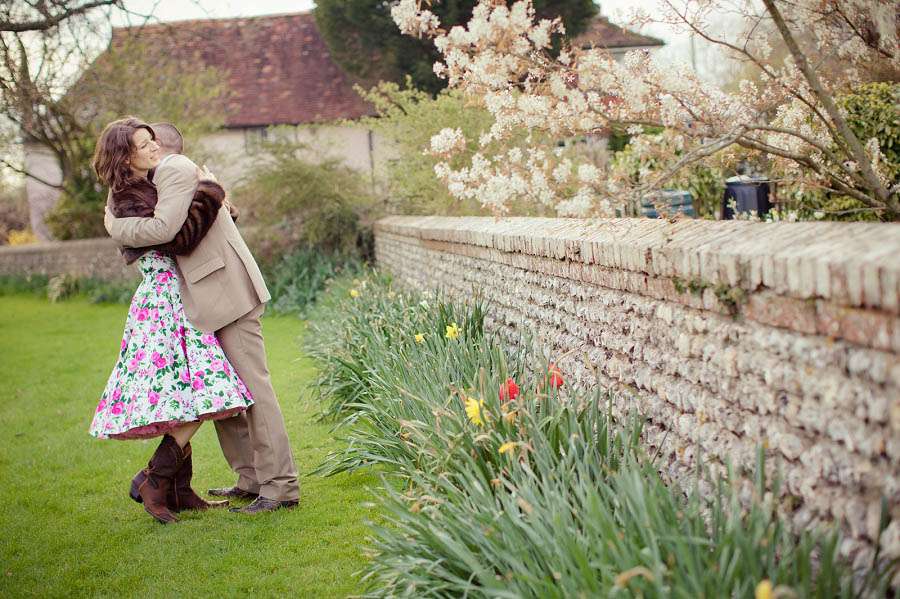 Vivien of Holloway dresses are so beautiful, and many of the lucky bridesmaids in the weddings that I feature get to wear them…however when Abby got married she thought "why should they have all the fun?" and so she opted for a pink floral 50s inspired dress from their collection for her wedding dress! Pairing it with awesome cowboy boots and a faux fur jacket, she looked incredible.
The rainy wedding (it certainly didn't dampen their spirits – like it could with the bride in a dress like this!) was held at Weald and Downland Open Air Museum, Singleton, and after a horse drawn carriage ride, the reception took place at East Dean Village Hall, East Dean.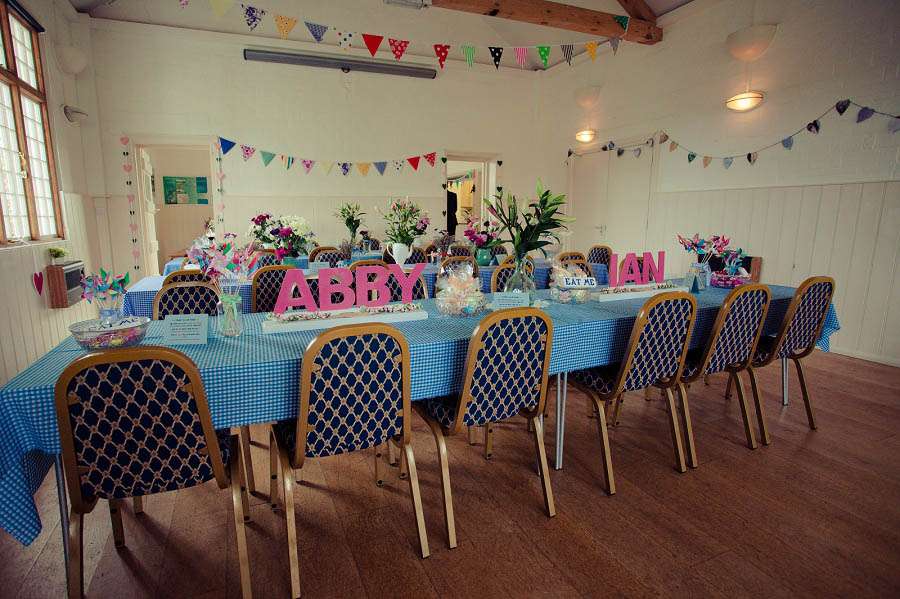 "We really wanted to avoid anything too stereotypically weddingy," Abby told me, "we just wanted the day to be a reflection of how we think about each other – just lots of fun! Neither of us feel particularly comfortable with formality and stuffiness – laughing, messing about and being childish are much more important! We wanted it to be something which could be enjoyed by everyone – from toddlers to our older relatives. We decided to give the some of the more traditional elements such as speeches, cutting of the cake and first dance a miss. However, we did do a spot of jiving to get me spinning and twirling around in my dress…it was too hard to resist!!"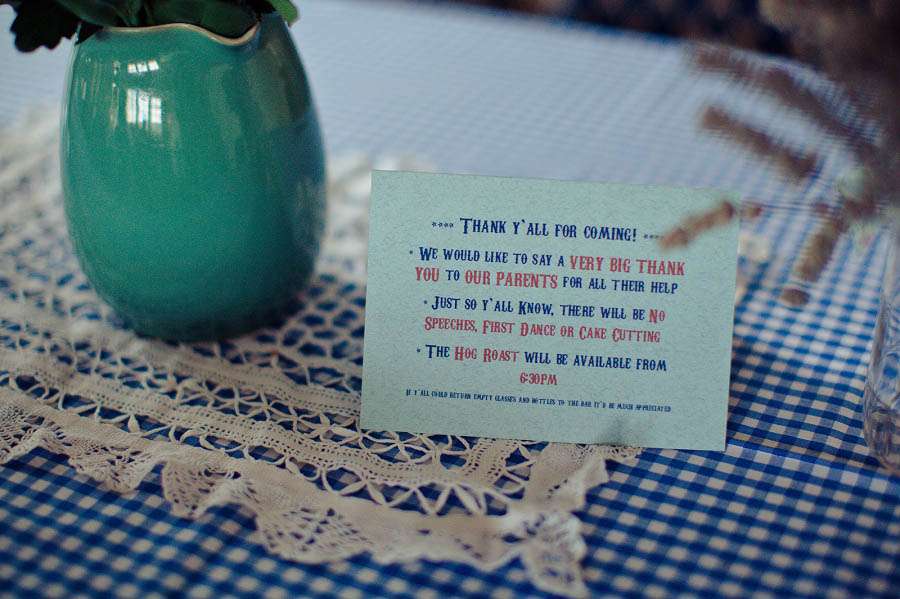 The couple injected DIY elements wherever they they could, "Not only were we lucky to get a lot of helping hands setting up, but so many people helped in the run up to the wedding. My mum really is the star DIY pupil though as she made so much cool stuff – including all the cakes, the vinyl record cake stands and bowls, the bridesmaids dresses, the windmills and felt hearts! She even planted spring flowers in troughs (that she made herself nonetheless!) to stand outside the village hall. We made ribbon flowers to add to the tables as we thought these would be an interesting and unusual decoration. Ian decided that, having made some ties in a high school project many years ago, that he would hand make the ties for him, the bestman, the ushers and his dad – it turned out to be more time consuming than expected (and he wonders if any of them managed to still have them by the next morning….)"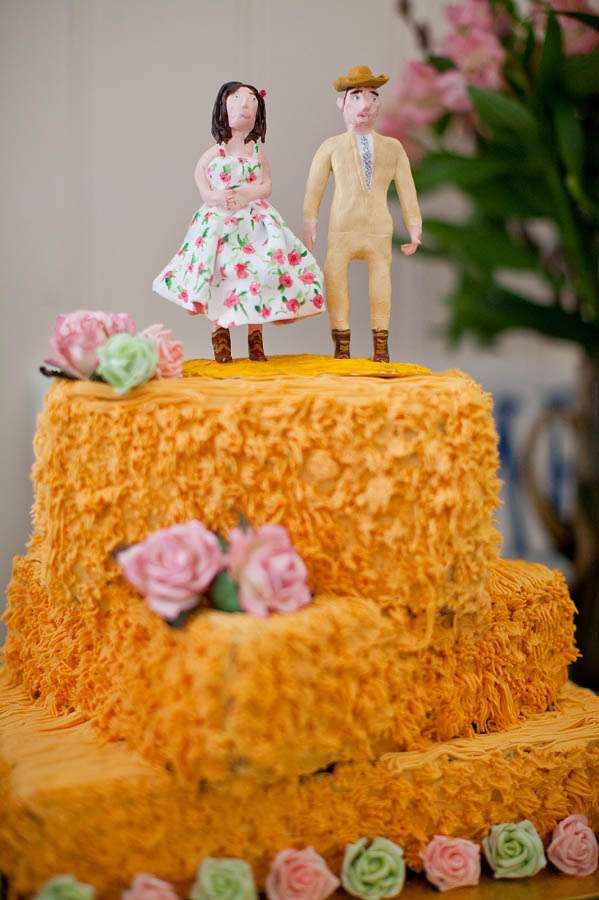 The wedding had a really relaxed vibe and the 'hoedown' theme really got the party started! "I guess our theme was country and bluegrass," the bride concluded, "from the Johnny Cash inspired ceremony music and readings, mixed with the rustic and rural charm of the US deep south – gingham, jam jars, JD bottles, banjos, barbequed meat and wild west lettering and signs. And of course, some cowboy boots thrown in there for good measure!"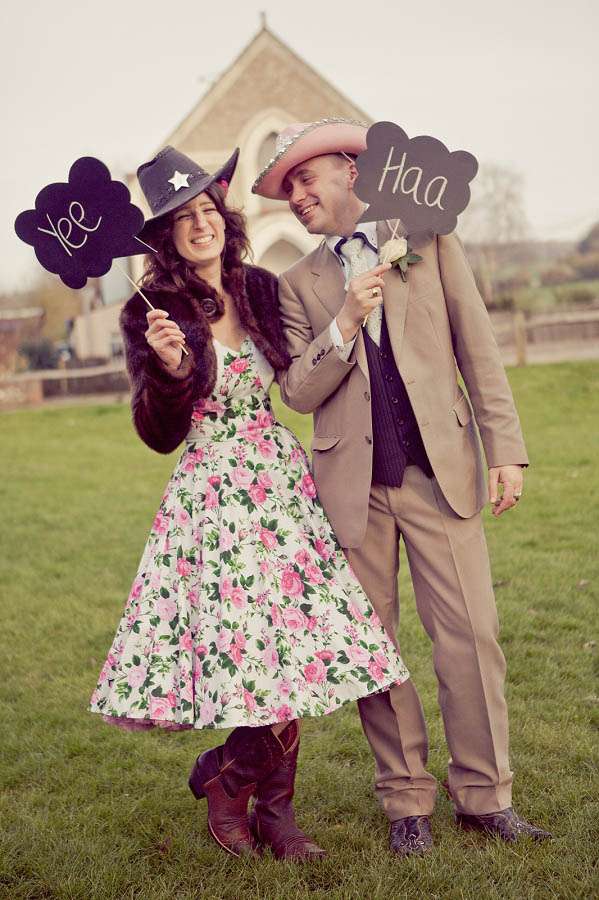 Awesome! Thank you to Abby & Ian and their wedding photographer Nicki for sharing with us today.
Supporting Cast:
Photography Credit: Nicola Feltham Photography
Ceremony Venue: Weald and Downland Open Air Museum, Singleton, Nr Chichester
Reception Venue: East Dean Village Hall, East Dean, Nr Chichester
Bride's Dress: Vivien of Holloway (dress and petticoat)
Bride's Boots: Sheplers, USA
Groom's Outfit: eBay (suit), Sheplers (boots) & DIY (ties)
Bridesmaid's Dresses: DIY
Cake: DIY
Cake Topper: Simon Cheadle & Tim King
Flowers: DIY
Band: The Biggin Hillbillies
Stationery: DIY
Caterers: Forest Hogs (hog roast)