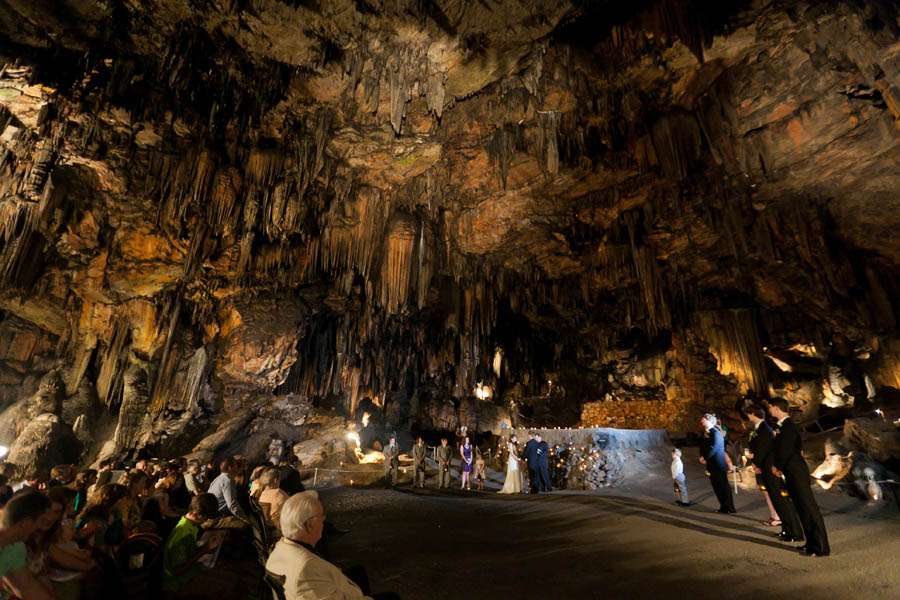 Yes you did read that correctly – Melissa & Greg got married in a cave (and instantly went into my 'coolest ever wedding venue' mental checklist).
"Greg and I picked up the love of spelunking (caving) during our 4 ½ year relationship and wanted to show our families what we found so beautiful about underground," Melissa explained when I asked them about their unusual choice. "The ceremony felt very romantic; low lighting, candles everywhere, glowing stalactites and the silhouettes of the people who love us the most. My stepfather Mark became ordained and performed our ceremony."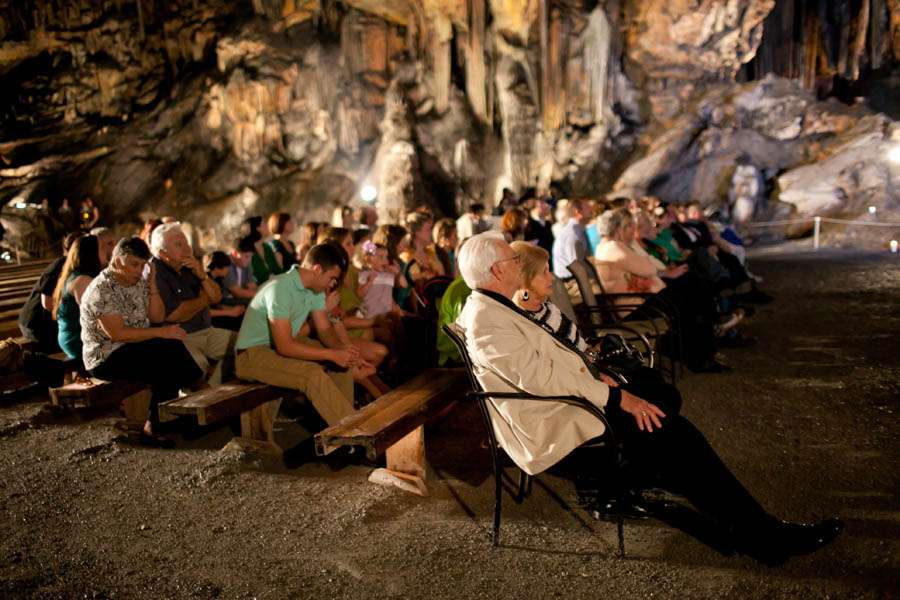 "It was very special to have him be such a huge part of my wedding since my father refused to attend for his own personal reasons. One of the more emotional moments of the day was when I danced with my stepfather. I hate crying but there was no holding back my ugly crying face! Greg walked me down the aisle, which was a perfect way to begin our marriage. I was much less nervous than I would have been otherwise. We broke a few traditions that I used to think were important, but now I understand exactly what a wedding is all about; it's about man and wife and everything else is too insignificant to worry about."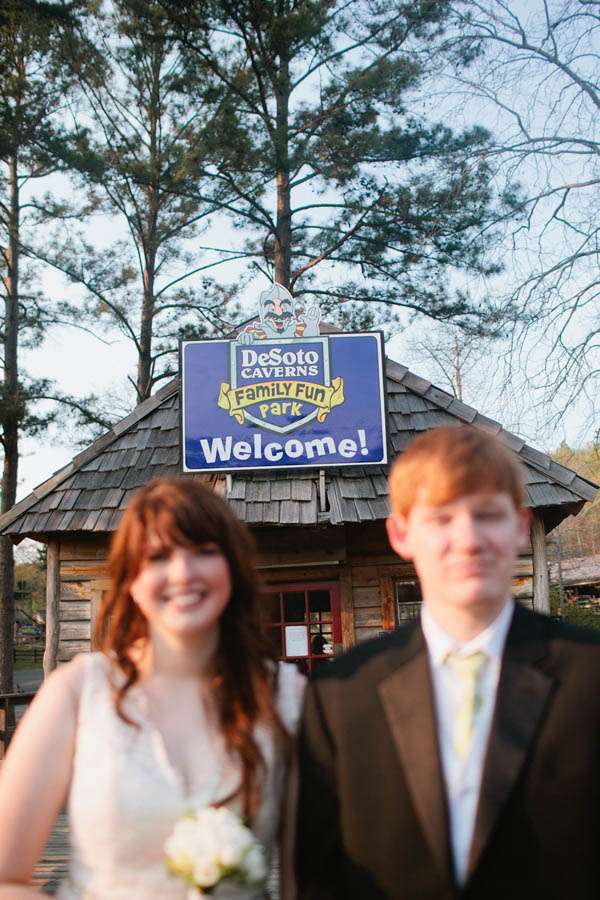 After the ceremony came the reception at Morgan Creek Vineyard in Harpersville,"Our initial inspiration actually came from my lamp from IKEA! It was colorful, but delicate," the bride continued. "I wanted to recreate the homemade vintage feel. While the stress did get to me at times it was important to me throughout the planning to make everyone comfortable because many weddings that I have gone to were to static and uncomfortable. I wanted my family and friends to relax and unwind. This wedding wasn't put on by wedding planners who I didn't know, or cake decorators who I picked from google, my wedding was put together by friends and family which made it more intimate."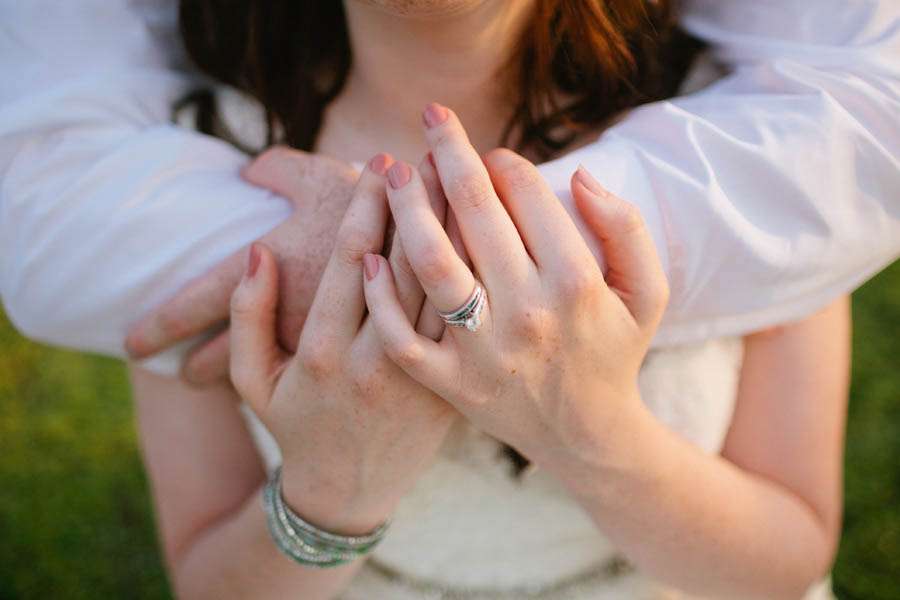 "The music also helped set the mood. I created a playlist on my iPhone around 3am the morning of our wedding. We played 'Today' by Joshua Radin, 'Love Will Take You' by Angus & Julia Stone, and we walked in to the beautiful soundtrack 'The Winner Is' from Little Miss Sunshine."
For the reception decor, the couple decided to have each 'centrepiece' as a collection of differently coloured vases and glasses – a different colour for each table. "I refused to pick a color scheme. Why should I have 2 colors when I love so many colors?! It was a playful, kid friendly, colorful, wedding. My crew and I have hardly any pictures where someone isn't hamming it up for the camera and my wedding photos reflect that too! A good percentage of out photos someone is making a face, I kind of feel a little bad for our wonderful photographers, but they got some lovely more serious images as well."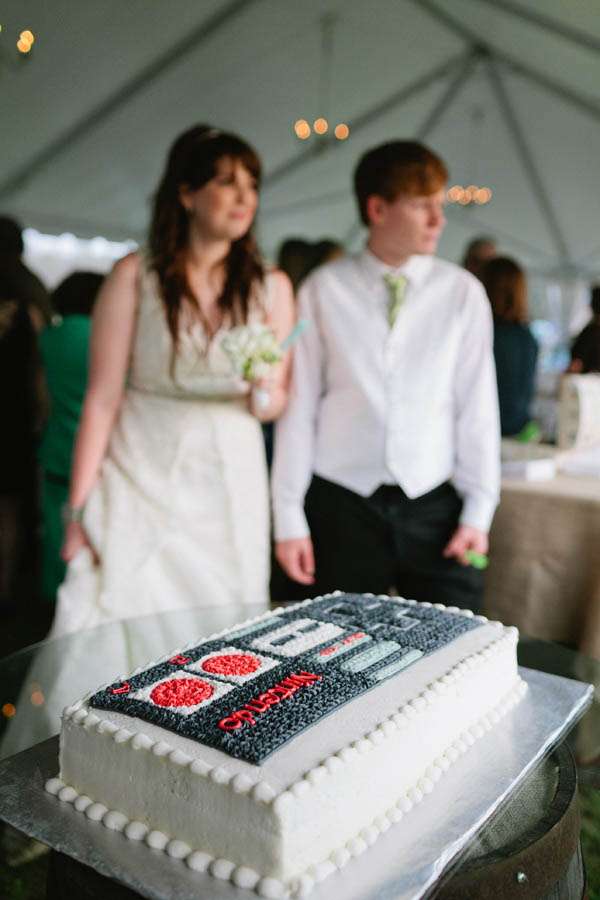 Wow this is just awesome in so many ways! Thank you to Melissa & Greg and of course their fabulous photographer Morgan Trinker for sharing this wedding with us today.
Supporting Cast:
Photography Credit: Morgan Trinker Photography
Ceremony Venue: Desoto Caverns in Childersburg, AL
Reception Venue: Morgan Creek Vineyard  n Harpersville, AL
Bride's Dress: Anne Barge, purchased from The White Room, Birmingham, AL
Bride's Shoes: BOC Born Concept (Batik Lace Flat in Green)
Bride's Headpiece: Craft store Ribbon, $2
Bride's Jewellery: Jewelers 3 in Hoover, AL
Groom's Outfit: Men's Warehouse
Bridesmen's Outfits: Men's Warehouse, female attendants wore dresses from David's Bridal
Cake: Stephanie Terry of Matthew's Manor in Springville, AL
Flowers: Davis Florist
Hair & Make Up: Celine Russell
DJ: Gus form Universal Sound and Video, Florence, AL
Stationery: DIY
Caterers: Joe's Italian
Reception Decor/Props: DIY