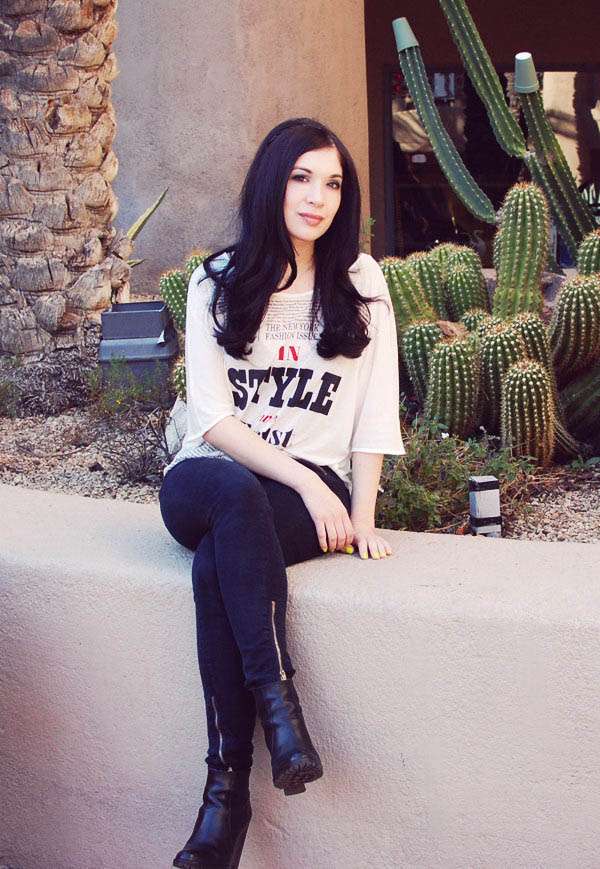 I discovered Nubby Twiglet around the same time as stumbled across Gala's blog. I fell in love with her enviable personal style, and like any good internet stalker I loved her daily blog updates – from the clothes she wore to the pretty fonts she designed. Then in 2010, when I decided to rebrand Rock n Roll Bride, I knew there was only one graphic designer I wanted to work with. Luckily for me she was able to squeeze me into her crazy-busy schedule and the rest, as they say, is history!
Since my logo and website overhaul we've also worked together on my media pack as well as Rock n Roll Bride Magazine…and yes, we are working on issue two right now (sneak peek at the end of this interview). AND in just 3 weeks time she, Gala and I just happen to be in Las Vegas at the same time so we're going to hang out in (OMG) actual real life…AND do a photo shoot together (squeeee!)
Jesus, I must get my fan-girlness in check before that happens…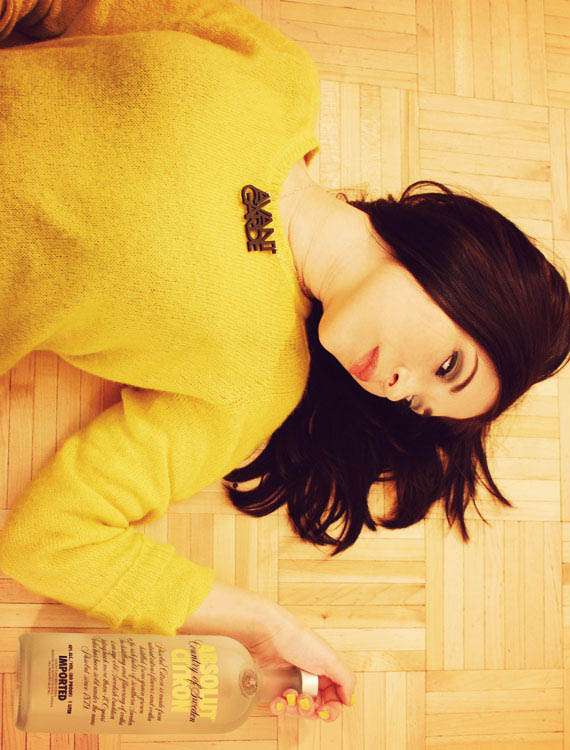 Hey Nubby, can you tell us a little bit about yourself and your business. What's the 'Nubby Twiglet story'?
Hello! I'm a graphic designer and blogger based in Portland, Oregon. My main focus is in branding but I am also very passionate about web and editorial design. I've been blogging since 2001 (back when Live Journal was all the rage!) and launched my personal blog in 2007. I am a self-proclaimed aesthetics junkie and have always been passionate about sharing the world around me with the hopes of inspiring others. The one defining characteristic readers usually notice right away is that I don't make a clear division between my work, wardrobe and surroundings; it's all visually interconnected to form a distinct lifestyle. This is the vision I share on my blog, which can be quickly summed up as "Design, Marketing and Style Magnified."
What about your name? Where did 'Nubby Twiglet' come from and why did you decide to use a pseudonym online?
Nubby Twiglet originated from a combination of nicknames I had back in high school. It was a way to separate my online and offline lives when I started blogging 10+ years ago (at that time, people rarely used their real names online). My legal name is Shauna and I actually like it! But what happened almost instantaneously is that my online existence so closely mirrored my offline life and people couldn't easily separate the two. When I began meeting people in person that I'd first known online, they referred to me as "Nubby" so I embraced it. It's that simple!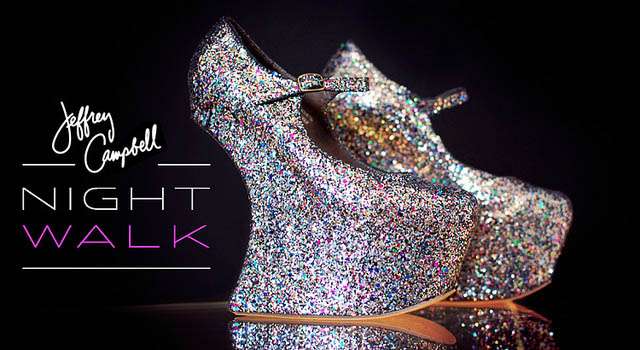 You've managed to land yourself some pretty impressive design contracts – notably Solestruck and Forever 21.  How did those come about?
I was lucky that these connections came about quite organically. Forever 21 knew about my blog and contacted me directly about designing their blog and accompanying logo a few years back. For being such a large company, they were incredibly friendly and open-minded, giving me nearly complete creative freedom. Solestruck is a Portland-based company and if you haven't noticed, I am totally shoe-crazy. We'd known about each other for a long time and it was only a matter of time until we joined forces! They're another company I love working with because they trust designers to do their thing and extend an amazing amount of creative freedom.
Advanced warning of a serious fan-girl gush right here…I have no words to describe how I felt when I first discovered your blog and saw your work. I love its bold and daring nature, the strong colours and your incredible use of fonts! When you first designed my logo for example, it was literally like you had gone inside my head and pulled out what I didn't even know was there!
What inspires you, and how did you use this to develop your own design style?
Thank you! I've always been a very visually-driven person and even before I became a designer, I was always on the lookout for inspiration in fashion magazines and on the web. Really though, inspiration is all around us and this is partly why I carry a camera everywhere. Inspiration can strike at any moment, in the form of a menu or a subway map or a business card at your favorite boutique.
When I'm working with a new client, I first have them fill out a questionnaire and show me what inspires them. I also collect my own inspiration and include this in the initial presentation to make sure we're on the same track. Every designer has their own process and mine has come out of years of trial and error. It's definitely an ongoing, evolving process.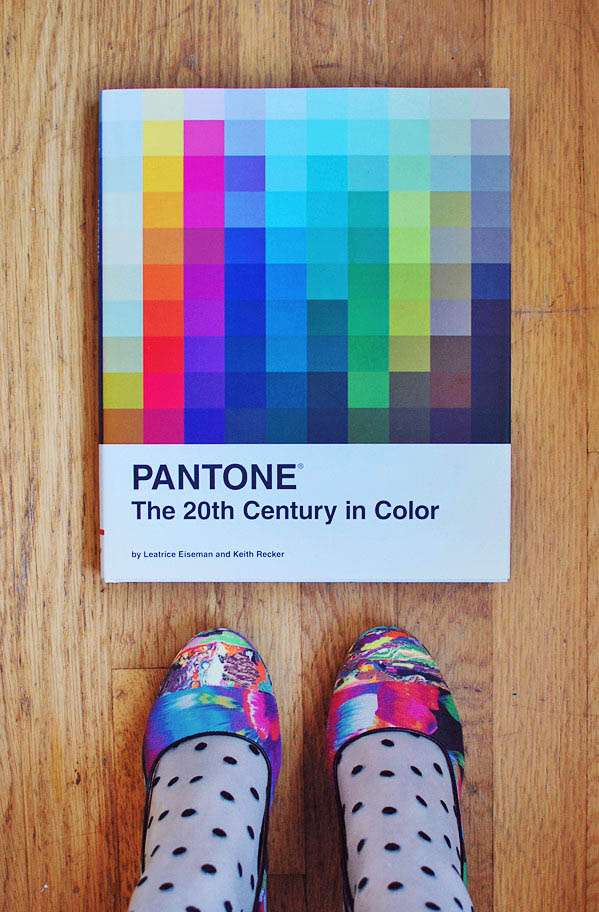 When and why did you decide to start a blog to support your graphic design work?
I started blogging in 2001 over on Live Journal because like many people in their early 20s, I felt the need to share my personal stories and surroundings. This was way before I became a designer but even back then, I'd say that my aesthetic vision was pretty clear. Having my own business was always very important to me (I actually presented Nubbytwiglet.com as my senior project when I majored in Business) and I knew that if I stayed consistent and kept pushing forward, all the pieces would fall into place.
When I made the leap from blogging Live Journal to Nubbytwiglet.com in August 2007, I had already built a loyal group of fans and vowed to stay authentic and consistent no matter what came my way. When I finished my graphic design program in 2008 and began working professionally, it only made sense that my blog would follow that journey since it was the driving force in documenting my life.
Your blog has become pretty well known in its own right now, do you have any tips or practical advice for people who might want to improve a blog that they use to promote another business?
People want to be inspired and entertained. There's more to a creative's life than just work. Ask yourself, what's the driving inspiration behind that work? It's important to stay true to your ethics and to remain authentic no matter what's thrown your way. And, it's been said a million times but consistency is key. People are constantly starting blogs but five years in, who's still going to be around, sticking with it? You really have to be in it for the long haul. Blogging truly is a labor of love.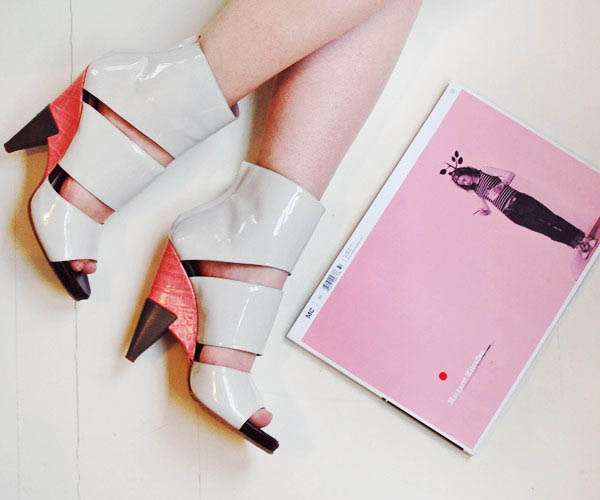 What's the best piece of business advice you've ever been given?
I can't think of a particular piece of advice that really stands out but reading Think And Grow Rich by Napoleon Hill was pretty life-changing.
How do you feel about other designers, maybe newbies, who seem to charge less & less to undercut the more established graphic designers in price? Does it affect what you charge?
When you're first starting out, it's easy to let people take advantage of you in the name of building your portfolio and client list. Now that I'm more established and have a few years of professional experience, people trust that I'll deliver a unique, high quality design and are very respectful of what I charge. It's important to have a starting point of what you feel is reasonable and to gradually raise those rates as demand increases. As creatives, we have to value ourselves and our work enough to not sell ourselves short.
(Warning: more fan-girl gushing…) I was so inspired after reading your recent blog post on doing what you love. How important is it that you love what you do and do what you love? Do you have any words of encouragement for people struggling to make the leap from the 9-5 to making a living from something they love?
You're only going to live once and there's no point in going through life being totally miserable! We've all struggled to find our path because sometimes, it's not very clear. We've all worked jobs we hated. But that struggling along the way to figure out where you belong only makes you stronger. Once you get to the other side, you'll appreciate it even more. Once you find that passion, nobody can take that away from you.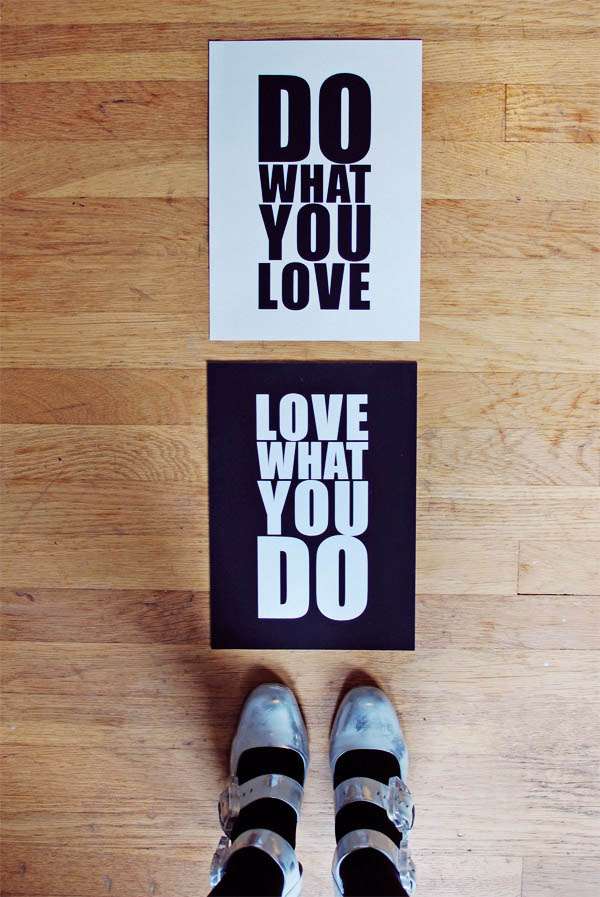 If you could go back to pre-Nubby Twiglet days and give yourself one piece of advice what would it be?
Stay true to your vision. Not everyone is going to like what you do but it's important to just keep moving forward, no matter what. This is your life so you have to do what makes you happy. It's that simple.
Standing out and being unique in a creative business is so important – even more so now with potential clients being offered so much choice. Do you have any advice for people struggling to come across as 'unique' in their businesses?
As cliché as this sounds, authenticity is key. Everyone has a unique story and viewpoint, whether they realize it or not. Share your vision, share what you know and stay humble. People want to follow personalities that they can relate to so avoid business jargon and embrace your own voice. Of course, my online presentation of myself is more tightly edited and polished but it's still comprised of my vision, my surroundings, my work and experiences. It's the real deal and that's what people want. People can sense a phony, even when it's hidden behind a screen. So, stay professional and focused but always remember to keep it real and relatable.
Have you ever had to deal with any not so nice things because of the job that you do and the fact that you do it so publicly online?
I've always believed that sharing is worthwhile and that overall, most people are honest and well-meaning. But, there's always that feeling of disappointment and anger when you come across a direct rip-off. From early on though, I've embraced the mindset that if someone goes to the trouble of copying my work, they're hanging onto the past because by the time something is released, I've already moved onto the next thing. As a creative, you've got to searching out the new and evolving. I have to say, most people are well-meaning and friendly. Don't let the few bad apples ruin your experience!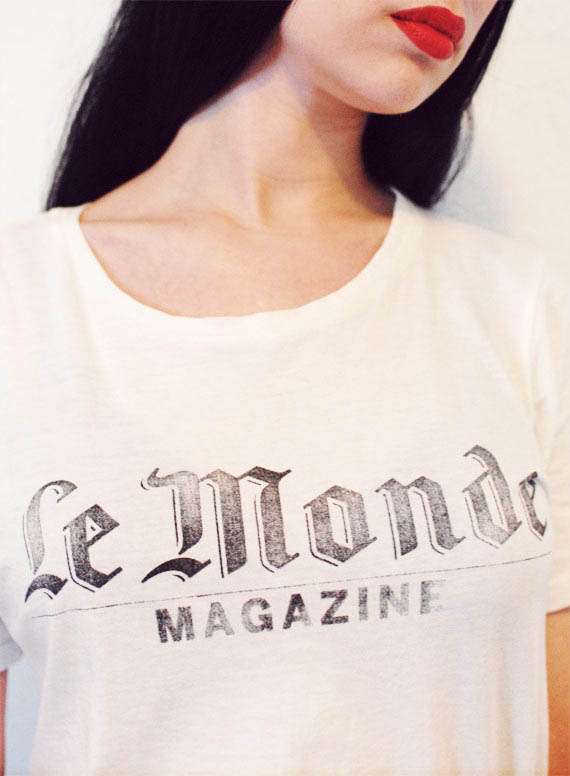 Have you ever had to deal with a client not liking something you've designed and how did you deal with this?
Of course! Design does not have a perfect formula and sometimes, you miss the mark. I'm pretty good at handling criticism though because I've worked at a lot of agencies with art directors and huge corporate clients giving me feedback and you have to develop a thick skin early on to survive. As a designer, you've got to lose the ego. It's really not about you, it's about making the client's vision come to life!
What about direct criticism? Have you ever had to deal with this and what did you do?
Definitely. The thing is, you learn pretty quickly that you'll never make everyone happy. It's important to take chances, do your thing and hopefully people are supportive of your journey but if not, you've got to keep on going. You've got to live a life that you're proud of, otherwise what's the point?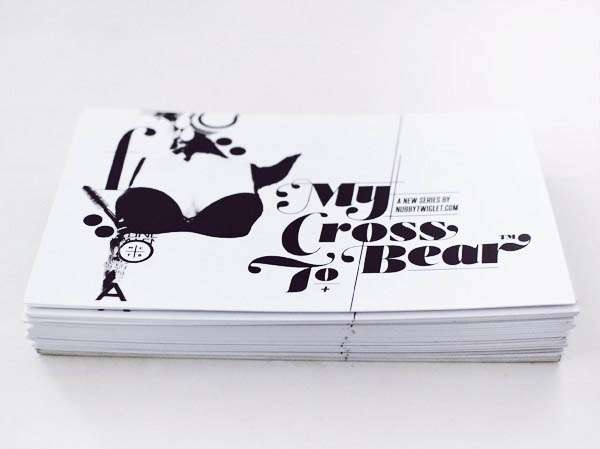 You recently did a personal project entitled 'My Cross to Bear'. Why did you want to do this?
Long before I was a designer, I made fine art. The thing is, the second I finished my design degree, I began working in the industry and quite literally, the demands of design completely took over my life. Getting the time to work on art became increasingly difficult and finally, in 2011, I set a goal of creating a new series of work. If you never set a goal, it's easy to keep putting dreams off. Doing the My Cross To Bear series was incredibly fulfilling creatively; I felt like it was an opportunity to get back to my roots.
What are your plans, goals and dreams for the next 12 months?
Overall, it's about embracing quality over quantity. My plans are to take on a lot less clients and to focus more closely on the great group of clients I already have. And, to redesign Nubbytwiglet.com to be bigger, better and more user-friendly. It's funny; the second you become a designer, everyone elses' projects come first and you never have time to do your own! And finally, I'm working on my own editorial project that will feature freelance and business advice, original designs and a more personal peek into my creative vision. Beyond that, I want to slow down and enjoy what's around me. There's so much life outside of the internet and I don't want that to pass me by.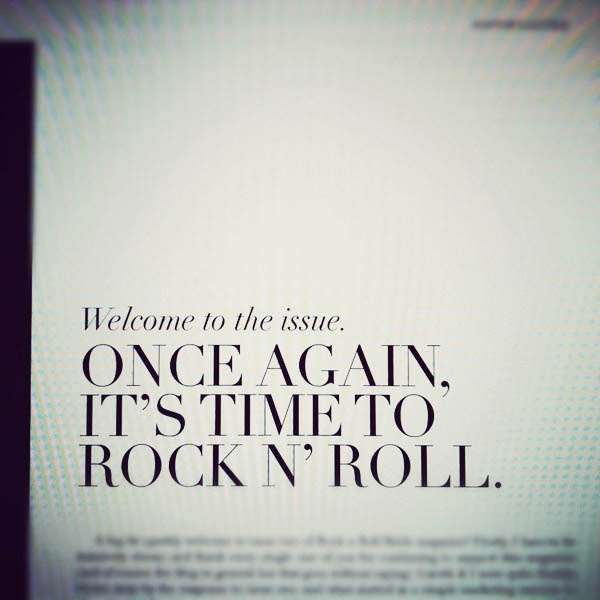 Sneak peek of issue two of Rock n Roll Bride Magazine which Nubby is working on RIGHT NOW! (available really soon, I promise!)