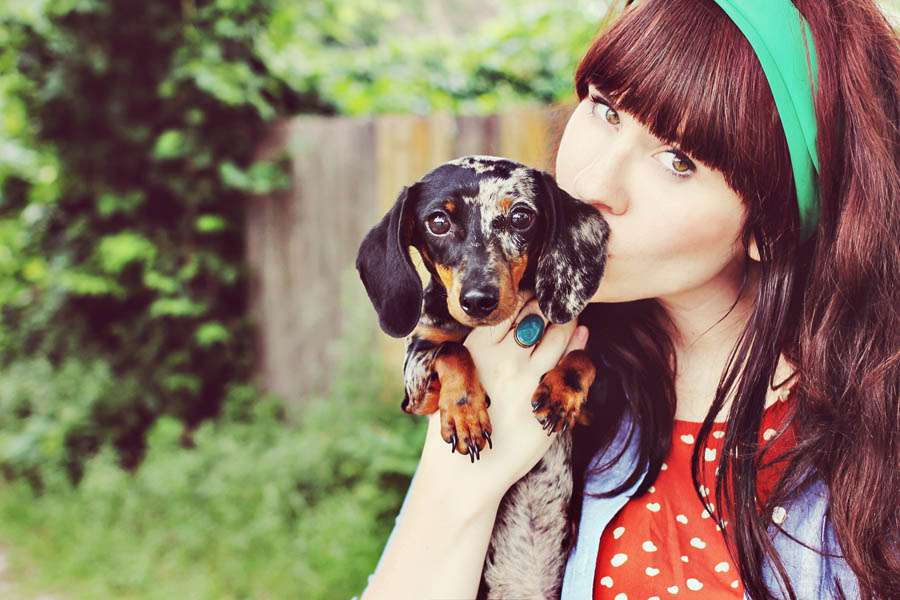 Following on from chatting to one of my favourite bloggers last week, I thought I'd follow suit with this edition of The Inspirations and speak to another incredibly inspiring blogger. Although calling Elsie Larson mearly a 'blogger' is doing her a huge disservice and is an understatement of epic proportions! She is a multifaceted business woman with mad skills. A master of multi-tasking she, alongside her sister and business partner Emma, runs a hugely successful blog (which current gets over 170,000 views a day!), owns a vintage clothing boutique, an online shop (where they sell their own line of dresses!)..oh she's also currently writing her first book! Way to make us feel lazy superwoman.
It was really interesting to rummage around in the mind of Elsie. I hope you enjoy reading our chat as well.
Hi Elsie, I'm so excited to have you in the Green Room today! Could you introduce yourself?
I'm Elsie from A Beautiful Mess. My sister, Emma, and I own a local vintage boutique and run our blog as our full time job. I also design dress lines a few times each year… never a dull moment!
I started my blog five years ago with no particular aspirations, except to share the random photos I was taking each day. If I could go back in time and give myself a little advice I'd say to keep an open mind and try anything once! Currently, I'm wrapping up work on the very first A Beautiful Mess book, due out in 2013.
Your blog is only one part of your business but its exceptionally popular. How do you feel it compliments the other areas of your business and do you have any tips or advice for people with businesses that want to use blogging and social media to enhance their brand?
Great question! I really believe that blogging has to come from it's own creative place. Blogs that are based solely on promoting a business can be one dimensional and often lack a strong voice. My advice for business owners who want to start a blog is to explore all your options. Just because you want to promote your business doesn't mean that's all you can do. Try anything that interests you! For example I follow the brand Fossil's blog and it is a fun read. They blog about so much more than just their own products and I think that's something that I enjoy in any brand's blog.
What do you think are the biggest mistakes business owners who blog make and how would you encourage them to remedy this?
I think that blogging about their own goods too much is the biggest mistake I see. Any business is wise to create a lifestyle resource that their target customers can enjoy, not just a feed of new products. There are so many ways to educate customers about your products without just "selling" them. For example, each time we launch a dress collection I spend a couple weeks creating "3 Ways To Wear It" features for each dress. These features work because they do sell my designs, but readers who aren't interested in buying can enjoy them still while learning little styling tips!
What do you think makes a good blogger? Do you see any emerging trends in what makes some bloggers phenomenally well read and successful while others struggle to attract readers? What do you think separates the successes from the mediocre?
I think being original is really important. I could talk all day about that but the bottom line is that blogs that imitate other blogs are really only selling themselves short.
Another huge thing is knowing your own strengths. I think it's really important to be able to be honest with yourself, know your strengths and play to them. A lot of the blogs that I really love seem to be successful because they are blogging about what they love most in life!
Tell us about your boutique, Red Velvet. How did it came about and what does it means to your business?
Thanks so much for asking! Well, Red Velvet started as a little art group when Rachel and I were in college. She, Emma and I would make handmade accessories each year and sell them at music festivals in the summertime. We dreamed of opening a shop someday. That dream came true when I was 26. We've expanded to a larger location since then… it's really my dream store. We sell vintage and handmade clothing for women.
You're also writing a book! Can you tell us about it?
While working on this boutique dream I also got really into blogging. Our blog has become a huge part of our business and our first two books will be along the lines of what we do on the blog! Right now we're finishing up the first one, which is a lifestyle photography book. Soon we will be starting on a giant DIY lifestyle book too. It's a dream come true. We're loving every single minute!
… And your fashion line? Where did the idea for making your own clothes as an addition to selling vintage items come from? Where does your inspiration for each collection come from?
When it comes to my fashion collections I've always done dresses that I want to own. Right now we're working on our forth collection and it's my favorite one yet. My designs are always vintage inspired. I tend to favor the sixties with a little fifties and seventies mixed in there too. Designing dresses is a huge dream come true. I'm really glad we took the leap!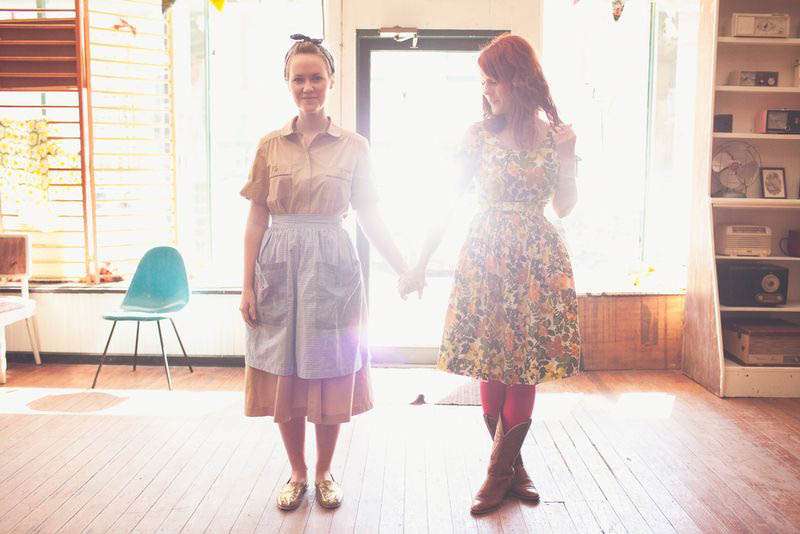 You work alongside your sister Emma. How did this come about and is it ever difficult to forget the sibling dynamic and focus on the business?
I ran my business without Emma for a few years and it was hard. She really balances me out and I knew she'd be the perfect partner. I begged her for years to come work with me and she finally did. Now we're 50/50 partners in every aspect of the business and I honestly could not do it without her. She's a truly amazing person, but enough sentimental stuff!
People always ask if we fight! We do, but not very much. We have tons of mutual respect so if we ever do have a tiff it usually ends in tears and hugs. Haha… maybe I shouldn't admit that, but it's true. We really are best friends.
Whats your favourite thing about running your own business?
Choosing our own path. I love that if I decide that next season I really want to design dog dresses, I CAN. There are no dog dresses in our future, but you know what I mean. I love that we have that freedom. We really thrive with steady evolution for the whole brand.
What inspires you as a business woman and a person?
As a business person I admire Martha Stewart (would love to grab coffee with that lady!) and I am inspired by goals. Goals really keep my wheels moving. As a woman I am inspired by any woman who balances family and work. It's quite an accomplishment to live a passionate life for both family and career!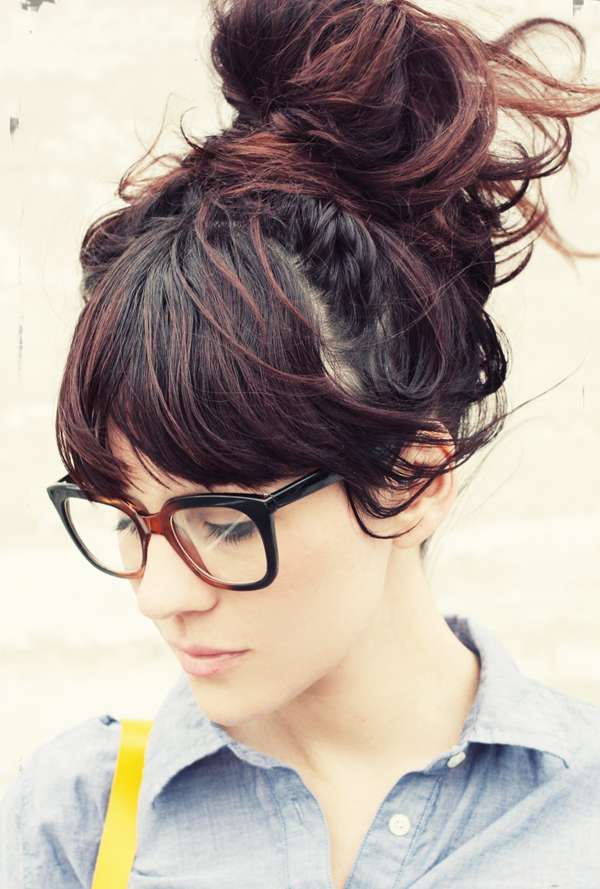 What does a regular day look like for you?
Right now, since we're working on a book… I wake up at 8:30, throw myself together and get picked up by Emma at 9:00. We go straight to the studio and try to cross as many things off our book list as possible. We blog and squeeze in lunch, but to be honest it's a pretty boring day to describe. I usually get home around 6 or 7, make a quick dinner with Jeremy, have a glass of wine, catch up on a tv show (Mad Men!) and go to bed. That might have been too honest… our schedule changes often depending on the project, but that's what it's like this week.
How do you come up with the diy features for your blog and what have been your favourite ones to date?
I have a huge collection of vintage craft books that inspire me and I've learned a lot of cool skills from them. Emma and I were just learning to make rugs from this 1970s craft book this week. We also make a lot of things that we want for our own homes or closets. A few of my favorites are this journal, this dress, and I made my own wedding bouquet.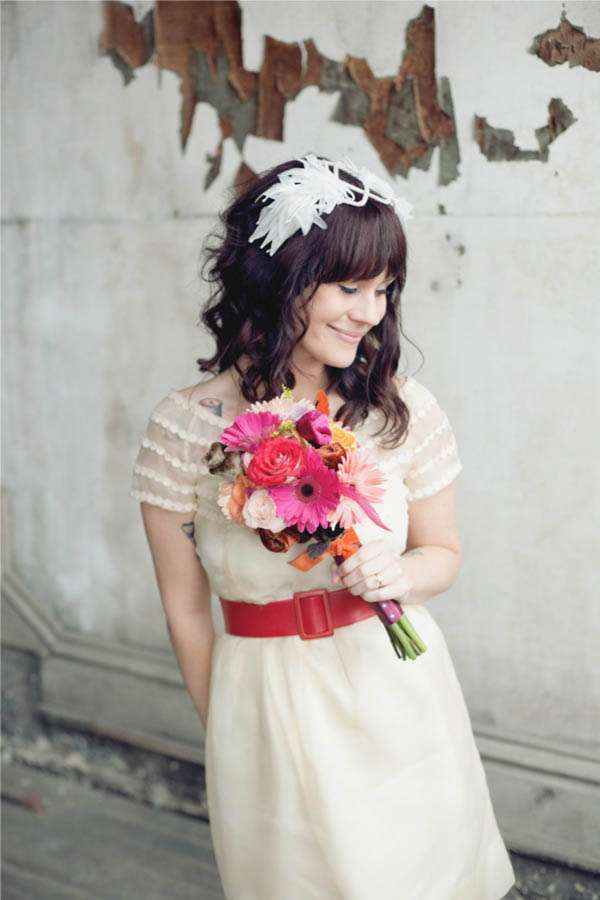 Photography Credit: Arrow & Apple Photography (you can see more of Elsie & Jeremy's wedding on Style Me Pretty as well as A Beautiful Mess)
Whats the best business advice you've ever been given?
"Don't compete with others. Compete with yourself."
…and the worst?
Someone told me not to try fashion blogging when I first started. I'm glad I didn't take that advice because fashion has been a LOT of fun to work in.
What did you want to be when you grew up?
I wanted to be an artist. My mother is an art teacher, so I owe a lot to her. She was incredibly nurturing and let me make a lot of (art) messes as a child.
If you could go back to the start of your career would you change anything?
I could think of a whole list of things, but no. The learning curve is hard for everyone, but it's healthy.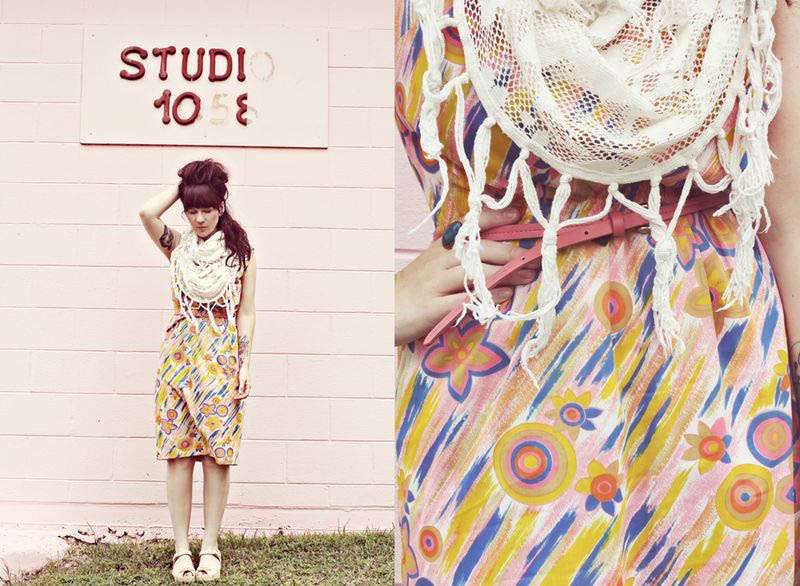 …and would you give yourself any advice?
I would say to keep an open mind, try anything once and dream bigger. Always dream bigger.
Do you have any goals for this year that you'd be willing to share?
I am really excited to move to a new home and make over every single room. That's my big personal goal. For the business we'll be writing two books and giving A Beautiful Mess a new look really soon.
And finally, what's next for you? Any future plans or projects you are able to tell us about?
Our goal is to keep writing books as a part of our career. We have tons of ideas and would love to turn it into a huge series. We also have a lot of product development ideas that we can't wait to realize. Cross your fingers for us. Love you, Kat!