When I got a text from Roo just before Christmas saying "erm…I think we might have to cancel our wedding…our wedding venue is being shut down" my heart skipped a beat. You know when people say "oh I know exactly how you feel…" but actually, really, they don't? Well in this case I could reply those words with utmost sincerity. Our wedding venue pulled out of our wedding just three months before our day. That's a story for another time, but I did have 100% confidence in my reply "Roo, everything with be OKAY. You won't have to cancel your wedding"…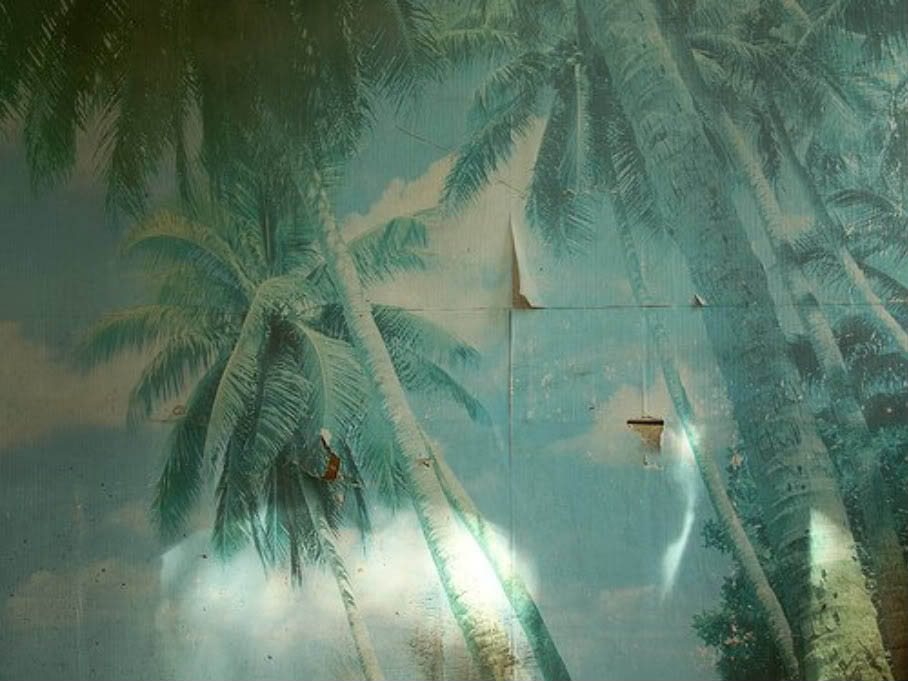 Photography Credit: internet k-hole
You know that phrase "rollercoaster of emotions"? I hate it. It's up there with countless other overused phrases that initially sound incredibly profound, but actually they're just unbearably hollow and totally meaningless. When you have a hatred for something that burns as deep as mine does for this, then you can imagine my turmoil when suddenly, out of nowhere, I found that it actually applied to me. A bitter taste, I'm sure you'll agree.
Now, I won't be offended if you're sitting there and thinking what on earth is she rabbiting on about? – because really, I get that all the time. So I'll tell you: after all the fussing and fighting of finding our wedding venue, we all sank comfortably into the cushions of wedding planning bliss, and looked forward to enjoying a real family-orientated Christmas before we thunder-bolted into the new year with the rest of our arrangements.
It's funny, isn't it, how you always remember where you were when you received bad news? It was a dull afternoon on December 2nd, 2011, and I had just come home to show Lamb some of the Christmas gifts I'd managed to pick up. My phone chirruped with a text message from my friend and bridesmaid, Rea, and I glanced to read it almost absent-mindedly (my attention span is mortifyingly weak) until I saw what it said. Simply, "have you heard about the CUC?"
You know when you just know? Well I just knew. My fingers sort of became haunted with this ghost that wanted to text back and ask the question that I already knew the answer to: what about the CUC? – but the truth is that I already knew in my heart of hearts that what it was about was that it was no longer our wedding venue. To read her reply, "it's closing down" was no more illuminating than my intuition, which had supposed that our gorgeous venue had either been washed away by a flash flood or had been completely overrun by mean and scary ghosts – two perfectly understandable reasons for closure that I absolutely could not have argued with no matter how much I was crying. And I was crying a lot. Buckets, you might say. Rea told us to look online, and sure enough in black and blue it was there for all to see on their website:
 "CUC TO CLOSE ITS DOORS 3RD JANUARY 2012"
They cited public sector cuts as the reason for their closure, but as a bride on the receiving end it did not compute; all I could see in my mind's eye was that room; flashes of that iron spiral staircase and those Chesterfield sofas and how we cried when my dad put our wedding deposit down because we realised that we had actually set a date. The Contemporary Urban Centre was not just a wedding venue to me, it was the wedding venue that had helped us over the hurdle we felt we'd fallen at, it was the wedding venue that finally made our wedding seem real – it was our wedding venue, and now it was gone, and it didn't matter how many times I read it or re-read it – it just didn't make any sense to me.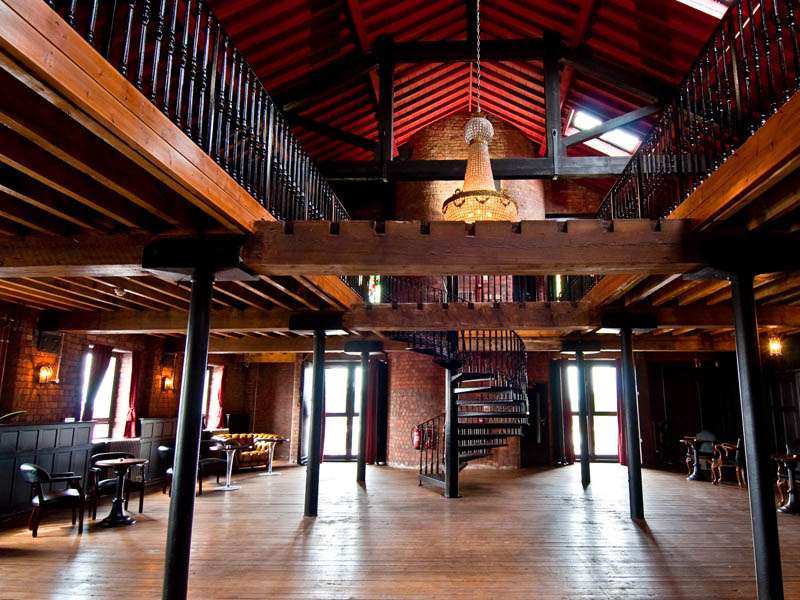 It also didn't make a blind bit of sense to me that this press release had gone public without us being notified first. I had the CUC on redial, ready for a kick-off, when eventually their wedding co-ordinator, Adele, returned my messages. I started to spit out my complaint when I heard that she was crying, just like me – not only had we lost our venue that morning, she'd lost her job, too. It suddenly became apparent that it had been an absolute shock announcement, with 28 other couples in the same position as us – some of them due to hold their wedding just days after the closure date. Adele insisted that she'd tried to speak to us all before 12pm when the press release was published, but that it had been impossible. We started to understand, but it was by no means any easier. Things had already been so hard for us and now we had to face it all over again, in even more of a daze.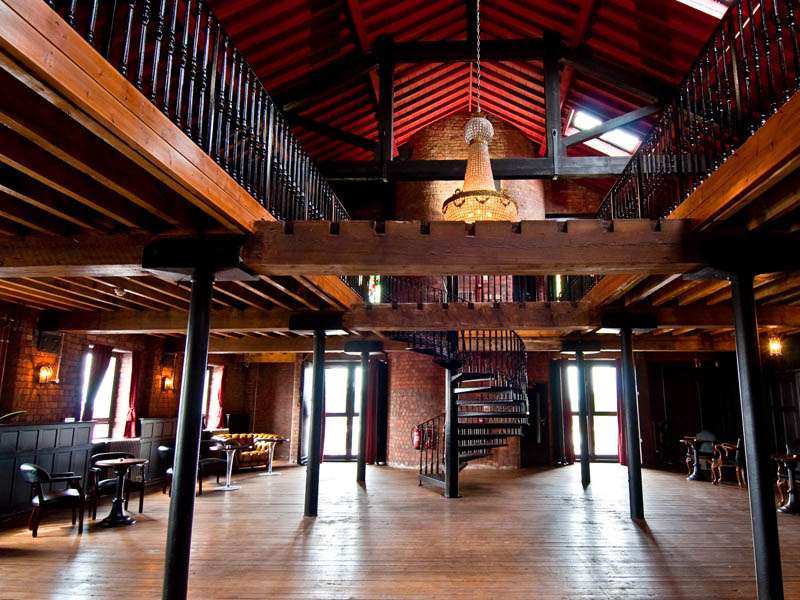 Looking at these photographs still hurt. We were going to get married in front of that staircase, in front of our nearest and dearest, and walk up it to our dressed tables for a wonderful meal. As we ate, the area downstairs would be cleared to make way for an evening of dancing. I can still see the light pouring in through its stained-glass windows, and I can still feel the spring of the carpet under my feet. It still hurts.
When the initial shock and that pang of what the frig are we gonna do now? had settled, we decided to keep a scout out online, and I enlisted the help of Kat who turned to her Twitter congregation for suggestions. If you were one of the people who selflessly and tirelessly helped and supported us through that first week of searching, then thank you. Reactions were varied – most were as shocked and disappointed as we were, and some expressed their excitement that maybe we could have the wedding in Brighton like we always wanted. Not so. For our families' happiness, it still had to be in Liverpool, and our options were slim.
The CUC's wedding co-ordinator, Adele, kept in regular contact with us as much as she could over the Christmas period, and she introduced us to an alternative she'd found that was befitting of our taste as a couple.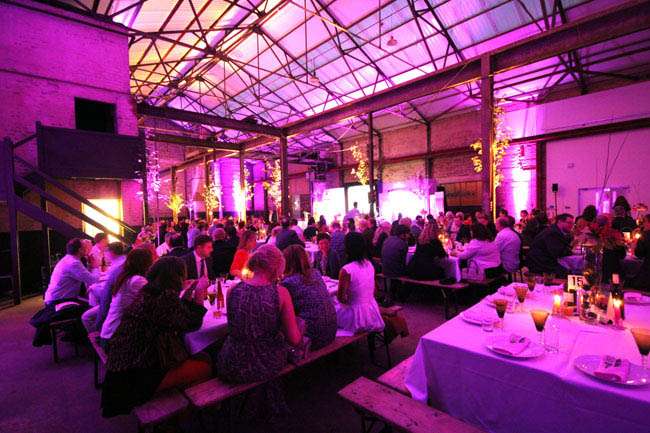 Camp and Furnace is a warehouse building situated a few hundred yards from the Contemporary Urban Centre. With the news that the CUC was closing, it's reported that C&F jumped on the opportunity to establish themselves as a wedding venue – they quickly applied for a wedding license and there were immediate plans to renovate the space in the coming year – including an on-site kitchen, reception bar, outdoor BBQ space and a retro caravan "indoor camping hotel" (I know, insane). The area pictured, the Furnace room, would be left untouched as a bare warehouse space, which could be dressed according to the function it was being hired for. Our initial despair at losing the CUC had been met with a glimmer of hope, but viewing it was going to be a problem with our busy work and university schedules, coupled with the fact that it was Christmas season. Our festive visit to Liverpool left us with one day free to see C&F before it closed over Christmas, and it just so happened that the day we got to view it fell after a huge warehouse rave held there. It wasn't ideal, but we had to make the best of it.
Neither Adele nor the manager Ian were available to show us around, so we had guided tour from one of their events people who specialised in the club nights side of things, as opposed to weddings and "formal" events. Being creative people, Lamb and I found ourselves able to visualise how the space might look full to the brim with guests, music and décor, but the same can't be said of our parents, who hated it. I can't really blame them – for most it's incredibly difficult to see past that stale beer aroma and the sight of bottle caps all over the floor – and it was definitely the nail in the coffin for our parents. I physically shudder when I think of their reactions – a further blow to our ever-dwindling hopefulness, and we were left feeling very aware that we might not be able to have the kind of wedding we wanted. I think the really stinging point came for me when I was told that somewhere like C&F would be an "embarrassment" for our parents' friends and extended family – all Lamb and I could think was, well, so? – because we can't imagine caring for one second about what a relative stranger might think of our wedding. We just wanted it to be honest and reflective, and we were so appreciative of Adele for understanding our vision and trying so hard to make the best of a really rubbish situation.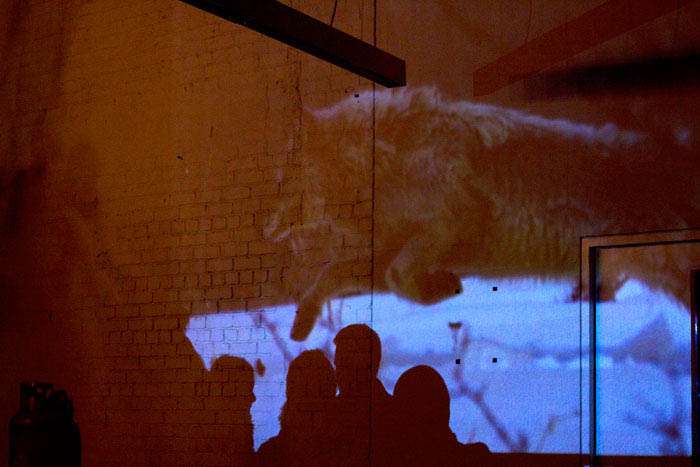 Trying to keep a positive spin on things, I worked with Adele via e-mail to come up with a package that would keep our parents happy – we also tried to organise another viewing at some point in the future when Adele and Ian would be there to talk us through it properly, and when the venue would be cleaner, and generally "rave-free". In the meantime, Adele also subtly mentioned another alternative venue, almost as a side note – I even nearly missed it, in fact, as my ears failed to translate what she said in her distinctive Irish tones – but when I repeated what I thought she said to my dad, he excitedly told me that she was talking about The Florrie – officially known as The Florence Institute – an old boys' club in Liverpool where my dad had his 21st birthday party, and where Lamb's dad used to learn how to box when he was younger.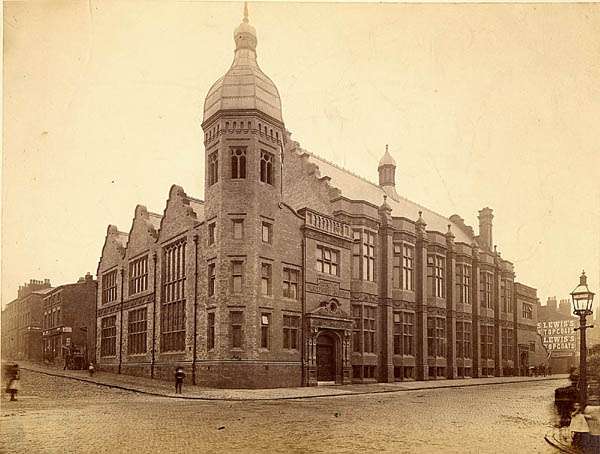 The Florence institute, standing proud – image via Liverpool Monuments
The Florence Institute was built in 1889 and stands in the Dingle, a relatively poor area of Liverpool. It was the first building in Britain to be constructed with the specific intent of being a boys' social club, and was opened to occupy the poor and unemployed youths of the local area. From the 1980s onwards, it gradually fell into a state of disrepair through neglect, vandalism, natural erosion, and a freak fire that destroyed the roof in 1999. The early "noughties" saw campaigning for its regeneration grow and gain momentum, and to date the Florrie has had about £6million invested in its rebuilding. It has applied for a wedding license, and is due to reopen its doors to the public in March this year.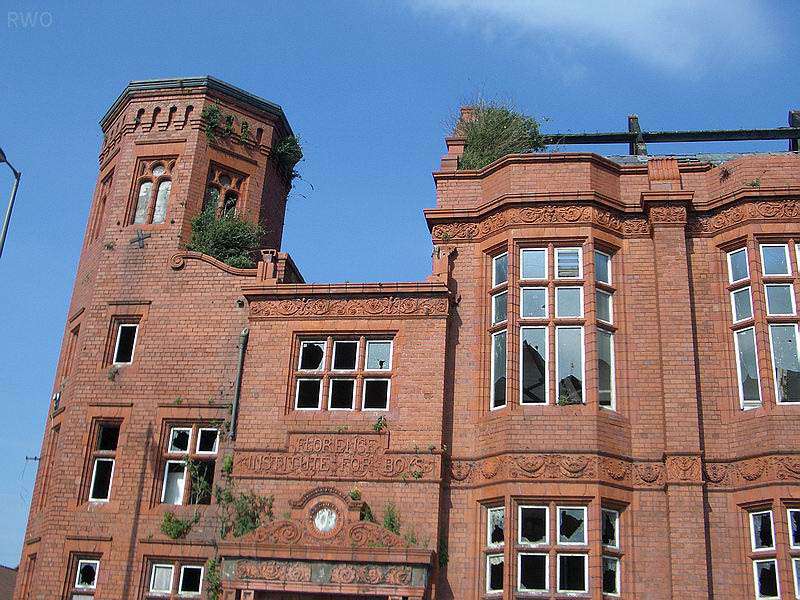 The Florence institute – as she stood until recently… Photography Credit: Russ Oaks
Two weeks or-so ago, I took a solo trip up to Liverpool to speak to their events manager, Hannah, about our woes. I had also arranged the aforementioned second viewing of Camp & Furnace with Adele, but earlier in the day it had been brought to my attention that there was no way our families would consider it as a viable option. Again, stinging, and I felt bad for Adele who'd gone to the trouble of making the space look extra wonderful for our visit – though I think she knew from their initial reaction that it was going to be a no-go. Without taking offense at all, she passed our case over to Hannah and came along to our initial meeting to introduce us all. As I got to know Hannah, and explained what we wanted from our wedding, nothing sounded impossible to her. Everything sounded like it could slot into place at the Florrie, but the only problem was that it is still a building site, and therefore inaccessible to the public. This meant that we are so far relying on concept images, our imaginations, and blurry Facebook photos to give us an idea of how it's going to look.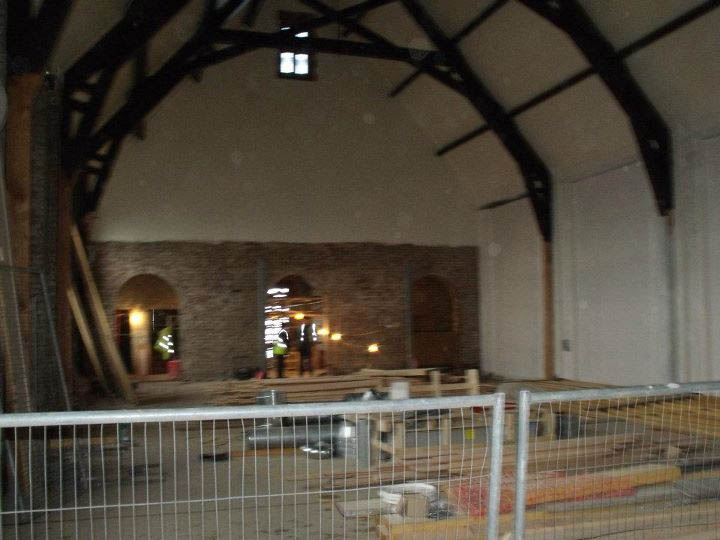 The grand hall, where we'll (hopefully!) be saying our vows. Photography Credit: The Florrie via (Facebook)
Hannah said she'd already pencilled our wedding date into their diary, and in March we're going to head up north to have a proper look around, and hopefully confirm it as our venue. For now, all our other arrangements are taking a back seat – though try telling that to Lamb's mum, who's been e-mailing me with 'mother of the groom' dress ideas this week…
So, I am sure you'll be wondering whether I have any advice – and in short, no, I don't. Whether you're struggling with your venue or any other aspect of your wedding, I am not about to tell you not to panic. Absolutely panic – you have every right to panic. You have every right to cry, and swear, and to punch pillows and eat junk food – you have every right to be upset. Getting married is fun when you think it's all about cake tasting and sketching dream dress ideas, because a lot of the time it is – but sometimes, it goes the other way too. When everything was going wrong for us, Emma Case sent me the loveliest of messages reminding me that at least we had the love, and although one of my immediate reactions was still "…but we still don't have a venue!" – she is right. Maybe it's easier for me to say it now because things are slowly looking up again, but I think I could go through all that disappointment and all those woes a million times over if I knew that I would still have Lamb at the end of it. So if you're stressed, remember, you have your own Lamb, too – except he/she might be called Bob, or Winifred, or Cliff, or Jennifer, or Percy. So hold them close and remember that it'll work itself out… right after this next packet of cookies.