Beatrice & Johann are true rockers, so what better theme for their winter wedding that the ultimate rock music party!?
"Laughter, Party, Music…and a lot of Love" was how the newlyweds described their wedding theme. With  music being such a huge part of their lives and love story, it was an obvious choice. They chose a hotel on the Bavarian Alps as the venue for their wedding and so their 'Love on the Rocks' wedding slogan we created.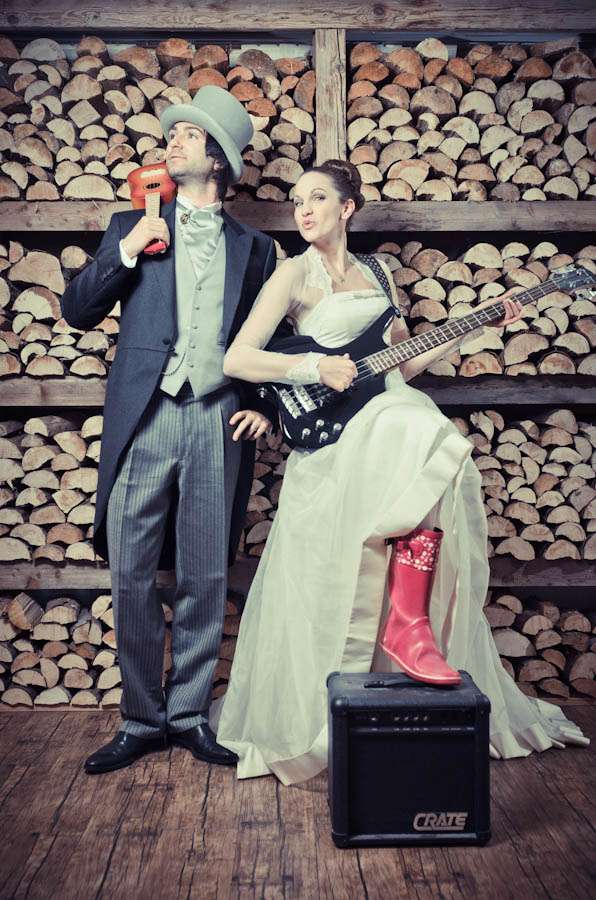 "Even though rock music was a big part of the wedding, Beatrice & Johann still wanted a day full of romance – a rock glam winter fairytale, that would perfectly combine their modern lifestyles and their love for traditional Bavarian mountain ambience," wedding planner Kerrin of Hochzeitskonzept (Weddings and Events of a Lifetime) explained. "As guests boarded the shuttle to the ceremony, they received a 'Love on the Rocks' festival wristband. The wedding ceremony was held in a tiny romantic mountain church, where soft blankets were laid out for the guests to keep them warm. Beatrice's amaryllis bouquet was personalized with her great-grandmothers heirloom brooches, as she walked down the aisle to the couple's favourite love song: 'Everlong' by the Foo Fighters."
"After the ceremony family and friends were greeted at the venue with the couple's signature drink, a 'Love on the Rocks' cocktail and vanilla crescents baked by the bride's Grandmother and a Bavarian version of Tarte Flambée. Once the sun had gone down, the crowd transitioned to the main location: A 300 year old mountain pasture, beautifully restored and full of antique details. The lighting design turned the pasture into a winter wonderland, beautifully iluminating the crystalled branches and amaryllis centerpieces."
"For the decor, we chose a colour palette that would combine rock, winter and glamour: vintage grey, silver, black and crystal-white. Little bottles of whiskey were used as escort cards, and the tables were named after a mash-up of whiskey blends and the bride and groom's favourite rock heros. In lieu of a guestbook, family and friends were asked to sign the groom's guitar. At midnight ( the traditional time in Germany for the bride and groom to cut the cake), their 'Love on the Rocks' wedding cake – a pyramid of whisky tumblers – was shared by the cheerful crowd before the partying continued until the early hours."
"I could not imagine a more beautiful wedding day," the bride Beatrice took over. "The whole wedding was a snow princess fairytale and a rock concert at the same time. I think it beared very deep feelings in each and every one of us. And also I'm sure, I will keep the memories of this day in my heart for ever and ever: Everlong."
Oh doesn't it make you feel all warm inside?!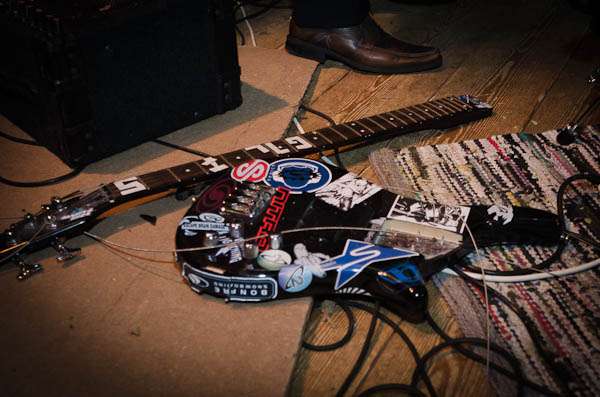 Thank you to Beatrice & Johann for sharing their glorious wedding with us, and to wedding planners Kerrin & Friederike for sending everything over in the first place.
Supporting Cast:
Photography Credit: Frank Daniels Photography
Planners: Hochzeitskonzept
Ceremony Venue: Bergkirche Wall, Oberaudorf
Reception Venue: Alm des Feurigen Tatzlwurm
Bride's Dress: Rosa Clara (Redil)
Bride's Shoes: Hassall (Marinette)
Flowers: Petra Müller Blumen
Stationery: Sonja Bührke of Die Exklusiven Einladungskarten
Hair & Make Up: Barbara Gerdes & Veronika Liebl
Lighting Design & Sound: Stefan Wende of LuTV
Band: The QBox 
DJ: DJ Anusch