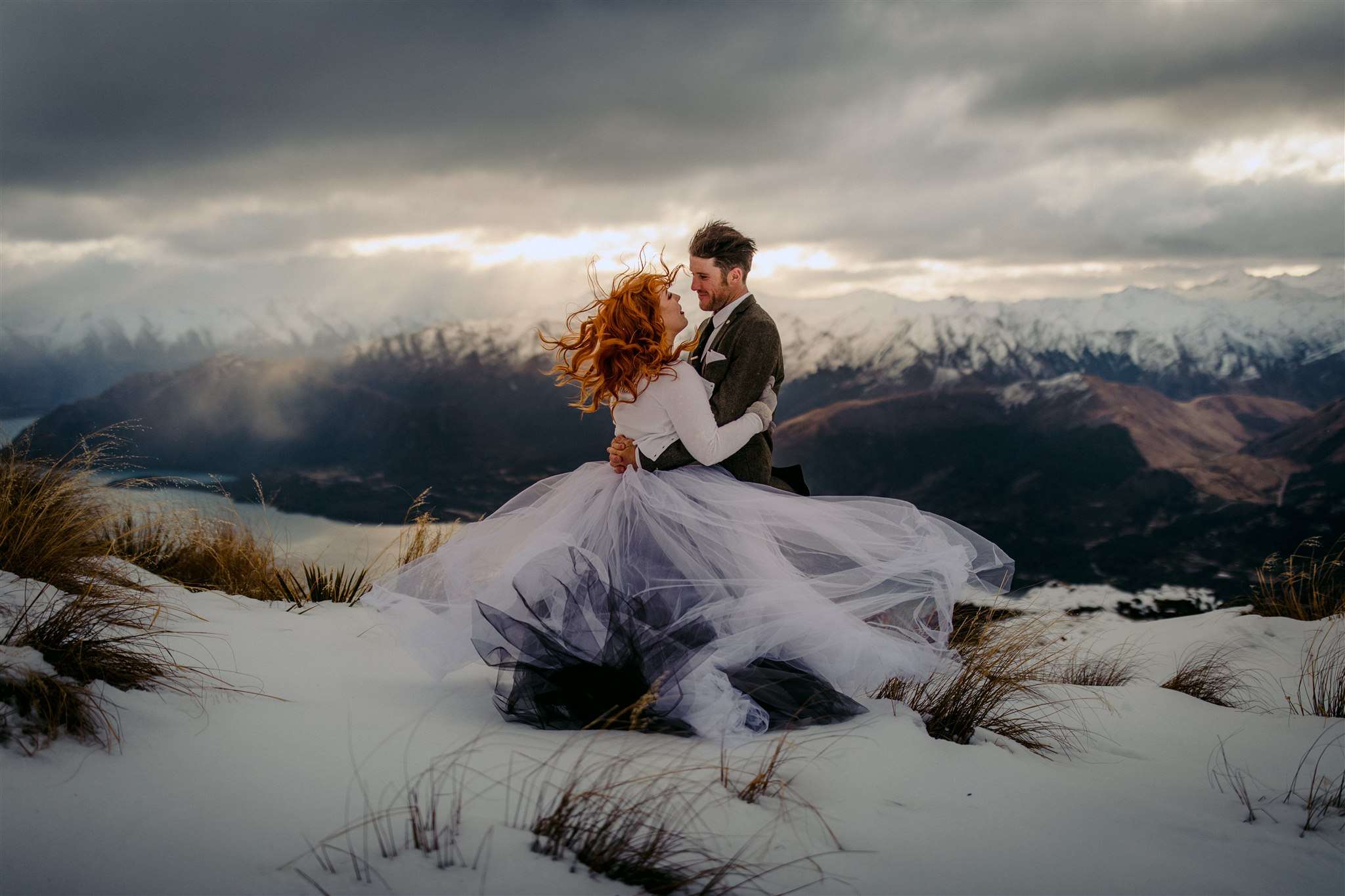 Holy forking shirtballs. Yep, I think the only explanation to these stunning, STUNNING images is that Erin and Steve got married in actual heaven… Because WOW. In reality, the wedding was held in Queenstown, New Zealand but same, same right?
They planned to have a laid back ceremony in the AirBnB that they rented to stay in, but when they got there is didn't have the mountain views they desperately wanted. So, they spent the whole day before scouring local spots to find a new place! Luckily they found the perfect spot at the very last minute.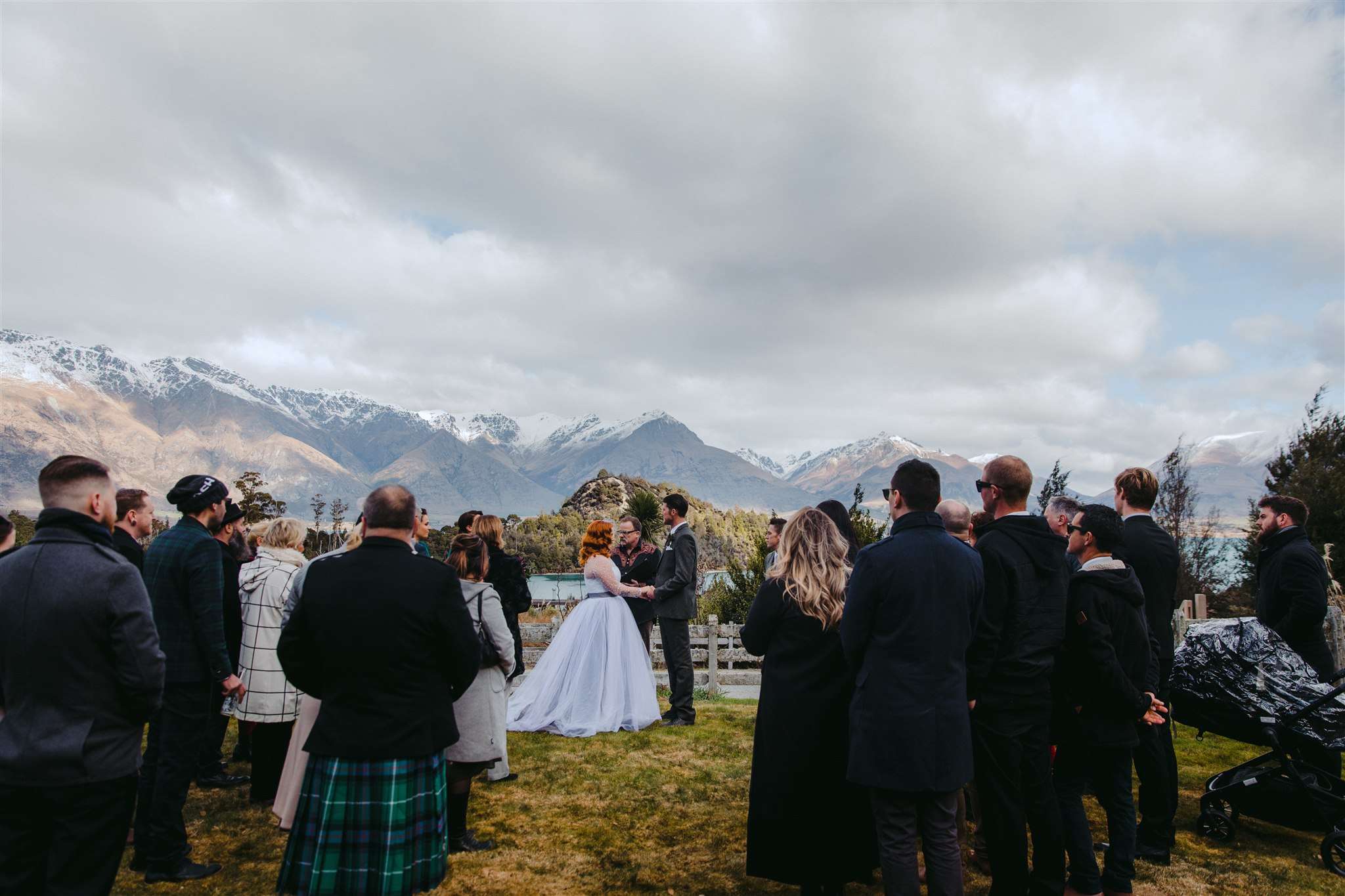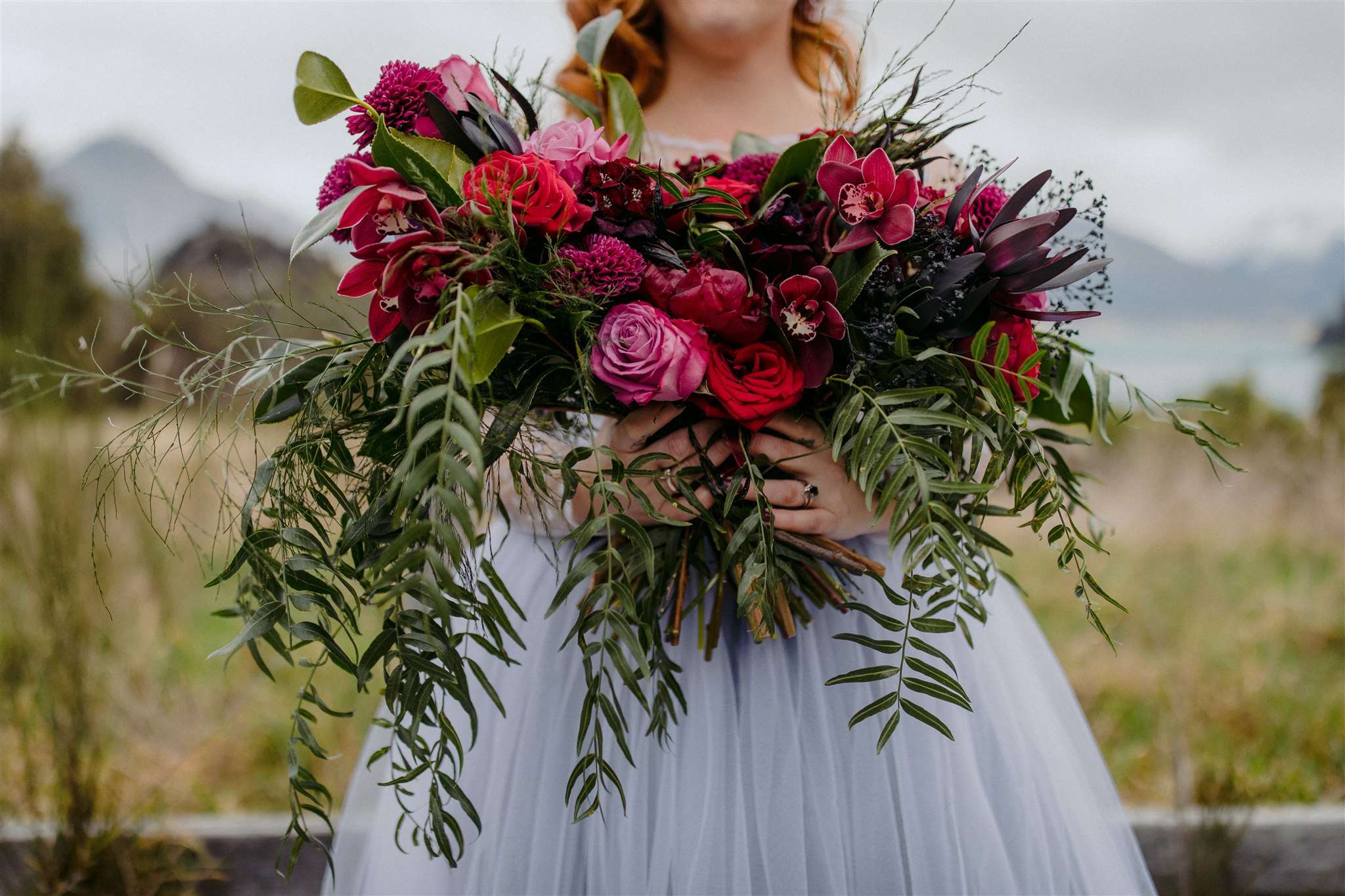 "Our passion for snowboarding and music has always been our glue", Erin explained. "When we got engaged we knew we didn't want to spend all our savings on a big elaborate wedding but wanted something memorable with our nearest and dearest. I love dark colours, skulls, coffins and anything gothic so I decided that's the theme I wanted to roll with. With this in mind and our love for the mountains I suggested a winter wedding with a snowboarding honeymoon."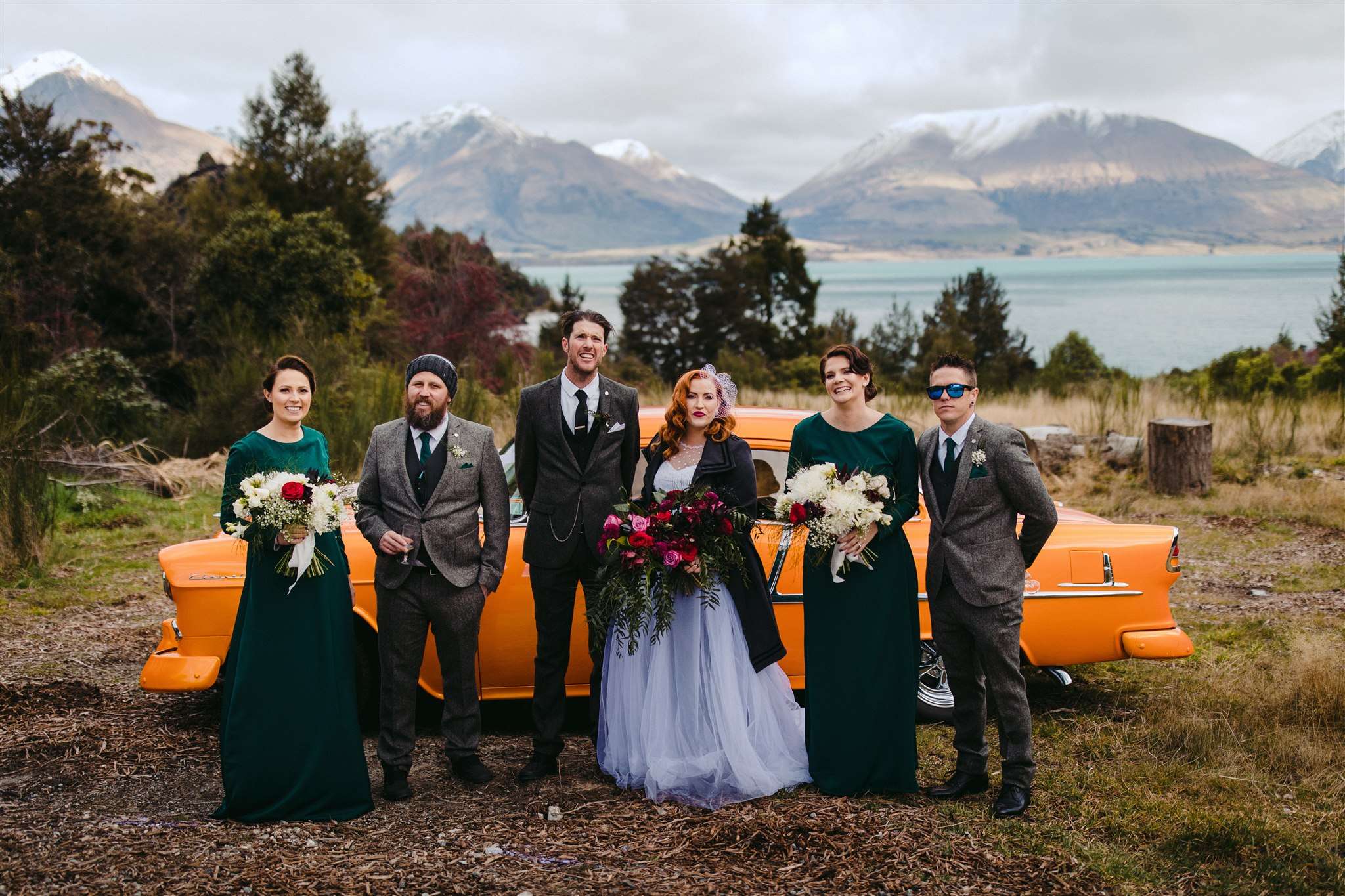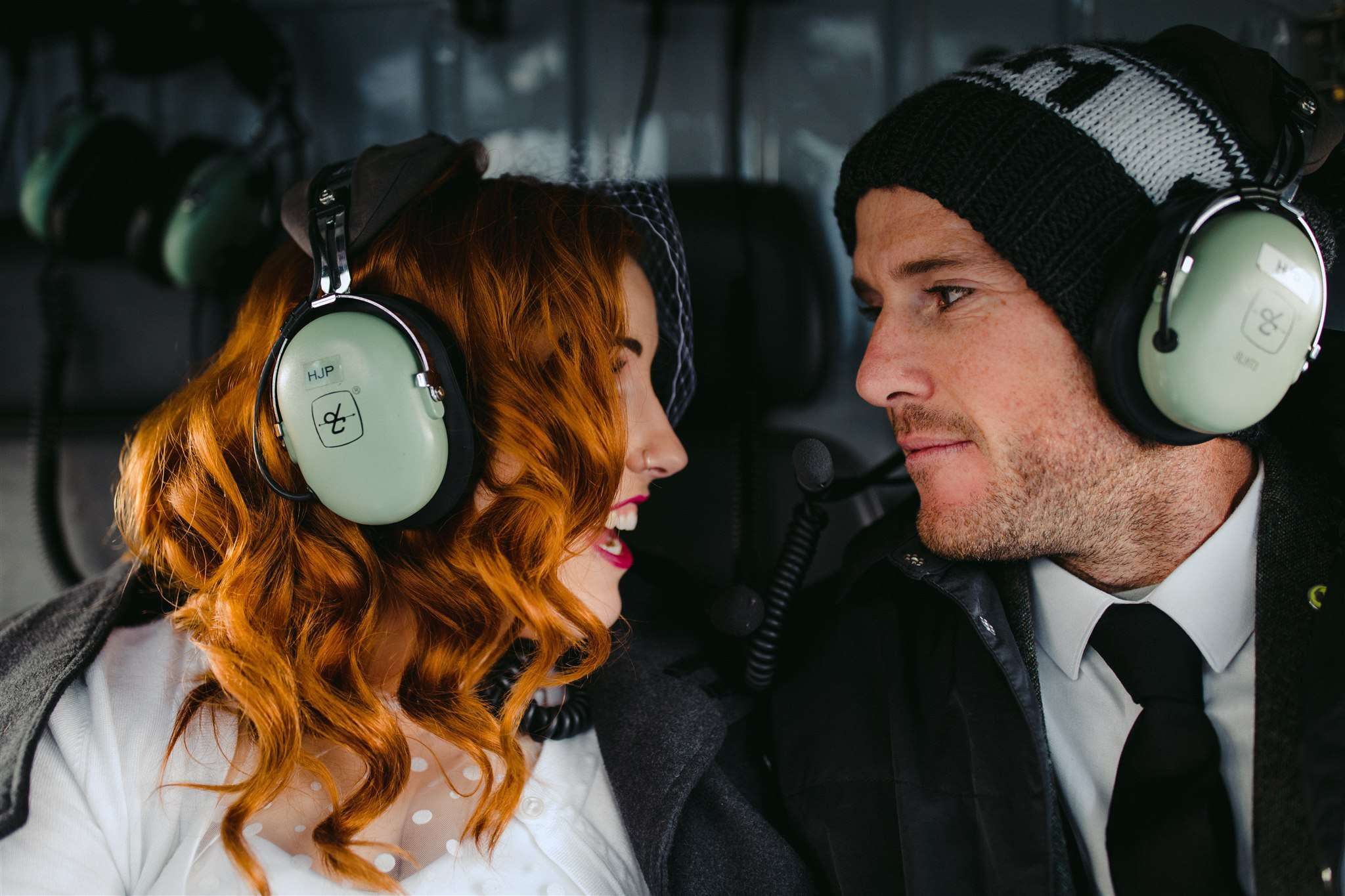 They chose Queenstown specifically so they could hire their dream photographer, Jim Pollard (and we can see why!) and so they could do a helicopter flight up the mountains for some of the most spectacular wedding photos we've ever seen! "I came across him on Instagram and fell in love with every single image", Erin continued. "I knew immediately I wanted to helicopter to the mountain tops with him! Poor Steve isn't great with heights or flying so this was definitely a challenge for him but he did it for me and I think that just makes the whole day even more special."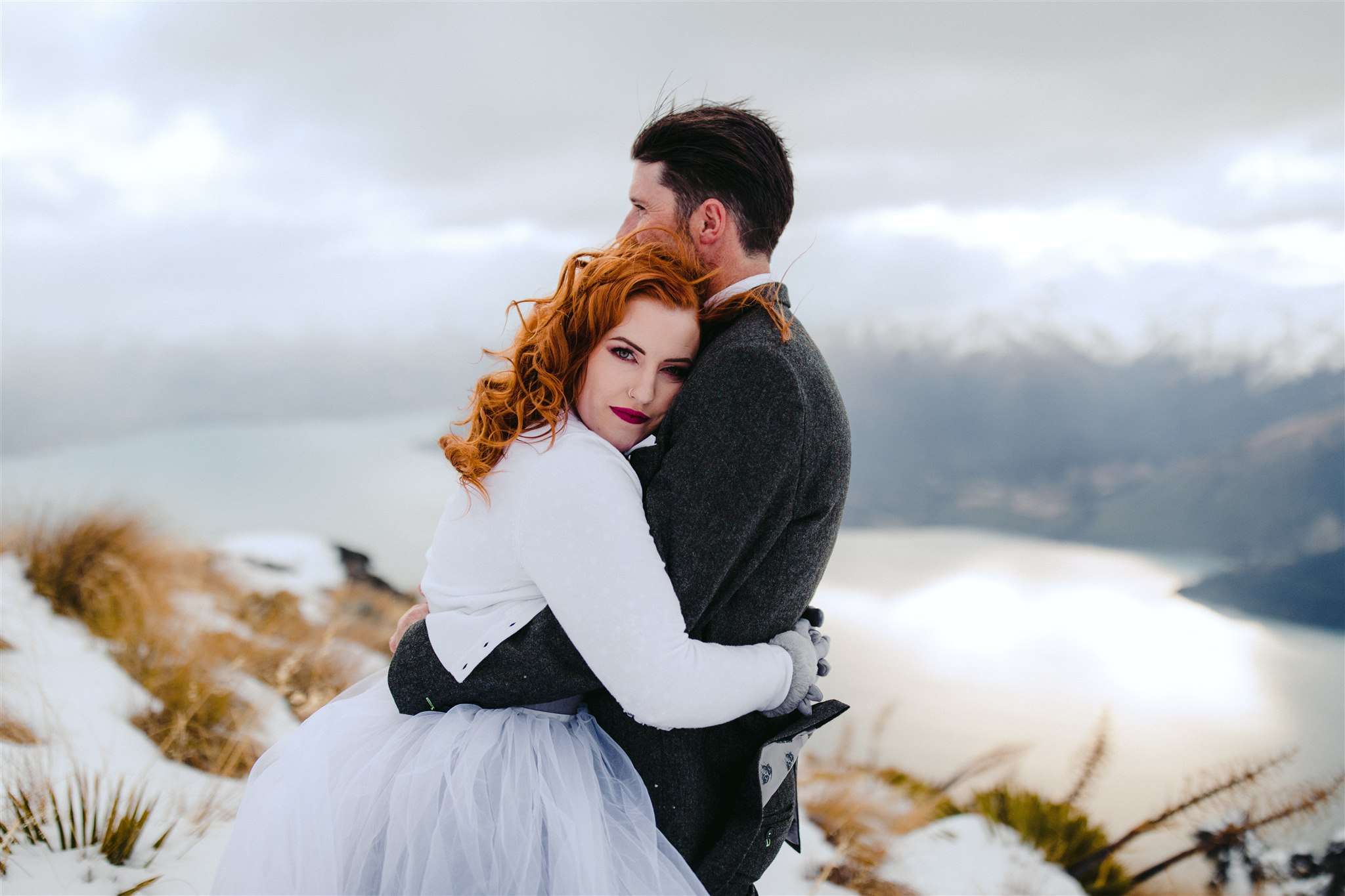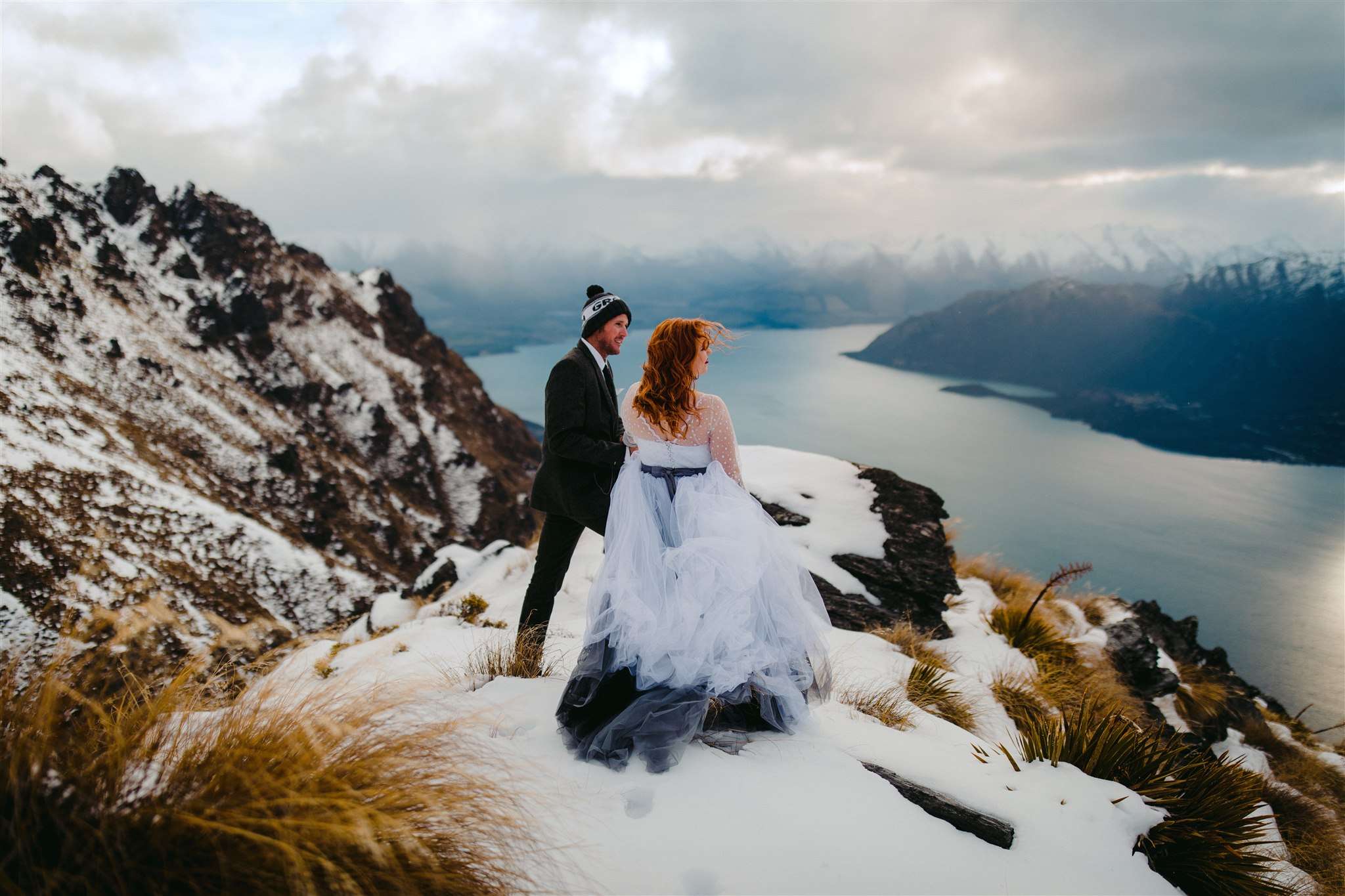 Their reception was held at Wakatipu Grill which has stunning, large black chandeliers and big stone fireplaces. They added a few touches to suit their snowboarding/ mountain theme such as a ski pass seating chart, gondola table numbers and personalised luggage tags to be used as name cards. The bride and their guests also brought seven candelabras and a ton of candles over in their luggage and she made the boy's pocket squares, the table runners and confetti cones made of old sheet music. The bride's mum even baked and transported the cake all the way from Australia!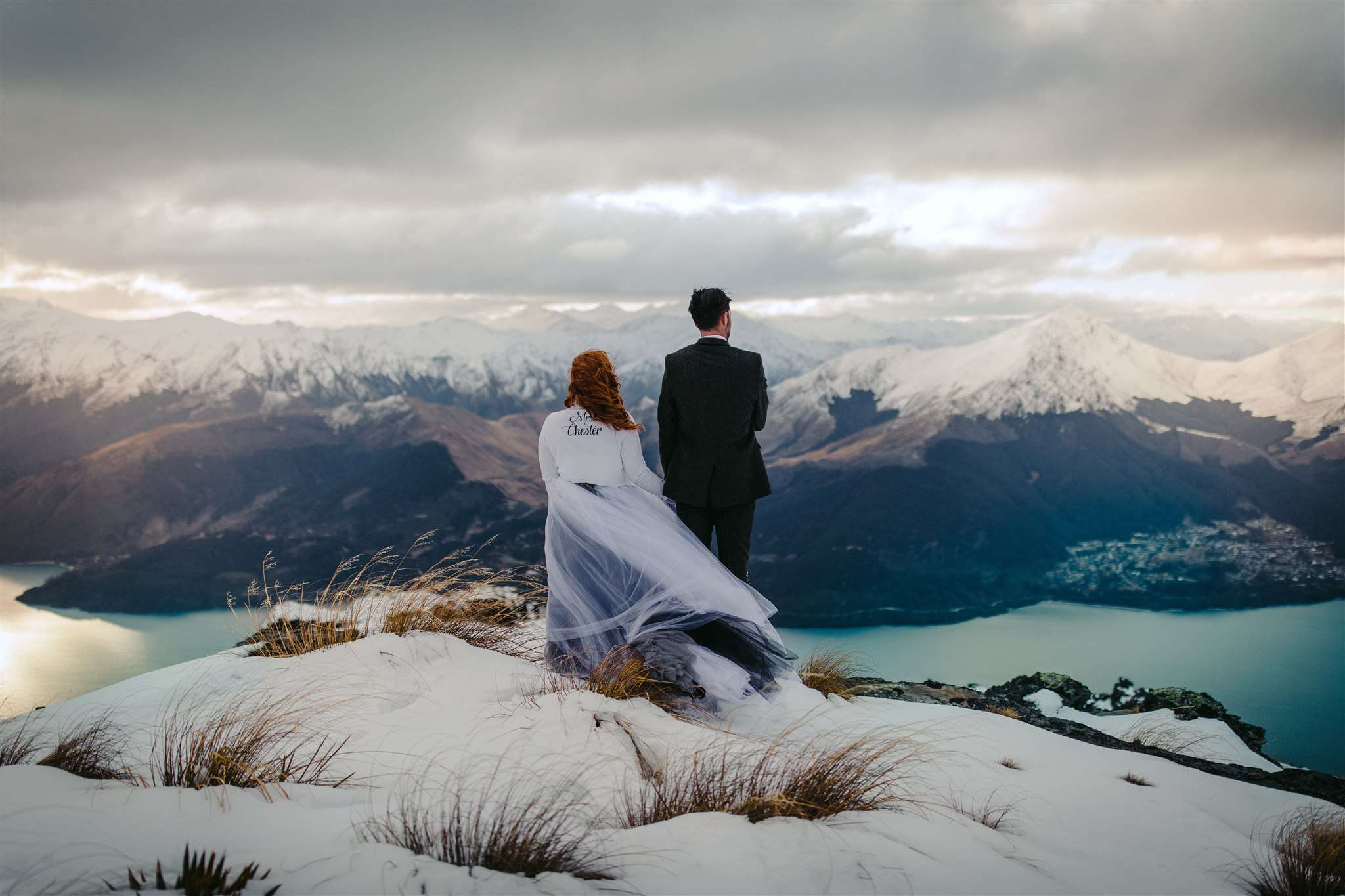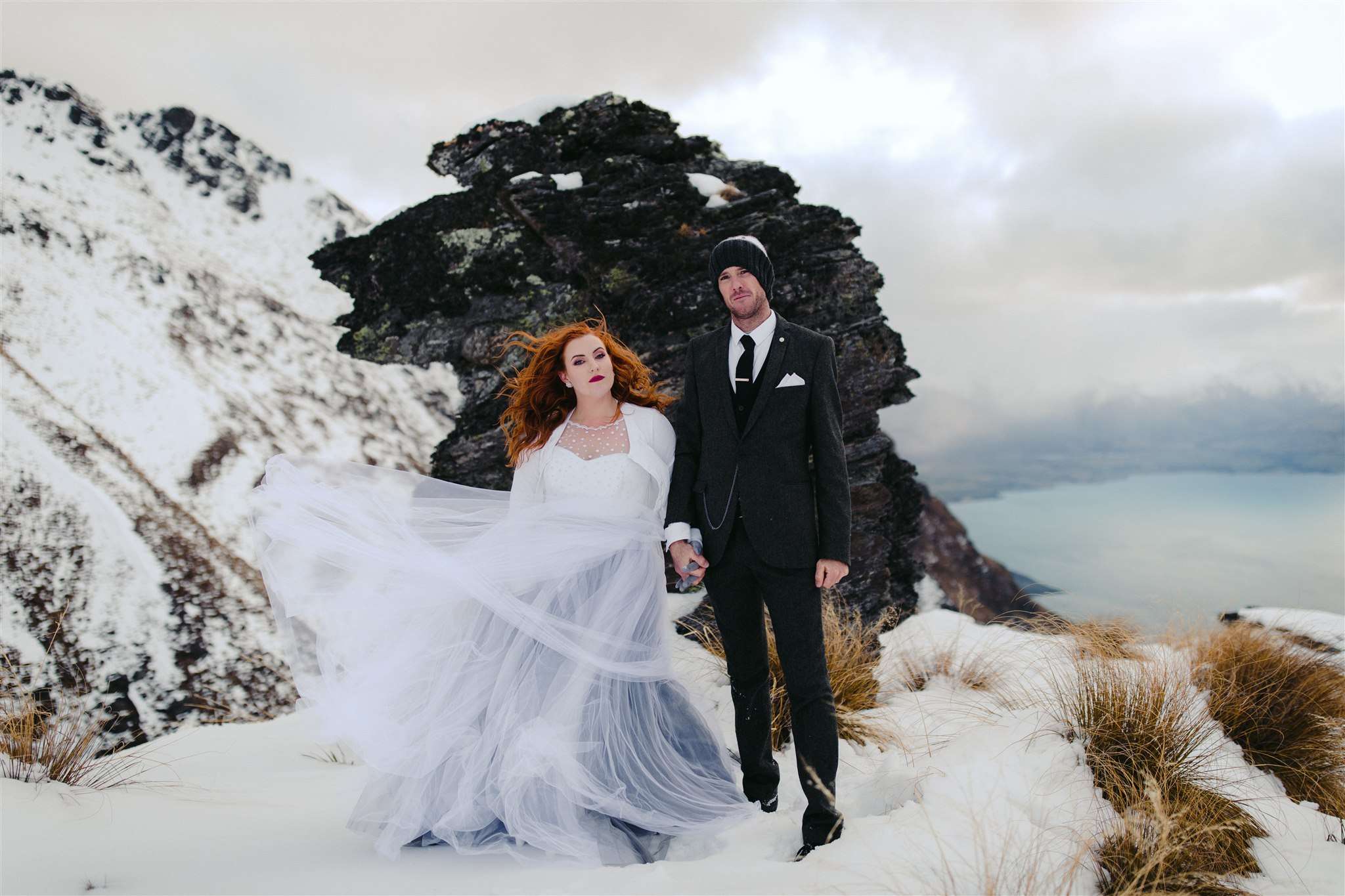 Erin designed her own dress and had it made by a couple of very talented family friends, Sharon and Kara. "Sharon is my mother's best friend from primary school and made her wedding dress in 1985," Erin said. "Kara is her daughter who also went into fashion. My dress reflects my mum in a lot of ways so, its very sentimental. My hairpiece was also made by a friend, Kim Martin Millinery and my cardigan was embroidered by M & M Embroidery.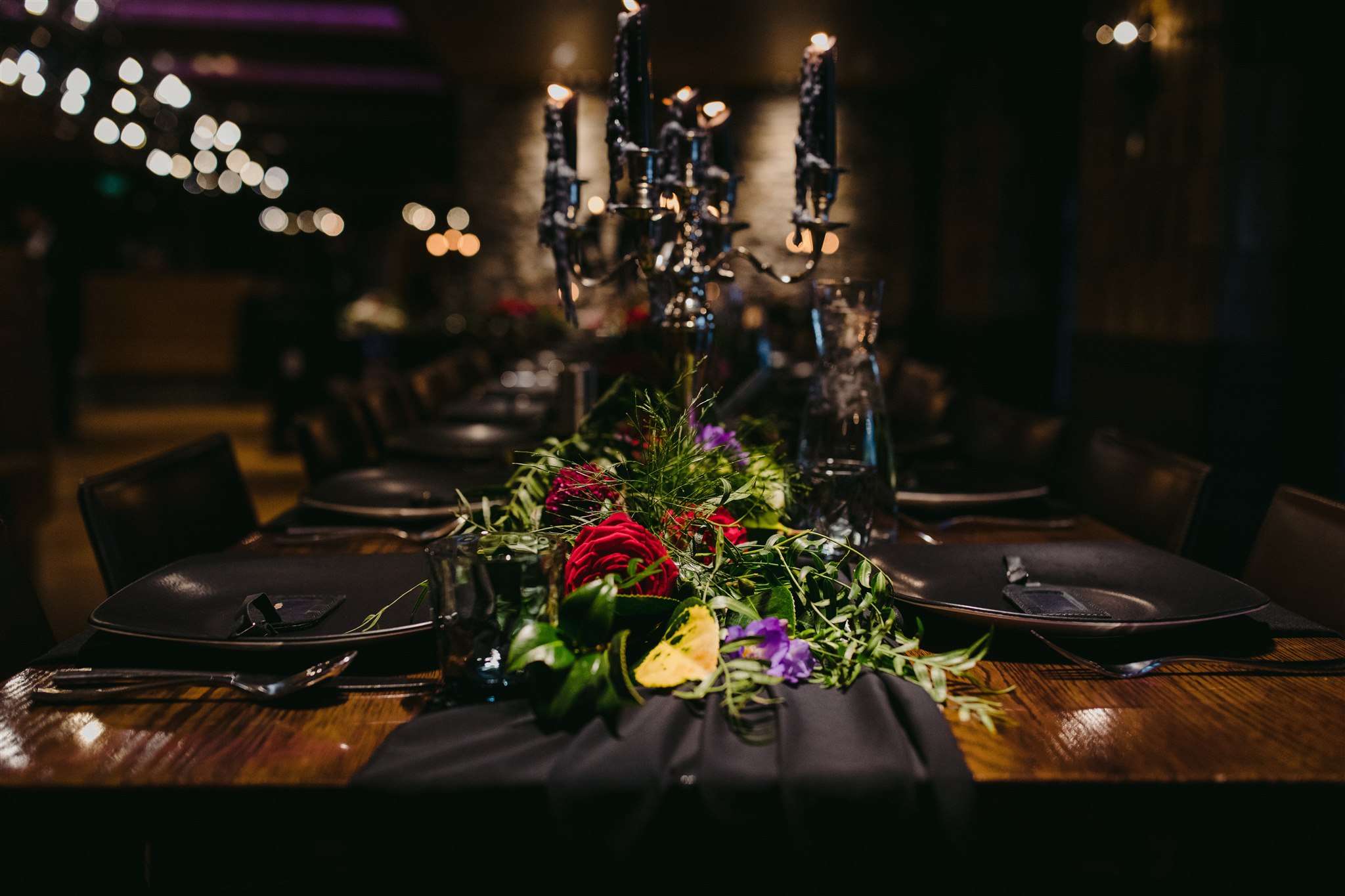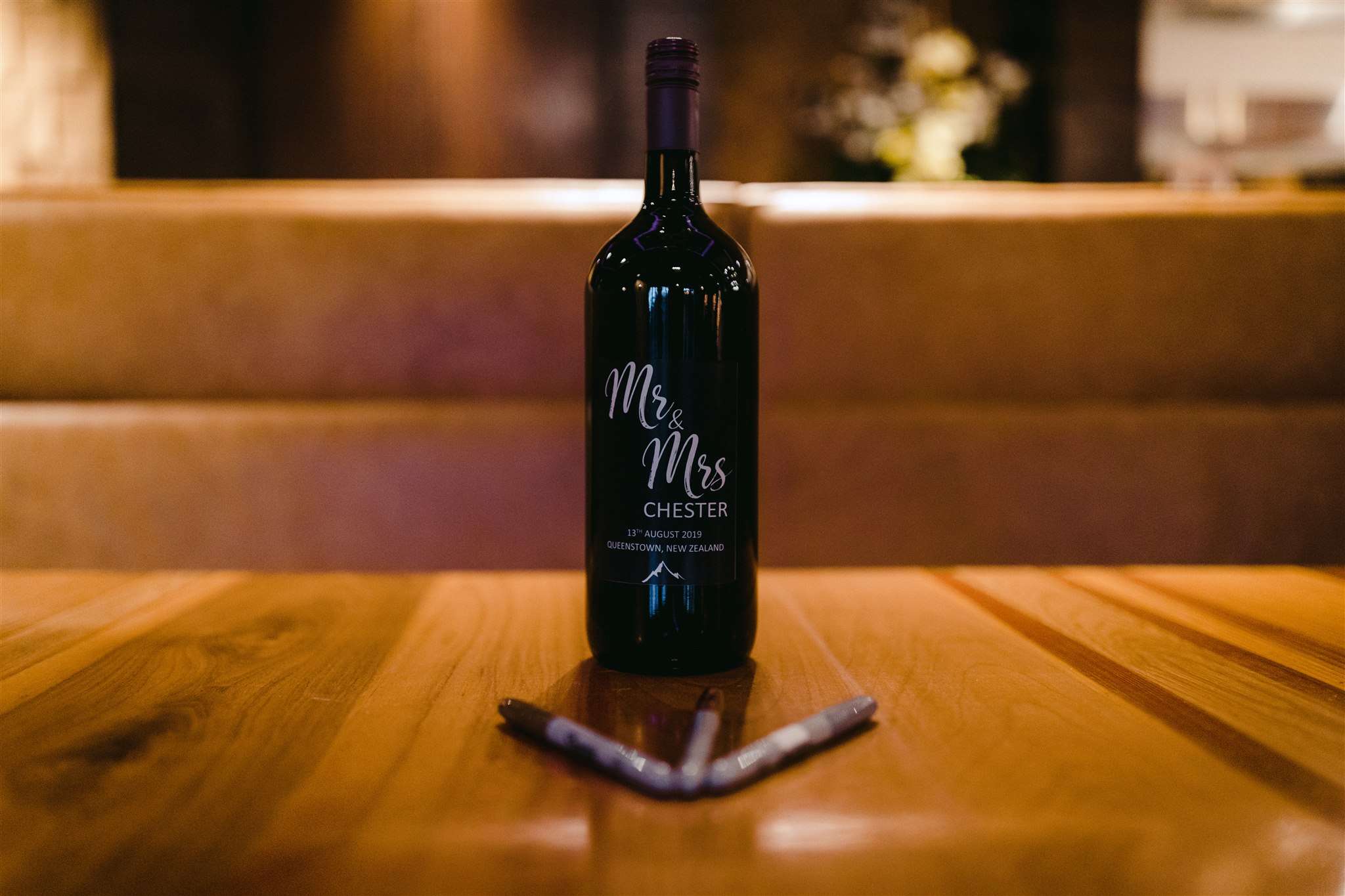 "Honestly, we would not have been able to pull our wedding off without our celebrant, Pete. He was a godsend and made our whole experience amazing. He fixed everything, supplied everything I randomly thought of and was just the most kindhearted, selfless man I've ever met.
We are into bikes and hot rod cars and I thought having our sign table on the back of a pick-up truck would be super cool.l Pete made it happen. He even supplied a chair (which I didn't think of) a cute little bike couple and a vase of flowers on the day which filled my heart with happiness when I walked over to it. He arranged the bridal car, which I was finding difficult to secure in the winter season and a shuttle bus that I decided the day before would be better to get guests to the new ceremony spot."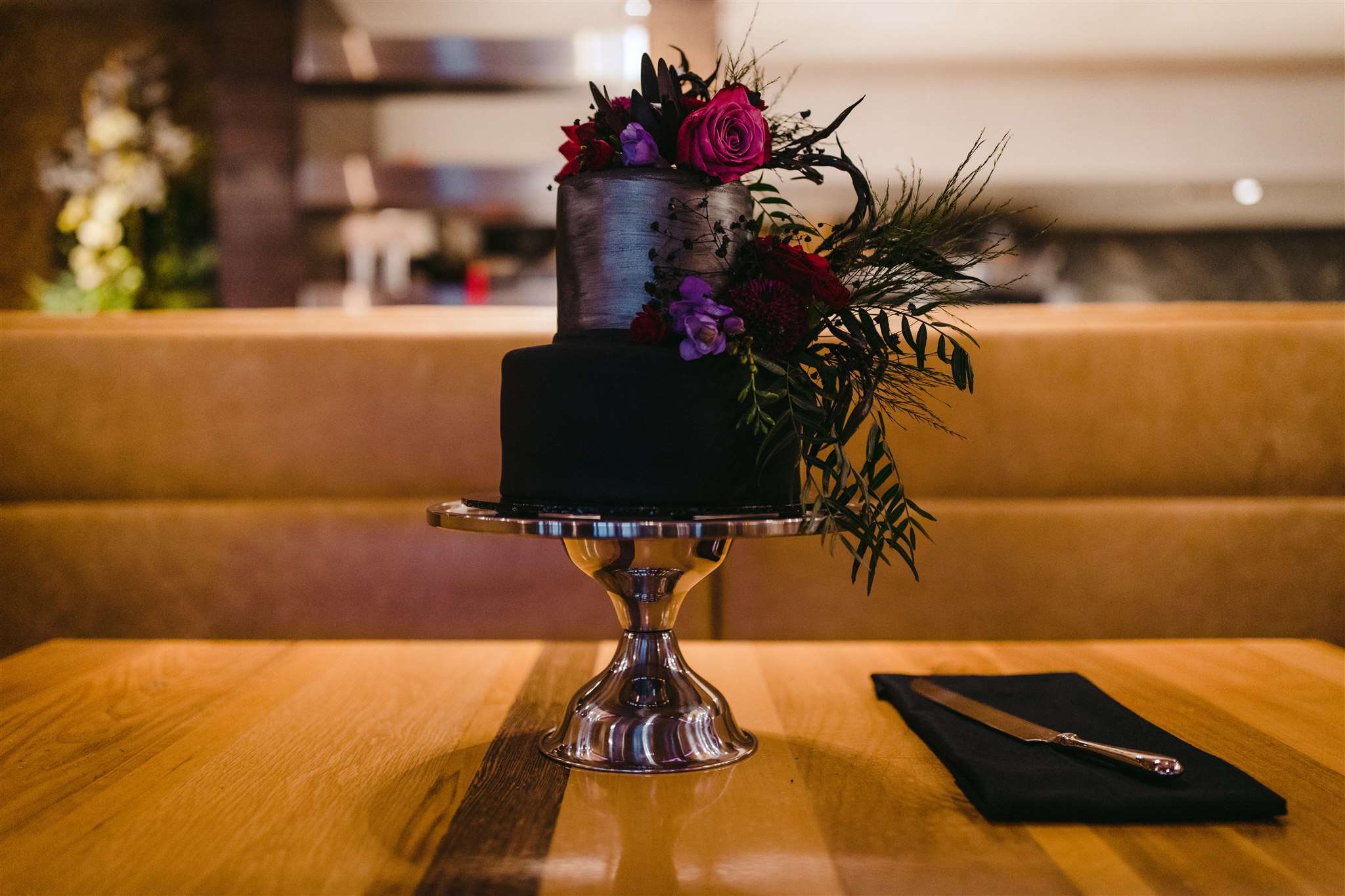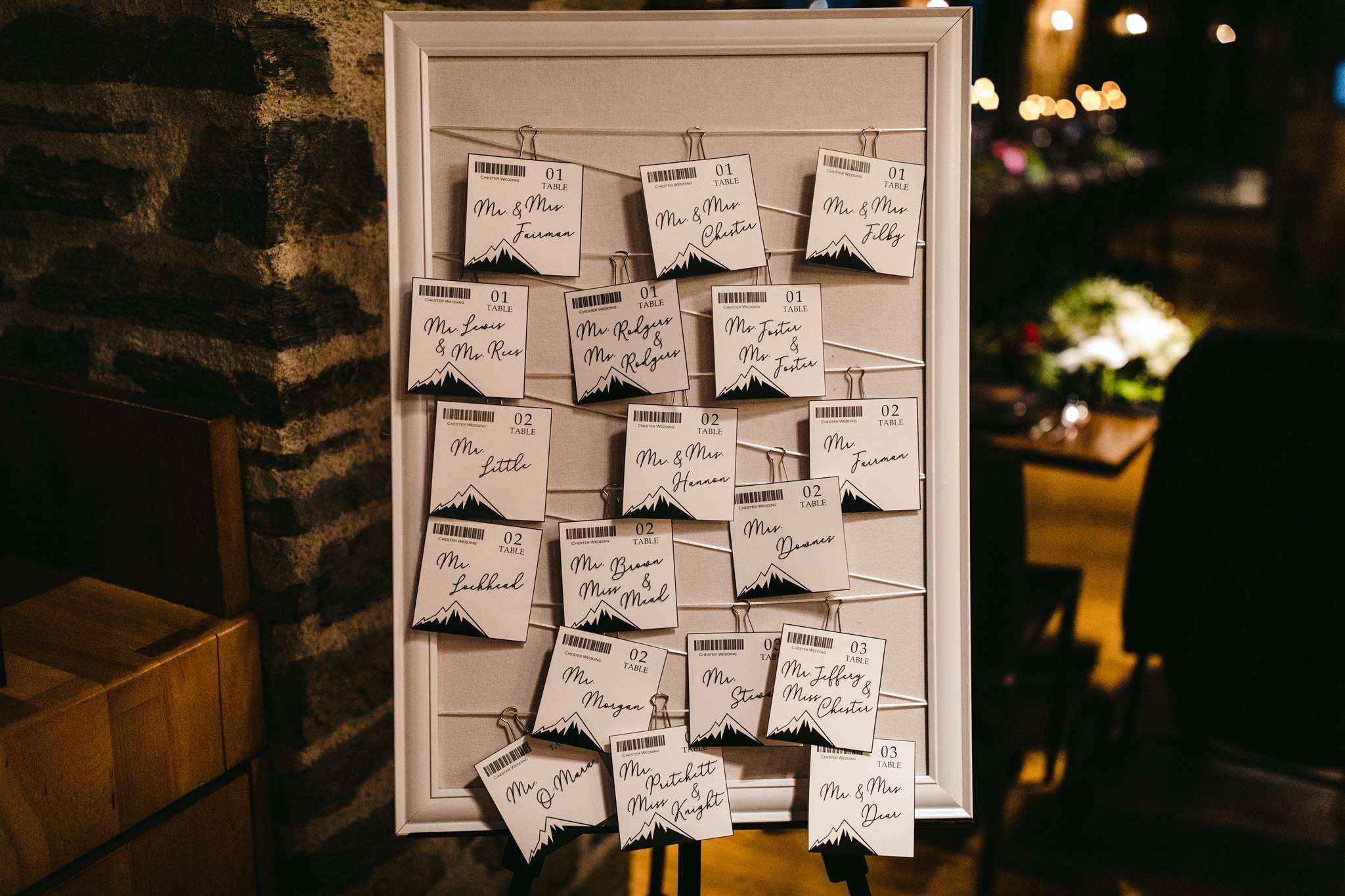 "Nothing will beat the view from on top of that mountain, looking out over the lake, just us taking in the fact we were now husband and wife", Erin concluded. "Our biggest expense was our photographer, but damn was he worth every cent. Not only did he deliver exceptional, out of this world images but his wife, Vicky, helped me with thousands of emails back and forth for over a year with recommendations, suggestions and just kind words."