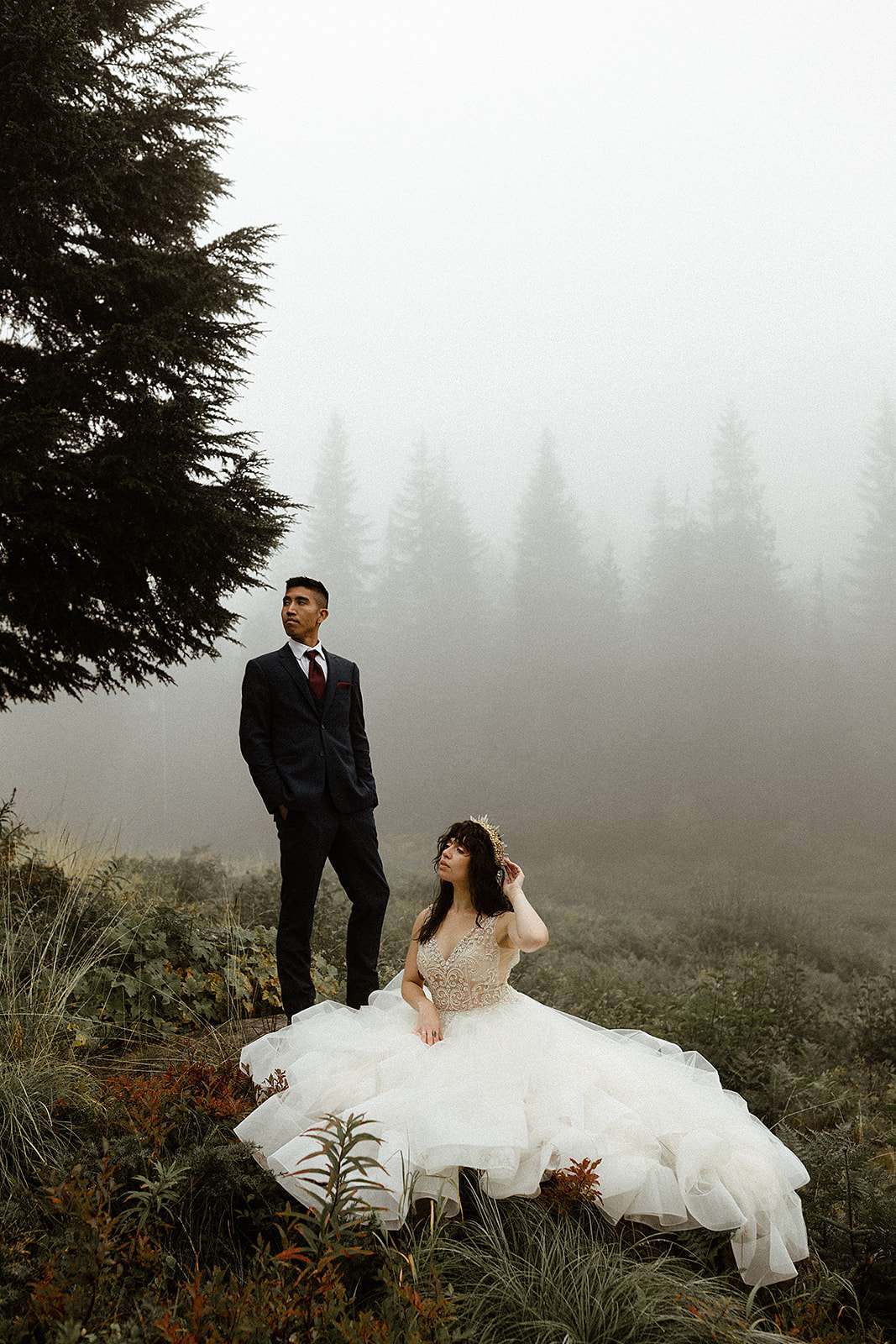 Worried about rain on your wedding day? Well, don't! Not only is it something you literally can not control, but Ashley and Andrew's day proves that stereotypical 'bad' weather can make for the most beautiful images and special moments. They were married in October at Mt Hood in Oregon. They wanted their day to have a autumnal fairytale wedding with whimsical touches. They were inspired a lot by nature and the beauty of the area.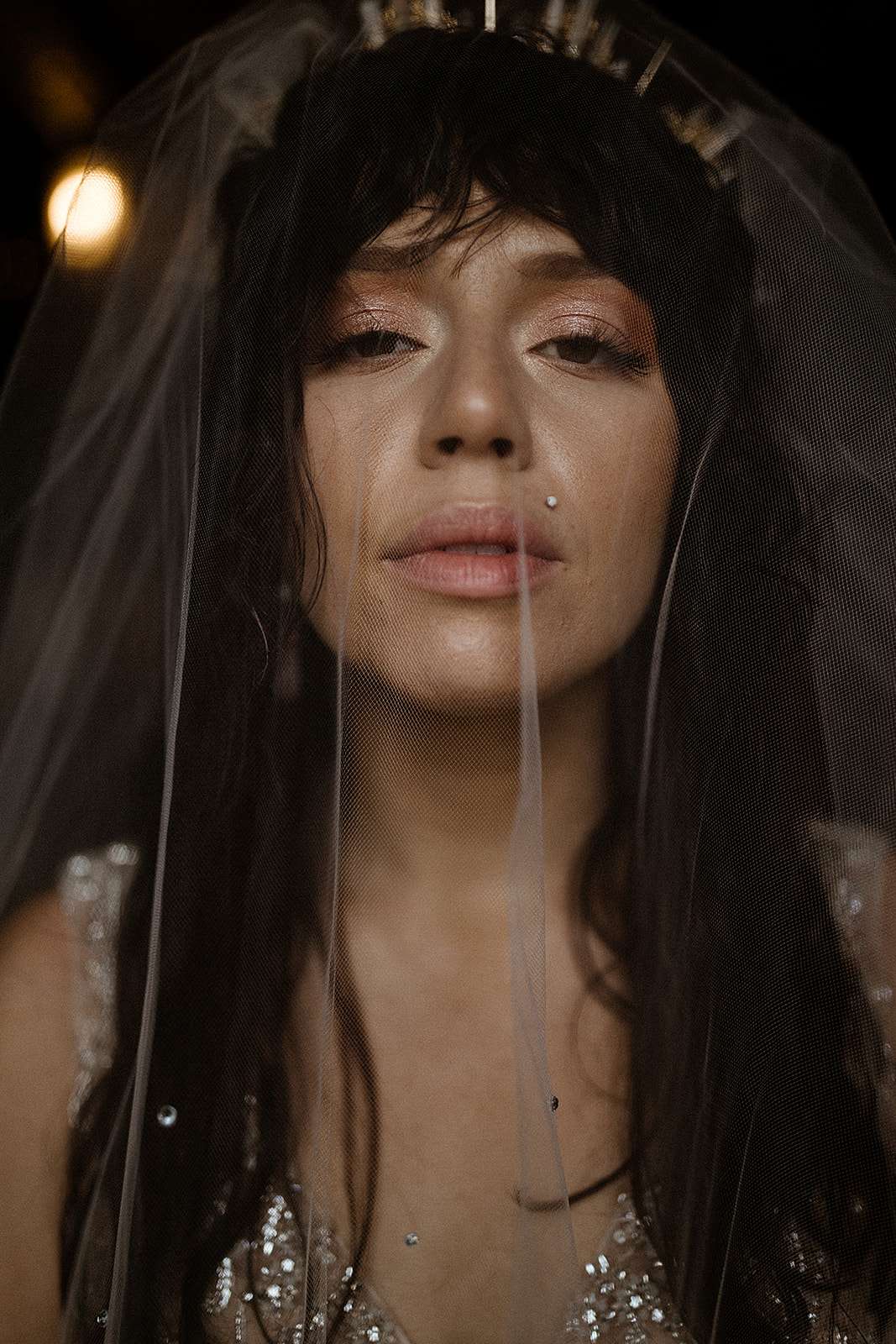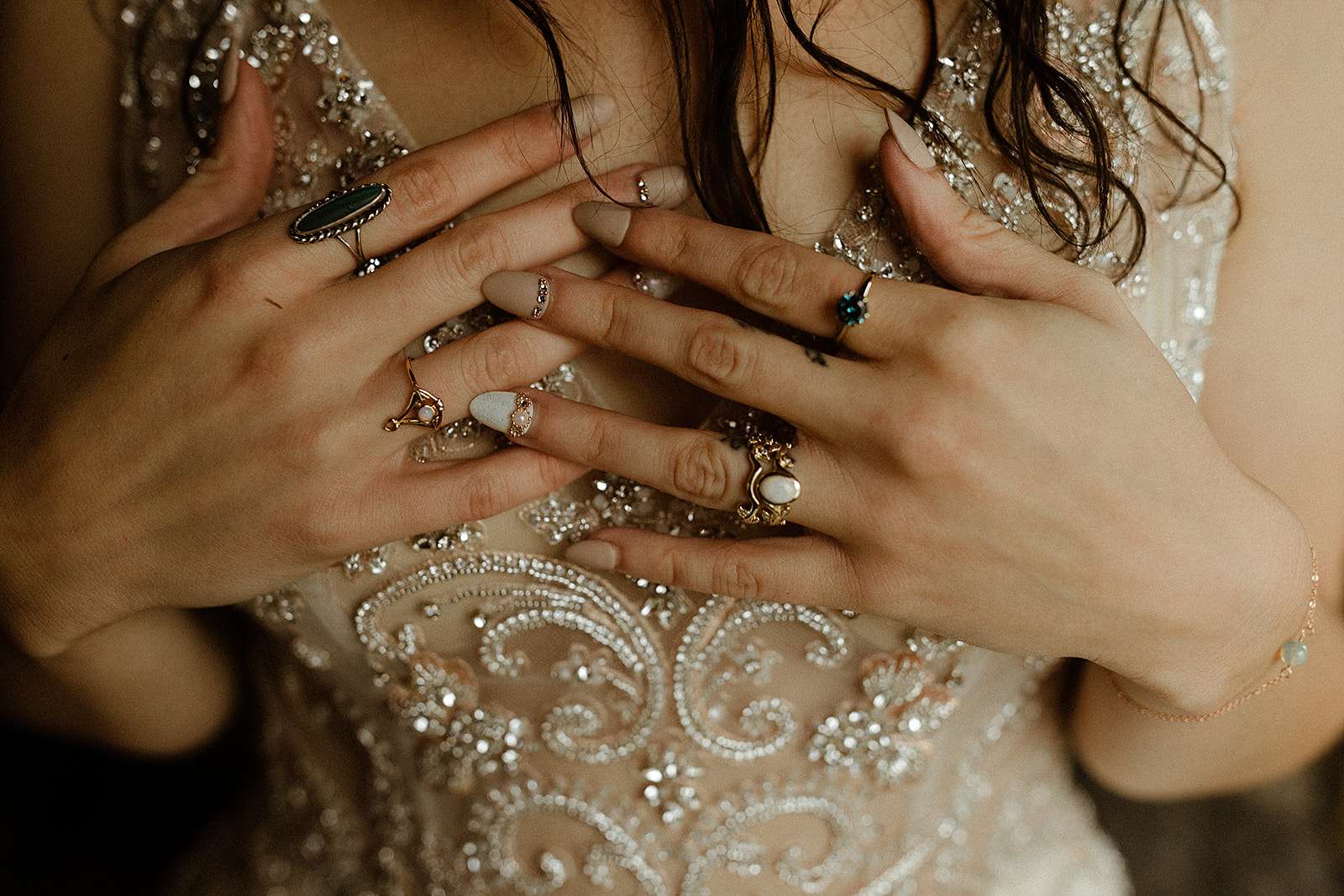 "I think there were a lot of things that made our wedding unique", explained the bride. "We married a day before the equinox and the shift is season was extremely present (as I'm sure you could see by our foggy and rainy photos). We married on the side of a mountain overlooking a volcano (which unfortunately couldn't be seen because of the fog). We were married on indigenous sacred land and when we arrived at the base of the mountain a Native tribe was having a ceremony asking for blessings from the earth for rain and protection for salmon during their travel in winter months."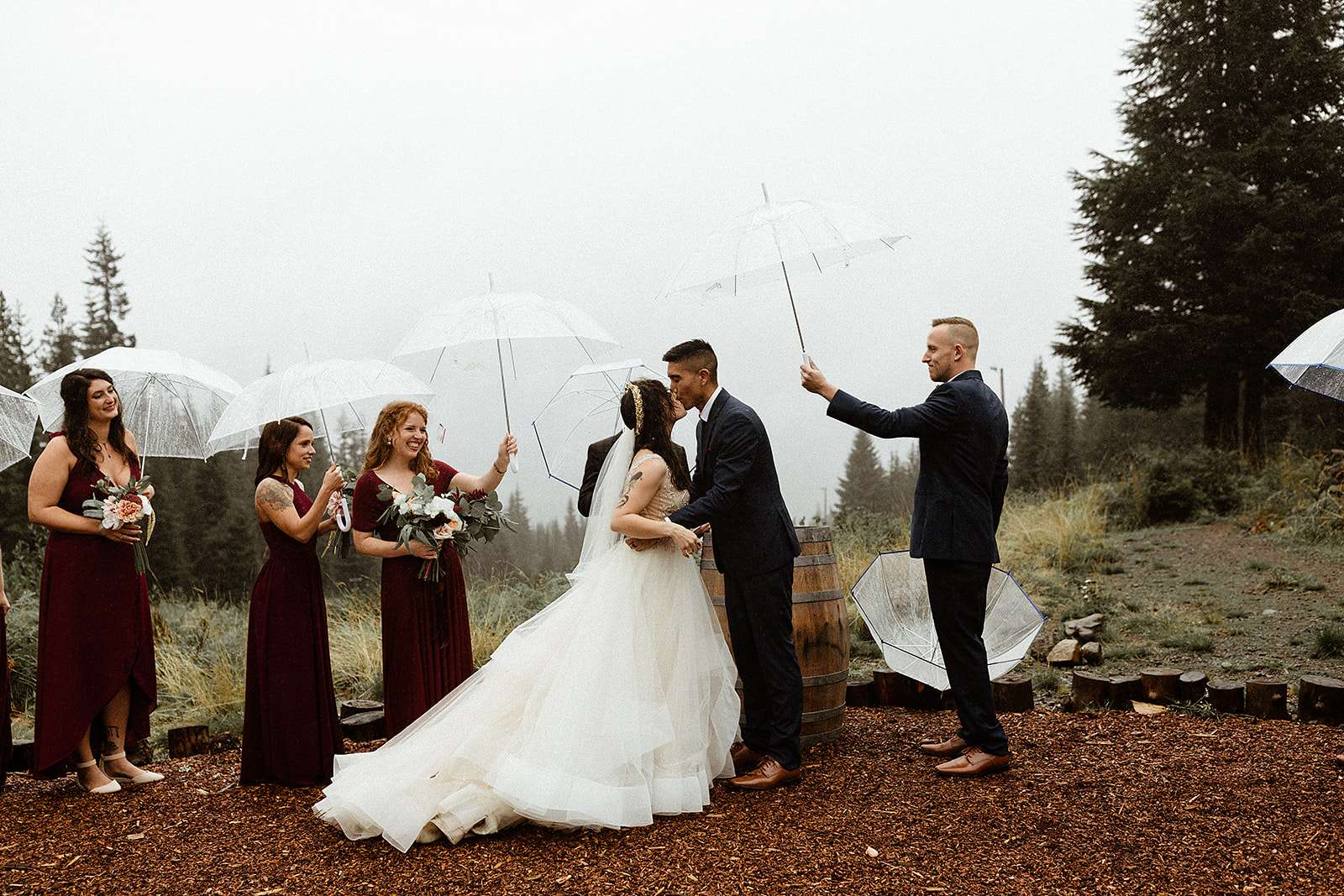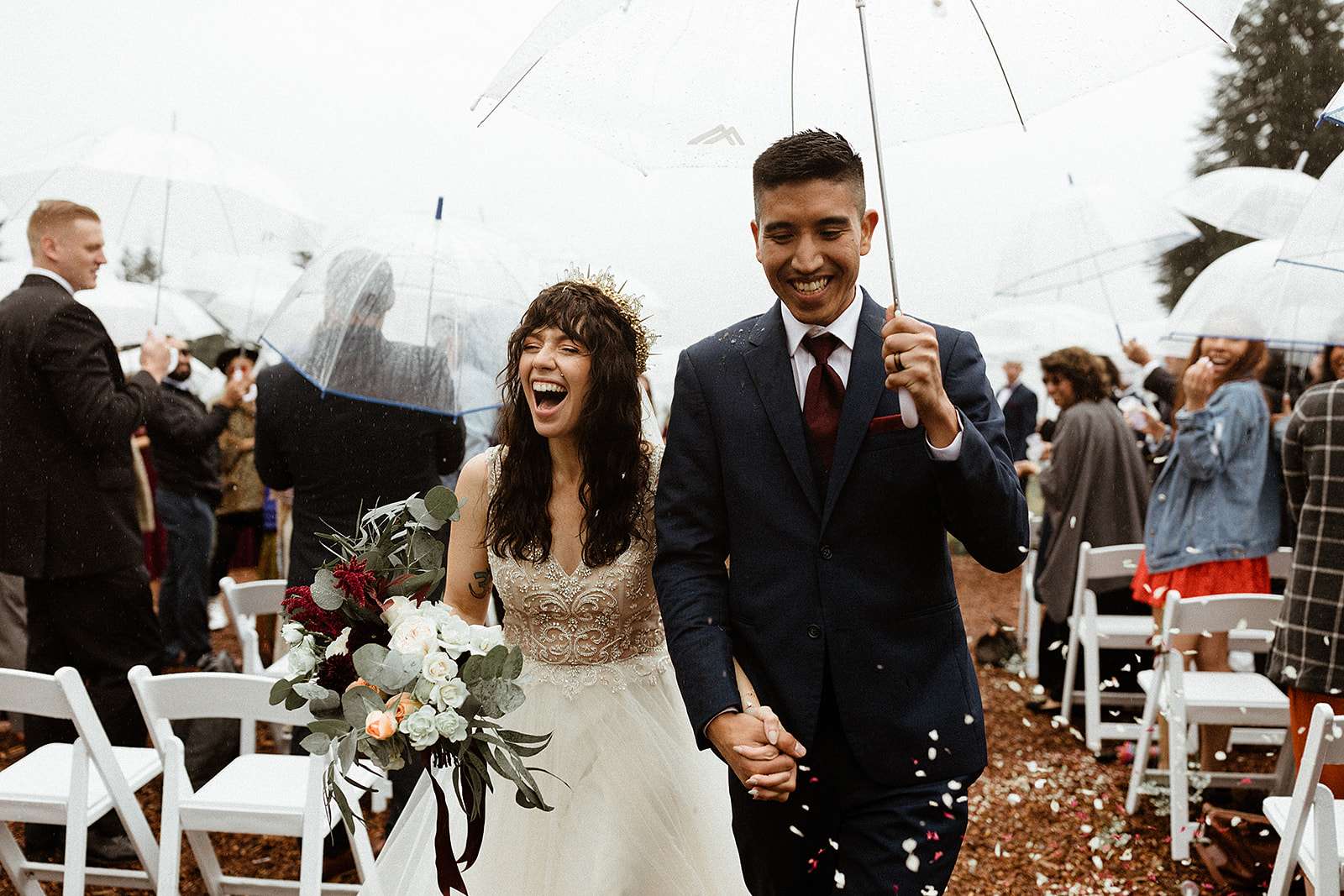 The ceremony was held at the base of the mountain and for their reception they erected a white tent, adorned in beautiful lights and chandeliers. All of the décor and table settings were made by the bride and her bridal party and everything they could was either done by the couple themselves or married by close friends or family members.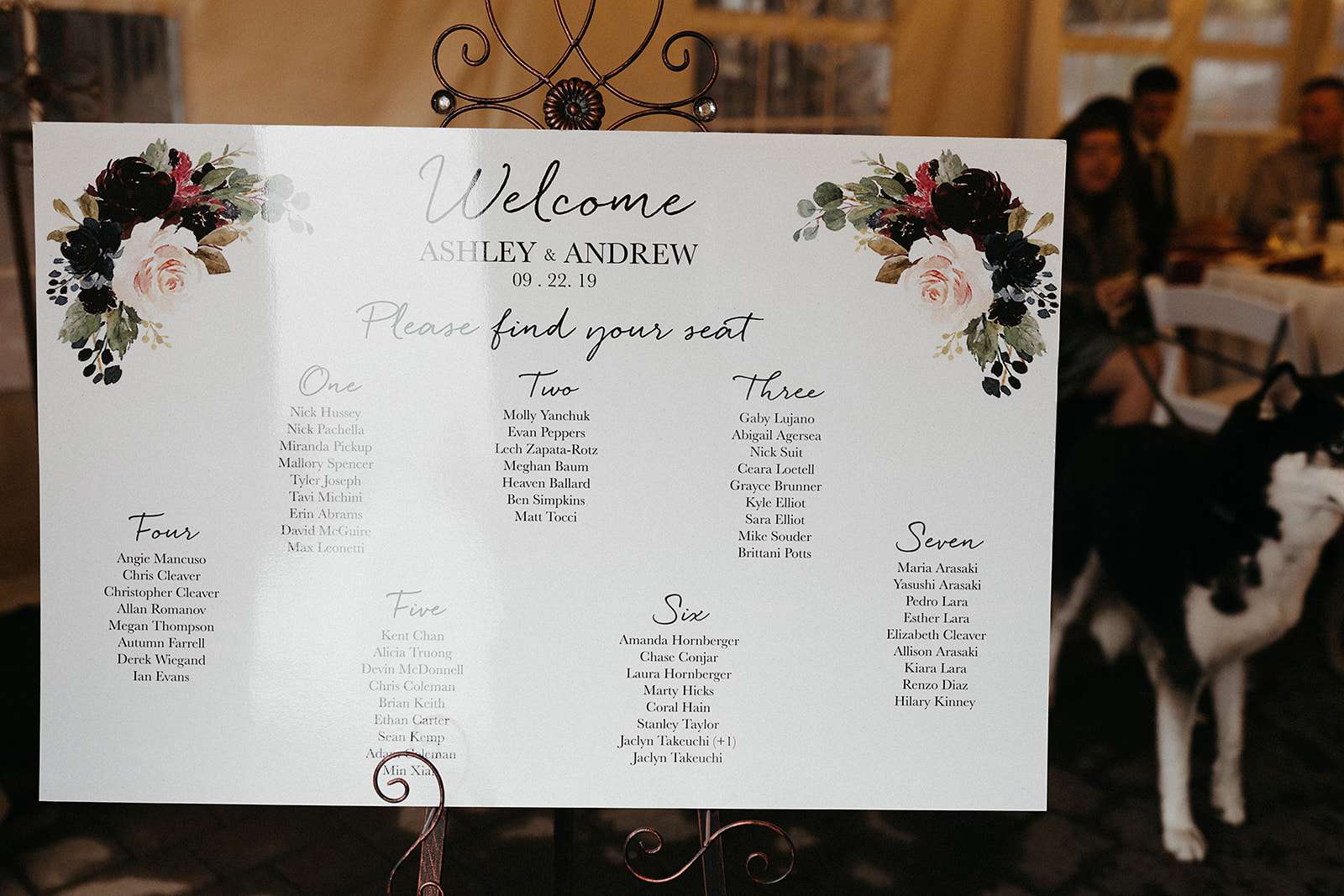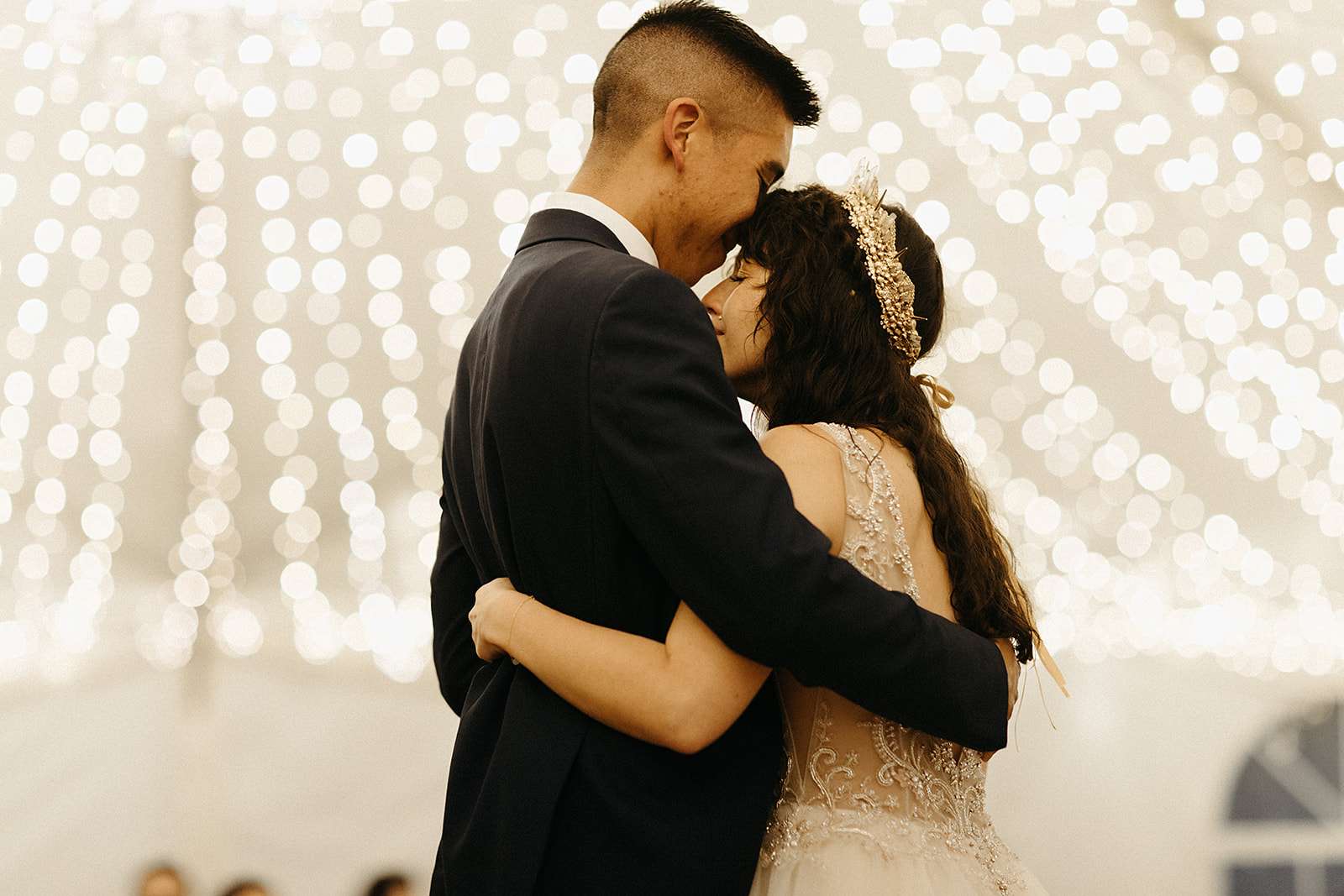 "We didn't follow any 'rules' for our day", she continued, "we just wanted it to be an extension of ourselves, and our love for each other. We basically cut all florals out of the wedding except my bouquet which was arranged professionally."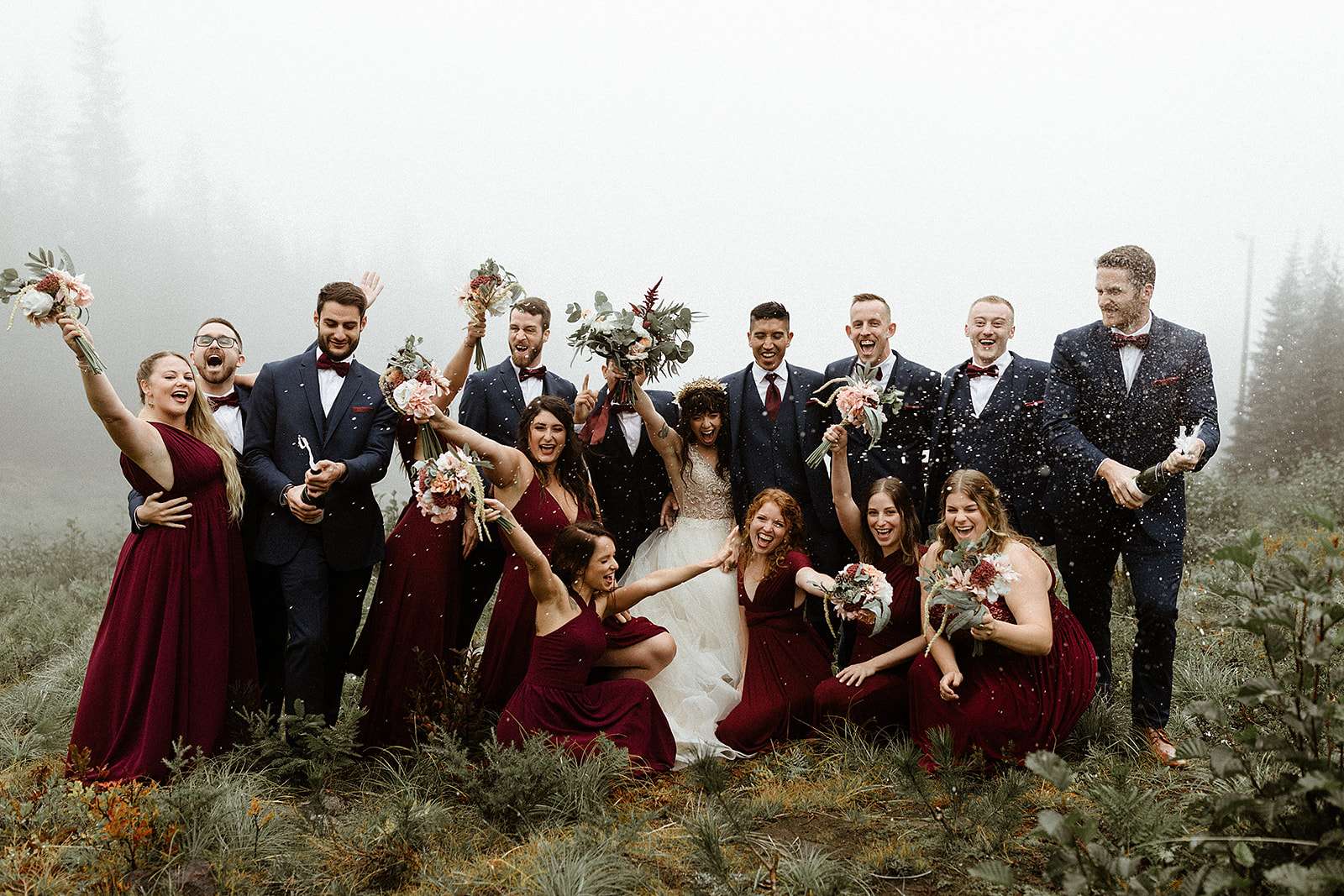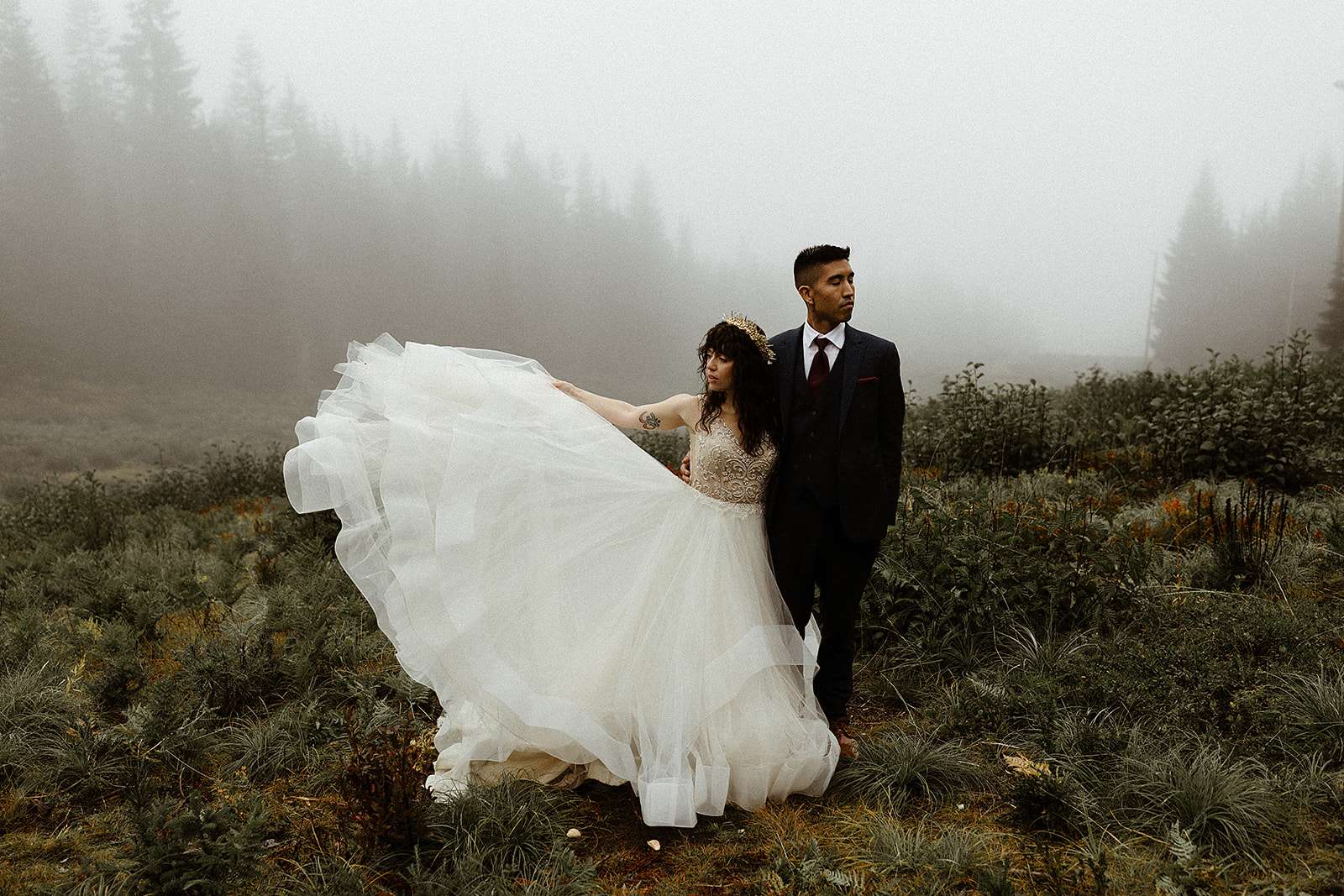 Of their $12,000 budget, they spent good chunk on their photographer, Naba Zabih but their biggest cost was food and drink. "The one thing I wish we'd known earlier was to start saving earlier and stick to your budget! Also, stop trying to please other people – it's your day and your happiness is the only priority (took me a few months in to decide that one). Finally, give photographer list of people you want pictures with at the reception. I forgot to do this and there are some guests I regret not having photos with."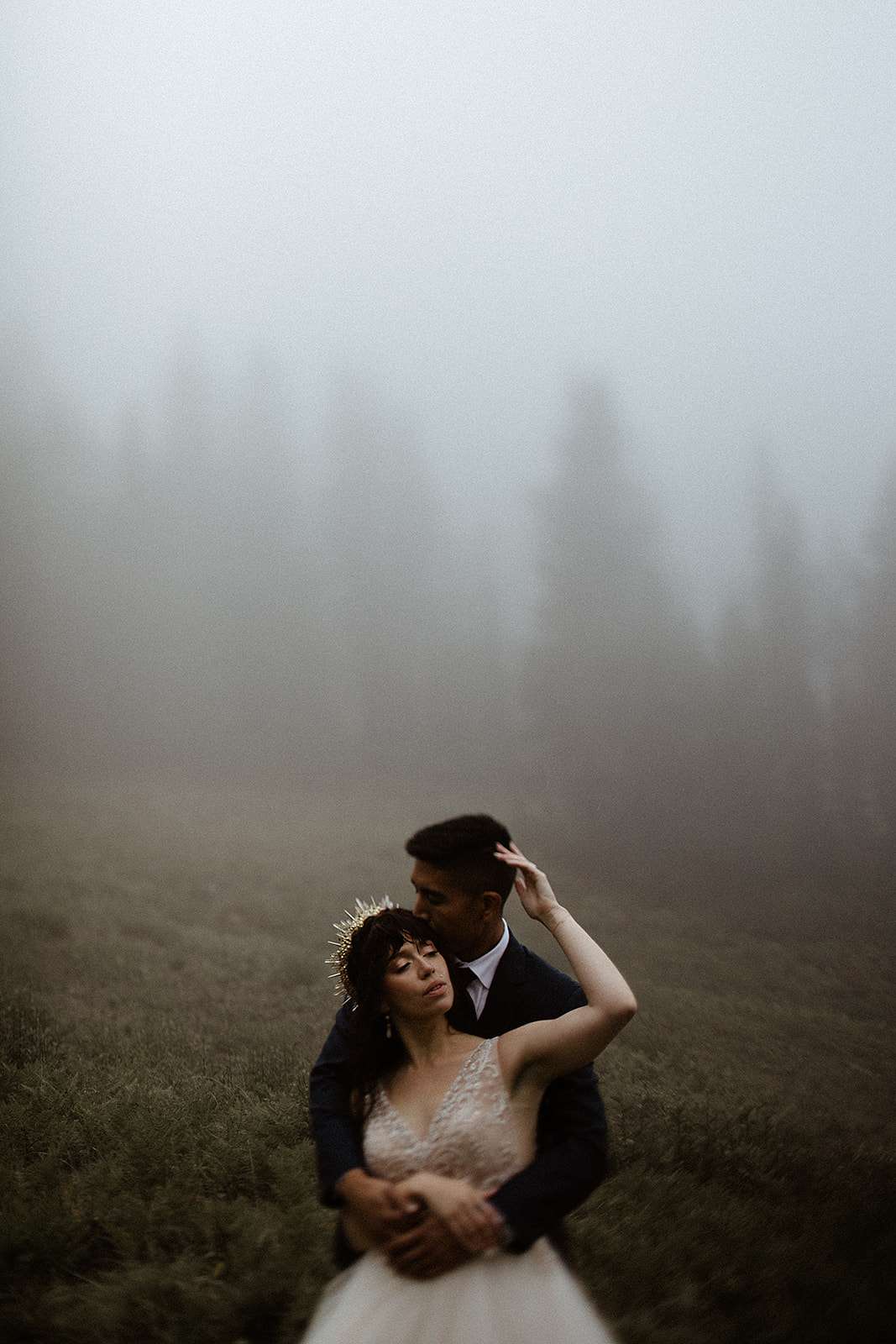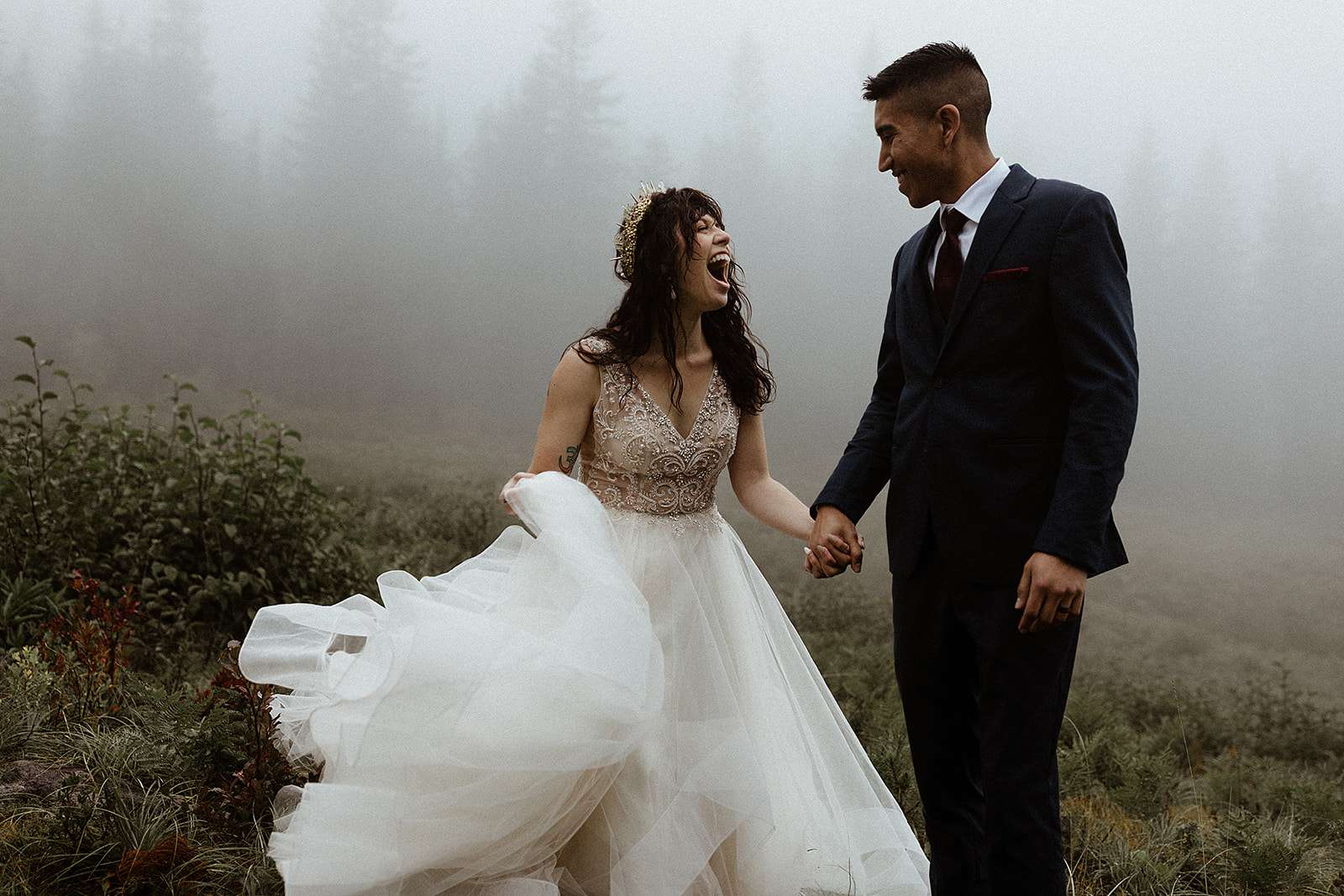 "Our advice to others would be to have fun planning and don't lose sight of the real purpose of this day when the stress kicks in", Ashley concluded. "When the actual day comes don't be afraid to say 'fuck the plan!' if you need to – it rained our entire day and I could have been upset about the fact that my hair looked like a mop; that the venue we specifically rented for the view of this stunning mountain could not been seen, and all the cool features (slides and ski lift) could not be used – but that's not the point. When the day comes nothing else matters but the love you share. Don't allow yourself to even entertain letting the 'mishaps' effect your special day. Rain or shine make it yours; cherish it, if you allow it to be it's going to be the best day of your life. Also, ditch your phone for the whole day. Stay present. We were so happy we did this."