I love Melissa & Robbie's wedding for so many reasons – her incredible shirt dress (which the bride, a fashion designer, made herself), the yellow and grey colour scheme, the cute recpetion details, their nephew and his 'Melissa & Robbie' flag – but most of all I love them because they shared this video with me. It's a bit unconventional, but I'd encourage you to watch the video first. It was put together by the couple themselves from a collection of mobile phone/home camcorder clips filmed by their friends and it paints such a amazing picture of their wedding…
Told you! Wasn't that the cutest thing ever?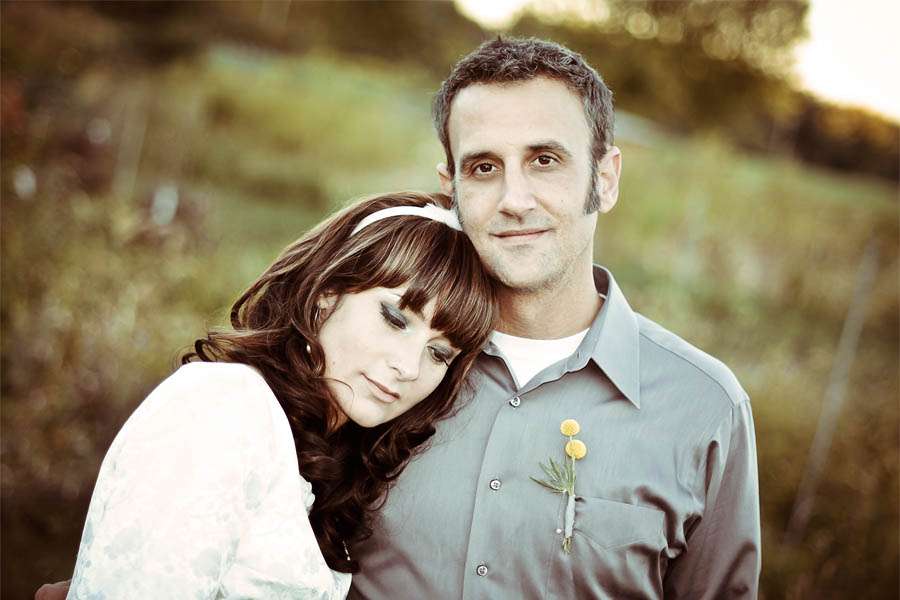 The wedding was held at Hickory Knolls Discovery Center, an eco-friendly nature center in Saint Charles, Illinois. "We had to move our ceremony inside last-minute because the weather suddenly turned cold," Melissa explained. "I wasn't thrilled with the room that we had to use because one of the walls was empty and not very attractive. Two of my friends – a street artist from Seattle and a graphic artist from New York City – put their heads together the morning of the wedding and surprised us by creating three pieces of gorgeous artwork (in a matter of a few hours) inspired by our handmade flower arrangements. When we arrived at the venue, the barren wall had been replaced by vibrant pieces of one-of-a-kind art that added beauty and an artistic energy to the space. To me, this was the ultimate reminder that when it comes to your wedding, it is important to be willing to let certain things go and remember why you are getting married in the first place – LOVE! Sometimes when things don't work out as planned, something even more amazing happens."
Pretty much the entire wedding was DIY. The bride made her own dress as from the fabric from her Mother's wedding dress (!!) as well as her headpiece. All the reception decor was collected by the couple or was things they already had in their home. "For me, the most special part of doing things our way and keeping it DIY was making my own wedding dress. My mother had given me her gorgeous late 60s mod style wedding dress, and I (very apprehensively!) took it apart, and completely redesigned it into a more modern style. When my Mom saw me wearing it, her eyes instantly filled with tears. This was one of my favorite memories of our wedding day."
"From the beginning, we agreed to keep things fun and casual, to do as much as possible ourselves, to stay within a small budget ($10,000 at the very most), and to do thing OUR way," Melissa continued. "We didn't want to have to follow any rules or traditions. All we wanted was to create a beautiful, relaxed party with one ultimate goal: to celebrate our love! Our vision was to include the things we both love the most about design: 1960s vintage inspiration (with modern flair), typography, and rustic minimalism."
You can see more of Melissa's DIY projects on her blog, Bubby & Bean.
"The venue we chose is a nature center and community urban garden area, so we wanted to blend in elements of nature and eco-consciousness as well. We also wanted to incorporate our colors (yellow and gray) throughout the venue, stationery, flowers, and attire as much as possible. This was an awful lot to include in one wedding, but our mission was to do so in a way that resulted in a cohesive design and a unique event. It was quite a task, but we did it! When we needed inspiration, we did three things that we both love to do: listen to old records, visit vintage shops, and watch our favorite old movies (Hello 'The Graduate' and 'Breakfast at Tiffany's'!)"
"We planned our wedding in nine months (and for half of this time Robbie was on the road with his band!) We designed the event from scratch and hand made almost everything. We chose a dear friend to marry us, and kept the ceremony simple, light-hearted and brief. We asked the bass player from the band Robbie works for to be our 'M.C.,' and created an easy-going reception that had the energy of a casual party while still emphasizing our love for art, design, and music."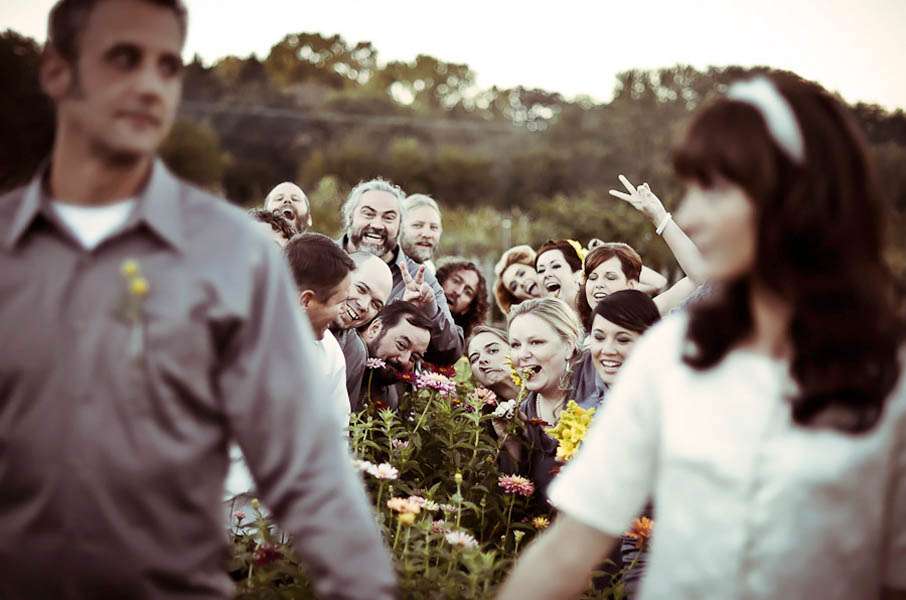 Thank you so much to Melissa & Robbie for sharing their wonderful wedding with us today…
..Oh and I'm not envious at all of Melissa's legs in her short short dress (this is a lie…)
Supporting Cast:
Photography Credit: Bliss Studio
Venue: Hickory Knolls Discovery Center, IL, USA
Bride's Dress: DIY – Mountains of the Moon
Bride's Shoes: Kate and Kelly (ceremony), Steve Madden (reception)
Bride's Headpiece: DIY – Mountains of the Moon
Bride's Jewellery: Vera Wang earrings, vintage pearls
Groom's & Groomsmens Outfits: All came from their own closets
Bridesmaid's Dresses: Various
Cake: Doughnuts by BOSA Bakery, Saint Charles, IL
Flowers: DIY
Hair: Focas Salon
Stationery: DIY
Caterers: Authentic Mexican taco bar from Jalapeno Grill
Officiant: Ralph Gillis
Wedding M.C.: Ryan Stasik (bass player from Robbie's band)
Ceremony Wall Art: Jeff Jacobson (paintings) and Taylor Swope (projected graphic art)
Bartenders: With a Twist