Photography Credit: Fashion Toast
Wooooooooooooooooooooooo! Happy December y'all! Am I allowed to get excited for Christmas now please?
This week has been a fan-tabi-locious one in this little wedding blogging world of mine, not least because one of my utter favourite (non wedding) bloggers La Carmina, who runs the most incredible Japanese fashion and lifestyle blog, ran a massive feature on yours truly and some of the gothic weddings I've featured, both on her blog and on Lip Service, a lifestyle webzine that she writes for. I am honoured. Thank you La Carmina!
Also, this week was The Photography Farm Christmas party in Brighton. We were instructed to wear something sparkly (I wore these babies) and to bring a secret Santa gift and prop for the photo booth. Oh much fun and boozing was had by all. I'll share some photos on the Rock n Roll Bride Facebook page and twitter over the next few days if you're interested.
And here come the rest of this week's loveliness courtesy of the internets…
♥ Princess Lasertron has launched a subscription club where you get a piece of Lasertron pretty in the mail every eight weeks! Cost? Just $15 a month! Yes PLEASE!
♥ A Beautiful outdoor wedding on A Beautiful Mess
♥ Sassy n Frank have just launched a brand new exciting project, London in Love, where they want to see how many weddings they can shoot in just one day… and for this they need you! If you'd like to be involved, and you're getting married in London in March 2012, check it out!
♥ Super hot alternative model Ulorin Vex got married! Check out her facebook page for more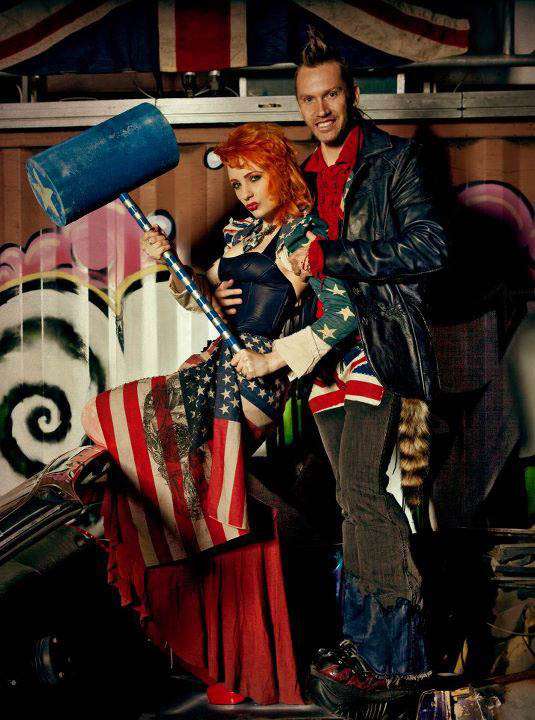 ♥ Classic vintage Siena wedding
♥ Adore this plaster covered silk roses tutorial
♥ I LOVE this sweet book proposal idea from Hello Lucky
♥ Oh MY! I want to be wrapped in gorgeous faux fur this winter please! This faux fur throw is totally on my list baby
♥ Whimsical DIY farm wedding in Georgia
♥ Sam & Dave's cute DIY save the Date video made me smile like a goon when it landed in my inbox this week
♥ I've found the cutest most perfect Christmas present for people who love lists (unfortunately it's not launched until next year though). This adorbs mini printer rints out receipt sized lists and you can even print from your phone! Watch the video and I dare you not to want one…
♥ This is pretty old so you may have seen it before, but Gareth showed it to me the other day and it kinda made my week…his impression of it is even better but unfortunately I'm yet to capture that on film!
And that's it, short n sweet. Enlighten me, have you found any awesome things online this week that I've missed?