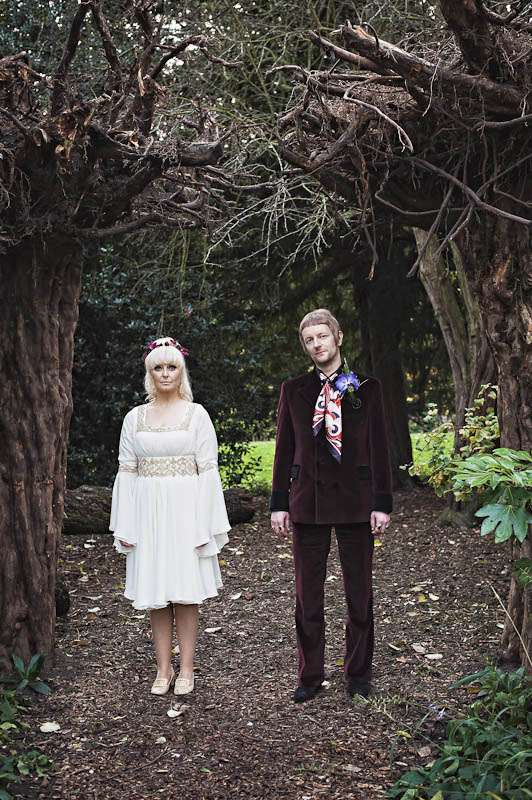 Nicola & David were married on Halloween weekend in The Hospitium in York (England's most haunted city apparently!) The venue is in the middle of the Museum Gardens and in the shadow of the ruins of St. Mary's Abbey. The unusual setting was the perfect backdrop for their Rolling Stone Circus wedding.
Nicola explained, "We're both massive Rolling Stones fans so we wanted to have the same type of feel as The Rolling Stones Rock n Roll Circus. Slightly carnival like with a serious nod to music. We drew the line at stilt walkers, jugglers and such, though I did very much want a peacock and an elephant. Surprisingly there are no 'hire a peacock' websites. Even less chance with the elephant."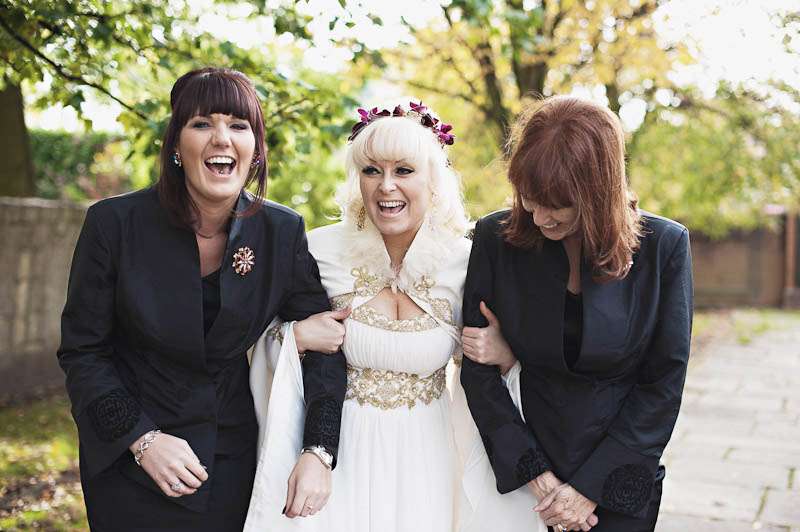 "We're both also 60's fans in that we love the music, films, fashion and whole esthetic of the 60's. The 60's had to feature pretty heavily without getting into the shark infested territories that are 60's fancy dress and theme type ideas. Our clothes, house and furnishings, books, music and films are mostly 60's so we're not the weekend warriors that could get away with hiring the local scooter club to park up outside the venue for the day. We ensured that all the music would have something like an obscure garage or psych track for us and then a Motown or 60's pop track for the family. We even threw in a bit of 90's Britpop for the old school mates. We also put together a two hour DVD of 60's film, adverts, music, dance, fashion and telly clips. If the guests didn't like the sounds, there was definitely something for them to see there."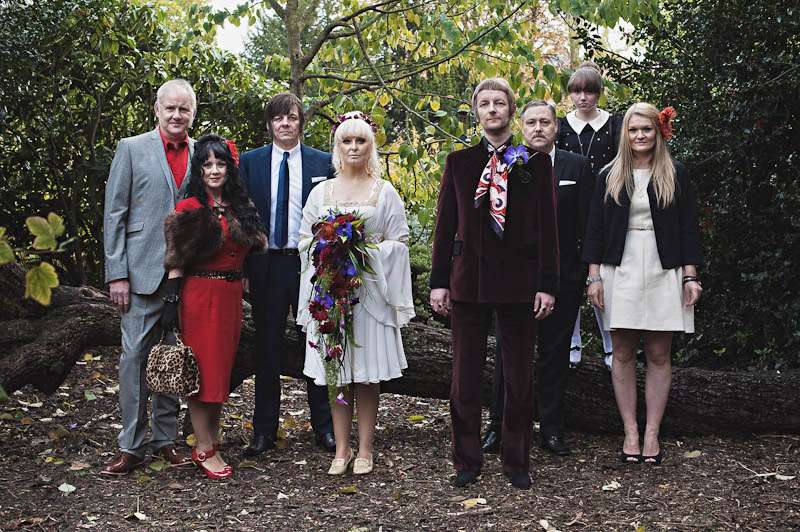 "I have always loved Eastern esthetic from Indian to Moroccan to Oriental," the bride continued. "We knew that it somehow had to play a part in the day, especially since it got a serious introduction to the Western World in the late 60's. There were bits of it everywhere from the beading pattern on my dress to the table runners, to the stationery, to some of the music and visuals and definitely the belly dancers! Also, since the wedding was going to be in late October and we both love the Autumn we wanted to somehow incorporate our love of rich vibrant bold colour into the wedding."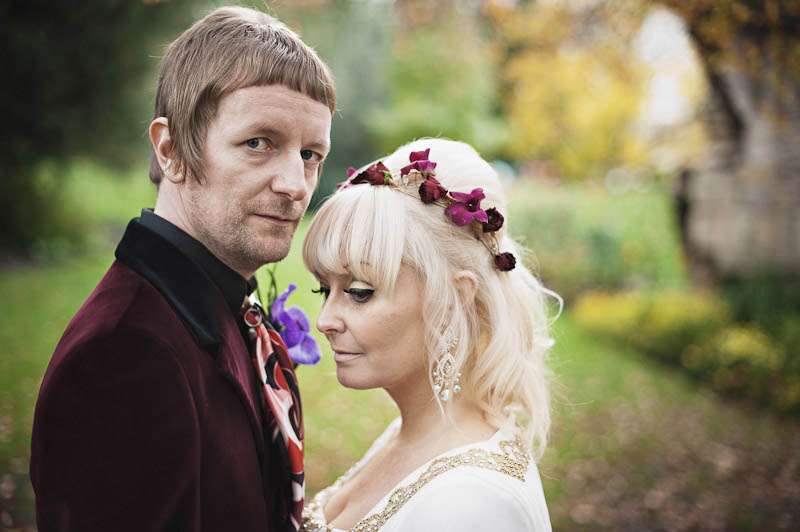 Both the bride & groom 100% looked the part for their impeccably themed wedding. Nicola wore a wedding dress which she had made by House of Mooshki ("I looked at hundreds of vintage dresses and some were stunning but asking to find a later 60's ode to Hammer Horror/Celtic/Grecian/Medieval/Indian hybrid in ivory and gold that fit me was literally impossible") and a headpiece by Lindsay Fleming Couture ("it was a slightly medieval looking circlet type thingie from with flowers threaded through. Sorry, just can't use the word tiara. It conjures up all sorts of Katie Price images. Then I need a valium.") The groom wore a suit made by George Lilley of Kristoffers in Leeds, inspired by a suit worn by Brian Jones in a Rolling Stones picture book.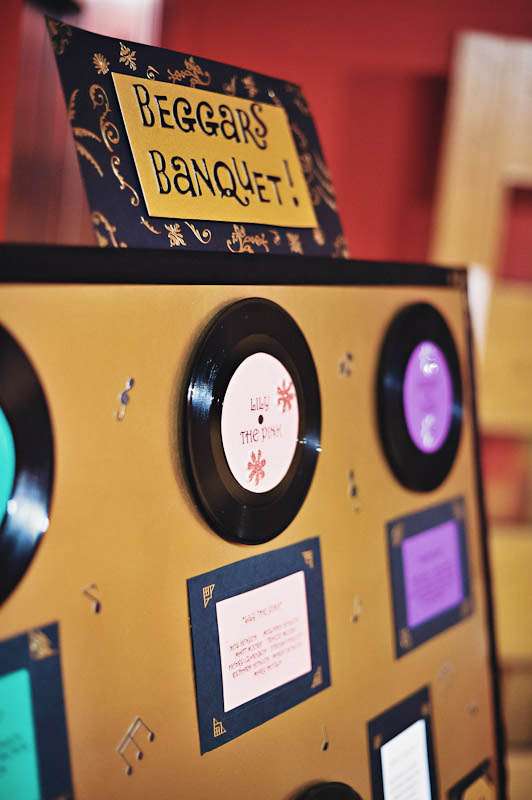 The reception was styled and decorated by the couple themselves. They wanted it to totally be their vision. "We did everything. We sourced every idea we had, researched where to get stuff and the best options and gathered the lot ourselves. Our garage now looks like a car boot sale on acid."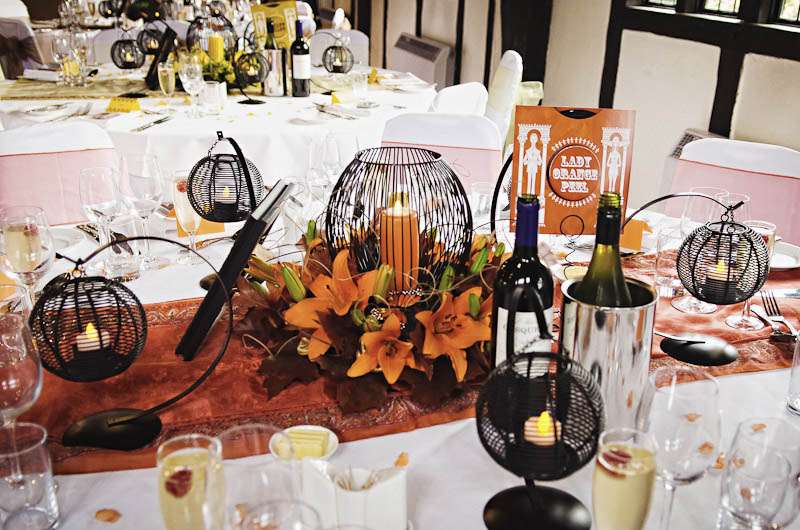 "In the ceremony room which was red, purple and gold we simply found four different types of tea light holders on eBay and we put them everywhere there was space. We found purple and gold cushion covers also on eBay which went perfectly with the red cushion covers already in the venue on the window ledges. In the reception room we had Indian silk table runners with psychedelic patterns on them in the ten different colours. Also from an Indian seller on eBay. We had black wire lantern/candle holders with a coloured candle in the centre and we had the same type of smaller hanging lantern/tea light holders on stands as our favours. We wanted people to be able to take something home, put it in their house and maybe think of us when they lit the candle in it. We also had psychedelic and retro patterned chocolate initials in the guests' first initial rather than ours."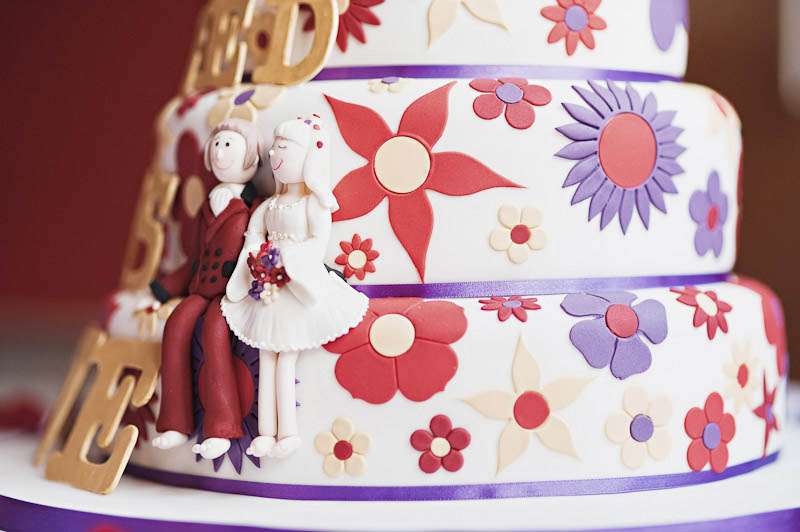 The most important thing to the couple was that they had their wedding for them and that they ignored the things that they were informed they should do because it was a wedding. "We met with an amount of resistance from people when we told them some of our ideas," the bride concluded. "Firstly, this was David's day as much as it was mine. It was OUR wedding, not just my day. We decided that David would walk down the aisle to a song he chose. His groomsman, then his best man, then his parents and then David all walked down the aisle to 'Change Is Now' by The Byrds. It was then my turn. As the Stones 'She's a Rainbow' came on, I walked down with my TWO Dad's (who high fived each other!) after my bridesmaid, my best friend and my Mum (who was my maid of honour). I don't know who makes the so called rules about how things are done, but I wasn't very interested in abiding by them."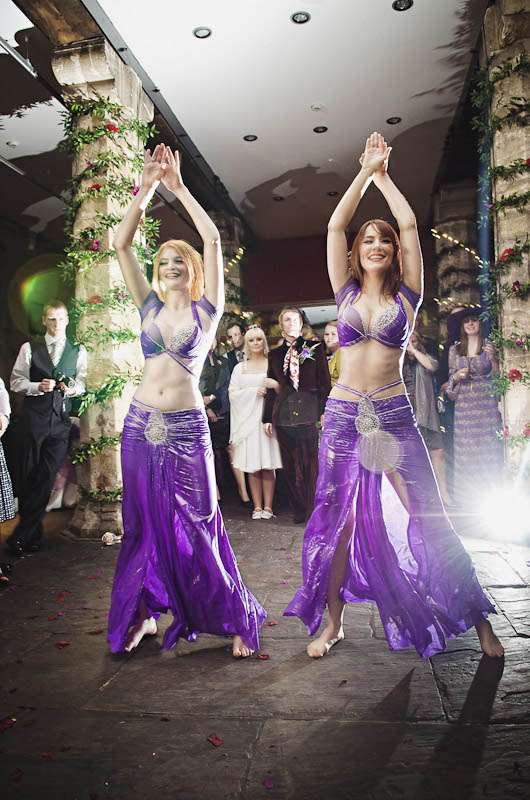 Oh these guys are just amazing! I'm so excited to share their wedding on this little blog of mine. Thank you so much to Nicola & David and their photographer Andy for sharing!
Supporting Cast:
Photography Credit: Andy Gaines Creative
Venue: The Hospitium in York
Bride's Dress: House of Mooshki
Bride's Shoes: Bordello (two pairs!), a pair of 60's vintage heels & a pair of ivory ballet shoes!
Bride's Headpiece: Lindsay Fleming Couture
Bride's Jewellery: eBay/etsy
Groom's Outfit: George Lilley
Bridesmaid's Dresses: Coast
Cake: Imaginative Icing
Flowers: The Flower House
Stationery: DIY
Caterers: Bradshaws of York