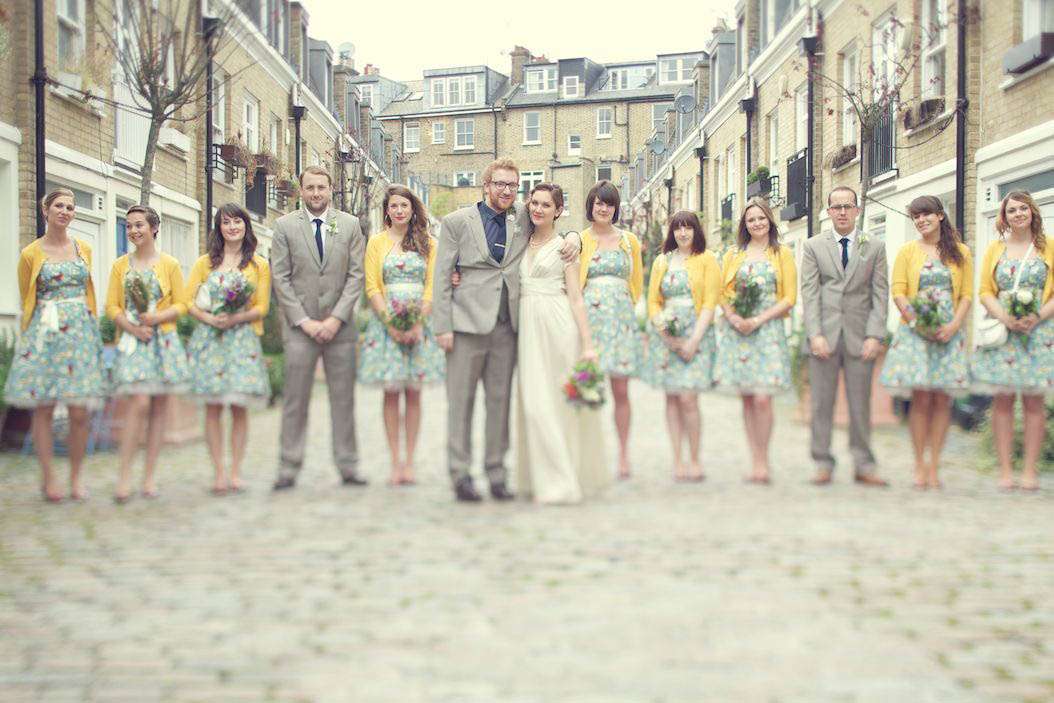 Hannah & Olly were engaged at Bestival in the inflatable church, "Olly proposed to me at Bestival in the inflatable church following our annual Bestival wedding in front of all our friends dressed as unicorns, Mario, Luigi, Alien babies… " Hannah wrote to me. "It was chucking it down as we strolled back to the main stage (engaged!) and The Wailers were playing. All of a sudden the sun came out and like from nowhere Olly handed me a Pina Colada in a pineapple! We spent the afternoon dancing to Chic and chinking our pineapples."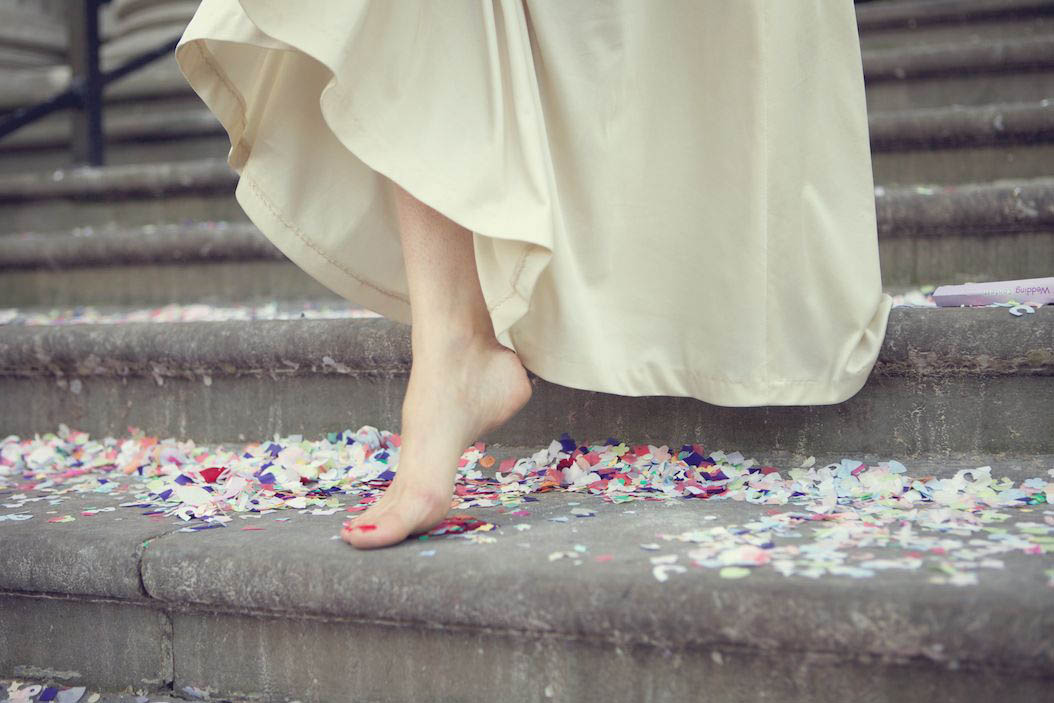 From this unconventional proposal, it was clear that this couple were to have anything but a traditional wedding. As the groom explains, "We're both very creative people and from the start of organising our wedding we wanted it to be different. Throughout it we used blogs, including Rock n Roll Bride, and we did it together. Myself and Hannah contributed equally and both did a lot of homework on details. The motto from the beginning was that it was to be a party, not a ceremony. With that in mind we kept thinking of the things that we loved from parties we have been to."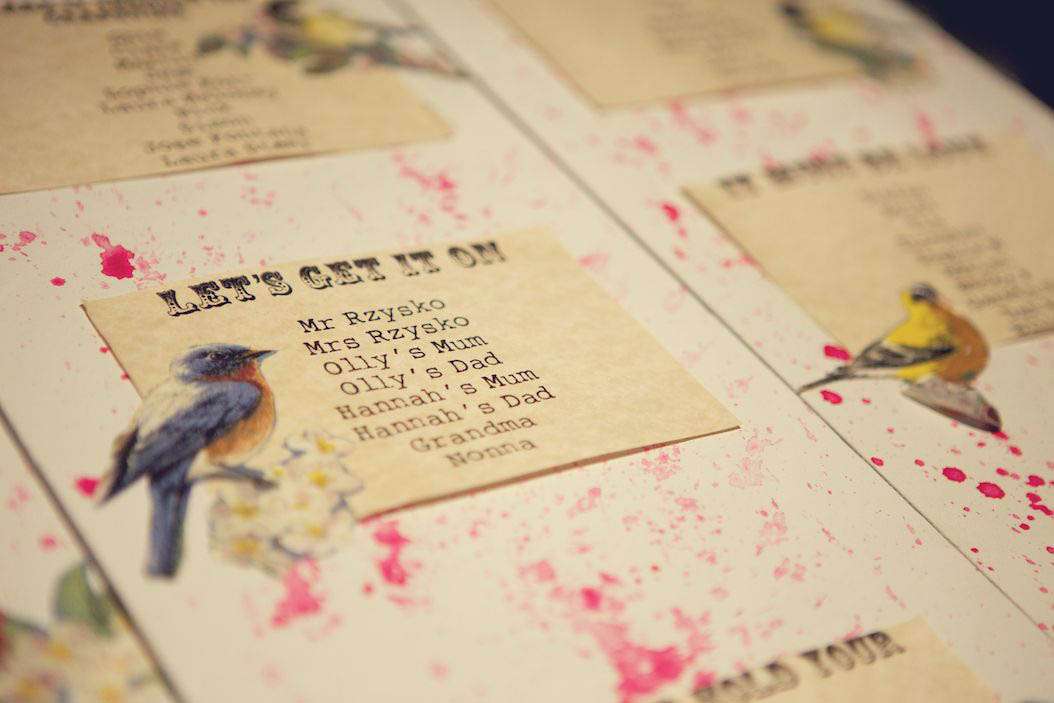 "On one of our first nights out together we found a pack of stick on moustaches, hence why everyone had one in their goody bag. Along with this popping candy is a nod to the nostalgia of childhood. Both Hannah and I are outdoor creatures so flowers were important to us, by using herbs along with the flowers a beautiful scent was created wherever we were which was lovely as I continue to smell this and have the memory."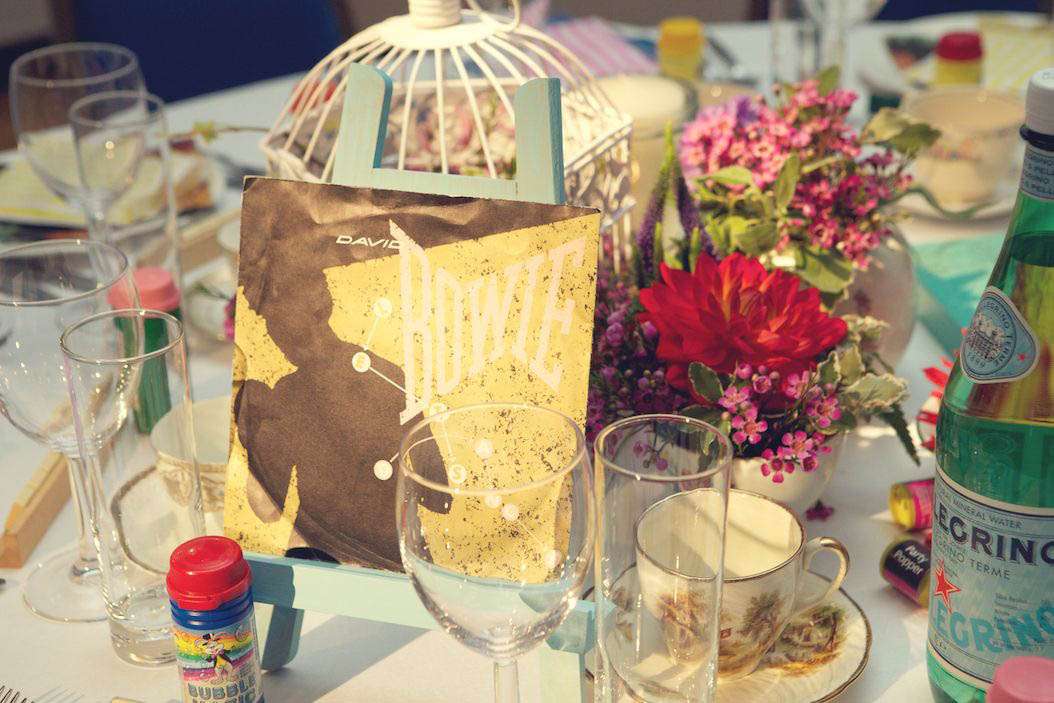 "I am a HUGE scrabble fan so we decided place names were to be vintage (roundbacked) scrabble tiles on tile holders. This was a HUGE job, lack of M's and H's caused headaches at the last minute as guest lists expanded but it was worth every second."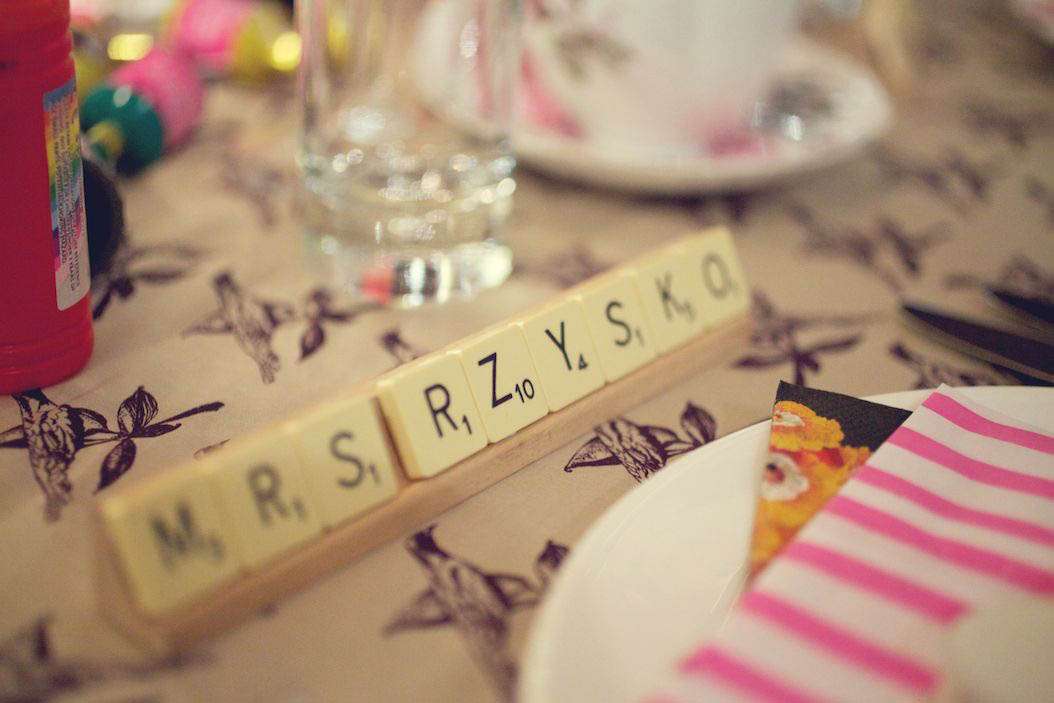 "Our invitations were a tough one, we took a long time deciding, but one day in East London at Rough Trade records we disappeared into the photobooth and the result was 4 of the most fun pictures we have ever had taken of us together. Within seconds we both decided this was to be the invite. On the reverse of the invite was a picture of us about 30 minutes after we got engaged. Each invite included a postcard of London for people to send back as RSVPs. We set a challenge in the invite, that the best RSVP won a prize. We then used these as decorations on the day and gave a prize to the winner. People loved looking through these and a lot of people took the competition very seriously and took a long time to RSVP!"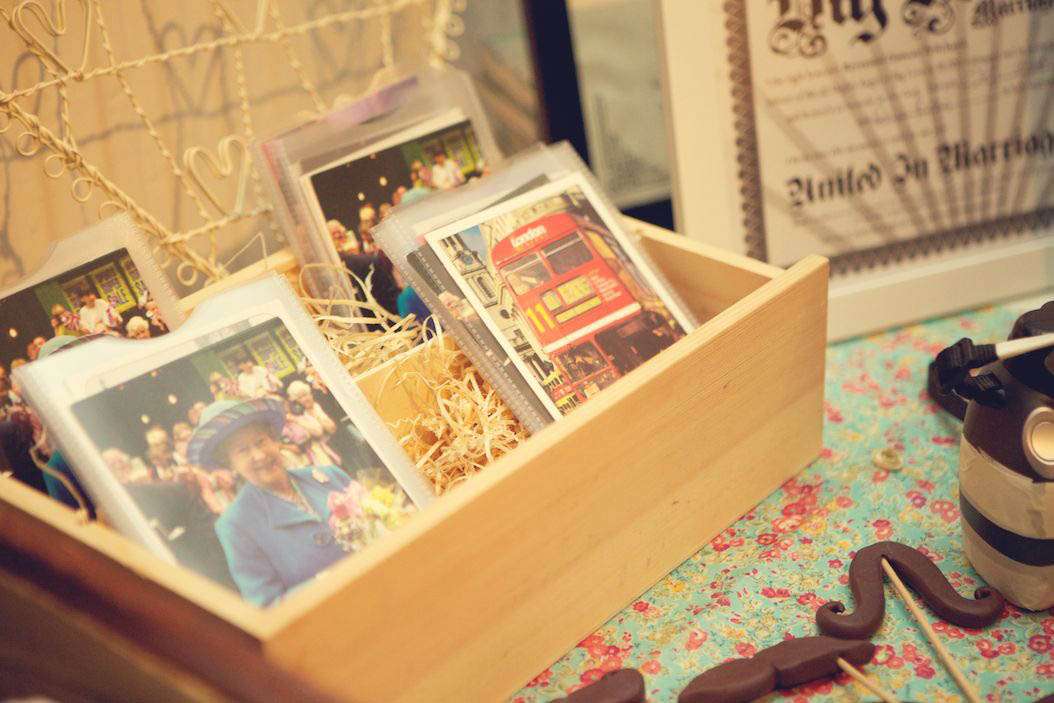 The reception was held at Amadeus Centre on Warwick Avenue, which was a real blank canvas of a venue, meaning the couple could pretty much do whatever they wanted.
"The best thing about having a shell of a venue is that you can do what you want and there is no greater buzz than putting on a free bar for your friends at a party", the groom continued. "With a tight budget we managed to achieve a great deal due to my sisters wine buying expertise and Sainsbury's having some good offers. The evening guests were under strict orders, no presents – just bring a bottle. Unbelievably we ended up taking home around 60 bottles of wine and 4 cases of various beers and ciders. Our priority was that people came, enjoyed themselves, danced and went home without spending an arm and a leg."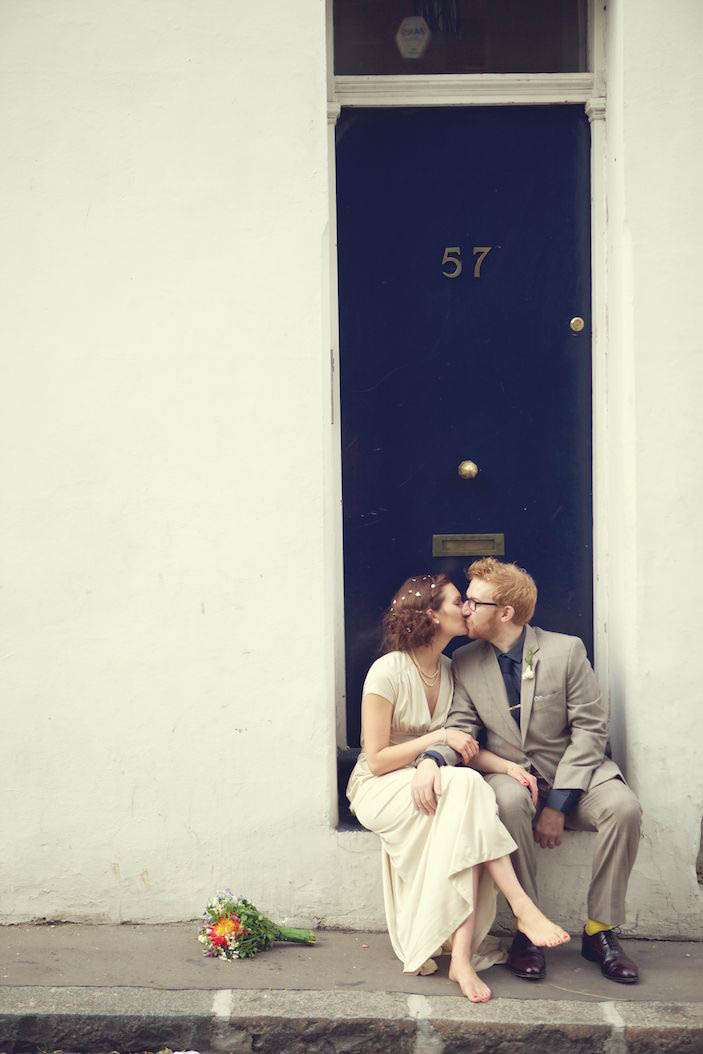 The bride wore a genuine 1930's gown which she found at The Vintage Wedding Dress Company. She had ballet pumps from Topshop, but she didn't end up wearing them, preferring to be barefoot all day!
The bridesmaids wore gorgeous dresses designed by Hannah and a friend and made by Lisa Boult. "These dresses looked incredible and so unique," Olly eulogized. "Ten bridesmaids is not an easy party to cater for and Lisa was incredible the whole time and we can't thank her enough."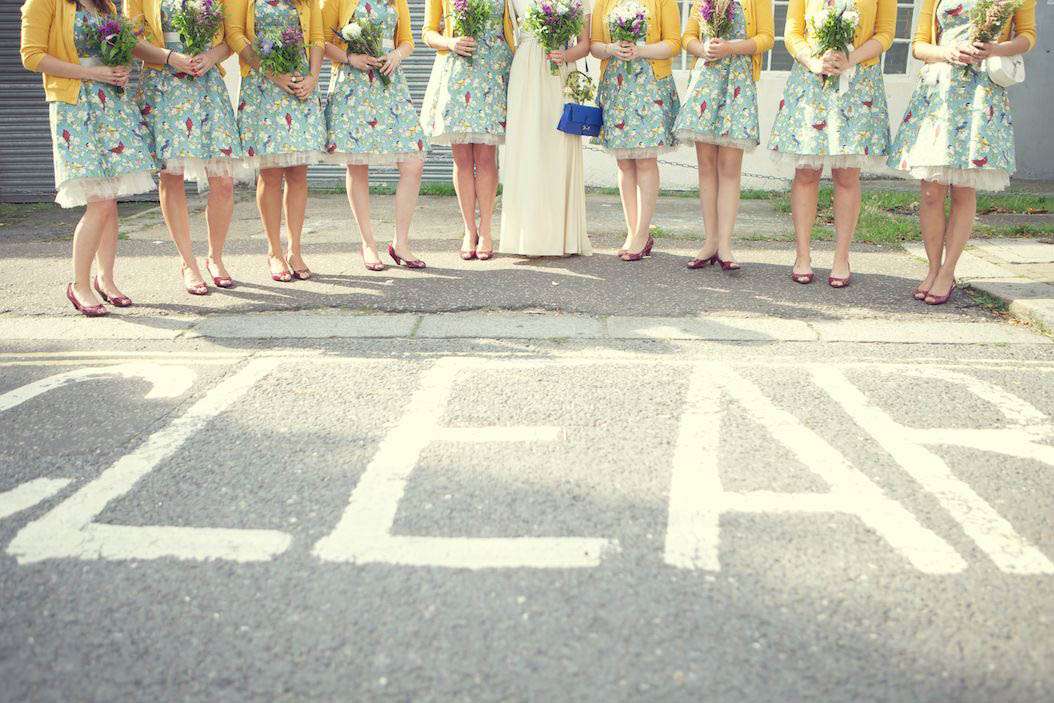 "Don't ever say the word 'wedding' to anyone," Olly concluded when I asked if they had any tips for couple's planning their weddings. "They double the price. We found a lot of bargains by going direct to the source, using craft shops, DIY shops, boot fairs, markets and charity shops. This also made the whole planning a lot more exciting and creative, meaning every detail on the day was our own work, rather than out of a box or from a generic website."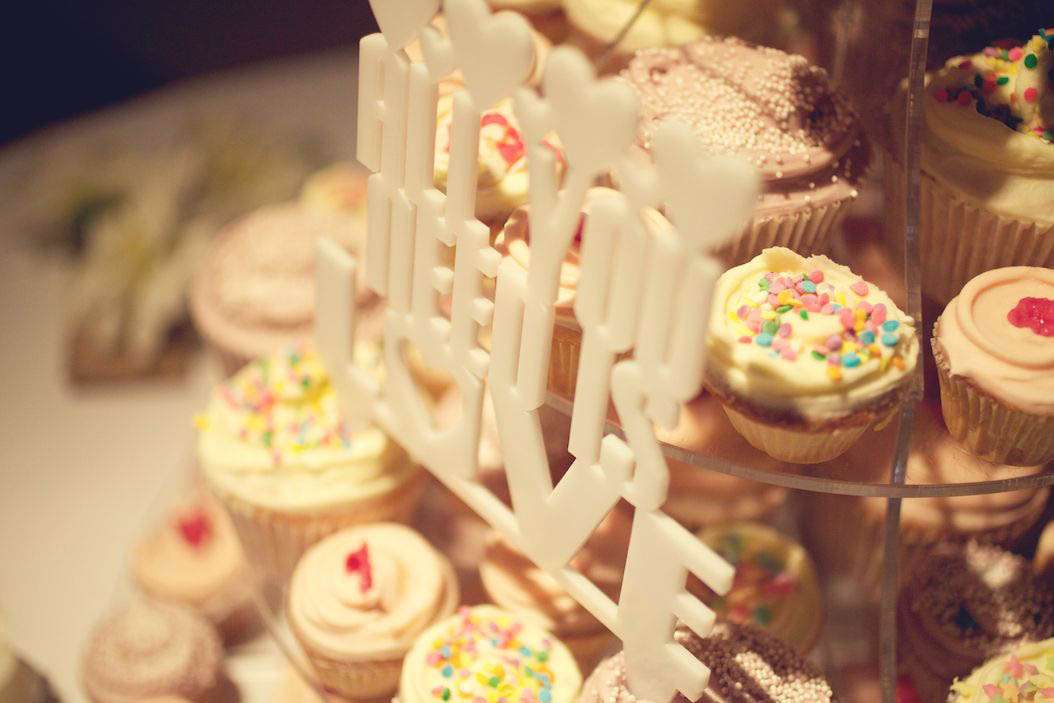 "Raid your own house for bits and pieces. We used a lot of decorations from our slightly 'steptoes yard' flat to make it our own. This also made the venue feel like we were having it in our own home. So many of our friends commented on this and the fact it was 'our' wedding due to the fact that every where you looked were things that we loved."
And finally, the groom even took his bride's last name as his own, how awesome is that?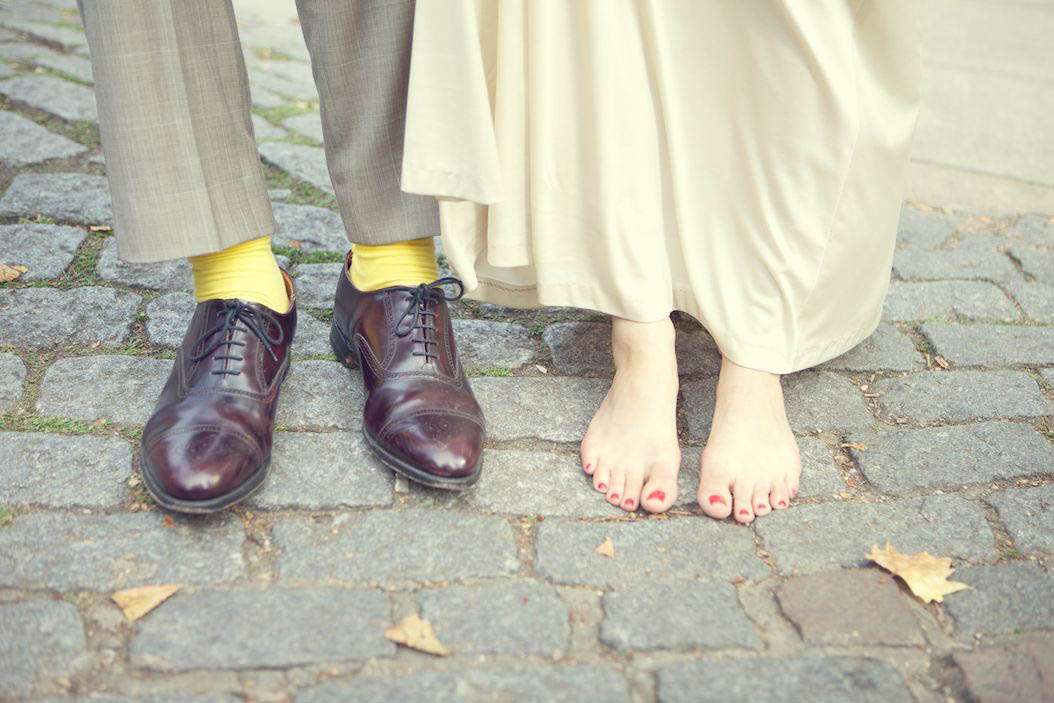 Don't forget about the awesome super 8 video by Mark W Brown…
Thanks to Hannah & Olly and their photographer Lisa for sharing….I am in LOVE with these guys.
Photography Credit: Devlin Photos
Video Credit: Mark W Brown
Ceremony Venue: Marylebone Town Hall, London
Reception Venue: Amadeus Centre, London
Bride's Dress: The Vintage Wedding Dress Company
Bride's Jewellery: Joy
Bride's Bag: Primark
Groom's Outfit: A Suit That Fits
Bridesmaid's Dresses: DIY – Fabric from Get Cutie
Cake: Primrose Hill Bakery
Flowers: Flowers By Eve
String Quartet: Palatine String Quartet
Caterers: Tasting Plates
Transport: Karma Kabs & Alpha Bus
Bunting: Rent My Bunting
Lighting: RedCat Lighting