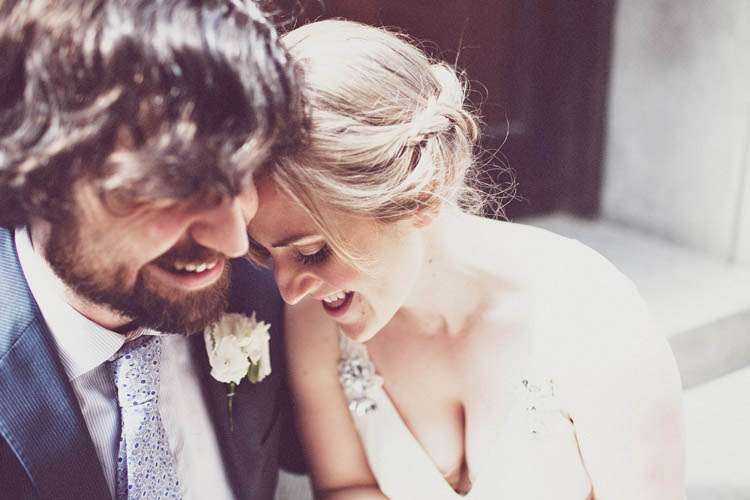 It was really important to Dawn & John to have a stress-free and personal wedding. John proposed on a bridge in Paris after the couple had been together for sixteen years (erm, excuse me guys but you don't look old enough!) John is in a band, and although he's used to being on stage, he was super nervous about having all eyes on him at his wedding, so his understanding bride-to-be promised a low key and intimate wedding.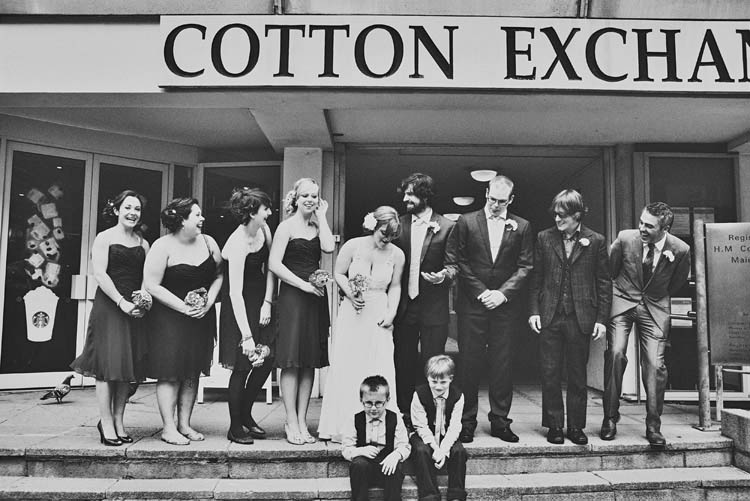 After a ceremony at The Cotton Exchange, Liverpool came the reception at The Racquet Club. "Both John and I live in Guernsey in the Channel Islands but John went to University in Liverpool and we both lived there for nearly 4 years after he finished" the bride explained. "Liverpool is really in our hearts – we love it and go back as often as we can.  There was no venue in Guernsey both within our budget and that was quirky enough.  The Racquet Club was perfect – its really quirky and is beautiful in itself without needing huge amounts of decoration."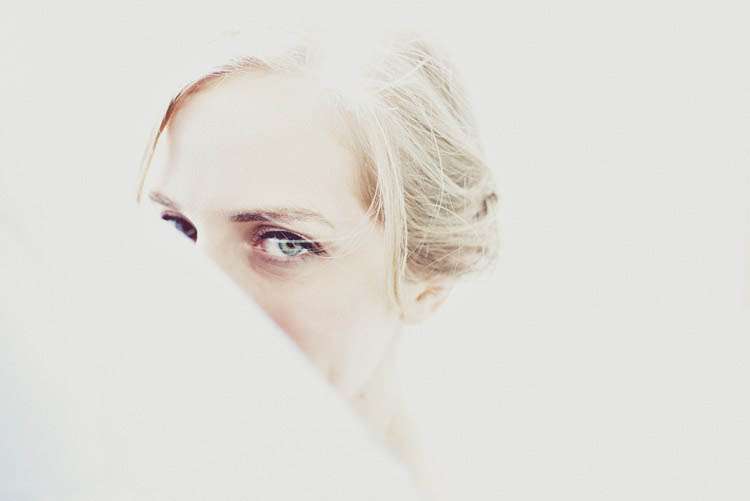 "My husband is a musician and a lot of our friends are in the music industry in one way or another so we knew we wanted something a little out of the ordinary but also something laid back, personal and fun.  Whilst I love going to those traditional weddings I knew that just wouldn't cut it for us.  After doing lots of research on the internet I knew I wanted to diy as much as I could.  It's amazing that there are so many wonderful people out there that are willing to share their talents and their ideas in tutorials and websites like Rock n Roll Bride  I honestly don't know how anyone ever got married without the internet!"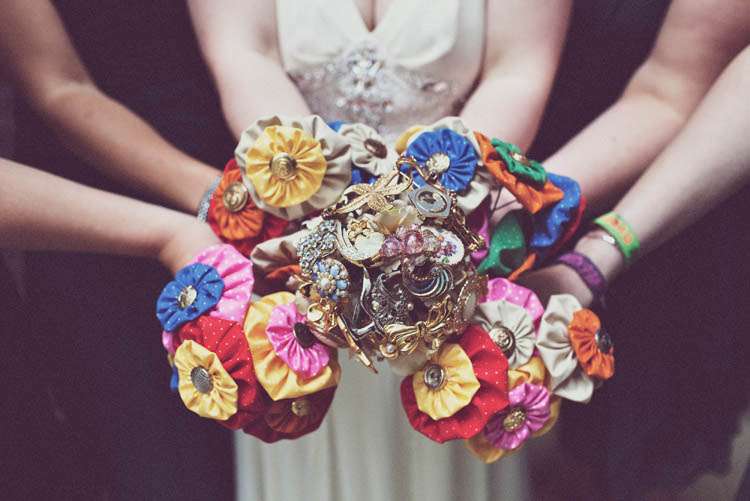 "I actually used a couple of tutorials on Rock n Roll Bride and elsewhere including this fabric flower tutorial for the bridesmaids bouquets, and this vintage brooch bouquet tutorial. I adapted it to make it my own though and my motto soon became – 'if in doubt glue gun!'. I ordered fabric hydrangeas from eBay and added these around the edge of the brooches to fill it out a little."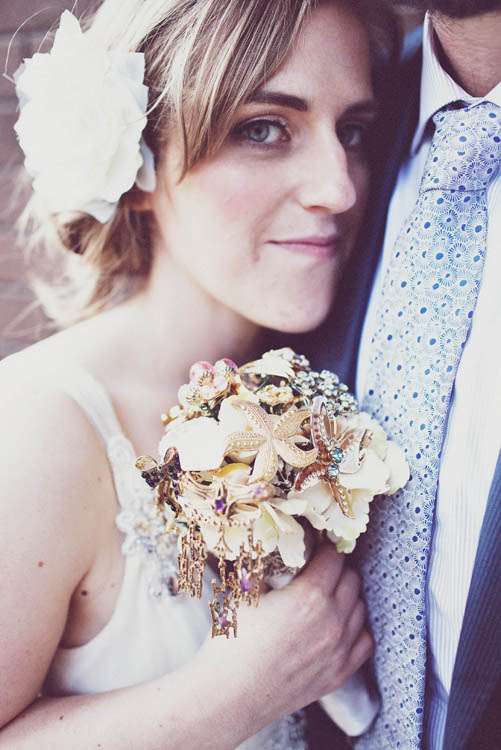 It was also really important to Dawn & John that they ignored a lot of the wedding fads that they'd seen on many blogs. "At first I was slightly overwhelmed by all the weddings I'd seen on the blogs," Dawn continued. "I couldn't get married on a cliff top at a Californian vinery or a beach in South Africa and I couldn't afford to give everyone personalised bags full of wonderful favours but I remember reading a quote on Rock n Roll Bride that simply said 'it's not all about the typewriters'."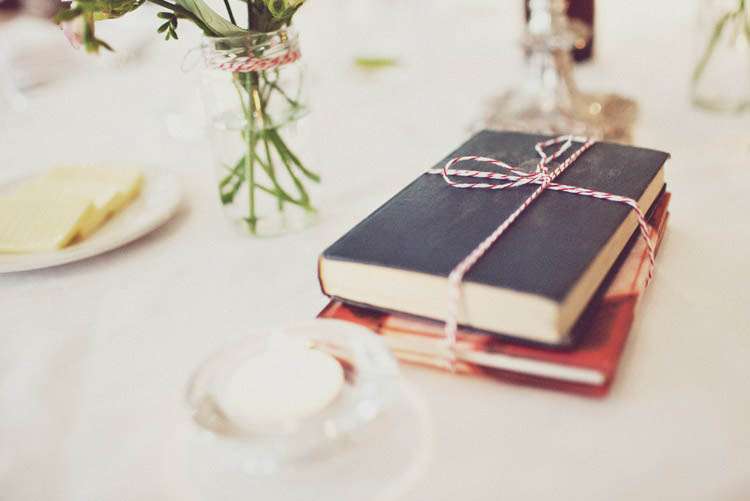 "Although I had actually already bought my own 1960's tiffany blue typewriter for the guestbook, I understood the sentiment and this was a turning point for me.  It taught me that it's important to make your wedding about what you as a couple want, whether that's a traditional church wedding with all the trimmings or an elopement to Vegas you should just go for it.  It doesn't matter what anyone else thinks and you most certainly should never organise a wedding with a view to what someone else will think of it."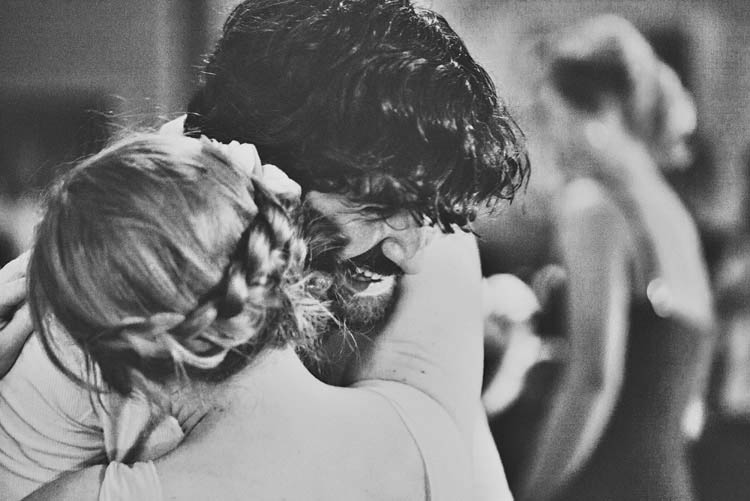 Here here lady! You guys are just aces.
Thank you so much to Dawn, John and their fabulous photographer Anna for sharing these with us today.
Photography Credit: Anna Hardy Photography
Ceremony Venue: The Cotton Exchange, Liverpool
Reception Venue: The Racquet Club
Bride's Dress: Jenny Packham
Bride's Shoes: Kurt Geiger (and flip flops!)
Bride's Headpiece: Silver Pencils on Etsy
Groom's Outfit: Alexandre Savile Row at House of Fraser
Bridesmaid's Dresses: Debut at Debenhams
Cake: Zoe Clarks Cakes
Hair & Make Up: Nicola at Peaches & Cream in Liverpool
Band: Afro-Cuban Jazz band organised by Hugo Harrison