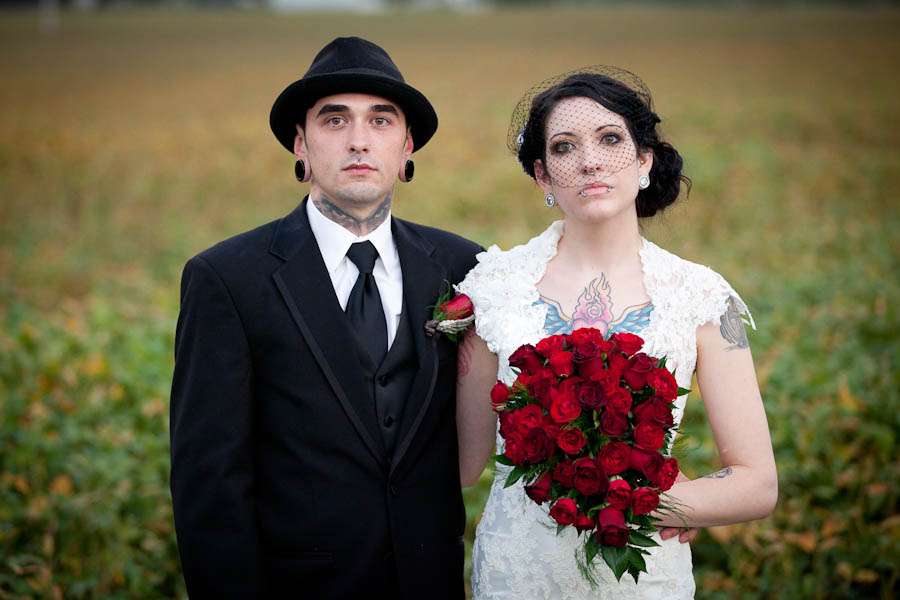 TJ & Elizabeth's wedding had a spooky Edgar Allen Poe or "Spooky romance" theme as the bride described it,"Think Edgar Allan Poe meets the Addams Family!" she explained.
"Our inspiration basically just came from our relationship. We took things we love in our every day lives and tried to figure out how to incorporate them into our wedding. We wanted a vintage feel but wanted it to be a little on the darker side."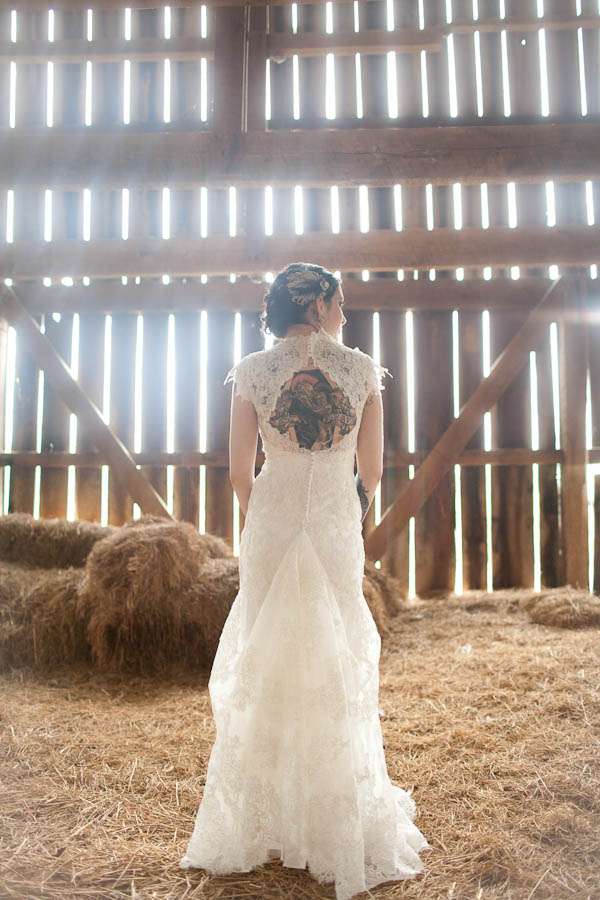 "We utilized Etsy for a lot of our items not only to find things that were a little more unique and not mass produced, but to also help support independent artists. Friends and family all pitched in (we had the invites, flowers, my shoes, the cake and most decorations as gifts.)"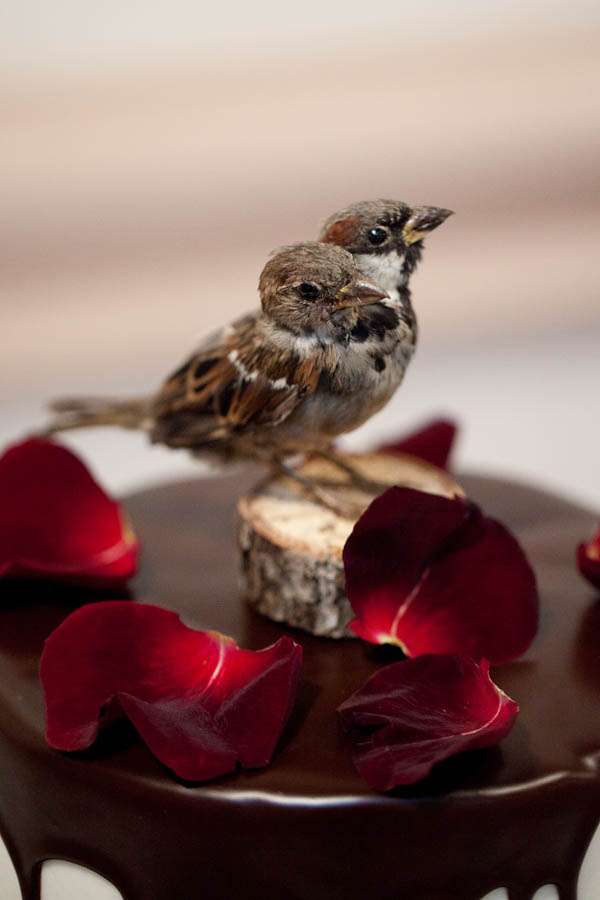 "We have a lot of artwork hanging in our home and one wall is skateboard decks by many different artists. Instead of the usual photograph that people sign my husband took one of the many blank skateboard decks he has and put a heart shaped photo of us on it."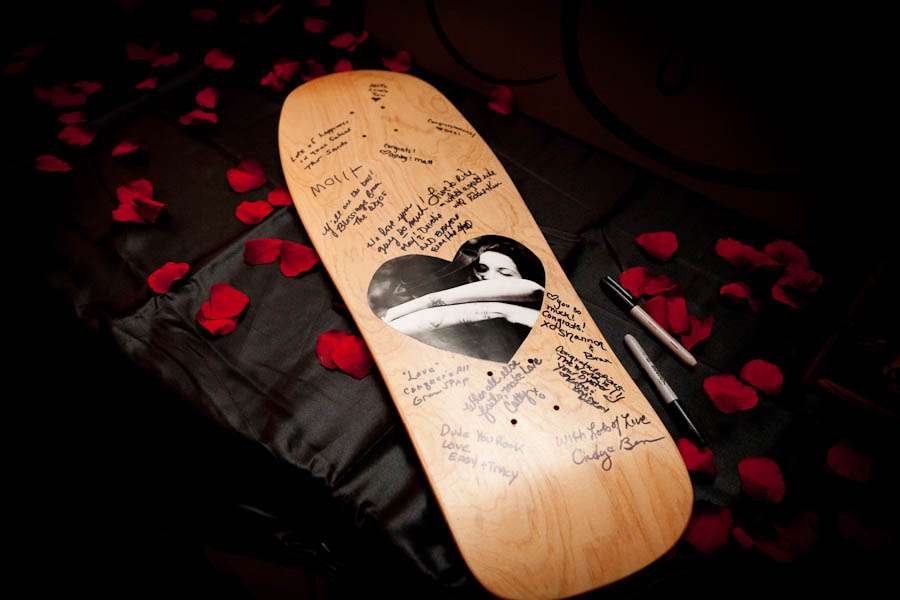 "All of the decorations and paintings were designed and made by my Man of Honor Jason Wheeler (with lots of help from my Bridesman Bill Snyder and a bit from myself, not to mention Jason's family they were such a great help!)" continued the bride.
"We talked with decorators and looked elsewhere but nothing we saw really fit our style, plus the prices were outrageous. Instead Jason took matters in to his own hands. He definitely is the Martha Stewart of our group. I couldn't have asked for anything better. Our favors started out as cheap looking little plastic skull pails and I revamped them with a bit of paint."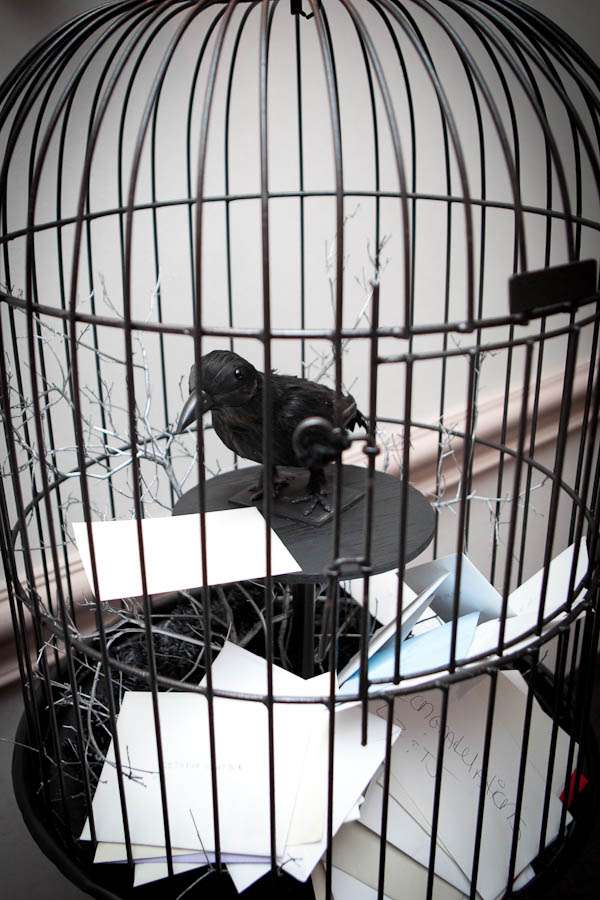 Thanks to TJ & Elizabeth and their photographer Kristi for sharing today.
Photography Credit: Kristi Odom Photography
Venue: Middleton Hall, Maryland
Bride's Dress: Allure Bridals
Bride's Shoes: AlaFemme on Etsy
Bride's Headpiece: Baroque and Roll on Etsy
Groom's Outfit: Men's Wearhouse
Groom's Boutonniere: DIY
Bridesmaid's Dresses: Pin Up Girl Clothing
Cake: Charles Street Bakery
Cake Topper: Paxon Gate
Flowers: Tina at Gateway Florist
Hair & Make Up: Cassandra Rada
Stationery: Kindly Spoken on Etsy