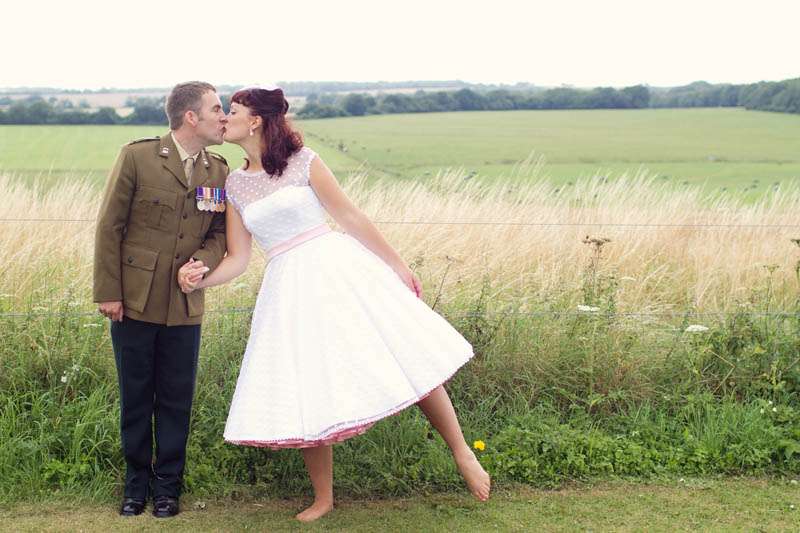 After a church ceremony at St Peter's & St Paul's Church in Hampshire, Lisa & Ric had a very British wartime themed wedding at Broad Half Penny Down Cricket Club, Hampshire  – the world's oldest cricket club.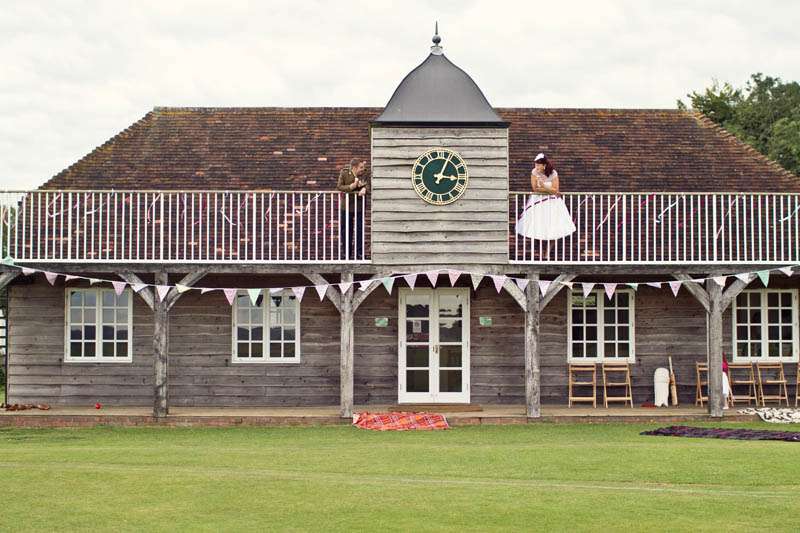 "Life never goes the way you plan it," the bride wrote. "I always dreamt of finishing uni, finding love, getting married and starting a family. The conventional family – we are not! I am 12 years younger than Ric, and also about 12 inches taller! Ric is frequently away with work and moved me to the south of the country, away from all my friends and family. Oh and how could I forget our 2 year old son – Bear. This was definitely not what I had planned."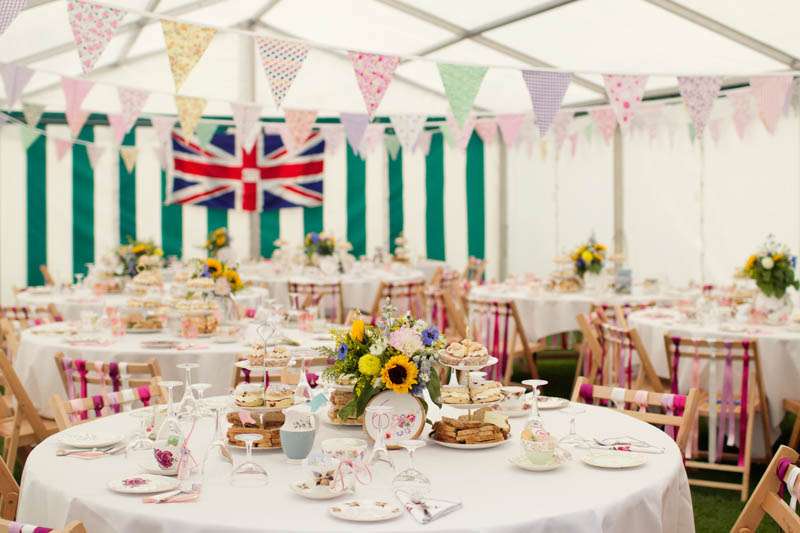 "When Ric finally proposed, I was on cloud 9 and I knew that our wedding day wasn't going to be a 'normal' one. For example – I couldn't decide what engagement ring I liked, so I have three! We also had a best woman instead of a best man, we 'high fived' at the altar instead of the kiss, and our son screamed through most of the ceremony then was racing his toy cars down the aisle with chocolate down his nice white shirt."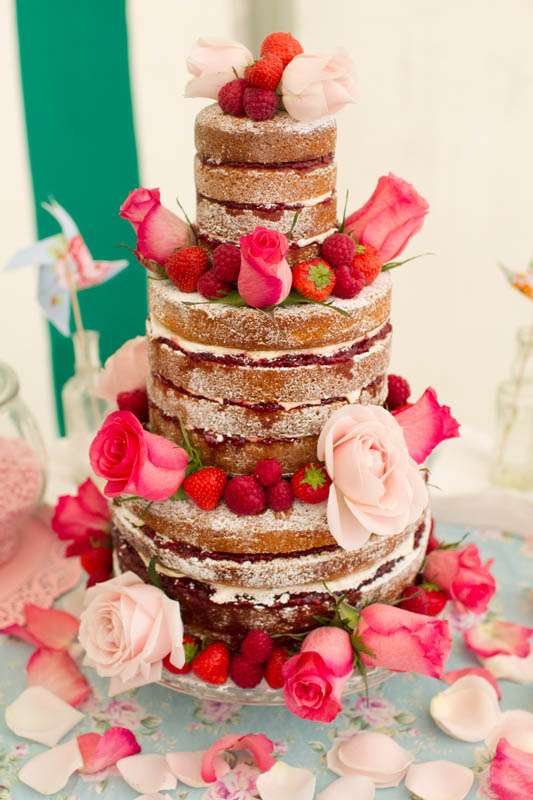 The couple wanted a home made/DIY feel to their wedding. "Ric always jokes about me being a 'stay at home' wifey or being a 'Yummy Mummy'," the bride continued. "With Ric being in the military, it sometimes feels like we should have belonged to the 1940's era…and I wanted to become a 'pin-up' for the day!"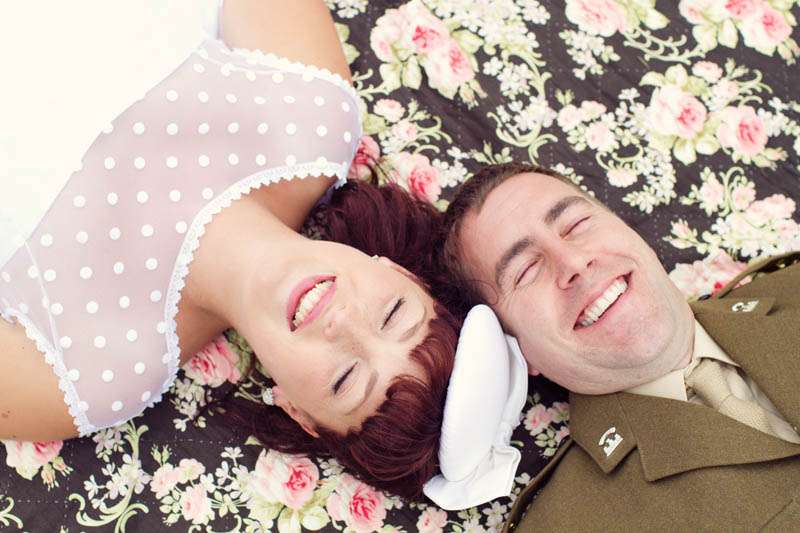 Lisa wore a Candy Anthony dress, a hat from Jane Taylor Millinery and shoes from Aruna Seth. "I absolutley loved sourcing every part of my outfit and Rock n Roll Bride played a huge part in this. My 1950's dress was so flattering and gave me loads of confidence with my post baby body! Walking into Candy Anthony was felt like being a kid in a sweet shop. Vicky Trainor's Vintage drawer stationery was also a huge inspiration, it's so so so pretty! Our inspiration for the catering came from our son, his favourite foods include cakes, ice cream and fish n chips. Being from Yorkshire, we of course had to have a grand cup of Yorkshire Tea and I insisted on having Pimm's on arrival. We made it a bit more glamorous by using The Tea Party's gorgeous vintage crockery and cut glass bowls."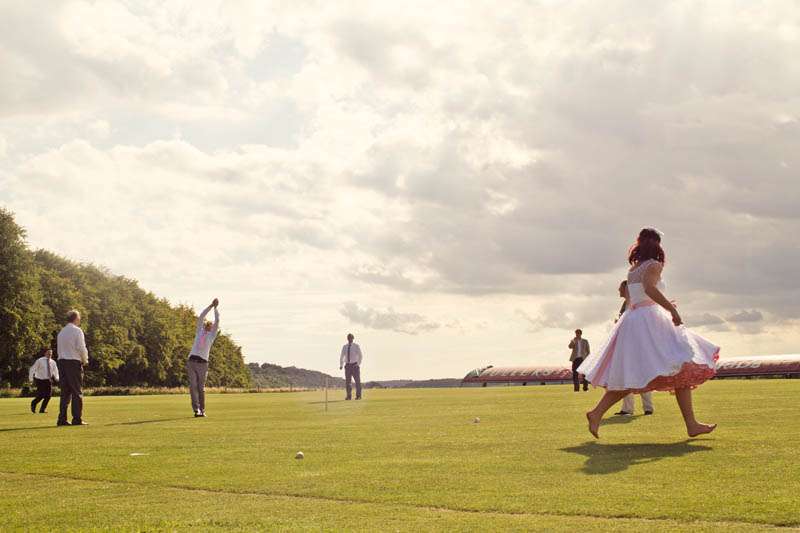 Thank you so much to Lisa & Ric and their photographer Hannah for sharing these today.
Photography Credit: Hannah Millard Photography
Ceremony Venue: St Peter's and St Paul's Church, Hambledon, Hampshire
Reception Venue: Broad Half Penny Down Cricket Club, Clanfield, Hampshire
Bride's Dress: Candy Anthony
Bride's Shoes: Aruna Seth
Bride's Headpiece: Jane Taylor Millinery
Brides Jewellery: Alex Monroe
Bride's Corset: What Katie Did
Groom's Outfit: Military service dress of the Royal Irish Regiment
Bridesmaids Dresses: Dolly Dagger
Cake: DIY
Catering: The Tea Party
Flowers: Eden Florists, Old Portsmouth
DJ: A Vintage Affair
Hair/Make Up: Vintage Hair Lounge Southampton/Besame Cosmetics
Transport: The Wickham branch of the Military Vehicle Trust
Stationery: Vicky Trainor
Ice Cream: Matt Benneci Ice Cream Co.
Game Hire: Uber Games
Fish n Chips: Fish n Chip Catering
Fizzy pop: Fettermans