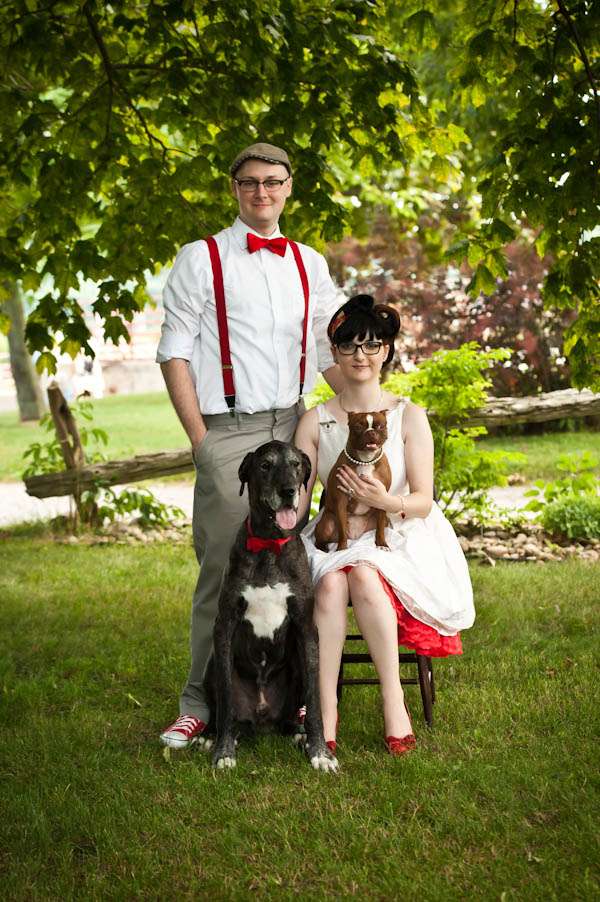 Josh & Jaclyn were legally married on July 13th but had their reception on the 16th at Smith & Wilson Winery in Cedar Springs, Ontario. "We decided to have the reception and the ceremony were on separate dates," Jaclyn told me. "On the Wednesday before the Saturday reception Josh, I, our parents and two close friends went to city hall for a justice of the peace ceremony. It was really relaxed – we didn't even dress up in our fancy wedding attire."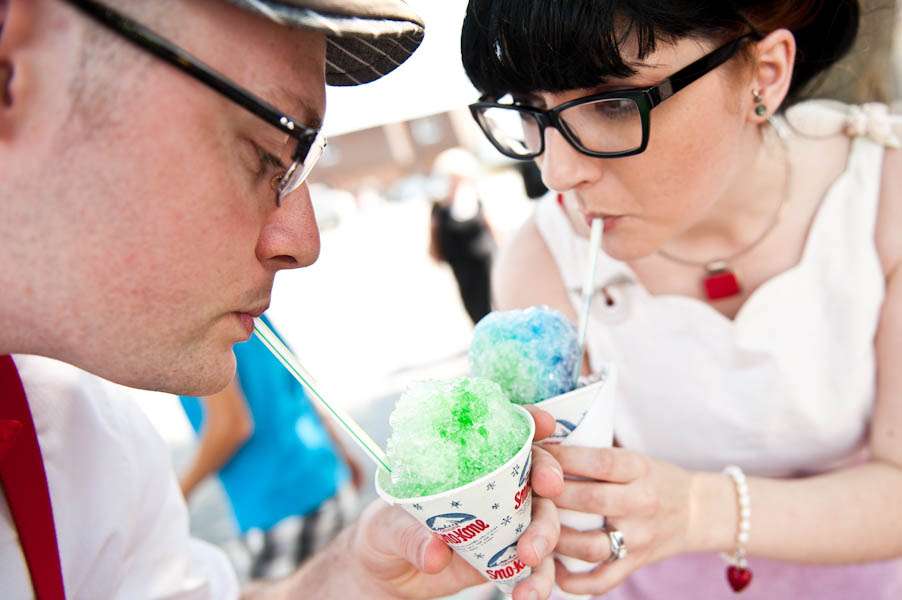 "I wanted this because wedding ceremonies always bore me to tears and didn't want to put our guests through that. It is also a good thing because I got a case of the giggles so bad that tears streamed down my face and we had to pause so I could catch my breath. That would have been so horrible in front of 100+ people!"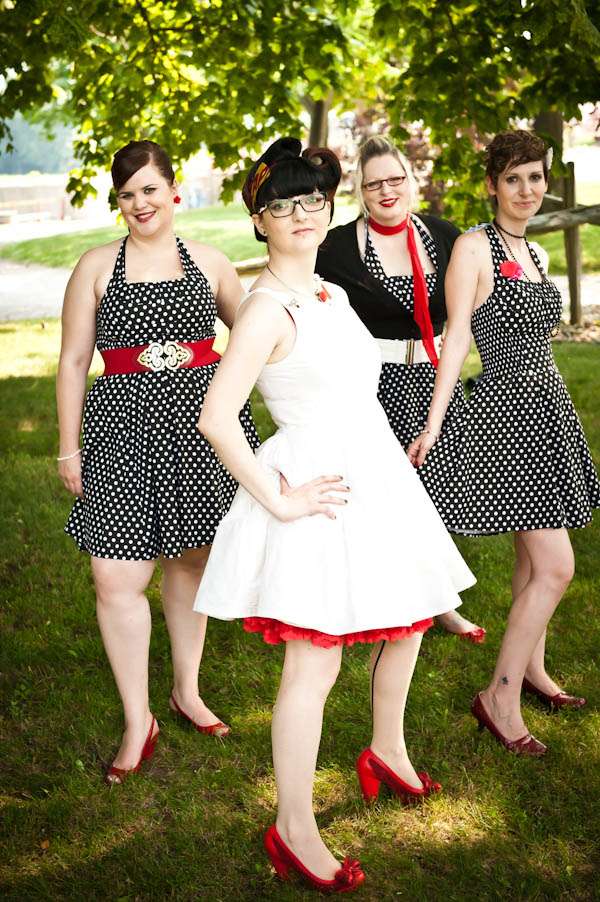 "The inspirations for our wedding were simple, keep it fun, keep it green, keep it us," the bride continued. They also DIYed a lot of the wedding including the bunting which was made of fabric all donated by the guests. "At the shower guests were informed to wrap all gifts in fabric. I then surprised the guests when they saw all their swatches used in the creation ofover 150 feet of bunting banner. (I went a bit overboard creating triangles.) I am now in the process of using the triangles to quilt a wedding blanket of our bed."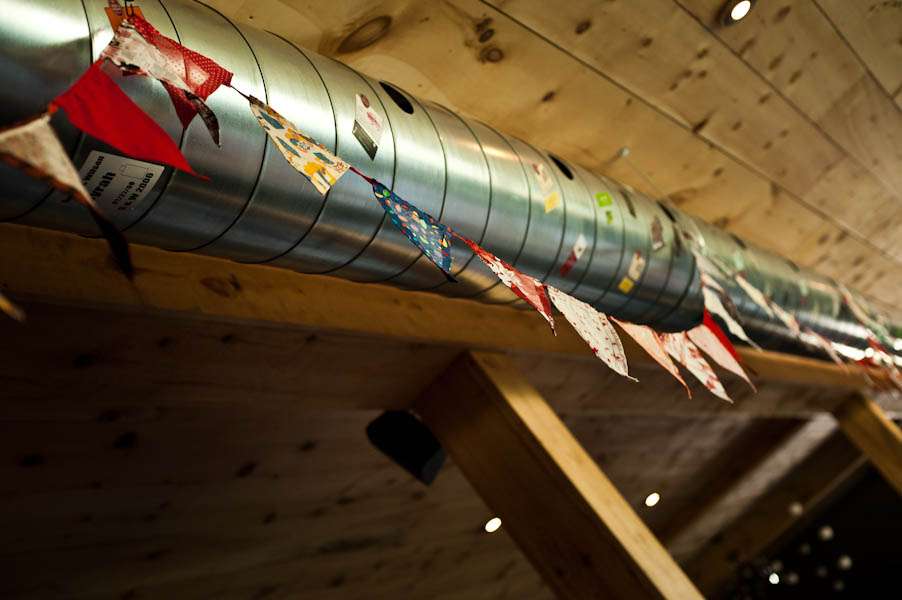 The couple also made the red & white gingham table cloths, the custom Munny cake toppers, the Lego envelope box, the flower bomb favours, cake stands and the guest book.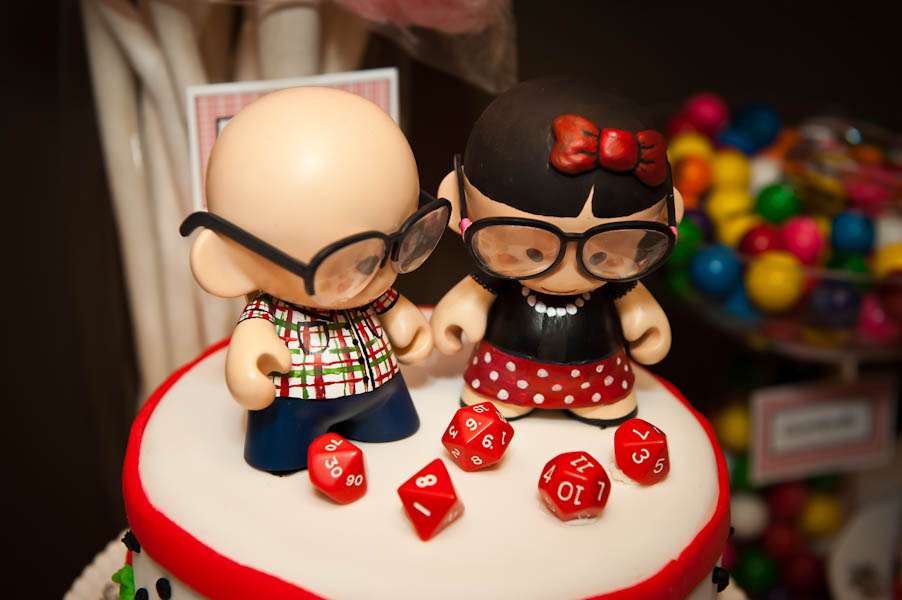 Jaclyn wore a Catherine Langolis dress which she bought from The Brides' Project in Toronto. The Brides' Project sell second hand wedding dresses and donate all the proceeds to the Canadian Cancer Society. "If you can help others with a purchase you were already going to make anyways why wouldn't you?" Jaclyn asks. "My dress ended up being a donation from a previous bride who had is custom made by a local Toronto Designer. It is also going to see it's second time at The Brides' Project. I will be donating it back to help another unique bride to be and people affected by cancer…and the environment. Wins all around."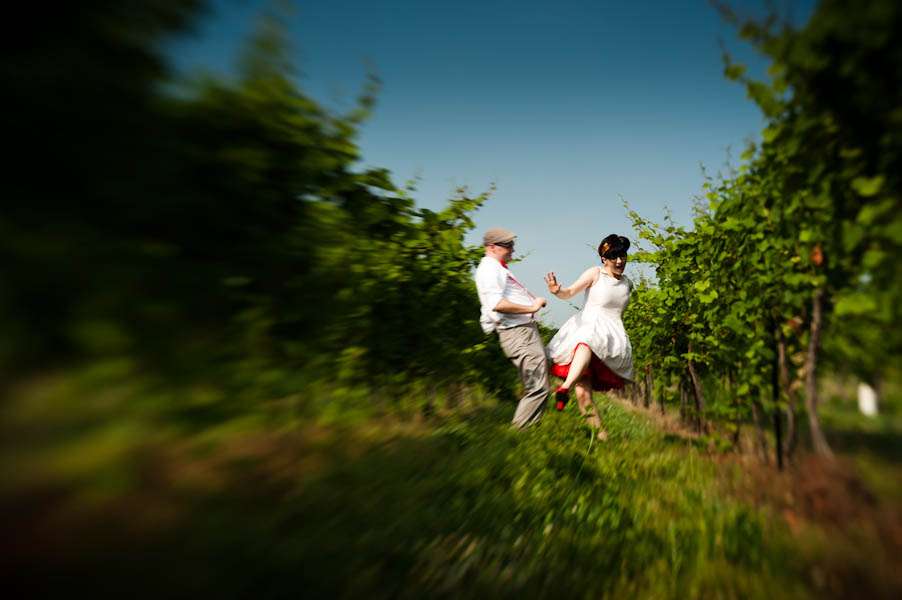 Jacyln also had some great tips to pass onto future brides.
"If you are having an untraditional wedding don't call it a wedding. Call it a party, a get together, an event, a celebration, anything but wedding. I found that people were less creative/inspired with ideas if you called it a wedding. I feel it is because they would think of all the weddings they had been to in the past and just get stuck on those ideas."
"Pictures can help convey your ideas. My Mum had a hard time envisioning my unconventional concepts because she had never seen anything like that. When I could see that verbal descriptions we not working I emailed her picture of what it could look like. That helped tremendously and the more visual inspiration she had the more she got into the ideas."
"Prioritize. It will save yourself a lot of stress, time and money when planning your event. Example – we were going to have a photo booth and candy table but we could only afford one. We chose candy table as a cotton candy tree had a lot more impact in the room then a draped off photo area."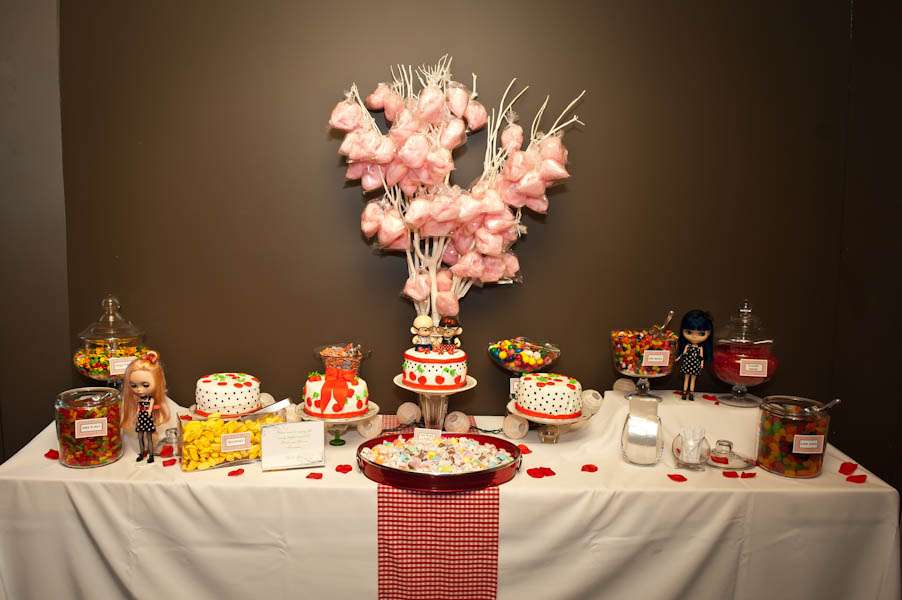 Thank you so much to Josh & Jaclyn for sharing their fabulous wedding and to Jaclyn for all her brilliant tips!
Photography Credit: Casting Memories
Ceremony Venue: City Hall London, Ontario, Canada
Reception Venue: Smith & Wilson Winery, Cedar Springs
Bride's Dress: Catherine Langolis from The Brides' Project
Bride's Shoes: Miss L Fire
Bride's Headpiece: Janine Basil
Groom's Outfit: Gap (Trousers) Lionel's Menswear (Shirt) La Cravaterie (bow tie & braces) Mexx (Hat)
Bridesmaid's Dresses: Unique Vintage
Cake: DIY