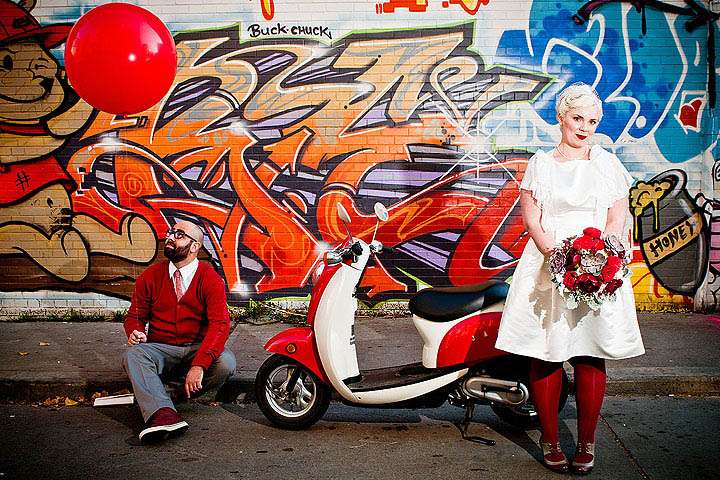 Rebecca & Gabriel's Canadian wedding took place in November. Toronto City Hall hosted their ceremony, and they selected Caju Restaurant for a low key and casual reception. Gabriel is from Brazil so the cuisine of the restaurant provided a nod to his family and heritage.
"Gabriel and I met online, and deleted our dating profiles after our first date," Rebecca told me. "We moved in together after a month of dating and knew we were going to get married. We both just knew we had finally met the right one, and something about the way we worked together just made complete sense! He is from Brazil, living in Canada and I moved to Toronto to meet people. None of Gabriel's family was able to come to Canada for our wedding, so we had our small 30 guest reception at an authentic Brazilian Restaurant so we would at least incorporate Brazil through the amazing food."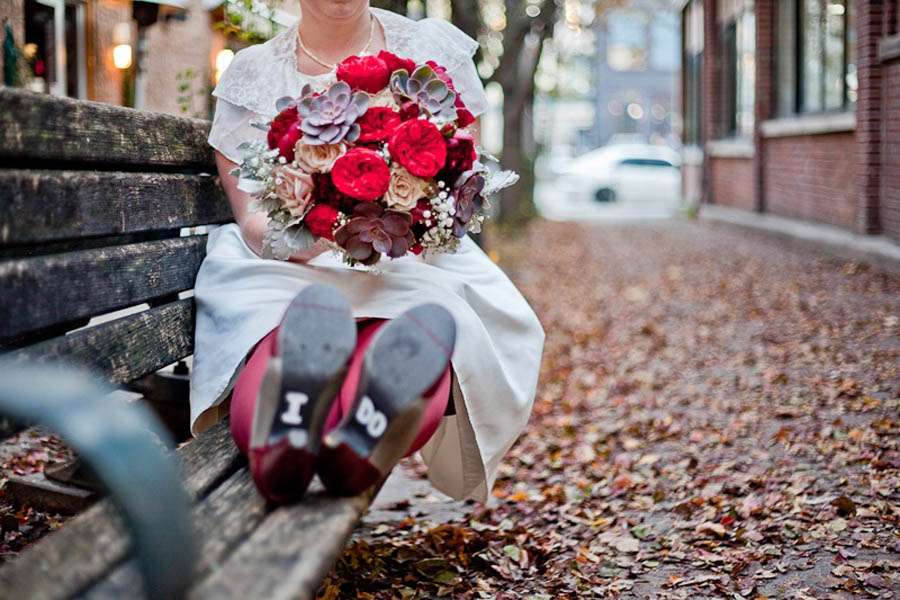 "On the day of the wedding Gabriel drove his scooter for 45 minutes to get our big red balloon. It was the only 'task' I had given him to take care of, and to get it home from where he found it he tied it to the back of his scooter and drove it back home! It is currently still with air in it (barely!) in our house. We loved that red balloon! He also forgot his wedding ring on the day of the wedding, and had to zip home on his scooter, and battle rush hour gridlocked traffic to get to City Hall on time!"
The bride opted for a short white dress from Fashion Crimes instead of a traditional wedding dress, and with it she teamed a vintage fur wrap and a homemade headpiece. "I made my own birdcage veil, very simply from a website I found online", the bride continued. "I decorated all of our floral mason jars with mismatched lace and fabric (from my own personal stash!) I made drink straw banners and cupcake bunting and hand stamped our envelopes, made our invitations, and of course made all of my own flowers! I've been a florist for over 10 years, so it was very important to me to do that."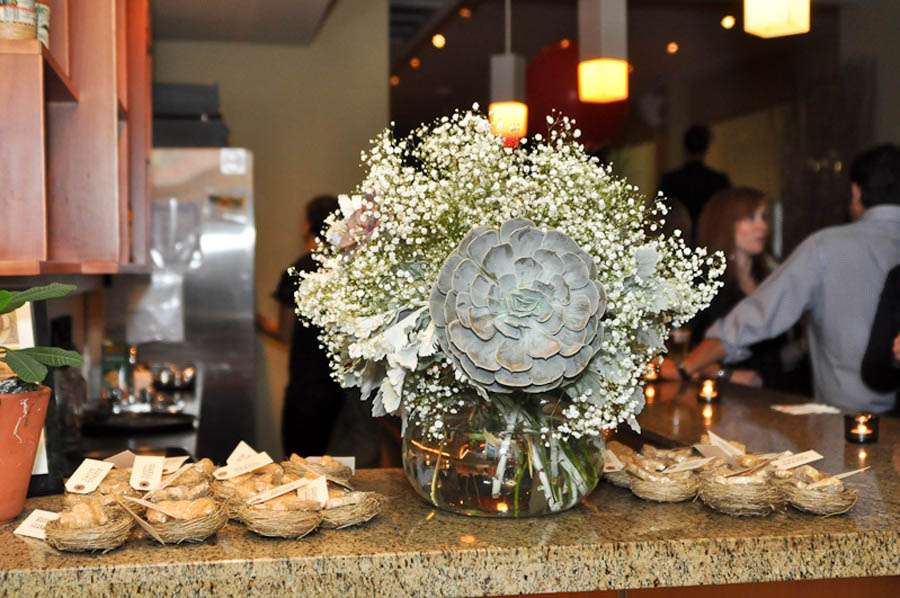 Gorgeous! Thank you to Rebecca & Gabriel for sharing their wedding with us.
Supporting Cast:
Photography Credit: Charlie Mann
Ceremony Venue: Toronto City Hall, Toronto, ON Canada
Reception Venue: Caju Restaurant
Bride's Dress: Fashion Crimes
Bride's Shoes: Miz Mooz
Brides Shawl: vintage
Bride's Jewellery: vintage
Cupcakes: The Wedding Cake Shoppe
Flowers: DIY & Pink Twig Floral Boutique
Hair & Make Up: Lush and Lavish Salon