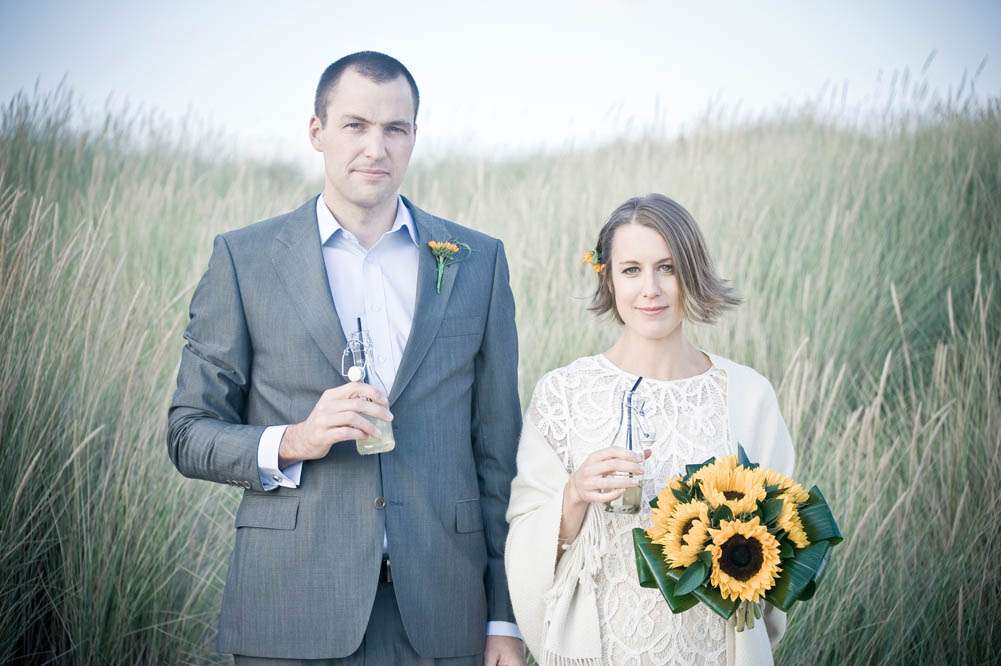 Fiona & Rob were hitched right by the beach at The Gallivant in Camber Sands (formally called The Place). The style of the beautiful hotel suited their beach theme perfectly. "I was quite keen for it not to look too wedding'y – or formal or too orchestrated" newlywed Fiona told me.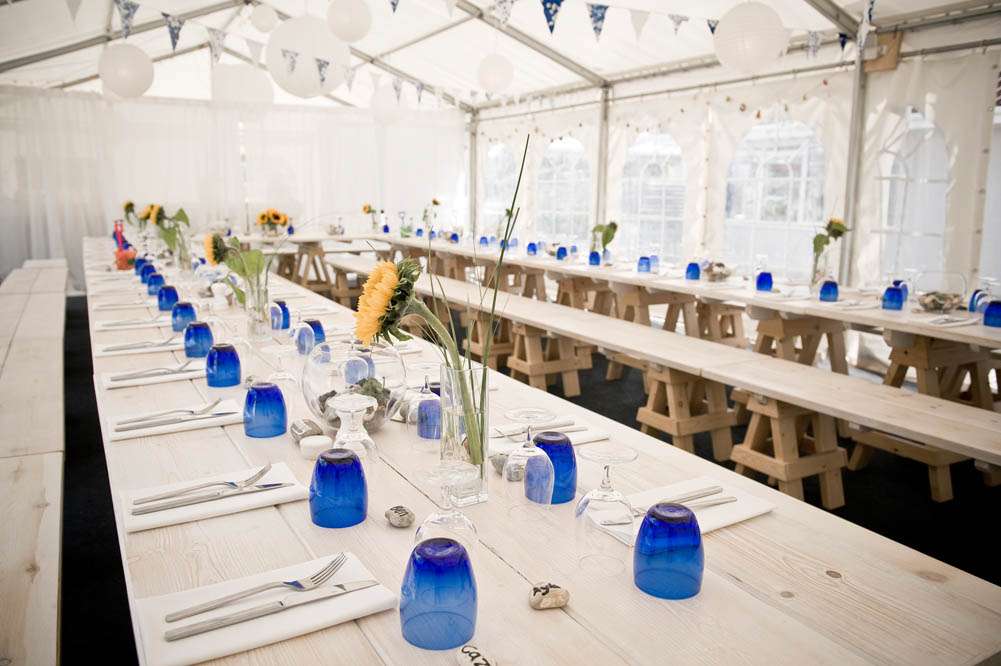 "We didn't consciously go with a theme but it kind of happened!  We live on a beach and both my husband and I are kitesurfers so it had to feature strongly and in the end it made it easier to have a focus shaping our creative decisions!  I think always try and make stuff, not only to save money but to make it more personal and make your loved ones feel involved."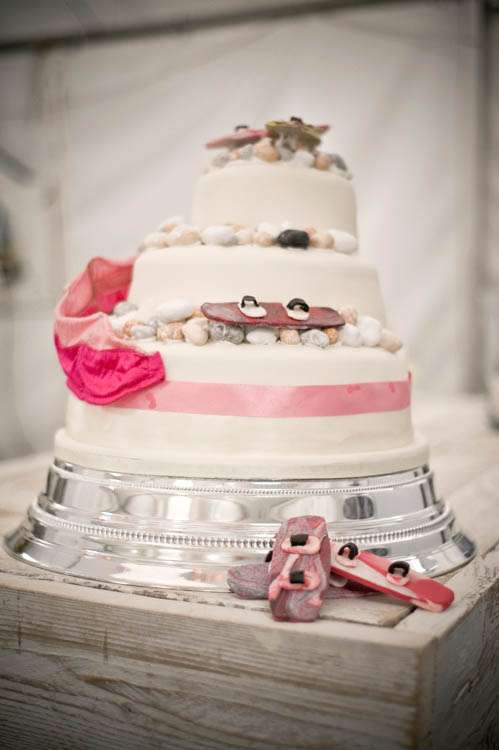 "Many of the homemade elements were made with thanks to my Mum who worked hard on all this stuff. We made our own table displays.  We bought glass bowls from Argos and filled them with stones, seaweed and shells form our local beach. We all now have one in our houses as nice ornaments!  We made shell garlands, buying large shells from a seaside tourist shop and drilling holes in them to then thread onto thick string. These were hung up around the venue – adding to the beach theme!"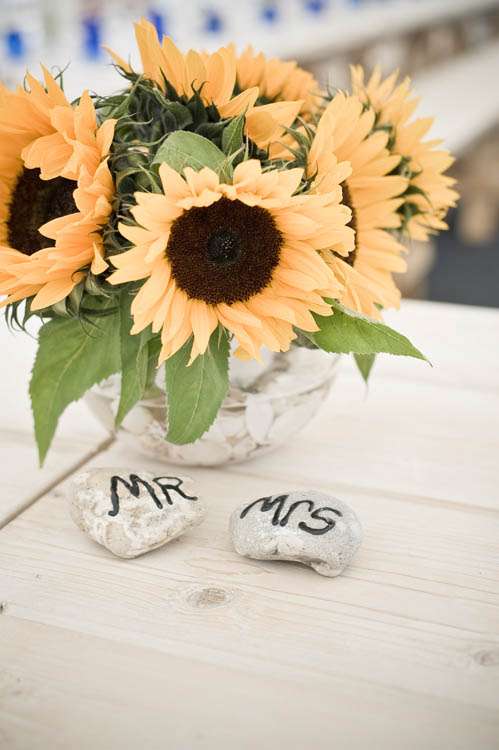 "Finally, we collected large pebbles from our local beach, wrote names on them using liquid craft pens and used them as place names.  We also put together kids packs including a colouring book, plastic bangles & bucket and spade.  Rather than having 'favours' we had big bowls of hairdo and love heart sweets dotted around."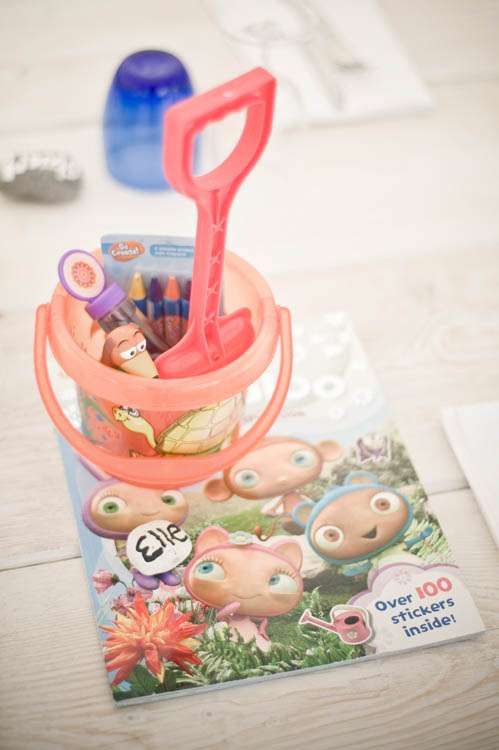 The bright sunflowers were also really important to the couple as they added some sunshine to their day, "It was all about sunflowers being my favourite flower and perfect for a sunny beach wedding," Fiona said. "My parents and in-laws all grew some in their gardens over the summer which we used as extras in a few ceramic jugs and vases around the venue (which were all bought from Ikea.)  We then ordered a few tall glass displays from brilliant flower shop in Rye near to the venue called Cafe Des Fleurs. They also provided smaller sunflowers to put in small glass vases on the tables (bought from Ikea again), the little flowers for my hair & the button holes and finally my absolutely beautiful bouquet. We all had sunflowers in our houses for weeks afterwards!  The little flower girls also had baskets of yellow petals which they spread down the aisle as I walked in – very cute!"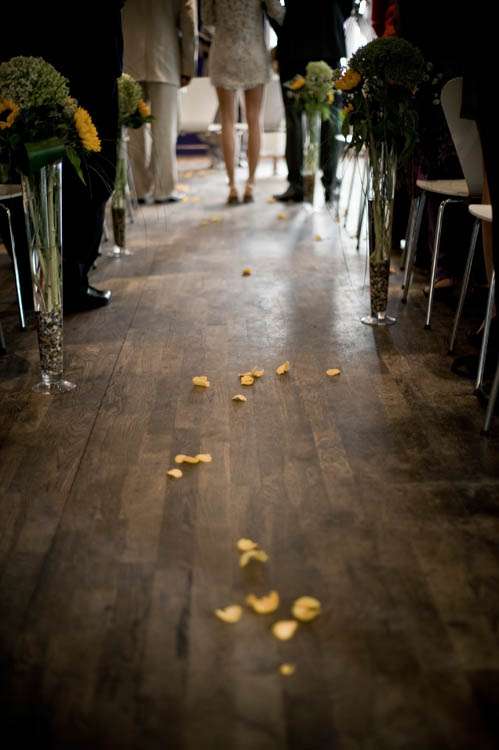 The bride wore an informal tunic style dress from Phillip Lim. "I always imagined my wedding style to be a bit 60's hippy love child – no idea why…I literally searched online for 'short cream tunic dress' and found it! The lace just made it look more delicate and special although I had to have a new under layer made as the previous one was a bit see through! I was nervous about the length but it wasn't a church wedding and I am so happy I went with it as it looks awesome with our venue and theme."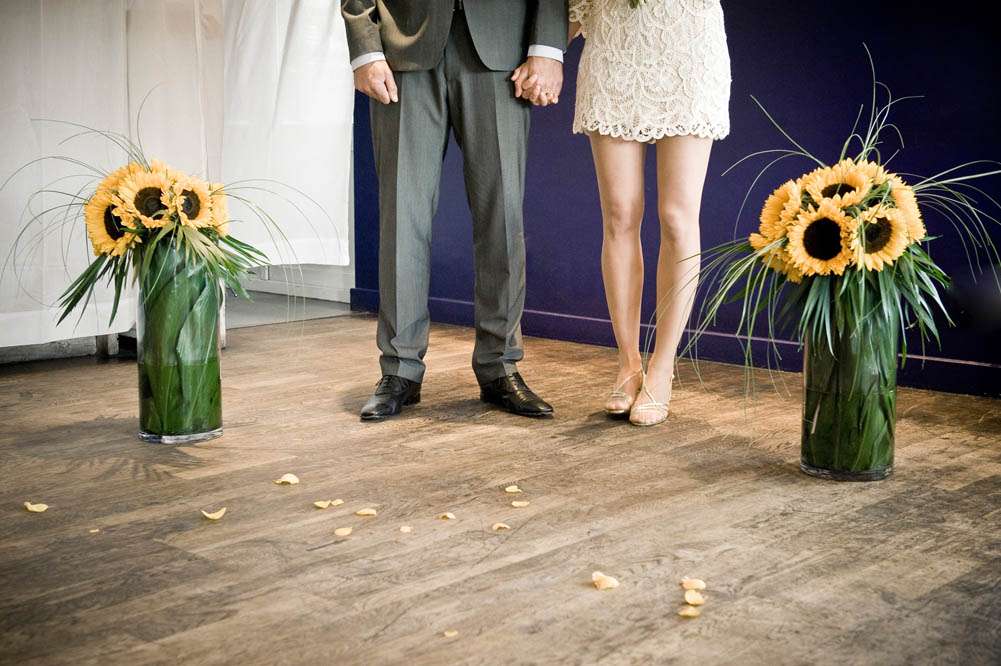 The couple certainly didn't take themselves or their wedding too seriously which was reflected in the fact that after dinner they had organised a salsa class as entertainment for their guests! "It was very funny, not everyone loved it but we did which is the main thing!" continued Fiona. "We also asked my husband's brother and wife to sing 'All I Want is You' by Barry Louis Polisar during our ceremony to a backing track, placing a song sheet on everyone seats to join in.  It was funny as they're not professional singers (!) but its small things like this that make it way more personal and much less formal than a reading."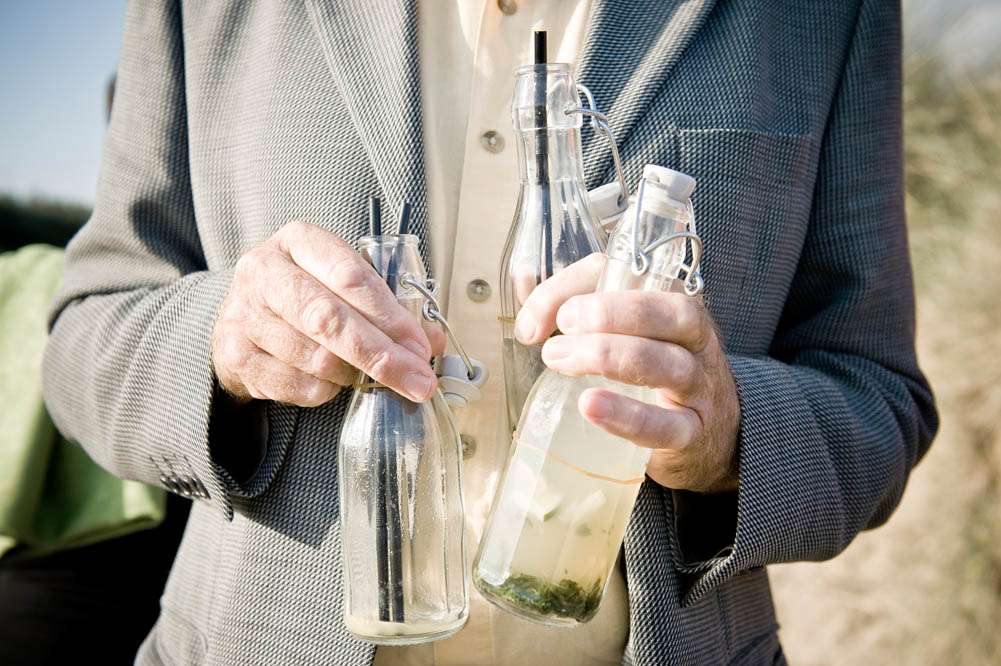 The next day all the guests were invited back for a celebration BBQ on the beach.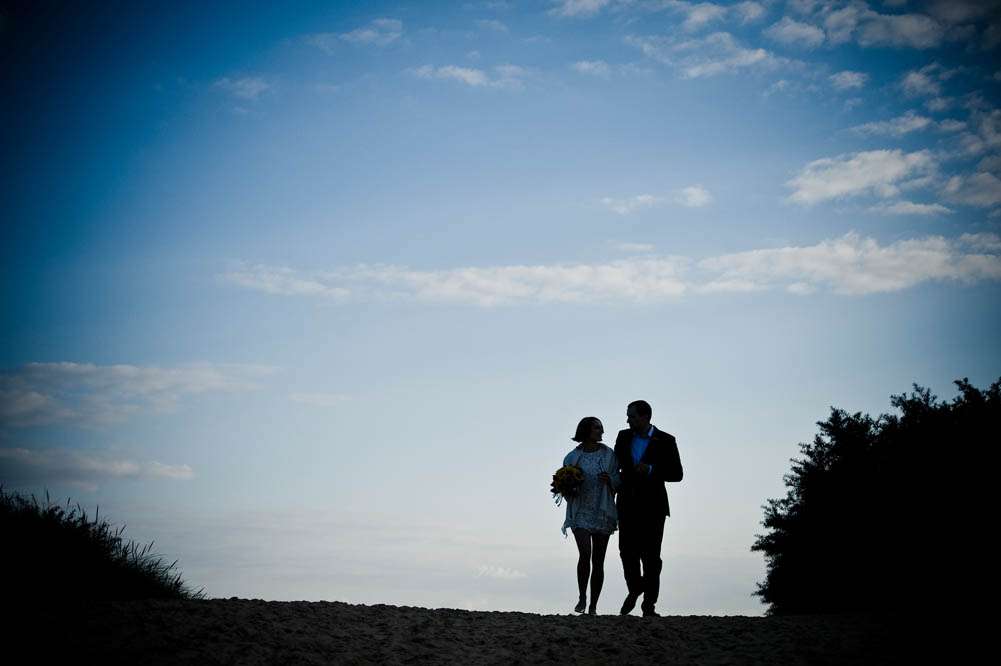 Love and thanks to Fiona & Rob and their photographer Adam for sharing this beautiful summer wedding with us today.
Photography Credit: Viva Wedding Photography
Venue: The Gallivant, Camber Sands, Rye
Bride's Dress: Phillip Lim
Bride's Shoes: New Look (gold pumps) & Barratts (gold sandals)
Bride's Jewellery: Pa-Pa Jewellery
Groom's Outfit: Bespoke Suit, Van-Niklas Shoes, Hugo Boss Cufflinks
Flowergirl's Dresses: Just Dresses
Cake: DIY
Flowers: DIY & Cafe Des Fleurs
Hair: The Rye Retreat