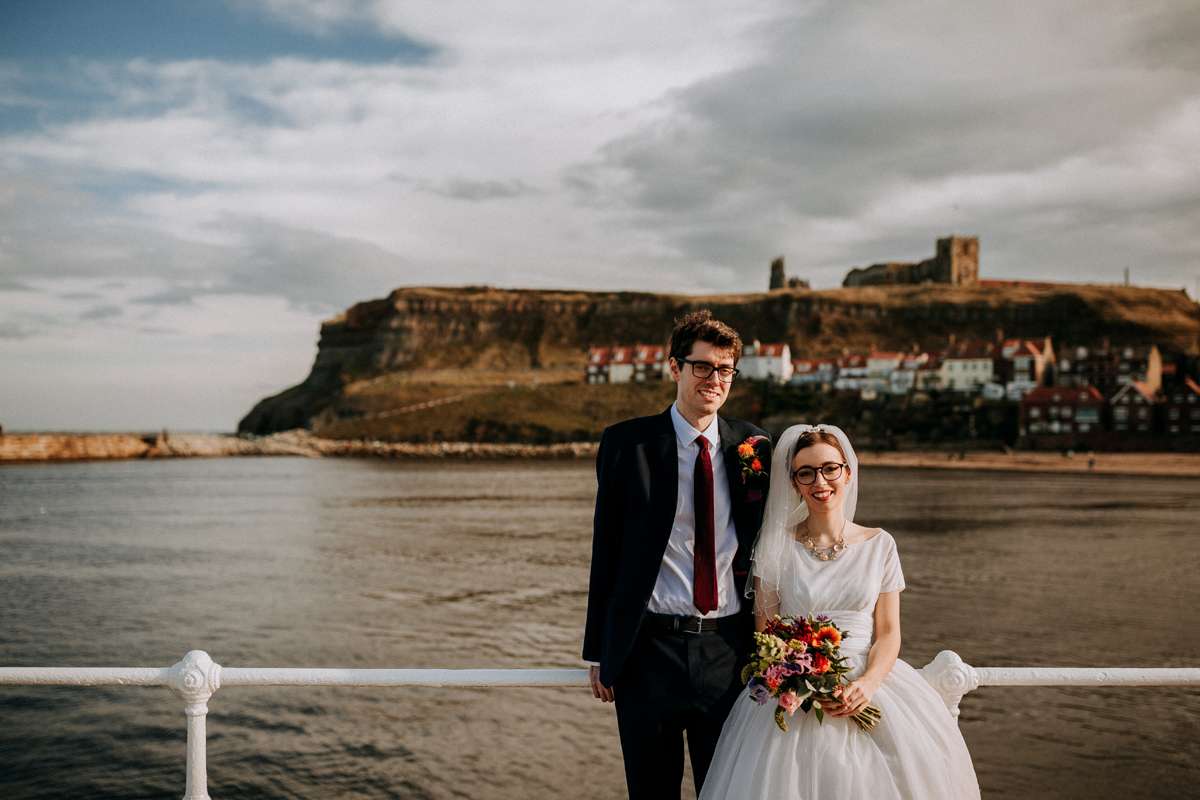 Living and working in London but both originally from up north, Fiona and Jack, who met when they both auditioned for the same band at uni (the band is still going and they have been making and releasing music together for their entire relationship!) planned a retro inspired wedding in Whitby. It's a place they have spent a lot of time in with family over the years so it was a very sentimental place for them to tie the knot. The autumn day started with a ceremony at Whitby registry office before a walk down to the seafront to play on to 2p arcade games and have their photos taken. The reception was then held at a recently reopened old church centre which they decorated and made their own.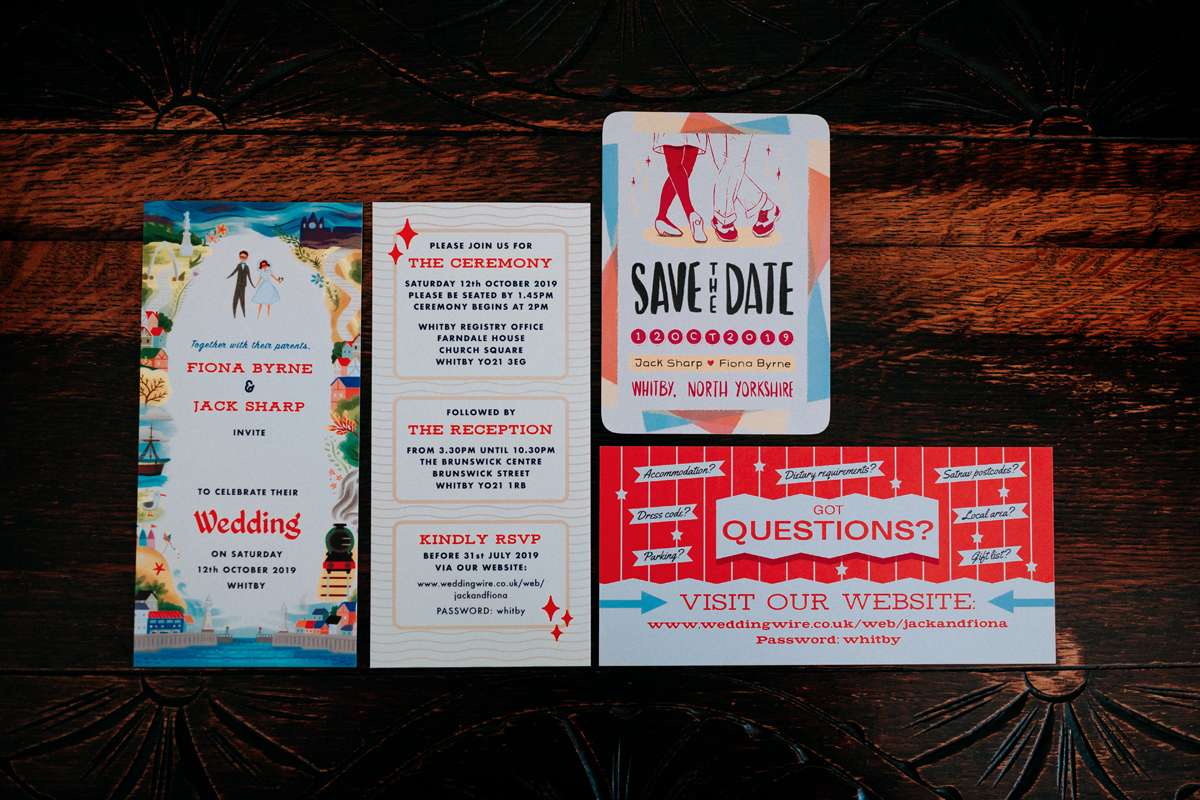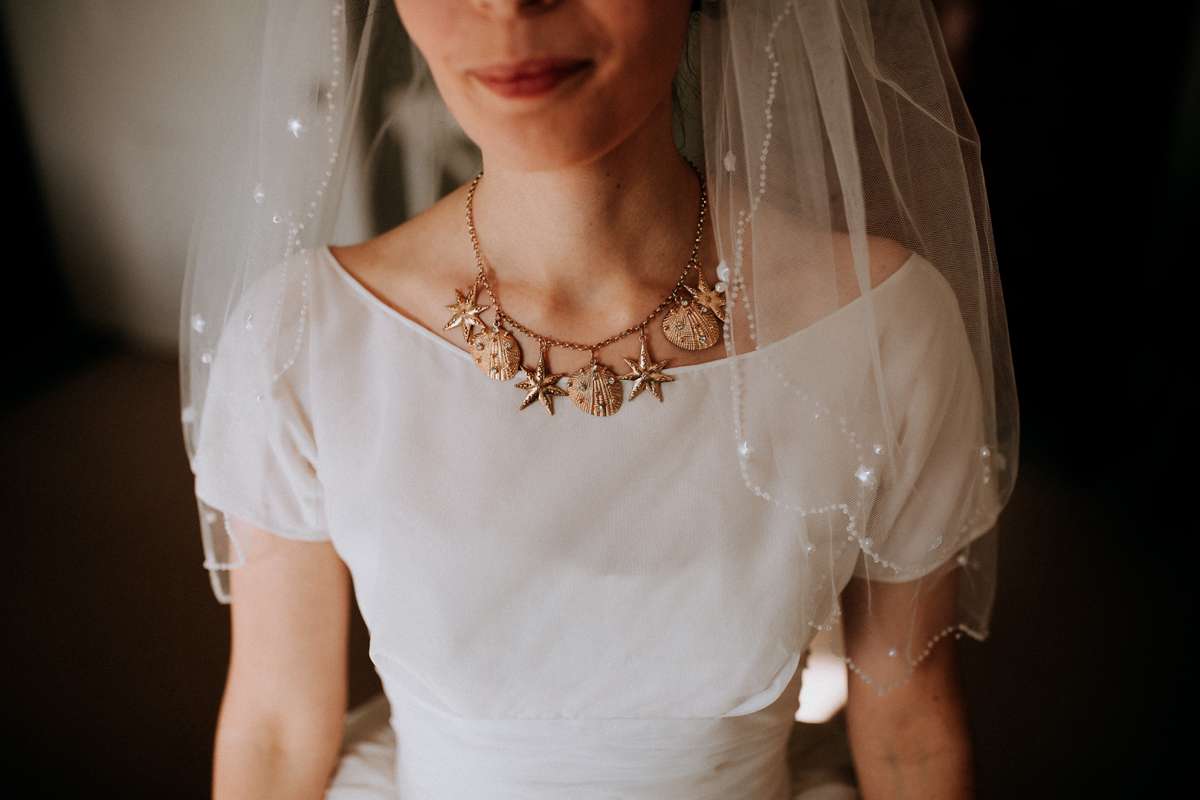 Fiona is a graphic designer so made all the invitations and sign, and most of the decorations were DIY, too. Their cakes were Colin and Connie the caterpillar cakes from M&S, the table decor and flowers were all homemade and instead of a DJ or band they put together their own playlists. The day really was a celebration of all their passions and a true reflection of the love between them.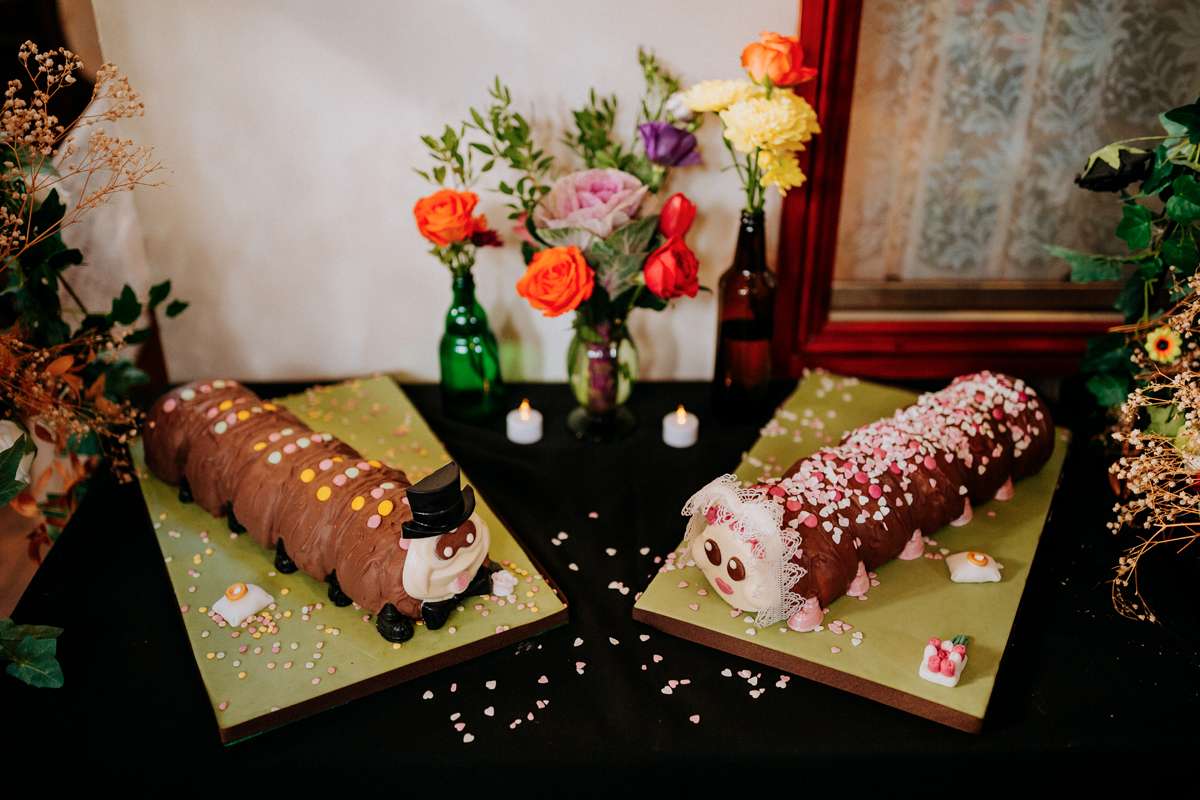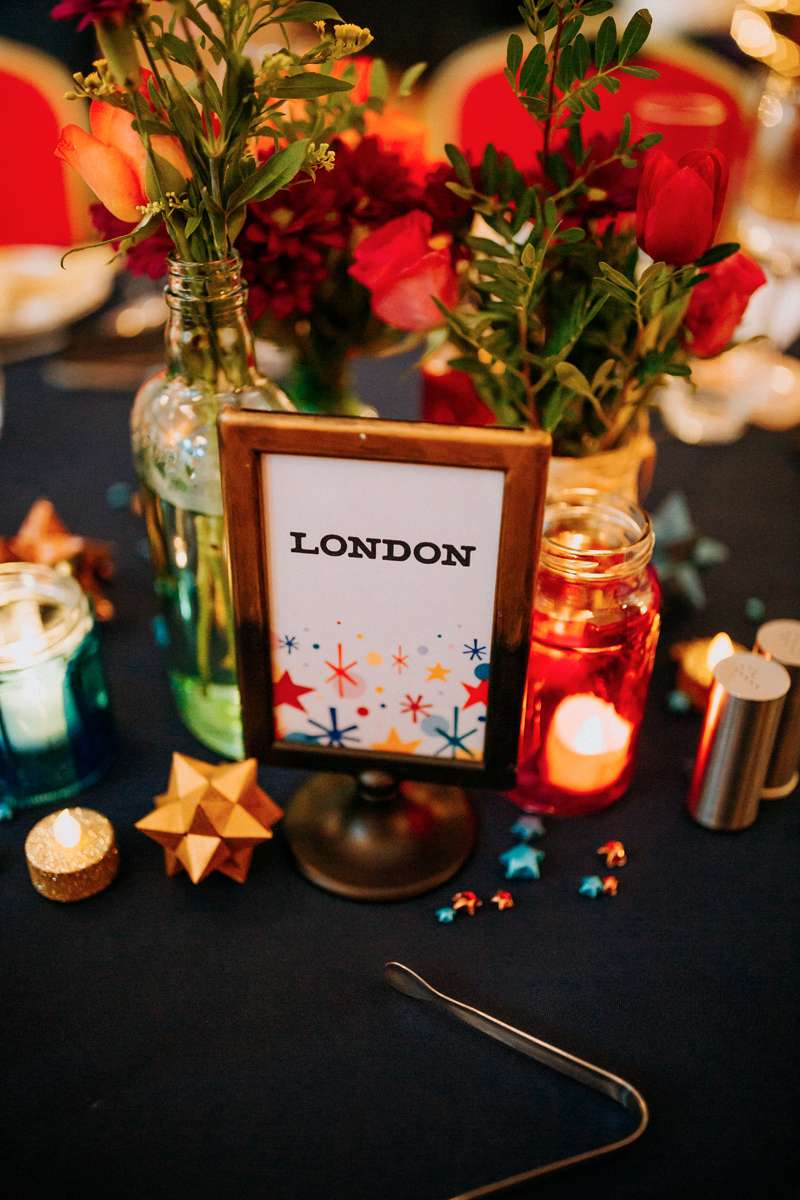 "We knew from the start we weren't going to be set on a single theme, so we ended up including all sorts of things that were special to us as a couple", Fiona said. "Our venue cried out for a celestial, 90s MTV-unplugged style approach to decor, and we took inspiration from the beautiful stained glass windows to add lots of colourful elements with the flowers and the bottles and jars on the tables."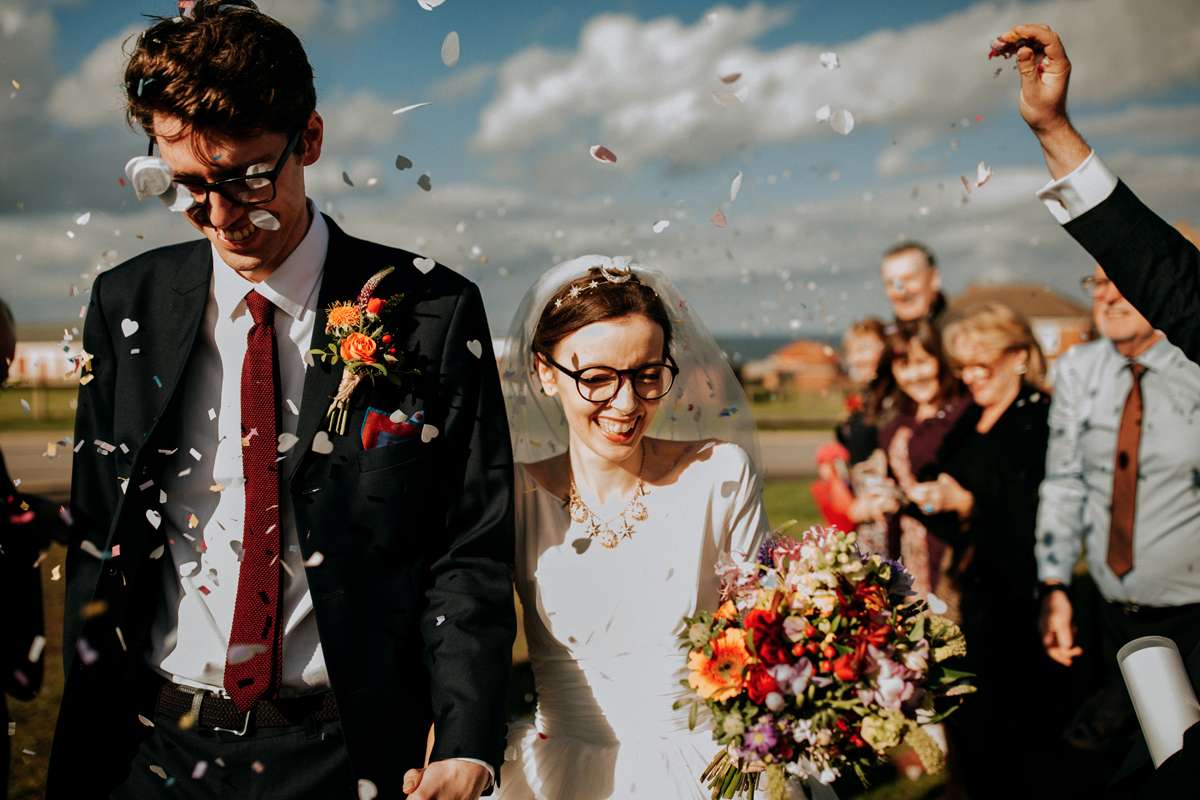 The bride wore a vintage dress which she bought on eBay for £40 (and altered herself) and wore it with a homemade veil (which cost about £15 in materials), a New Look shell necklace and Dancing Days flat shoes. Her bridesmaids were in dresses from Boden and Jack wore a suit by Mod Clothin' with Dr Martens.
"We embraced our interest in 50s and 60s fashion for our outfits", she continued, "and worked our love of Northern Soul and old fashioned pubs into the mix too. Most of all we were inspired by other weddings where the couple just did their own thing, without adhering to many conventional expectations or traditions."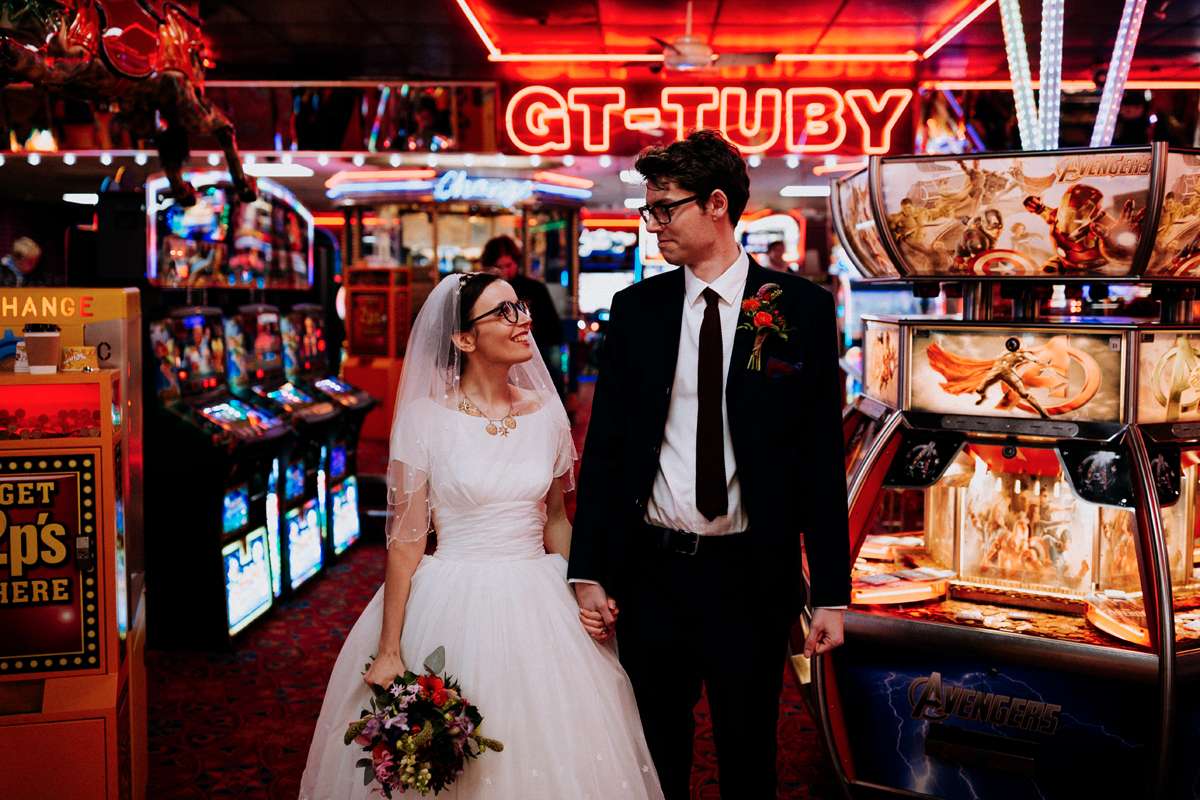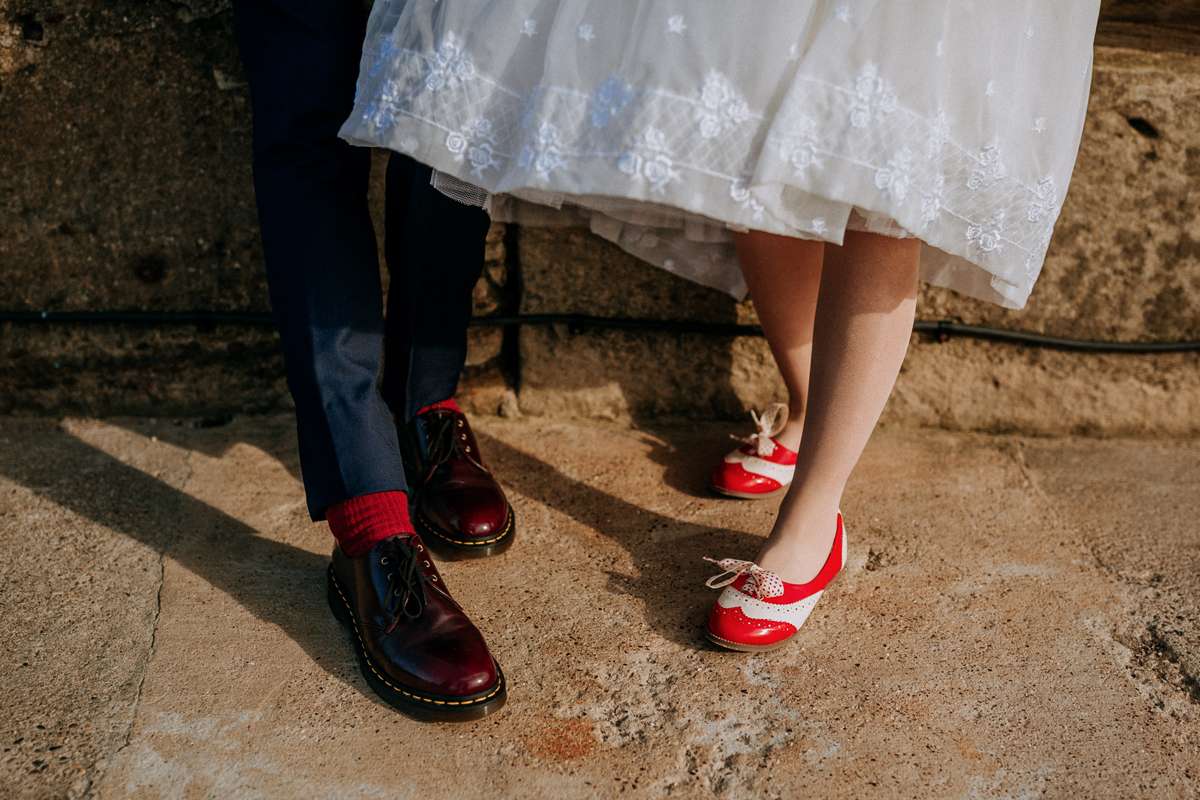 They didn't want to spend a fortune, setting a budget of £10,000, and although they went a little but over (spending closer to £11,500 in the end) they were pleased with all the choices they made and that they were able to have their day without going overboard. Fiona explains, "We're quite frugal people, so we started out quite sceptical of wedding spending culture in general and intended to save as much money as possible. We took a DIY approach to so many aspects of the day (maybe too many!) and we were determined to try our best to plan a 'best ever party' rather than a wedding. We began by visualising the perfect birthday or anniversary party before we let the more wedding specific things dominate our plans. We put every detail or expenditure through the following questions: is it a tradition for the sake of tradition? Is it just for showing off for Pinterest? Can we get married without it? And if there were too many 'yes' answers, we didn't include them!"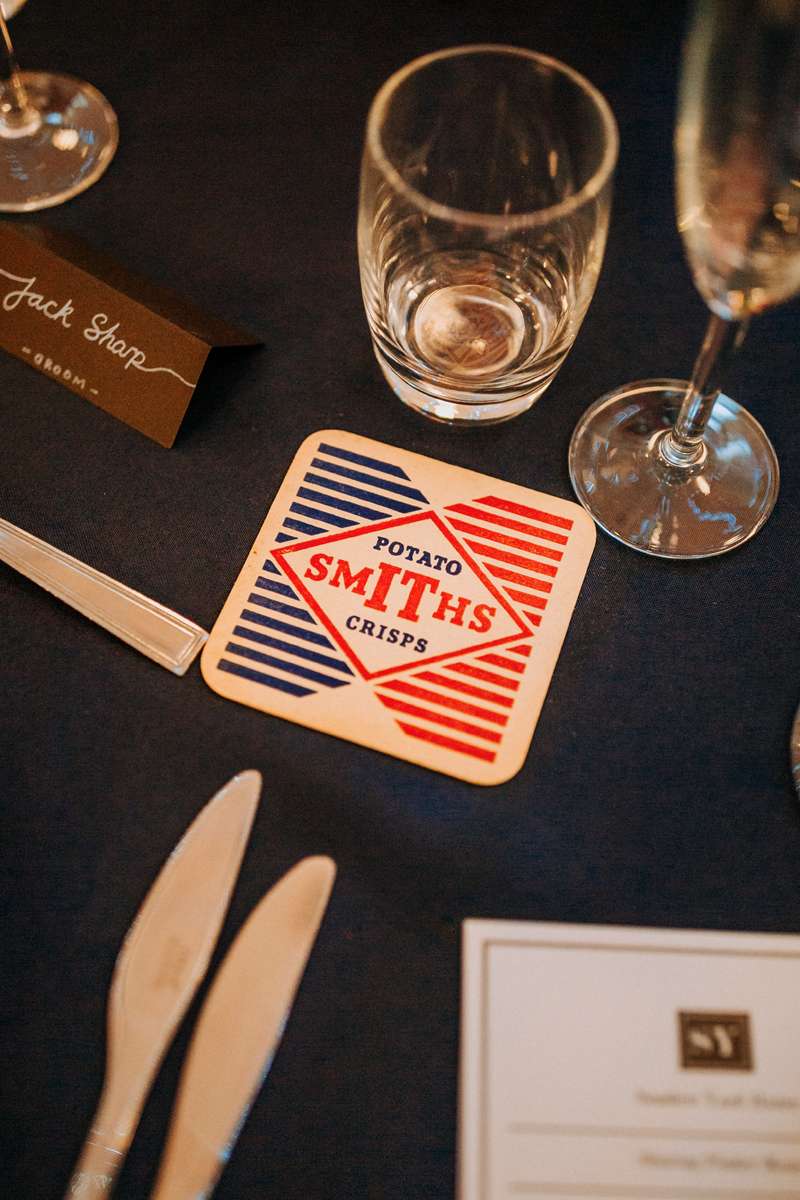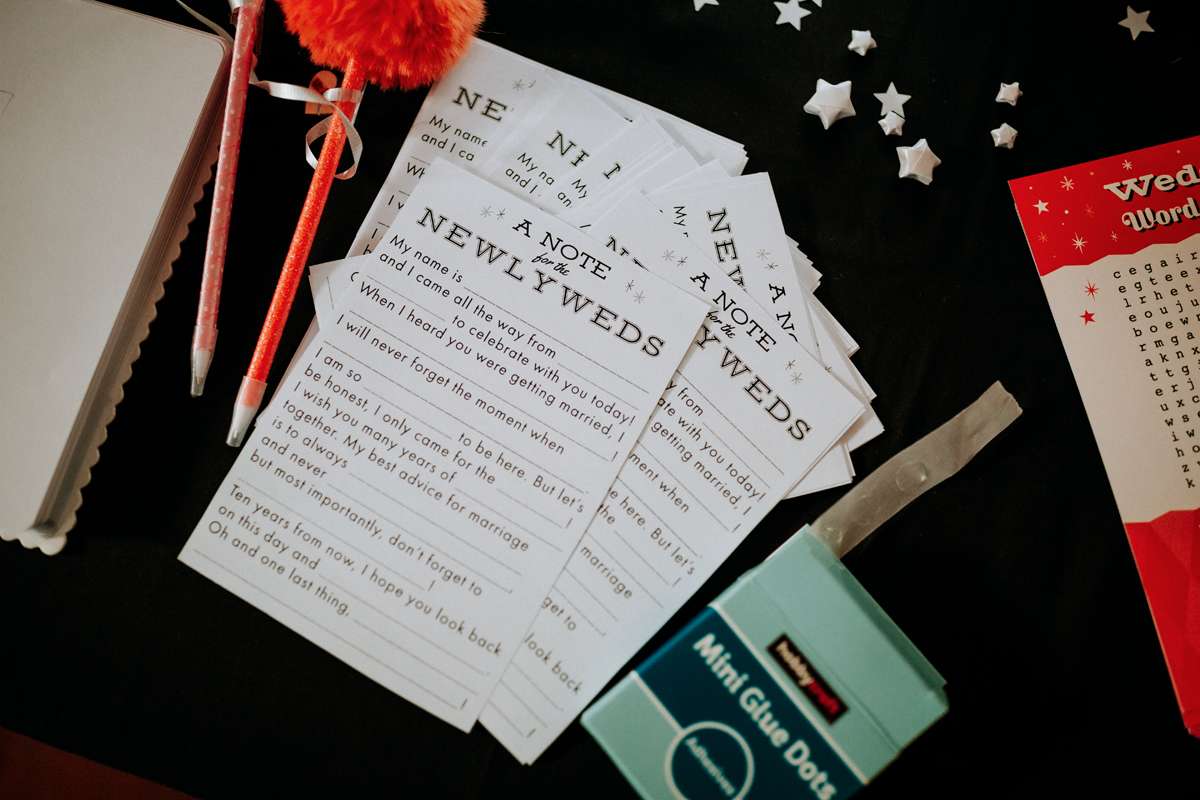 "We heard a lot of people say 'It's your day; do it your way' but I never truly learned what that meant until the end of the planning process. You can be as alternative, rebellious or independently minded as you like about the whole thing, but that doesn't take away from the fact that for every step of the planning process, you'll be encouraged to slide into caring about things that you never thought you would. Be it well meaning relatives or sales focused vendors, this tidal wave of suggestions approaches from all angles. For example, you might decide you actually do need a wedding list because so many well wishing relatives have asked for one, and then the wedding list provider offers you a discount on personalised thank you stationery, and then all of a sudden you have a whole pile of extra details or expenses included in your plan that you may not have initially intended to have. Even if you are able to weather all those extra suggestions and sell-ins without changing your vision, you have to be prepared to be bombarded by them for the duration of the planning process. After several months of this, our best laid plans of staying true to ourselves seemed to wilt under so many 'You need this or it won't be a real wedding!' messages. Our advice to other couples is to write down the things that are most important to you at the very beginning, so you can keep track of your priorities!"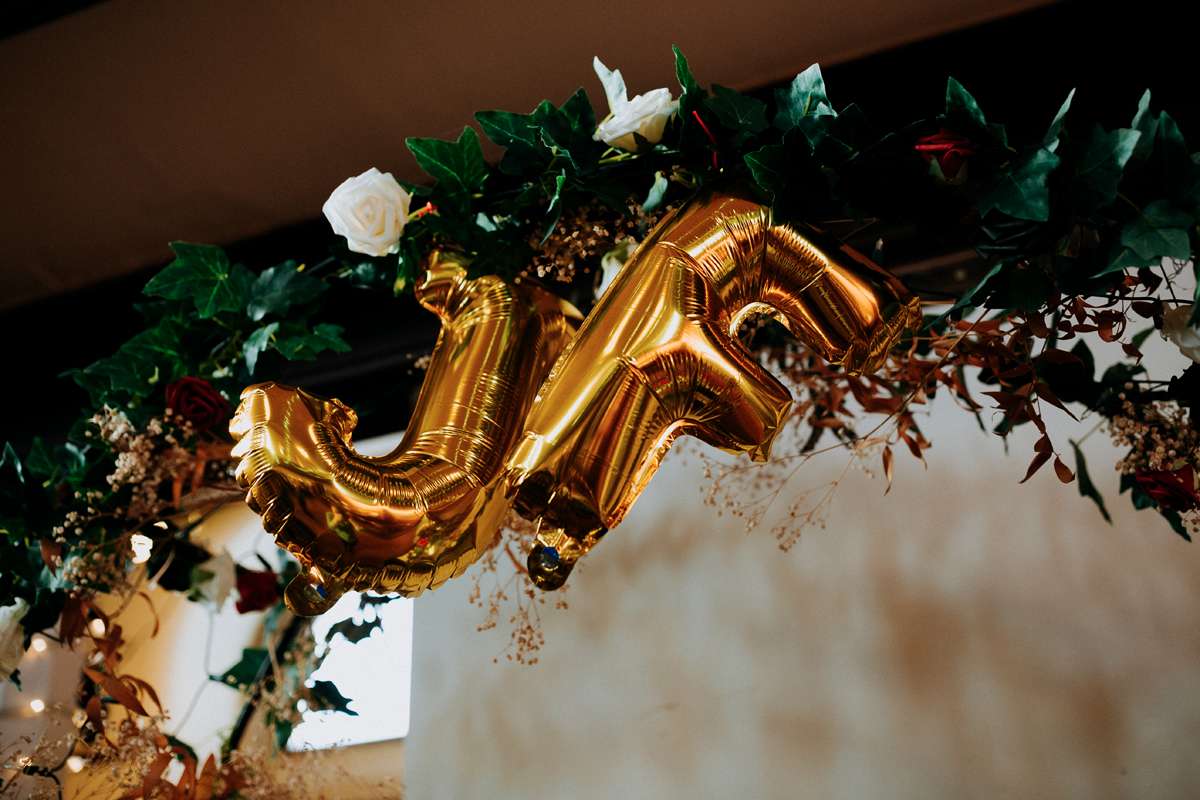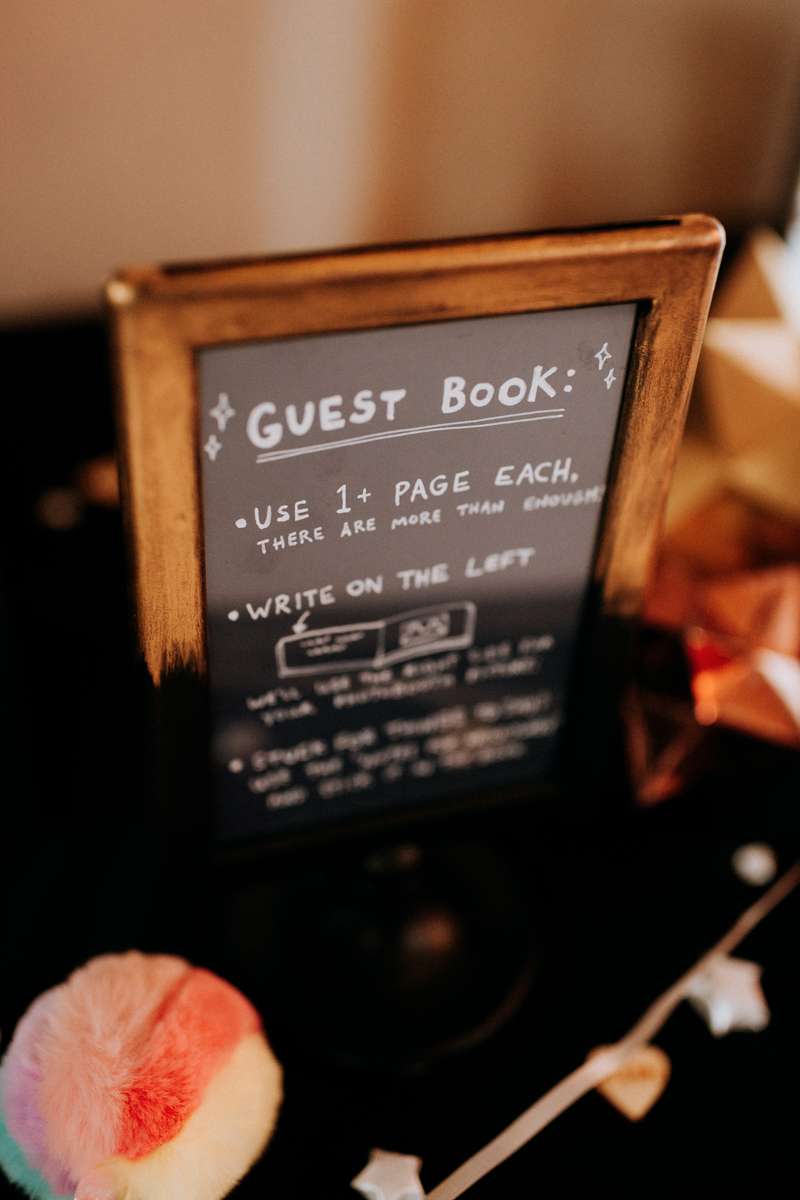 "Finally, I heard this a lot too but it's important: remember your true reasons for getting married. We were together for 10 years before getting married, and were generally sceptical about modern wedding spending culture, so in the lead up to the day we often questioned if we were doing the right thing by having a reasonably big wedding in terms of guests. The truth is, there is nothing quite like being surrounded by everyone you love and care about, and seeing all of them smiling back at you and wishing you the best for your life together. It feels like it gives your relationship a strong foundational bond to get the blessing of people you care about. It was so wonderful to have all of our friends and family together celebrating happy times, and apart from the being married part this was our favourite aspect of the whole wedding."