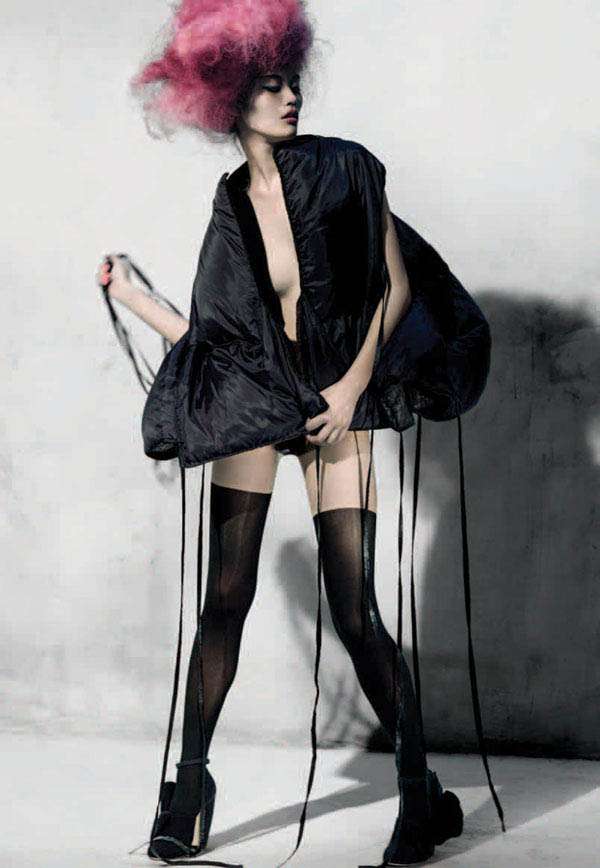 Photography Credit: Ming Xi by Zach Gold for Style SCMP via Fashion Gone Rouge
Hello there beautiful lady!
I'm very excited and feel very honored just writing you! I want you to know that I think you are amazingly awesome. I do however have a wee bit of a question for ya.
My love and I just got engaged and we are having out wedding in just six months. I'm struggling to find which direction to go! He is very punk rock ( and Irish) I on the other hand am diverse…I'm goth/40s pin up/ punk. At least that's what he says. I'm not really defined. I like a little bit of everything all rolled into one. None really go together other than certain elements but it works for me and for him! We are wanting to incorporate all of us a whole. I'm just not sure what to do!! It is very overwhelming and I want our day to be represent who we are together and be just as perfect as we are. Please please please HELP us! I'm in some serial need of it.
Thanks soooo very much!!!
Scotty and Kourtnie <3
I received this email from Kourtnie a few weeks ago, and after mulling it over for a while I decided that an inspiration/mood board was the way to go in helping her define her wedding theme. I wanted to show that even though Kourtnie's ideas sounded a bit loose to he, it really does all tie together brilliantly!
I decided to ask Michelle of Pocketful of Dreams if she'd help me out too as she is brilliant at creating these awesome mood boards! Scotty and Kourtnie I hope this helps (and if pink isn't your thing then simply switch the colours to the one you love the most!)
♥  ♥  ♥
When I first received Kat's brief from a Rock n Roll Bride reader wanting direction for a punk – goth – pin-up wedding style I was so excited.  I have never tackled anything like it before so it is a challenge for me but one I couldn't wait to begin.
Once I began looking around for ideas I could really understand why Kat's reader was feeling overwhelmed and struggling to decide which way to go – these styles are so different and very defined in their own unique ways. But there is no reason why she should have to choose just one, as elements from all of them can be incorporated into her wedding day. After all the Rock n Roll Bride philosophy is all about individuality and embracing quirkiness, so for this task I wanted to pull elements from punk, goth and pin-up culture and combine them all together in a way that works in harmony.
To do this I chose a bright and bold colour palette of gothic black, punky silver, and then brighter colours synonymous with the pin-up style – raspberry red and hot pink. Within this palette I added specific elements to represent each style of punk, goth and pin-up that would co-ordinate the overall look.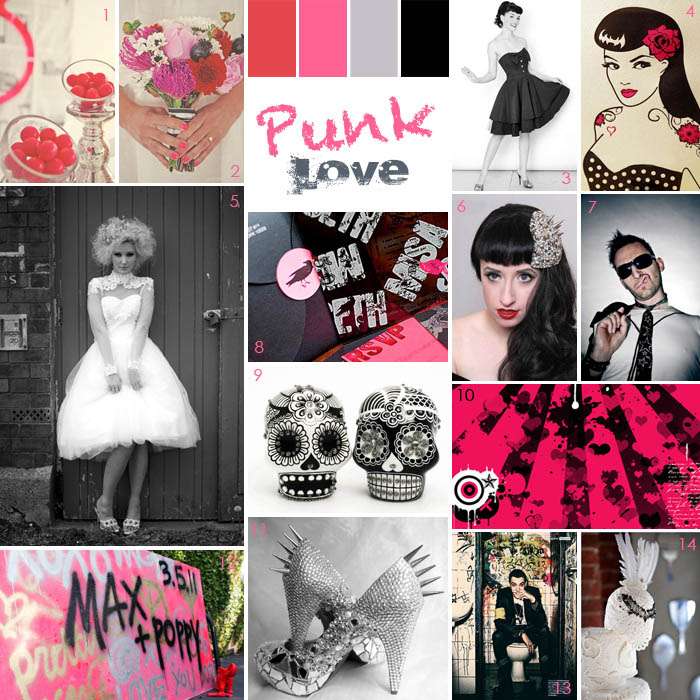 ♥ Work that retro pin-up vibe by serving retro sweets in a classic sweet bar. This would look fab if the sweets were in co-ordinating colours, think gumballs, cherry lips and liquorice sticks. Serve alongside classic soda bottles with stripy pink or grey straws.  (1) Retro Sweets by Featherlove Photography via Ruffled Blog

♥ Ask your florist for a spikey handtied bouquet of retro flowers in your chosen colours and mix in with black or silver berries and thistles and maybe even add in a few studs or large safety pins to keep the punky vibe.  (2) Retro Flowers by Featherlove Photography via Ruffled Blog
♥ Your bridesmaids could work the 'goth meets pin-up' look with this gorgeous (3) Gothabilly Dress from Baby Girl Boutique. Completing the look with a glamorous pin-up hair style and bold make-up, like in this (4) illustration. Having them in black will keep them from looking too cutesy pretty.
♥ The bridal look is all about punk with this stunning white tulle and lace dress (5) by House of Mooshki, a silver studded and rhinestone punk-inspired fascinator (6) by Janine Basil on Etsy which could have a black birdcage veil added to it for gothic drama. And of course the most punk shoes around, made with shards of broken glass and spike heeels – even the name is punk – (11) Cinderella Gone Bad Shoes by Everlastinglifashion on Etsy. I would complete this look with black lace fingerless gloves, bold make-up and of course your 'punk at heart' groom, rocking his look the way he knows best. (7) Men's Punk Fashion

♥ Graffiti is a punk element which will tie everything together and allow you to go to town with stamping your personality and style on the day. (13) Sergi Pons in Esquire España. This was also the superb backdrop of Kat's Rock n Riot styled shoot recently. You can use graffiti in so many ways, from a unique ceremony backdrop, to graffiti styled invitations like these (8) by Ceci New York to a really cool guestbook like this one (12) by Jesi Haack Design

♥ Other punk elements can be added in the little details, with spikes, skulls and dark gothic style decor like these Skull Lover Caketoppers (9) by Sweetiecaketopper. A Lady Gaga inspired cake complete with its own gothic veil (14) Ashleigh Taylor Photography. Skull earings (16) by Vivienne Westwood. A spiked and studded bow tie for the groom (17) by VileBroccoliFur on Etsy. Diamante encrusted silver skulls would make great decor items and a substitute to flower displays (18) by Dwell. These lucite pendants (15) by Shdstash on Etsy could be used as an alternative, gothic style table confetti.
♥  ♥  ♥
If you're struggling with your wedding theme and would like myself and Michelle to have a bash at helping you out, simply drop me an email and let me know your ideas!