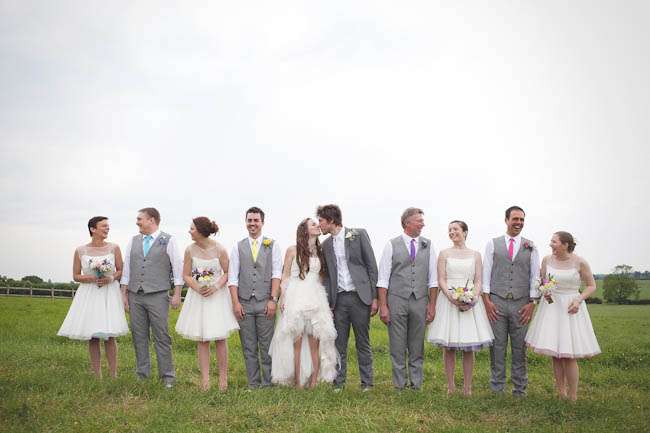 Did you ever look at someone's wedding pictures and know instantly that you would be friends if you met in real life? Well that's kinda how I felt when photographer Emma Case sent me Ronnie & Craig's wedding last week. I know it sound superficial and a bit weird but these guys have got style…and there ain't nothing cooler than a couple that bring that unique style into their wedding. See what I mean….?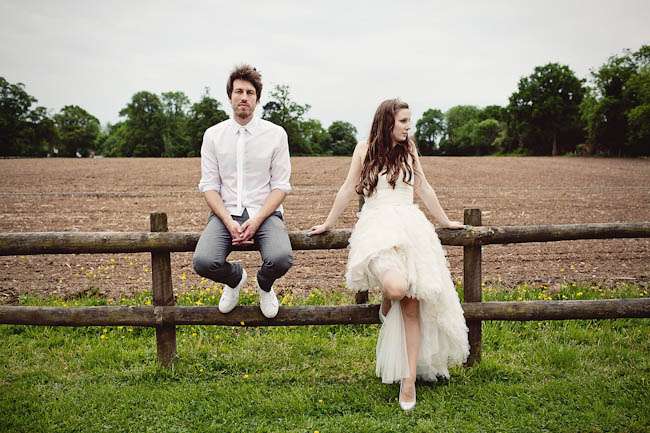 Let me lay a few things out for you to try and explain my obsession with these guys. So Ronnie & Craig were married at Trunkwell Mansion House, in Reading (READING!? You know that's where I live right?!..And Reading isn't a huge town or anything. This excites me.) They pretty much DIY'ed anything and everything they could including the reception décor, the cake, the flowers, the car (yes, really – Craig restored it for the wedding) the stationery (Be sure to check out Ronnie's website to see more of her work) and the bride and bridesmaid's dresses! Ronnie's Mum who made the dresses from Ronnie's design also just so happens to have trained Ian Stuart, who is arguably one of the biggest bridal designers in the country right now.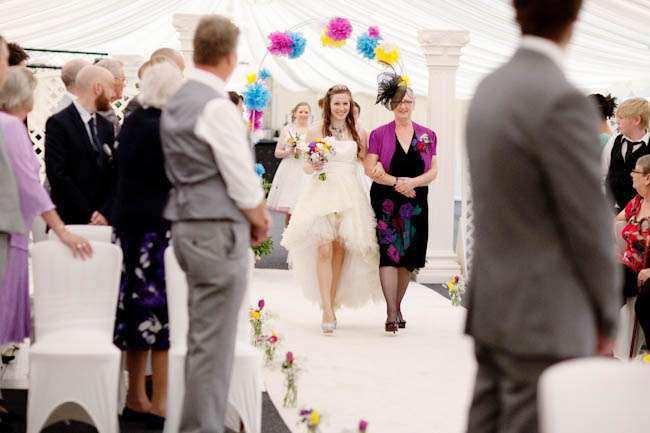 Ronnie even wore a plastic and sparkly "Mrs Dearsley" necklace. You get the picture right…?
"I am an artist and wanted to hand paint what I could," Ronnie told me when I asked her about all these DIY projects. "I started with the invites and slowly developed a retro tattoo theme which continued throughout the wedding with the escort cards, table numbers and welcome sign. Now the wedding is over I intend to paint our vows into where there were numbers etc and display the work in our home. I really enjoyed working on everything and would love to work with other couples who might want custom artwork for their invites or any other aspect of their day."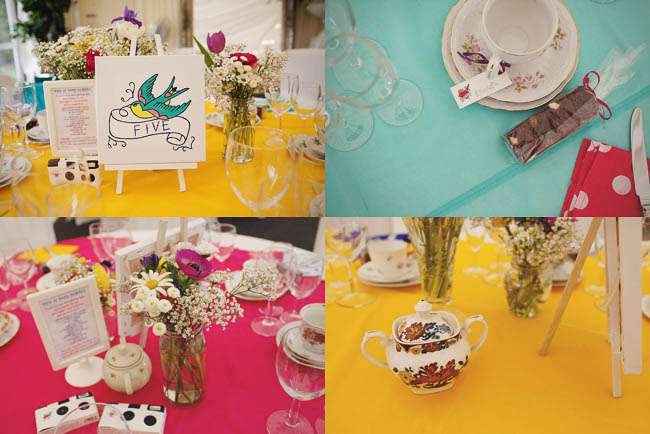 "We had a huge wedding DIY project with a difference. When we got engaged Craig said basically I could do what I wanted with the wedding as long as we could use his 1971 camper van. Unfortunately, after being screwed over by a restorer, the camper van was a (beautiful) shell and needed basically a new everything putting in. Our engagement was around 18 months long and I think Craig spent every weekend working on the van to get it going, it finally made its first journey 3 days before the wedding, but was AMAZING and gorgeous and I'm so proud of Craig for getting it together."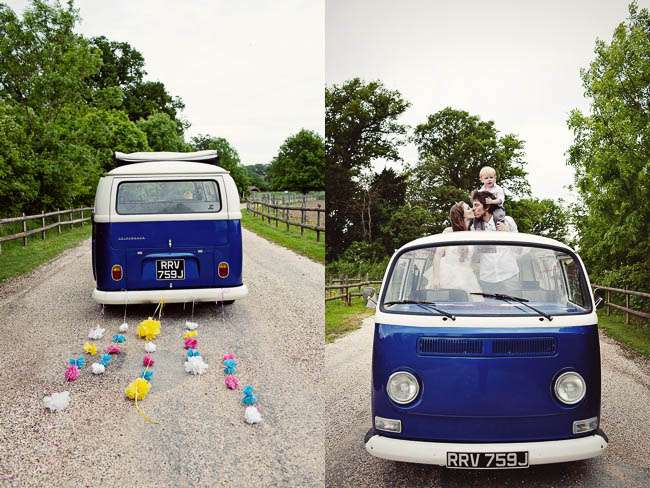 "Our wedding was by no means wildly controversial but it was a true reflection of us," she continued. "When we first got engaged I spent hours browsing wedding venue sites and freaking out about food as us and about 99% of our family are mad fussy eaters. To be honest, I had only attended one wedding as an adult so I was totally out of my comfort zone and was totally taken in by the prescribed way of doing things that seems to fill most of the wedding magazines."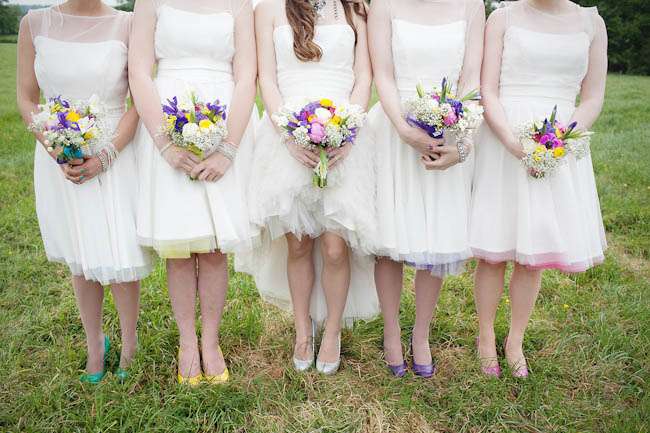 "It wasn't until I snapped out of this and thought, "Hang the hell on – what do WE like to eat?" that I realised the wedding should be about US instead of set menus. When we got engaged we'd celebrated with a cream tea, and we are hard-core BBQ fans, and I know now both of these things might be pretty standard in the wedding industry, but they are totally what I'd eat everyday if I could and we shaped our day around them."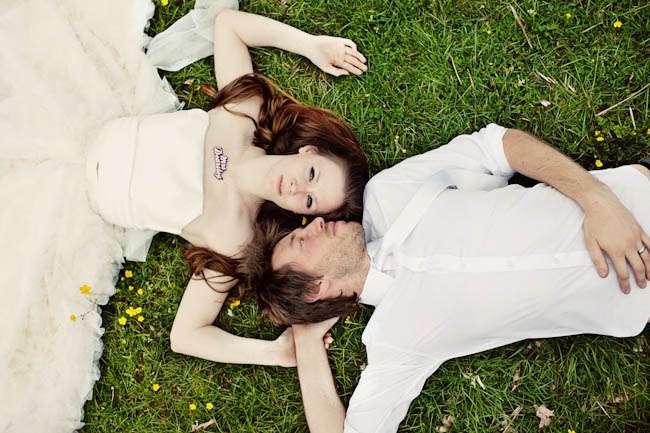 "So we found a venue that would accommodate our wishes for less than a billion pounds (seriously what is that all about?) and went from there. Eventually (way too late!) I discovered blogs like Rock n Roll Bride and the endless sources of inspiration out there for alternative weddings and our wedding started taking shape. The one thing we did get from bridal magazines was our colour scheme. We were pretty uninspired by the limited colour palettes we saw in most wedding pictures, until we saw an Indian themed wedding full of rich, vivid colours and we knew that was something we'd like. It evolved during the planning to pink, purple, yellow and turquoise, I had to spray paint the bridesmaids shoes to coordinate!"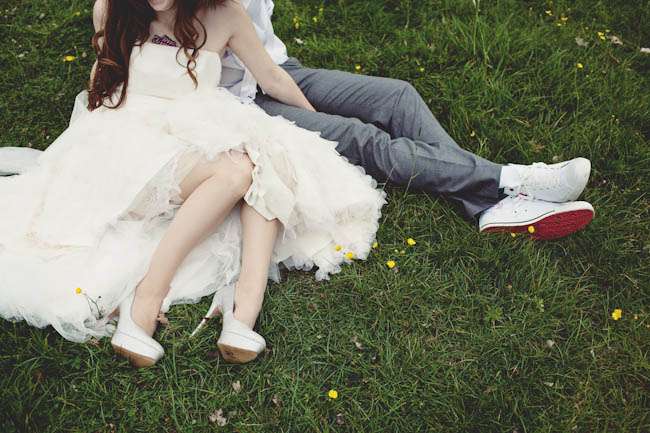 "Also I mentioned that we'd like mismatched china and my mum immediately went on a madcap mission around every boot sale in the country until basically her whole house was full of old crockery. A few days before the wedding we glued together some homemade cake stands after I'd see a tutorial on GMTV. Our ceremony was very us, our vows were from some of our favourite songs, our readings were daft and we walked out each of us carrying one of our kids, they were wriggling all the way but it was lovely to have them with us."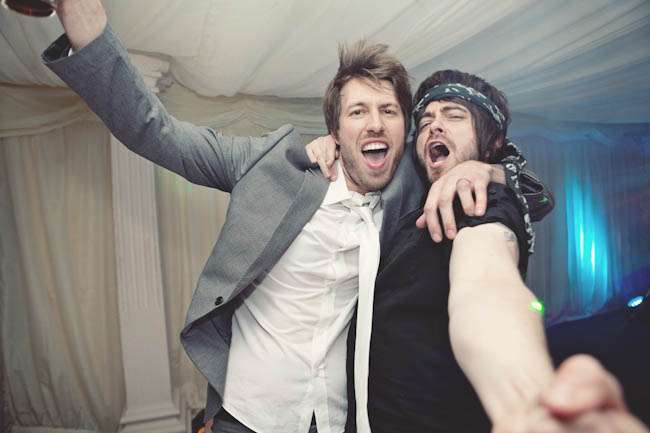 BIG love and congrats to the awesome Ronnie & Craig for sharing their wonderful wedding with us today…and of course big fat air kisses to photographer's Emma & Pete (who is doing some serious rocking out in that last photo…)
Photography Credit: Emma Case Photography
Venue: Trunkwell Mansion House, Reading
Bride's Dress: DIY (designed by bride and made by Pauline Harrison & Karen King Pauline_at_home@msn.com)
Bride's Shoes: Aldo
Bride's Headpiece: Accessorize
Bride's Necklace: Sugar and Vice on Etsy
Groom's Outfit: Marks & Spencer
Bridesmaid's Dresses: DIY (designed by bride and made by Pauline Harrison & Karen King Pauline_at_home@msn.com)
Cake: DIY (friends)
Flowers: DIY (friends)
Stationery: DIY (Bride)