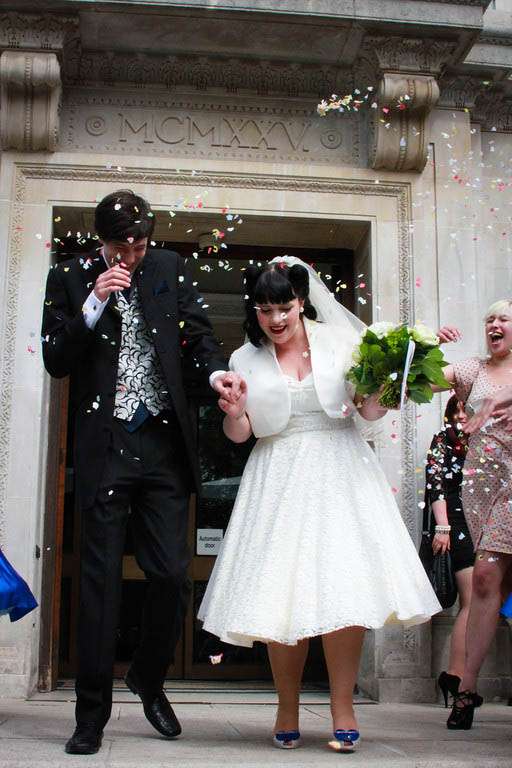 "The theme of our wedding ended up as a sort of mish-mash of Mad Hatters tea party, 1940's/50's and Camden weirdness (Camden is an area of London known for it's alternative culture – great for people watching!), which fitted our personalities perfectly" newlywed Melissa told me. She married Jonathan at Islington Town Hall and afterwards had their reception in a hotel in Camden, where they first met.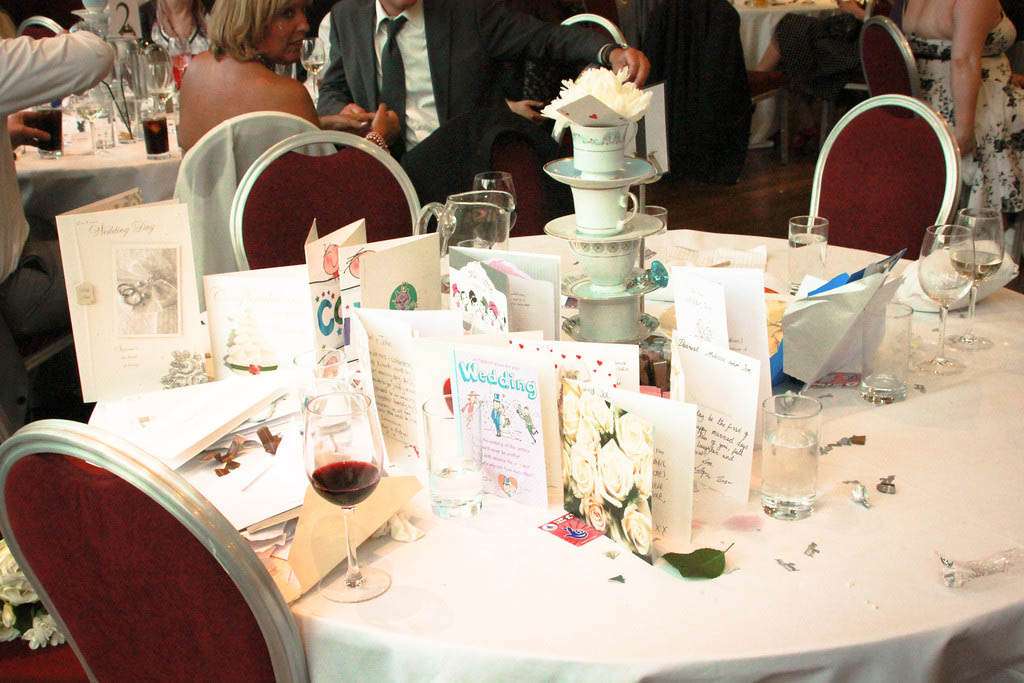 "My inspiration firstly came from Tim Burton's Alice in Wonderland," Melissa continued. "Jon and I went to see the film when we were dating and I fell in love with it, I'd always been a fan of the book as a child but the film had me hooked. As soon as Jon proposed I knew I would want a touch of Alice involved somewhere within the wedding, the only difficulty was going to be fitting the theme around our tiny budget."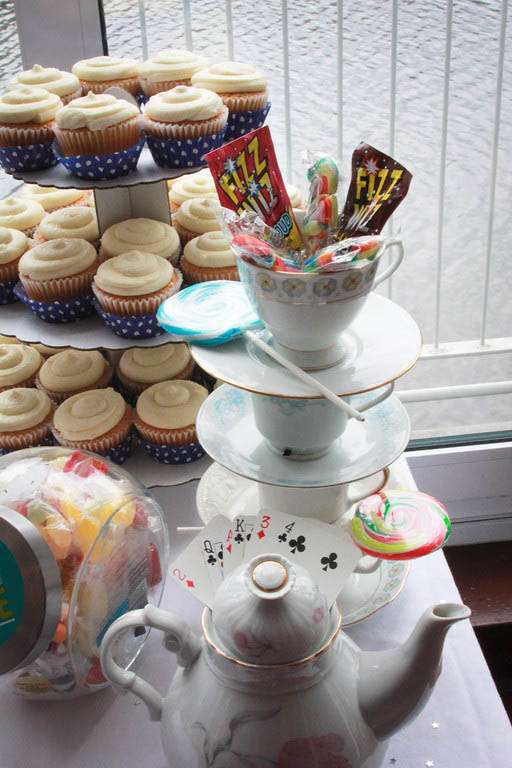 "We're not one for tradition and we tend to follow our own rules in life so we thought 'well why should our wedding be any different'  Although the venues were booked around 6 months in advance everything else was left to the last minute, our decorations and centre pieces were DIY and we had an awful lot of help from our bridesmaids."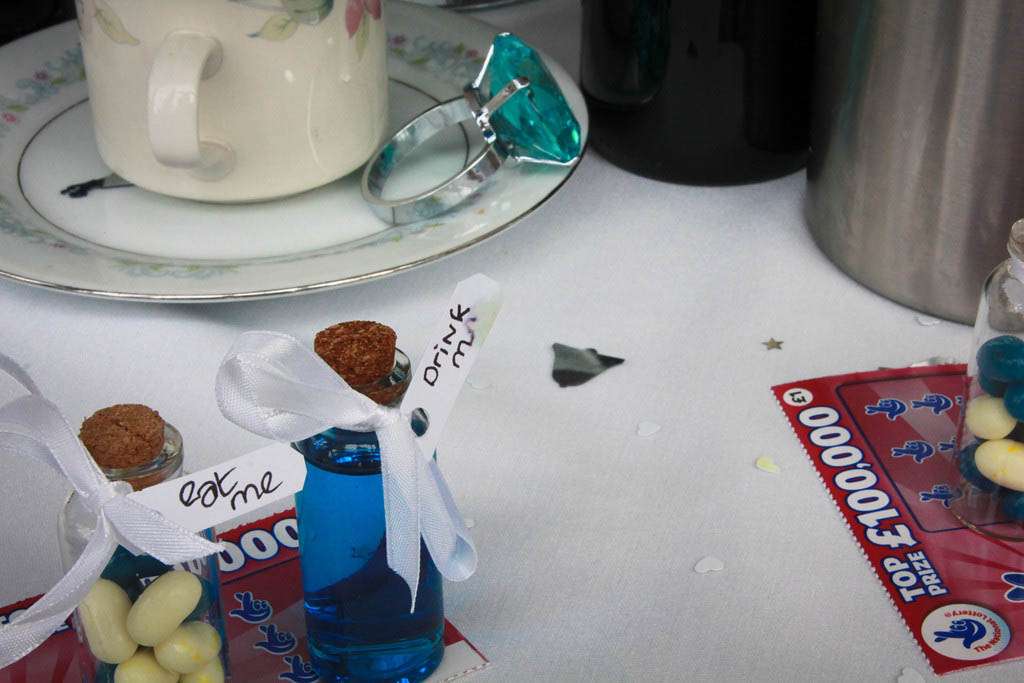 "I totally recommend making centre pieces yourself and decorations. It saves so much money (which was crucial for us as we were on an amazingly tight budget) and gives the wedding a real personal feel. I really couldn't have done any of it without the support and help of my family and bridesmaids."
The bride and her bridesmaid's all wore dresses from Rock n Roll Bride favourite, Vivien of Holloway and Melissa wore (another Rock n Roll bride favourite!) those Vivienne Westwood/Melissa heart shoes.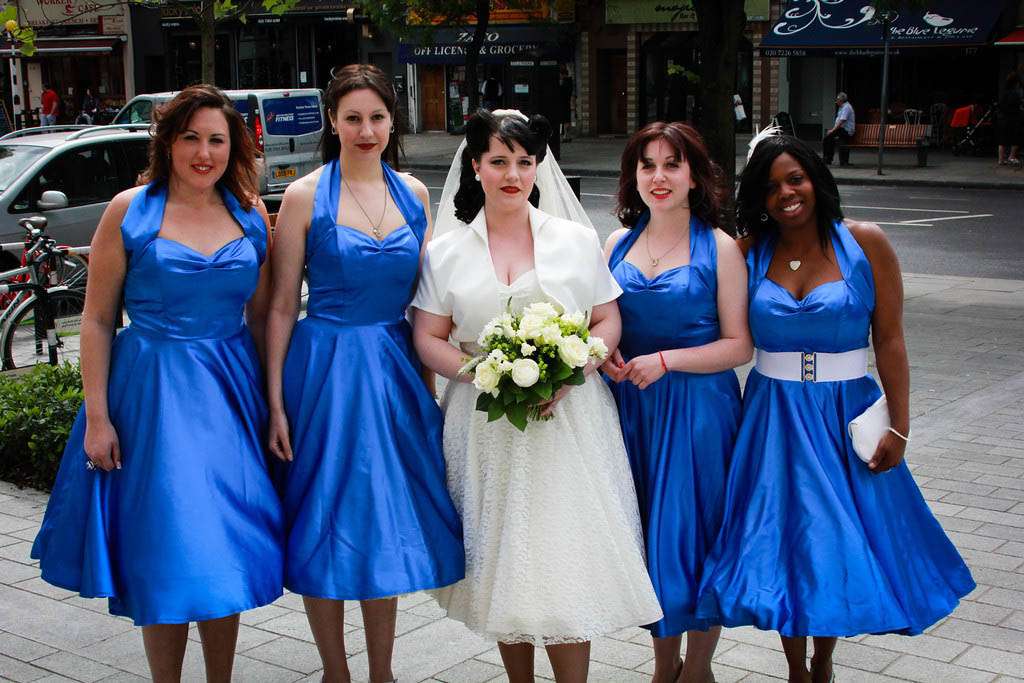 Thanks so much to Melissa & Jonathan for sharing their super cute wedding with us today.
Photography Credit: Lily Moss-Norbury
Ceremony Venue: Islington Town Hall, The Council Chambers
Reception Venue: Holiday Inn, Camden Lock
Bride's Dress: Vivien of Holloway
Bride's Shoes: Vivienne Westwood/Melissa
Bride's Headpiece: Maria's Couture, Finsbury Park
Groom's Outfit: Moss Bros
Bridesmaid's Dresses: Vivien of Holloway
Cake: Marks & Spencer
Flowers: Dansk Flowers, Upper St, Islington
DJ: Little Chris
Hair & Make Up: Ellie Yermakova