Mark & Maryanne had their garden tea party wedding in Maryanne's parents house in West Chiltington.The vintage vibe of the day with carried throughout with DIY, classic vintage and country garden ideas. The bride's dress which was original vintage from The Vintage Wedding Dress Company. "I found a beautiful 1950's dress that I had customised" the bride explained. "It originally came with a lace cape, but my fab seamstress turned the cape into sleeves and added a bit of sparkle with some old glass buttons that I found from a little junk shop in Sussex." With this she wore Emmy Shoes, a customised vintage veil (made from a 1940's hat) jewellery made from original vintage piece and bag from the 1950's.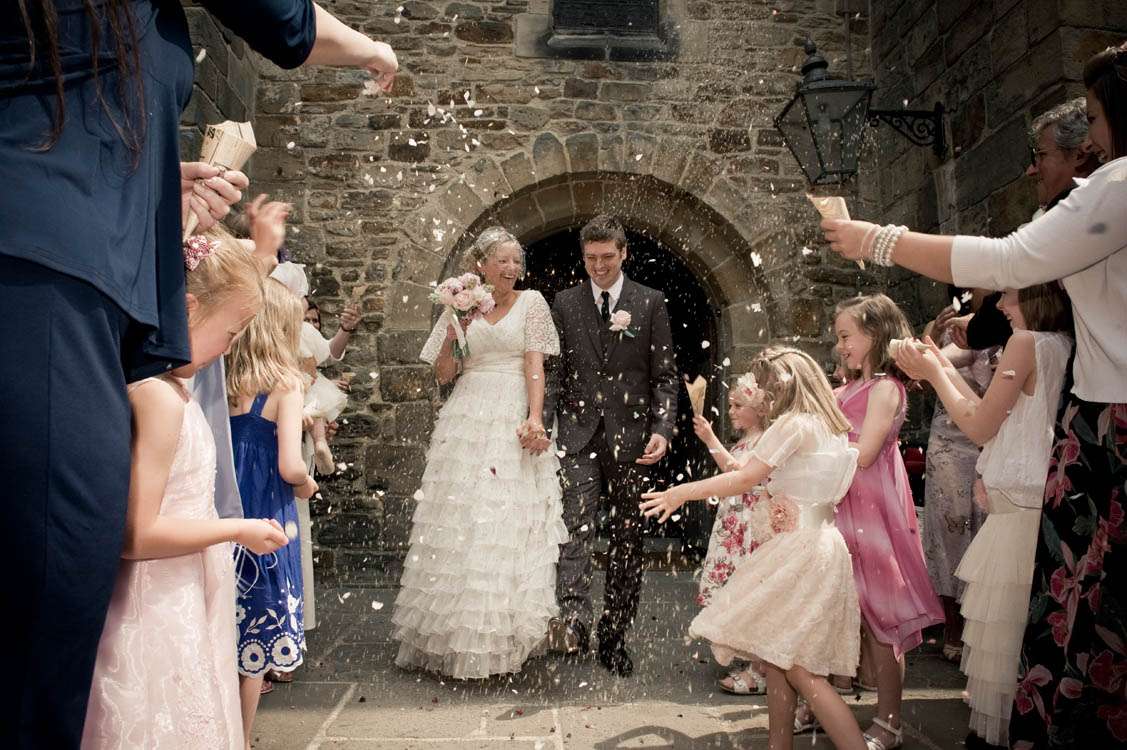 "Mark and I met in a little Indie club in London when we were 20," Maryanne continued. "It actually took us nearly ten years and three children later to make the big decision TO DO IT. It really was my worst nightmare. I was so scared of all the white fluff and general fuss that came with a wedding. Our little family were ever so happy just as we were. To be frank we are all a bunch of geeks really and the whole wedding thing was just not us. We were a little gang that loved Indie music, books, cake, car boots and Crosswords. Definitely not weddings."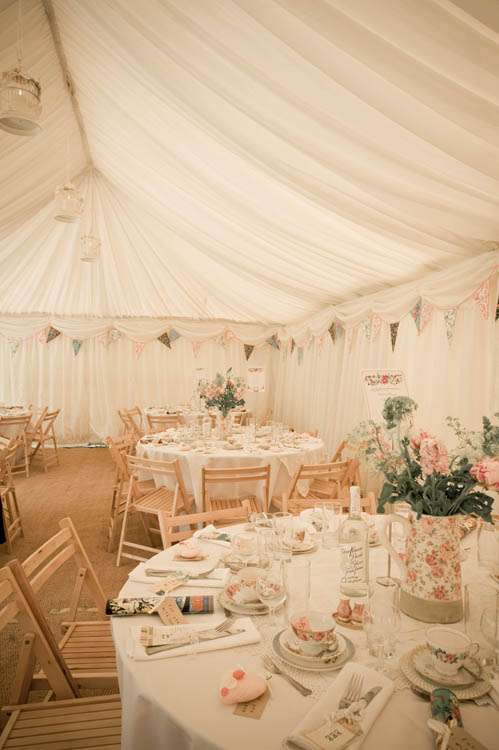 "But then something happened and we totally changed our minds. We discovered that we could actually get away with doing a wedding OUR way… Other people were doing it so why not us? Planning the wedding then became a complete obsession and took over all of our lives. We had always had a passion for anything old, pre-owned and loved. Anything that had a history to it and that could tell a hundred tales, so involving this in our wedding just seemed natural. There was never a 'theme' or a 'colour' or anything really that shaped our day – it all just kind of happened, but it all seemed to work. Our only rule was to not try to turn ourselves into little manikins of something we were not."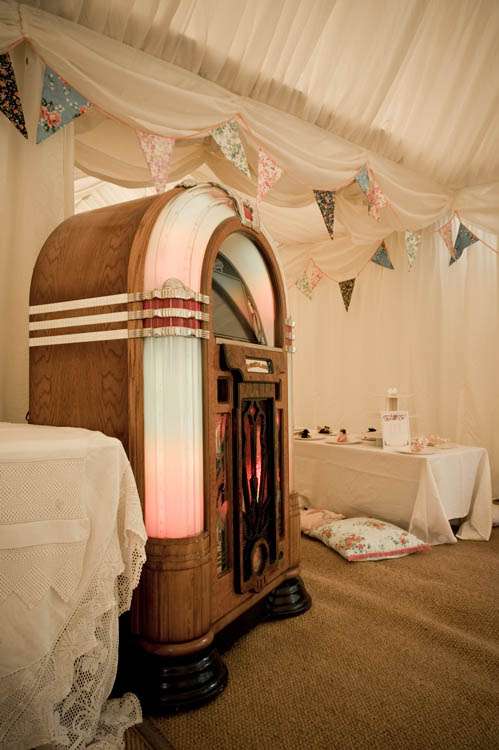 "Our first and most important decision was who we chose to make our lasting memories of the day – the photographer. Having studied photography at University, I knew that we really had to get it right. I found Viva Wedding Photography, on Facebook. I was nosing at a beautiful wedding they had shot and their images just looked so beautiful and unique. The shots were totally amazing and once we had met Adam from Viva we made our decision instantly. What a lovely guy! He was exactly what we were hoping for and proved to be so much more. Viva made our day special and unique and I will cherish my wedding photos till my very last breath. Another important decision was the car – we love Cadillac's and I found a pink one which matched my Ray-ban's so job done!"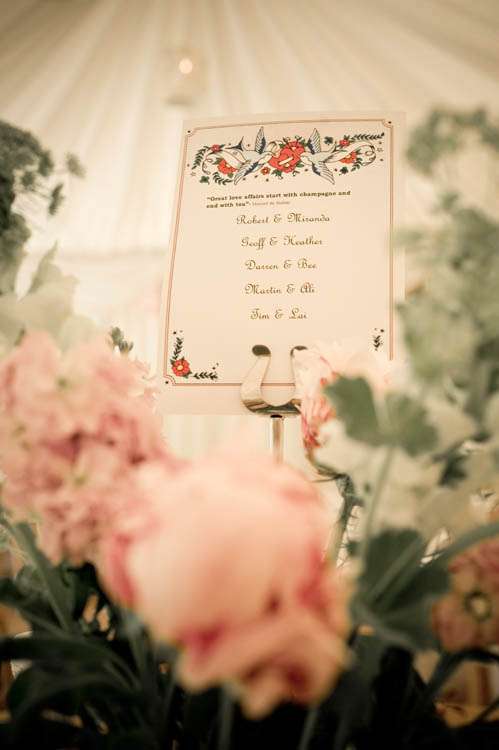 "The Reception was held at my parents garden which suited our laid back summer fete/tea party feel. The guests arrived to Martinis, blinis and champagne from tea pots served by gorgeous girls in fabulous 1950's aprons. We placed a selection of retro games around and laid out little tea sets for the toddlers to play with. I made a 'Tattoo Parlour' for the children and before long we had lots of mini Amy Winehouse's looking super adorable. There were lots secret parts to the garden which were lit with old lace decorated jam jars and fairy lights. I made a 'canoodling' corner which had a love bench and lots of hanging hearts and wire birds made by Mark."
"We chose a tent style marquee which I dressed myself with lots and lots of bunting, fairy lights and old birdcages," Maryanne continued. "I stamped out all the guests names and bound them to the cutlery with odd bits of vintage lace. I made all the ladies lavender hearts decorated with lace and old buttons. The gentlemen received old comics from the 70's and 80's which were actually a little saucy – very amusing when the older generation of guests dared to have a peek. The children had little wooden dolls as favours which I found on eBay and I gave gifts of vintage brooches for friends that helped and retro toys for the Ushers. The tables were laid with my vast collection of vintage China – tea cups and saucers and cake plates all mis matched and all beautiful."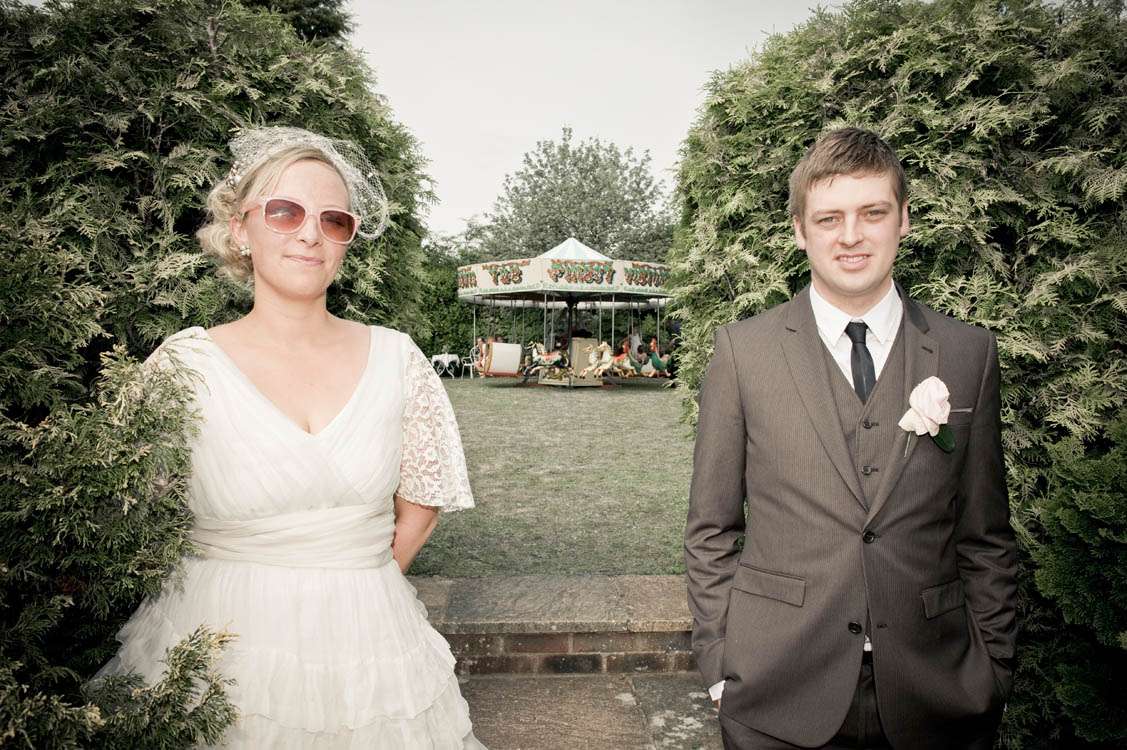 "After a posh picnic style lunch we all enjoyed a pot of tea and lots of homemade cakes and French macaroons. After the speeches we had homemade bon bon's and more tea, tea, tea, tea… We set up a 'Photo booth' area which I dressed with a floral throw and some wooden moustaches and speech bubbles. I love these photo booth shots, everyone's personality really shines through. Ladies in all their finery and cheeky children with tache's make great photo's and memories!"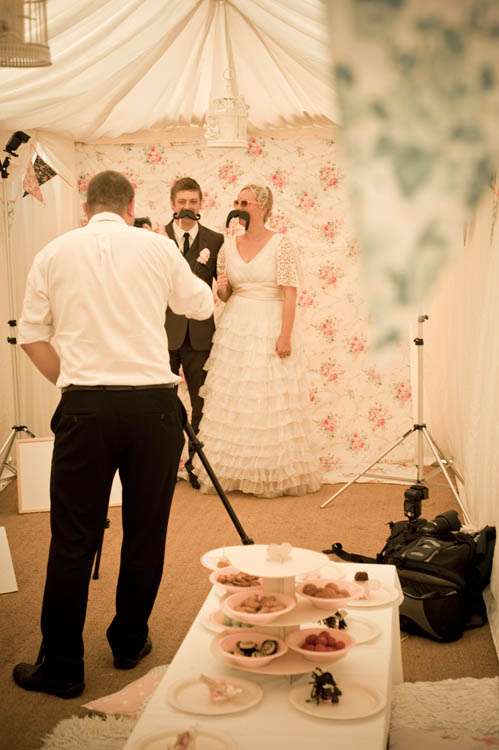 Gorgeous! Huge love and thanks to Mark & Maryanne and photographer Adam for sharing this beautiful wedding with us today.
Photography Credit: Viva Wedding Photography
Ceremony Venue: St. Mary's Church, Horsham
Reception Venue: Bride's parents house
Bride's Dress: The Vintage Wedding Dress Company
Bride's Shoes: Emmy Shoes
Bride's Headband: Sheena Holland
Bride's Birdcage Veil: Vintage
Bride's Jewellery: Vintage
Bride's Handbag: Vintage
Groom's Outfit: Topman
Bridesmaids Outfit: H & M
Flower Girl's Outfit: custiomied Tutu's from Topshop
Page Boy's Outfit: Tulip and Nettle
Hair: Look Fantastic
Flowers: Fleurs Florist
Cake: DIY
Catering: Jam and Tea (Bride's own Event Styling Business)
Invitations: Hello Lucky
Favours: Jam and Tea
1900's Mini Carousel: Hired from a friend
Jukebox: SM Juke Boxe
Live Music: Jak Paxton
1961 Cadillac Coupe De Ville: Bow Field Hire