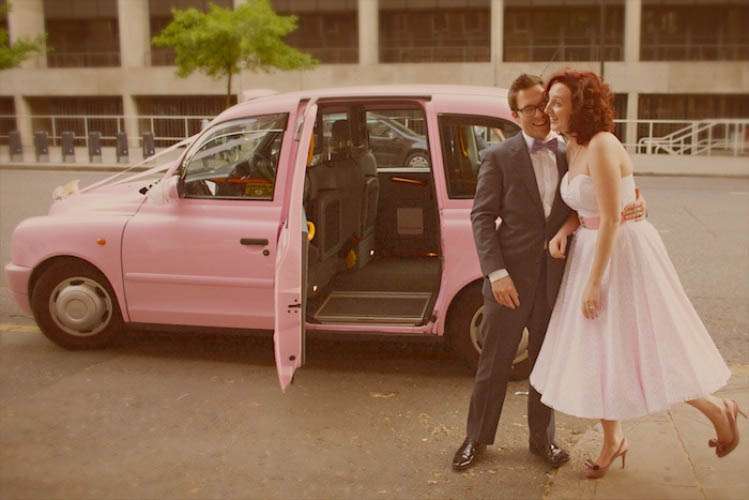 Laura & Rob were married at The Bloomsbury Hotel, London and had their reception in The Kingpin Suite at Bloomsbury Bowling Lanes, London. The wedding was unintentionally a day of two halves, and the bride even wore two dresses for each event.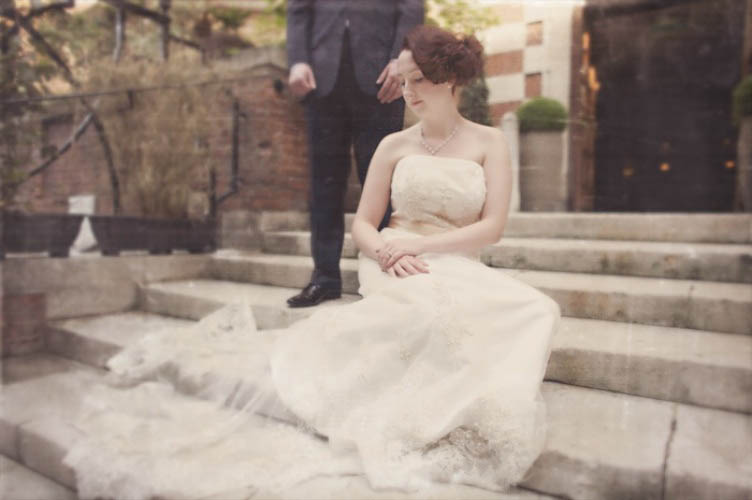 She explains, "As soon as we started planning the wedding, I had already set an agenda – no white, no normal wedding dress. It just so happened that the dress that made me cry like a baby was in Berketex Brides and was ivory! Even though I didn't want to wear a 'normal' dress, I still bought wedding magazines and hoped that I would find something super in there. Out of about 15 magazines, I had dogeared the page of only one dress, but forgot about it. After trying on about 6 dresses, the lady said what about this one – I put it on and couldn't stop crying – it was the one from the magazine."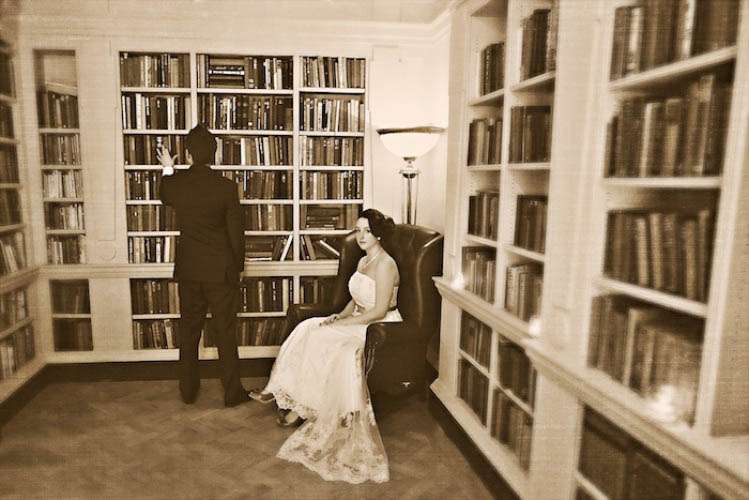 "I still think it was a different dress; it's got a vintage feel and I loved the lacy train as I had never seen it on any other dresses that didn't cost a fortune. But with the reception in a bowling alley I was worried that it was really impractical. So I trotted off to Vivien of Holloway, found a fabulous white lace 50's style number and bought a pink poof to go underneath."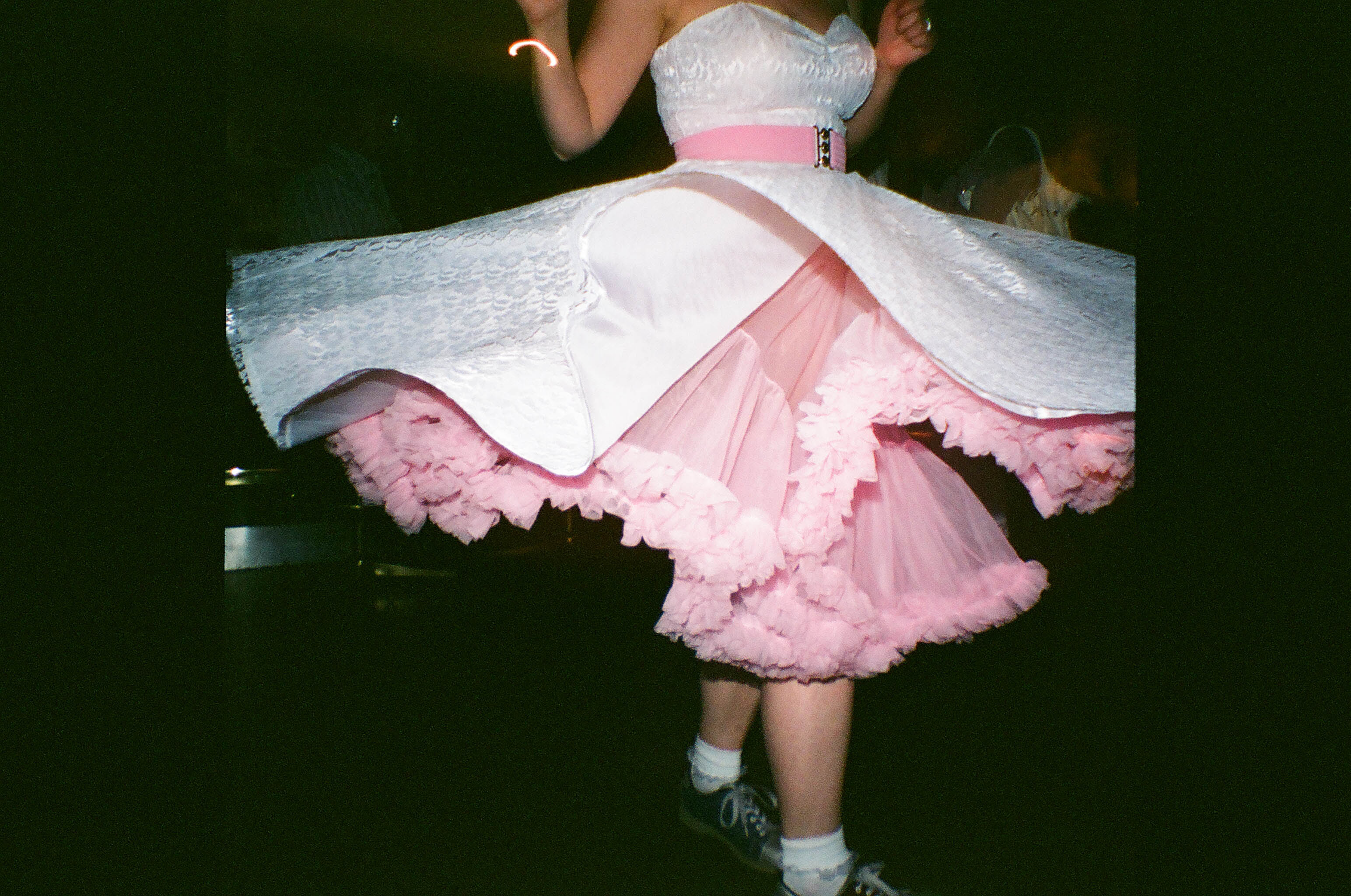 After their ceremony the couple were transported to Bloomsbury Bowling Lanes in a pink taxi. "Rob had bought the girls tickets to a show (which was awful) the day before the wedding, but it did mean that when we left the hotel to go to Soho we found our ideal wedding transport right outside the door; a pink cab!" Laura continued. "There are only 2 in the world and it was it was a complete surprise. Gee (the taxi driver) didn't normally work on Sundays but she was an absolute star and came and ferried us and all of our guests to the Kingpin Suite."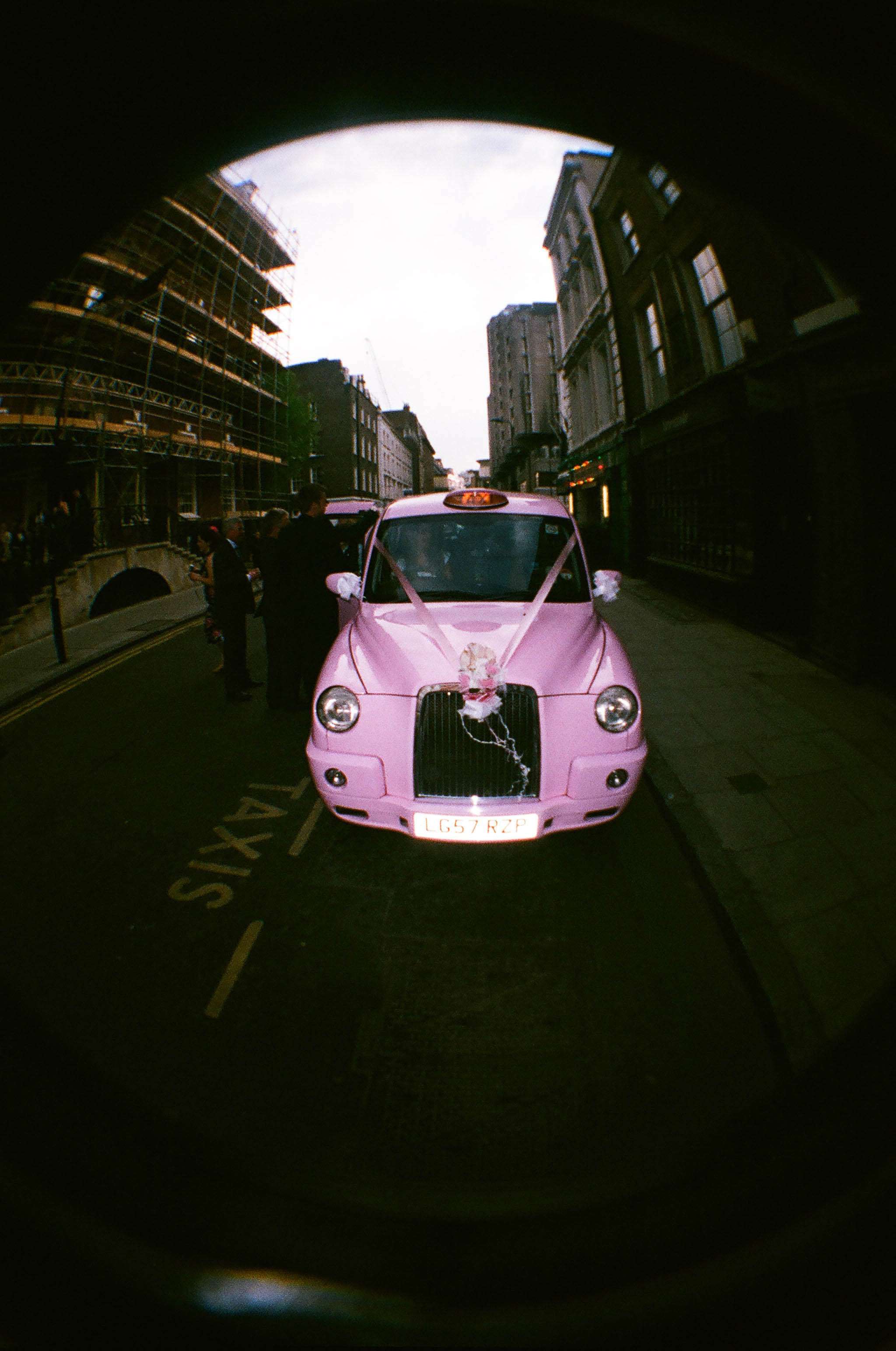 The guests were treated to a laid back reception complete with bowling, dancing and transfer tattoos. "Rob and I always said that we didn't want a conventional reception, we wanted people to be able to do what they wanted and not feel like their only options were sitting down or dancing. The Kingpin Suite at Bloomsbury Bowling Lanes was the only reception venue we saw, we knew we loved it straight away. We didn't need to add any decor, so we made sure we had personal touches around the space. Our favourites were the 'Pimp Your Drink' stand, where people could add umbrellas, mermaids, giraffes and spangly straws to their drinks, and our Tattoo Parlour, a book of tattoo transfers so people could get inked for the night with The Cattoo (that's right – a cat tattoo), The Hello Sailor and others. And Rob was inspired to get the Hello Sailor (anchor) tattoo as a permanent reminder of the day 2 days after the wedding."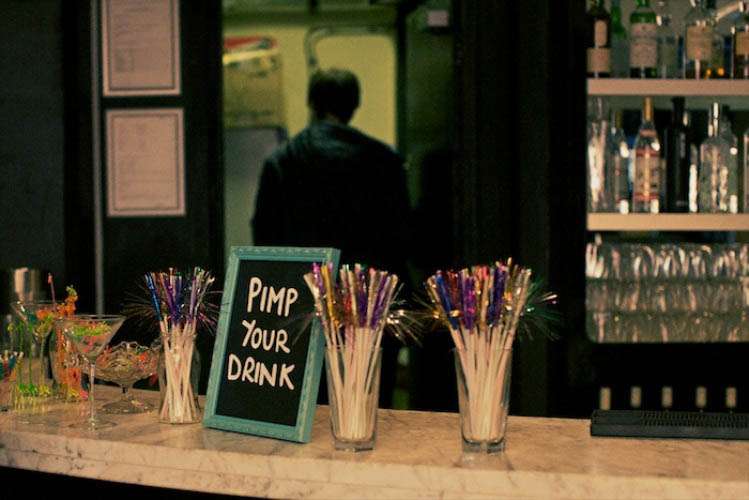 "For our favours we decided to give our guests little jars of sweets, and rather than buying them we decided to make them ourselves. A successful trip to Ikea (not Rob's idea!) meant we bought the jars at 6 for £2, meaning our favours turned out to be a total bargain. To give the jars our own special twist we decorated the lids with Japanese scrap booking tape. Our place cards doubled as part of the favour too; we chose some of our favourite books, Twilight, Microserfs and P.S. I love you, and cut out passages to make into name tags."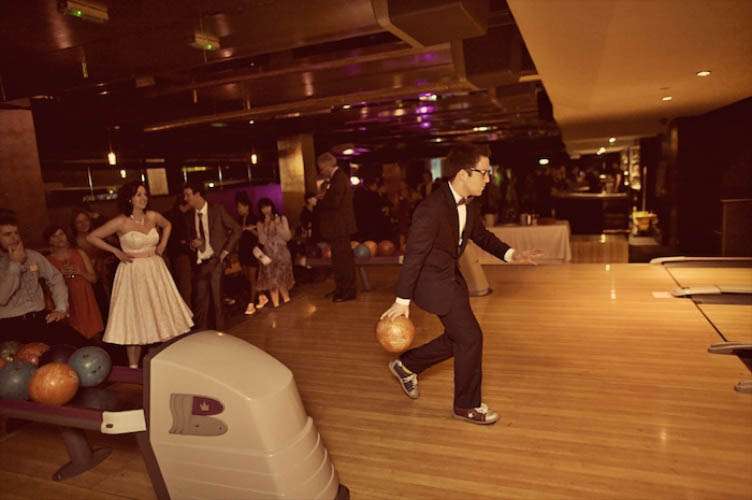 "The amazing thing about the reception is that we are still finding out what people got up to – tales of man-love duets in the karaoke room, serious table football tournaments and harassing the servers for slices of the 26″ pizzas! Everyone had their own experience of the night and that makes us happy."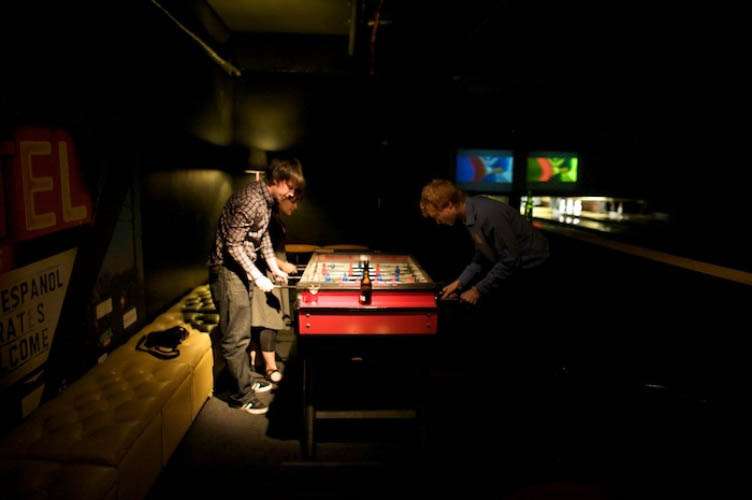 Thanks to Laura & Rob and their photographer Tami for sharing these today.
Photography Credit: Tami Curtis
Ceremony Venue: The Bloomsbury Hotel, London
Reception Venue: The Kingpin Suite at Bloomsbury Bowling Lanes, London
Film Camera Photography: DIY, Lauren Willis (bridesmaid) and Lee David Gentry
Bride's Dresses: Berketex Brides & Vivien of Holloway
Bride's Shoes: LK Bennett & Converse
Bride's Headpiece: Berketex Brides
Groom's Outfit: TM Lewin
Bridesmaid's Dresses: Kaliko
Band: The Doggone
Pink Cab: Gee – 07962 349 087