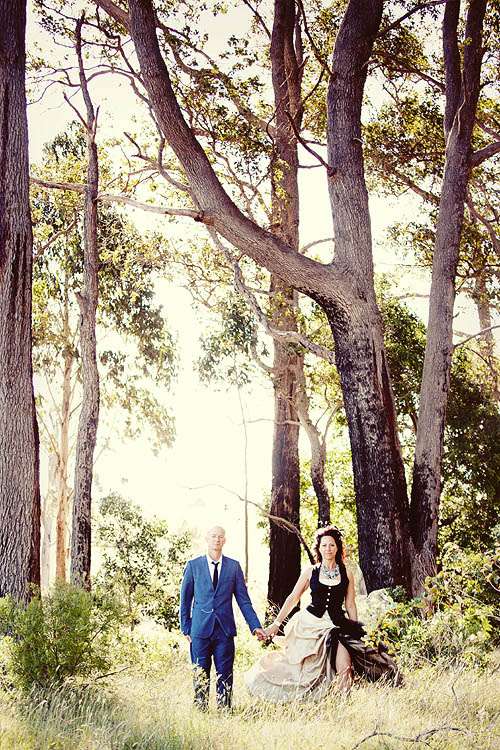 Sarina & Wayne were married on their own estate in Denmark, West Australia, where they farm large crayfish (lobster!) Their gardens made the perfect setting for their ceremony and Moulin Rouge inspired after party.
Sarina wore a dress by Collensione which she rocked up herself by adding a vest by Dada & Co. The bride also designed and made the junior bridesmaid's dress from black satin. She also gave it a black bustle of tulle at the back to really give it a Rock n Roll edge. Her adult bridesmaid wore a dress by Wheels & Doll Baby.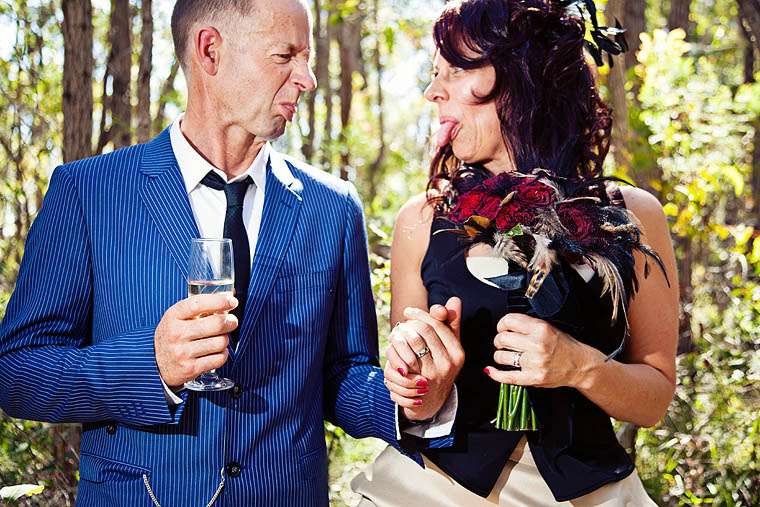 Sarina told me all about their day. "Wayne proposed to me after we'd been together for almost 18 years ("I had to be sure!" he said). I wanted a Spectacular Spectacular – Rock n Roll meets Moulin Rouge wedding. During the 7 months between Wayne's proposal and the wedding, we landscaped our garden, renovated and extended our house and created almost everything for the wedding ourselves."
"To create the Rock n Roll / Moulin Rouge theme we used black and red velvet and red roses throughout," the bride continued. "We created a stage area on the deck and surrounded it with red velvet curtains which I made. I also made throws and cushions in red and black velvet for the kids to sit on for the ceremony and to put around the lawn area for people to sit on. Instead of spending a fortune on chairs for the ceremony we collected vintage chairs from our friends (it is so cool we all have the same taste) and we saved a heap."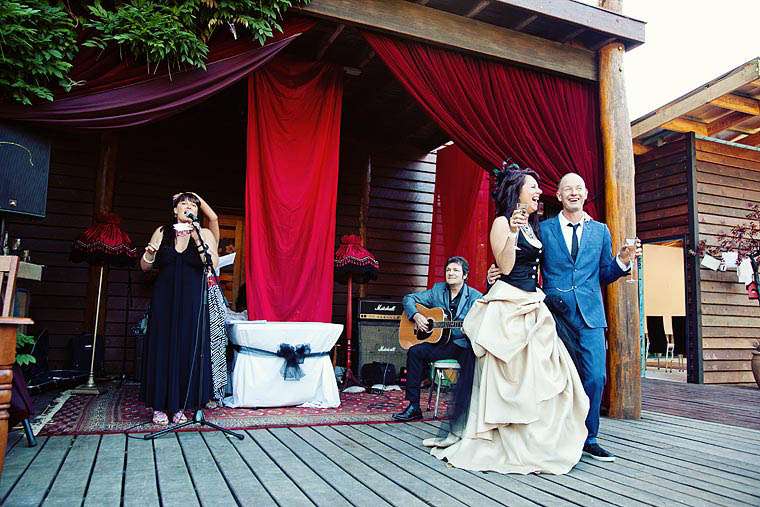 Huge love and thanks to Sarina & Wayne and their photographer Nic for sharing these today.
Photography Credit: Nic Duncan
Venue: Couple's Home
Bride's Dress: Collensione
Bride's Shoes: Solletta, Perth WA
Bride's Headpiece: All About Me, Denmark WA
Groom's Outfit: Raw Collection by G Star from Elroy Clothing in Mt Lawley WA
Bridesmaids Dress: Wheels & Doll Baby
Flowers: Snapdragon Florist, Denmark WA
Band: The Domnicks
Hair: Meghan at Denmark Hair Studio, Denmark WA
Make Up: Tamara Stokes, Denmark WA