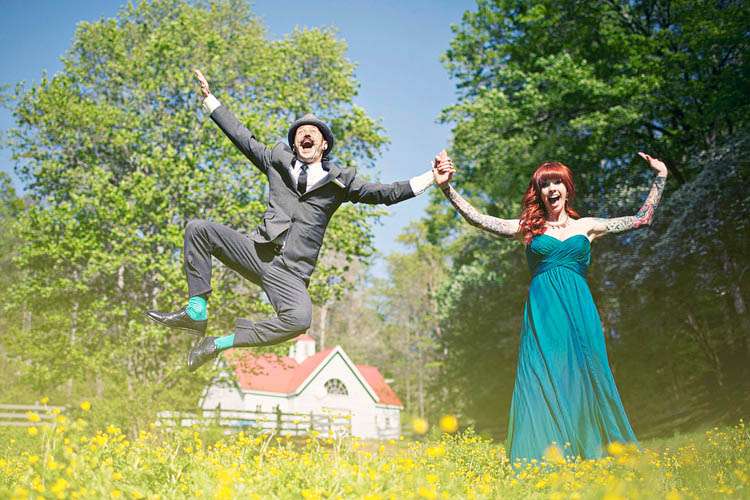 Ut oh…new wedding obsession heading your way. Seriously, Amanda & Tyson's wedding is what dreams are made of and I'm so excited to share the full thing, in all it's colourful glory on these pages.
Some of you might know Tyson. He is the genius behind this site, and a pin up artist (I actually found his site myself when I was searching for tattoo inspiration.) So needless to say, with such a creative groom, this wedding was always going to be bad ass. The wedding was held at Highland Falls in Blairsville, GA.
Amanda's stunning green dress was by Teri Jon and she wore it with Jessica Simpson shoes which she added peacock clips from The Headband Shoppe on Etsy to tie in with the theme. She also used the decorative shoulder strap of the dress as her headpiece which gave her a really unique look.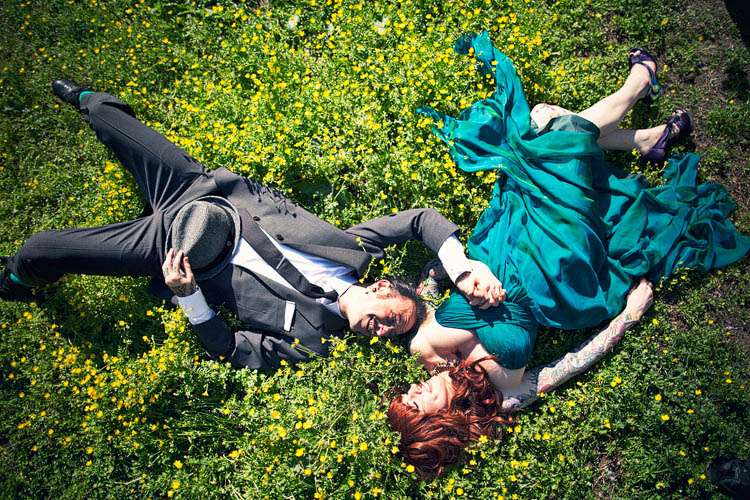 "We wanted a weekend wedding because our families and friends get along smashingly," the couple told me. "Plus, we wanted to have the time to enjoy everyone rather than spend the wedding only saying a quick hello. We love the mountains and we wanted an outdoor wedding so it seemed only fitting to find property that had a series of cabins to hold all our family and friends as well as have an on-site ceremony location and a large enough area to set up a tent for a reception… easy enough right? We found Highland Falls Cabins which is 15 cabins on beautiful property (check), large flat area for a tent (check), horse pasture that leads to two beautiful ponds = ceremony site (check)."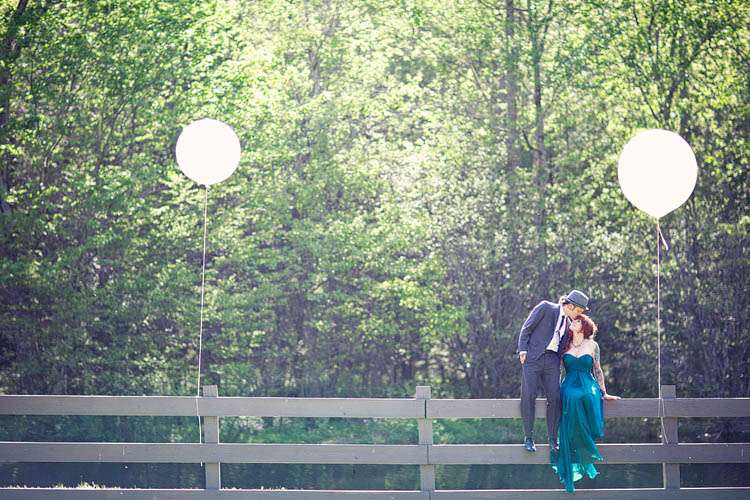 "Thanks to an exceptionally easy going and helpful property manager the site was exactly what we hoped for. Because of not choosing a venue there were some obstacles. We had to spend a bit more renting everything the catering required and running electricity, plus we had to be prepared for bad weather (thankfully there was NONE). By not choosing a wedding venue you definitely take on more stress, but thanks to a team of wonderful family and friends (big shout out to my mother in law Fonda Mcadoo) it was all possible. The ceremony and reception we had envisioned just wouldn't have been achievable in a venue. With 40 acres all to ourselves we knew we could throw the party of a lifetime… and that's exactly what it was."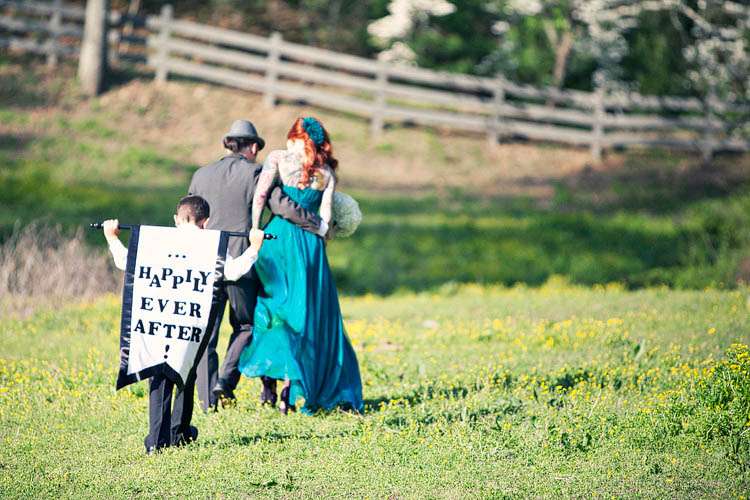 Sounds so perfect! But there was a bit of pre-wedding drama as Amanda explains, "Our wedding story is more like a series of ridiculous bloopers leading up to the day… starting the day before the wedding: the day starts with my nephew accidentally kicking me in the face and busting open my lip. By the evening I had somehow gotten pink eye and it looked as though someone had shoved a golf ball under my eyelid and then covered it with yellow pudding (YUCK!). So though my soon to be husband and I had planned on not spending the night before the wedding together, he stayed by my side, waking every two hours to put more eye drops in my eyes and to change the ice packs on my face… just a gentle reminder of how lucky I was. Thank God the morning of the wedding my eye is back to normal thanks to hubby nurse. But still more to come… (after all, these things always come in threes) I am dolled up by an array of magical hands… my dress is on, the makeup is perfect, the hair is flawless… then the stairs.. many, many, many stairs. I get caught on my dress, I fall and I crash down a flight of stairs. There is now blood & champagne  on my dress while I hold back tears and simply freeze up. Before I even realize it I am swept into a chair, my wounds nursed, my dress (yet another reason I'm glad it's not white) is de-stained by some club soda and besides the band aids and lumpy shins under my dress you would never know I had ate it…. the wedding is perfection, the reception a non stop party and my series of unfortunate events seen as sign of good fortune to come."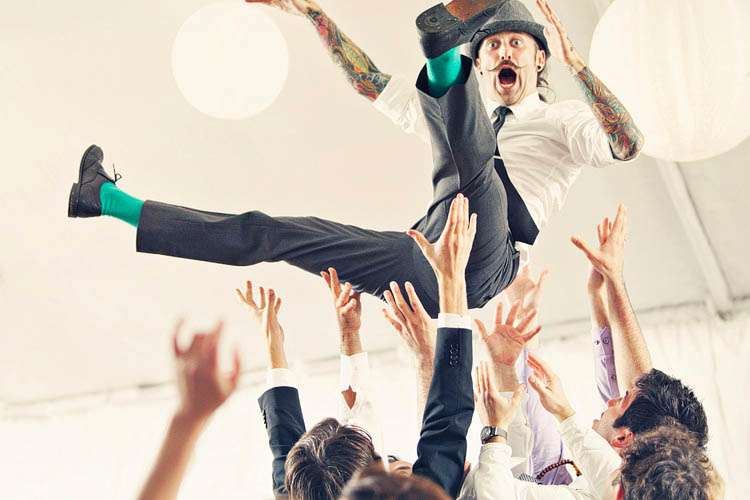 Any final pieces of advice? I asked the couple. "If your having a weekend wedding get people involved," they told me. "Your friends and family want to be apart of the event and giving them ownership of something that contributes to your special day will make them feel awesome. For example: designating the photo booth backdrop to a friend. We bought the materials, showed her an example of what we wanted and she made it awesome.  Also don't follow any 'wedding rules' because you feel your supposed to… follow the outback slogan 'No Rules, Just Right' and you'll end up with wedding that feels like perfection."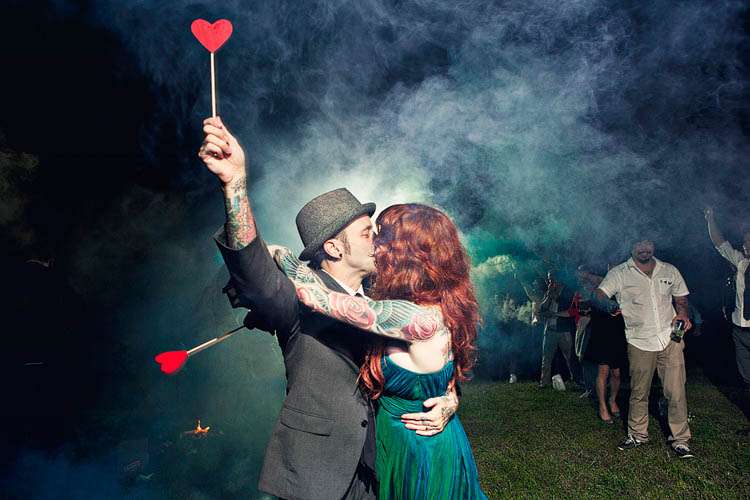 Edit: Check out the bad ass video!
Amanda + Tyson Wedding from Mai+Bri on Vimeo.
Love this! Huge thanks to Amanda & Tyson and of course one of my biggest photographer crushes, Matt Miller for Our Labor of Love, for sharing this wedding with us today.
Photography Credit: Matt Miller for Our Labor of Love
Venue: Highland Falls, Blairsville, GA
Bride's Dress: Teri Jon
Bride's Shoes: Jessica Simpson & The Headband Shoppe on Etsy
Bride's Jewellery: Fallon
Groom's Suit: Theory
Groom's Hat: Brixton
Rings: Alex & Chloe
Peacock Boutonnieres: Sweetgrassmill on Etsy
Catering: The Iberian Pig
Cake & Cake Lollipops: Custom Design Cakes, Dacula Ga
Cake Topper: Jonathan Adler 'Mr. & Mrs'
Flowers: Floristique
DJ: DJ Jesse Vogel
Hair: Heather McClure & Jessica Dorman of Dada Salon
Make Up: Sam Kim
Videography Credit: MaiBri