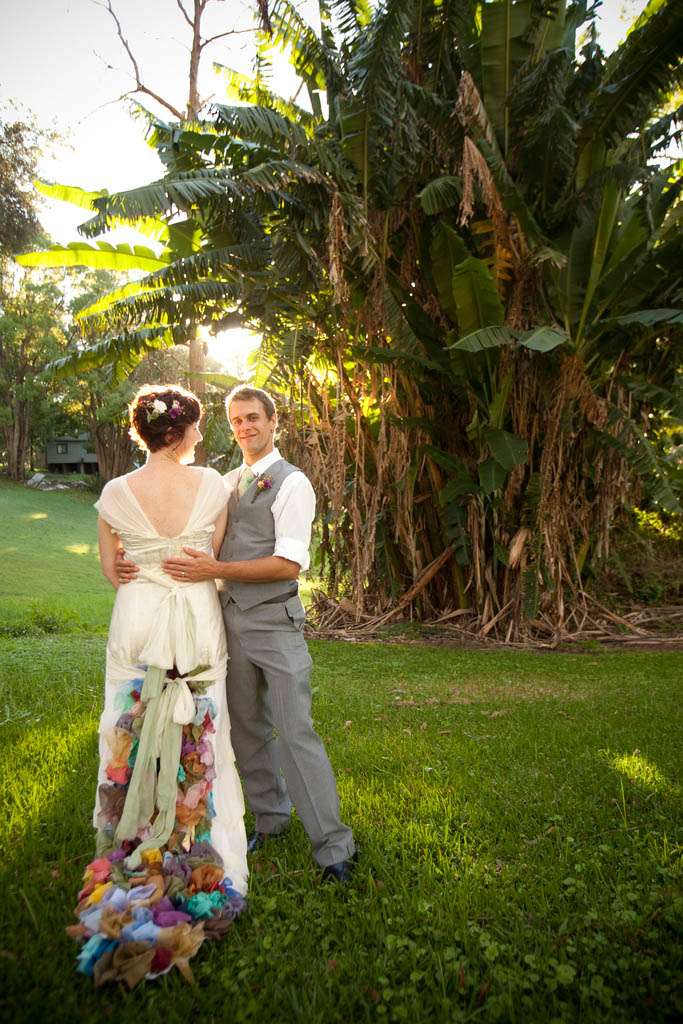 Carly & John's wedding had a laid back and simple vibe. It was important to them to keep their day genuine, and all their planning and thematic ideas really came about organically. The ceremony took place in Edogawa Japanese Gardens, East Gosford, Australia.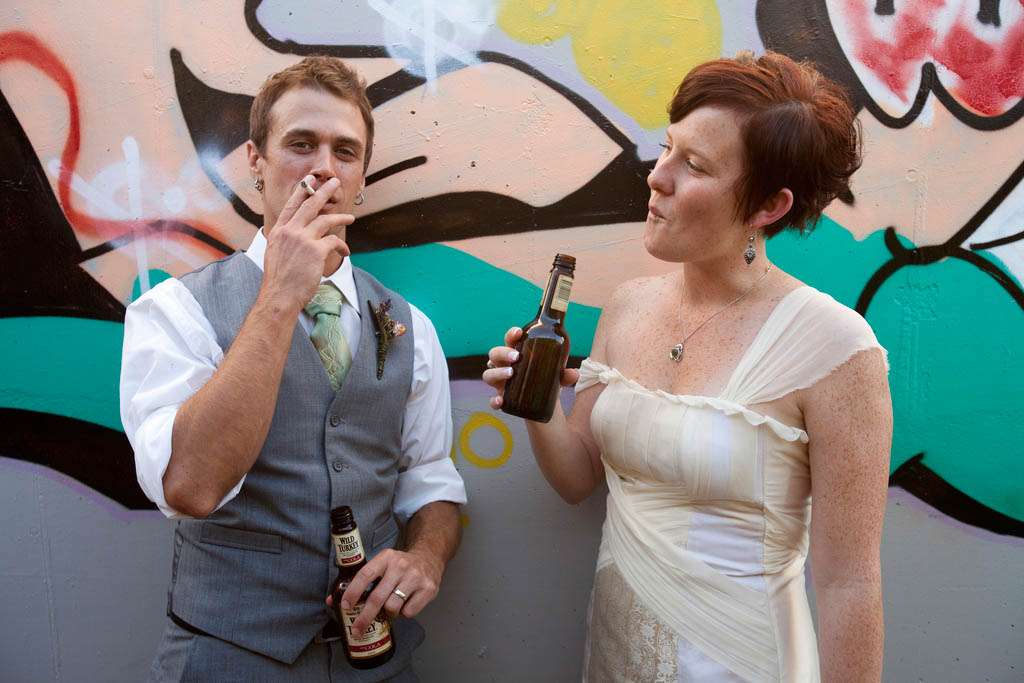 "We didn't really have a theme, everything kinda just happened organically with us making decisions about venues, outfits and decorations as they came up," Carly explained. "In the end it was a blend of colour, asian themes with a Rock n Roll twist. The wedding fully represented us as a couple. The ceremony was completely hand crafted for us by our celebrant Sarah Tolmie (love and life inspirations). Instead of the traditional ceremony Sarah started the ceremony with acknowledging aboriginals as the the traditional custodians of the land where we were married, followed by her sharing our story of how we met and how our love grew. She then read out why both of us love the other to our guests, and then instead of vows we used askings that would be the foundations of marriage and how we would strive to behave through out it."
"Our reception was at Lizottes Restaurant, which is a local dinner/music venue," the bride continued. "It was perfect for us, relaxed but still quite quirky and funky. I didn't need to decorate the place too much as it already had awesome artworks on the walls.  We just added handmade table runners from this really cool asian styled material. No white table cloths for us! We used Lucky beer bottles as the vases and a friend of mine who is a florist created a bunch of native Australian flowers. All the flowers were native australian plants/flowers and even included gum drops. I wanted ther flowers to be natural and bright looking and definately wanted to steer clear of white roses."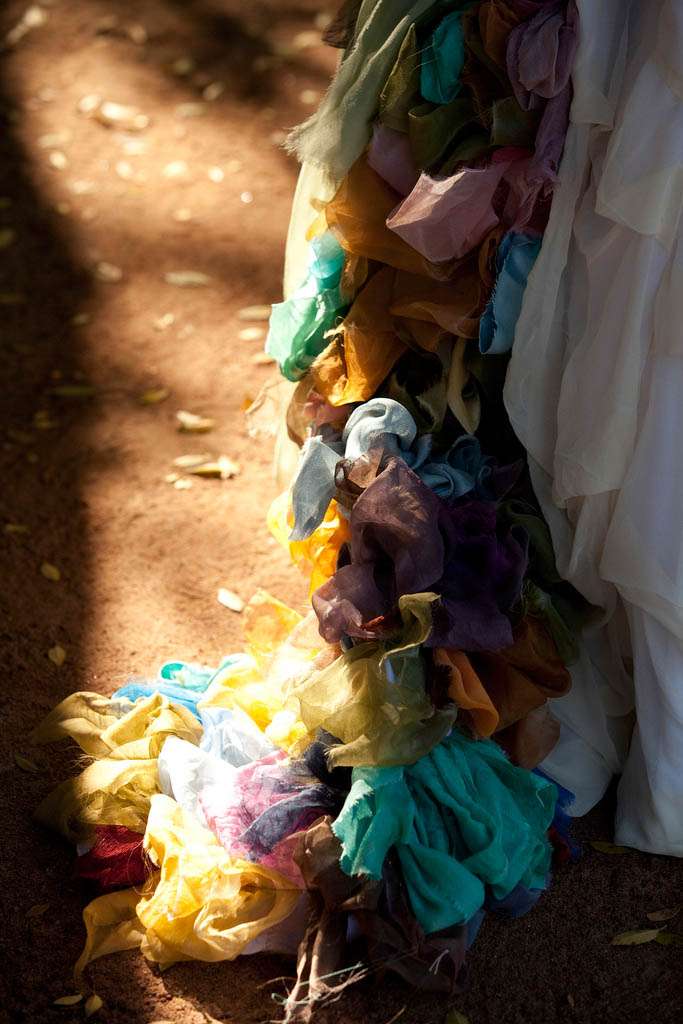 Carly wore a dress by Chrissy Wai-Ching, an offbeat designer from Seattle. Carly was able to help with the design process and Chrissy even made John's tie to match.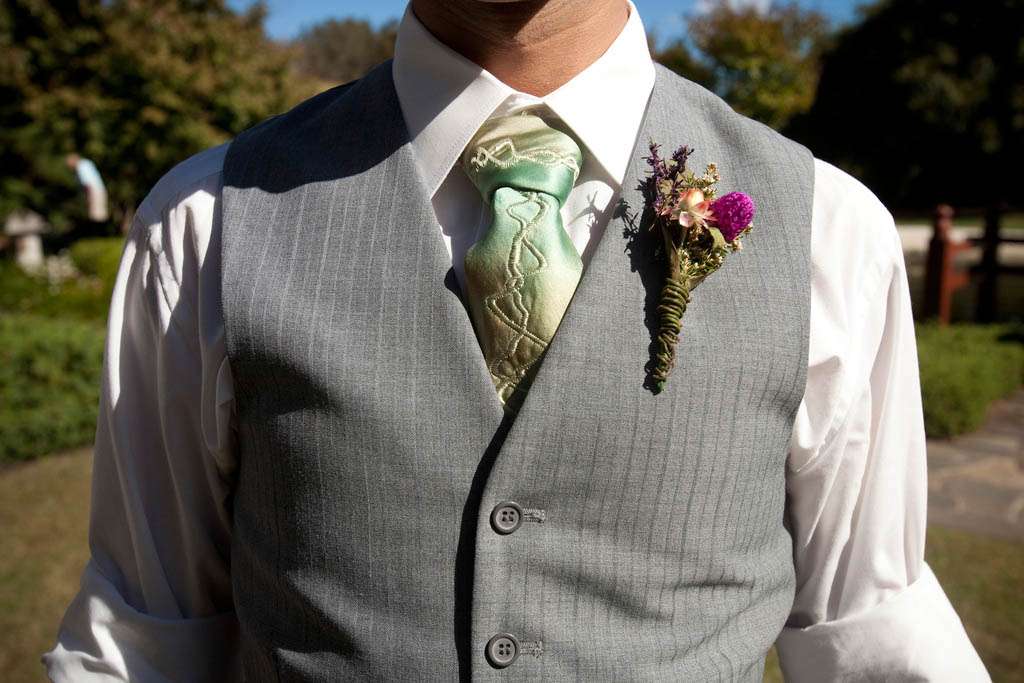 Huge love and thanks to Carly & John for sharing their awesome offbeat wedding with us today
Photography Credit: Linda Wales Photography
Ceremony Venue: Edogawa Japanese Gardens, East Gosford, Australia
Reception Venue: Lizottes Restaurant, Kincumber, Australia
Bride's Dress: Chrissy Wai-Ching
Bride's Earrings: Tree of Life
Bride's Necklace: Vintage
Cake Topper: DIY
Drummers for Ceremony: The Rhythm Hut