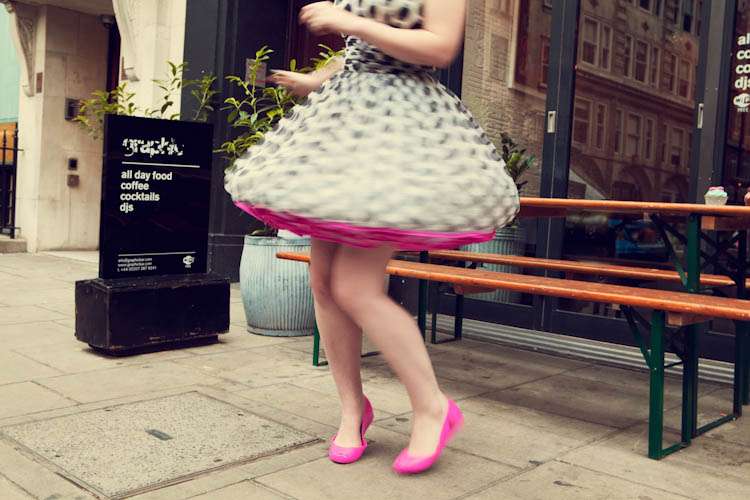 So now I've got a party report to write…Wow. Erm wow. Where do I begin with this baby huh?! SO much happened…and it's going to be hard to sum it all up in a few paragraphs but here goes…
Last Thursday I hosted a party and invited anyone who reads this blog to come along. Over 500 of you applied for tickets and 200 lucky brides & grooms-to-be and wedding industry professionals were asked to come along. The idea being that everybody I know works so hard, whether that be with their businesses or planning their weddings, so I wanted to give everyone an excuse to take a night off, dress up, eat cupcakes and sweeties, drink cocktails and generally get a little bit silly. And we did. Oh we did.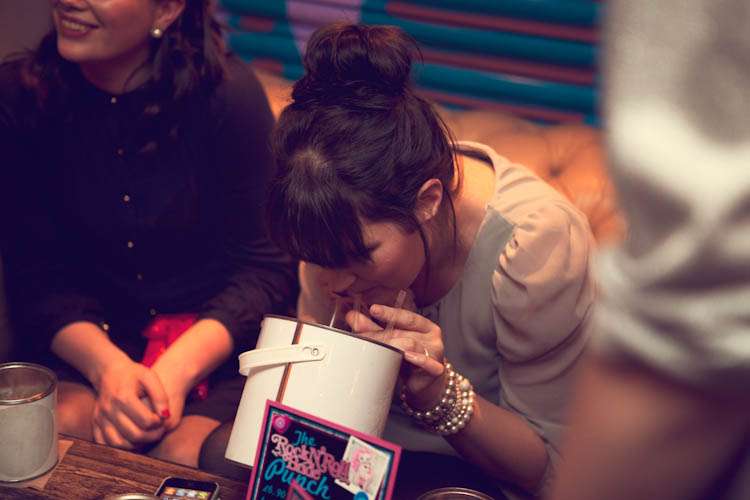 Lucy enjoying a large cocktails (for ahem 6-8 people) early on…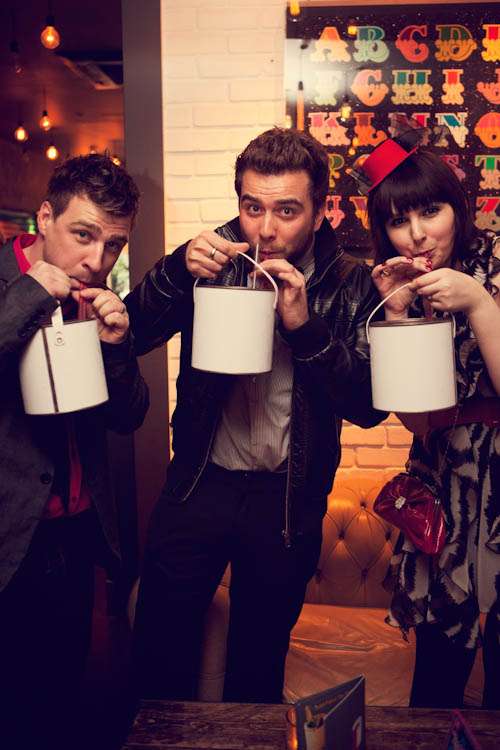 Looks like she wasn't the only one…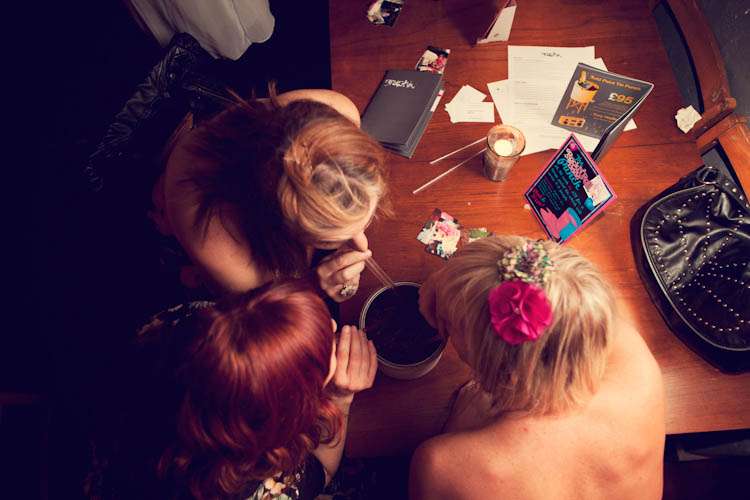 The day started with Gareth & I hopping on the train to London to meet the awesome Elbie Van Eeden (she got married in March – you saw her fabulous wedding on my blog right?) who did our hair and my make up. When we arrived, Elbie said she'd been up all night thinking of ideas for my tresses and did I want the rainbow back? Erm yes pleeease! This time she did a kind of 'dipped' effect, where she just added the extra colours to the bottom half of sections of my hair. We kept the styling relatively simple with a few curls to really show off the colours. I adore it.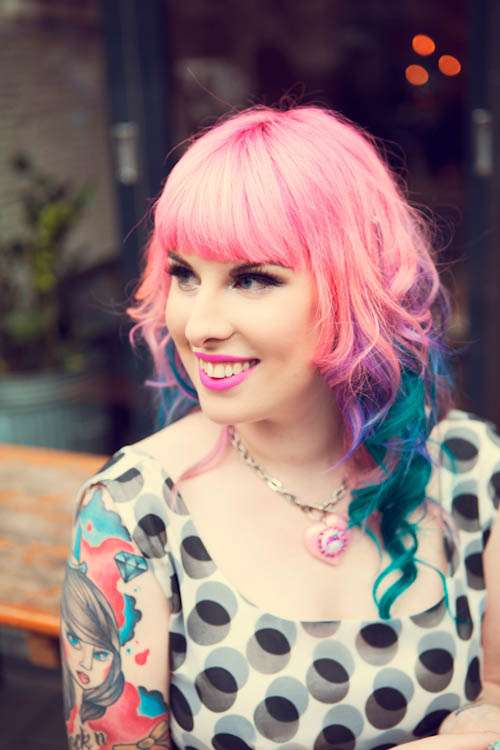 After a few hours of beautification there was a mad rush to dump our stuff in the hotel and I whizzed round to see my girls at Fur Coat No Knickers to get dressed. I am such a lucky girl that they bought in and customised this gorgeous vintage dress for me. It was originally below the knee and had a higher neckline but Emma & Laura suggested a puffball re-styling and adding pink edged petticoat. Hell yes! I wore it with my Vivienne Westwood pink pumps (flat shoes were a necessity!) my Tarina Tarantino 'pink head' necklace, my Butler and Wilson skull ring and some black and white diamond drop earrings lent to me by the incredibly generous Jon Keith Diamonds.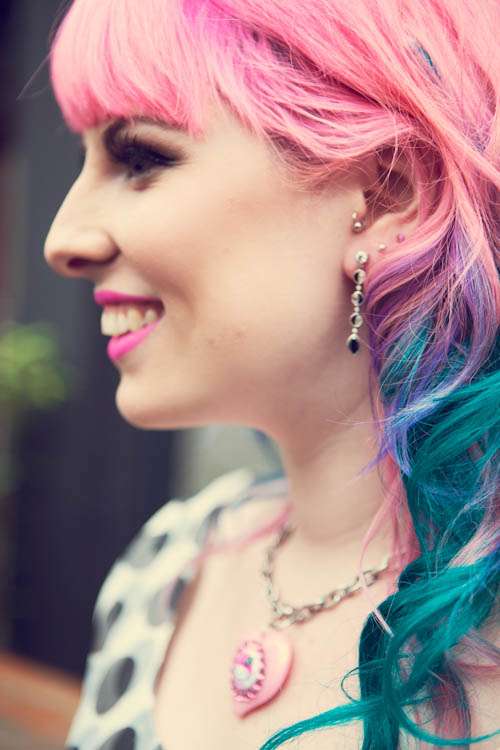 I arrived at the venue at 5.30 and was greeted by Charlotte of Restoration Cake, Hannah of Sweet Dream Events, Sara of Wedding Sparrow, Jayne of Sacco & Sacco Photography and Lisa of Lisa Jane Photography – my dream team for the night! I was blown away by a) how excited everyone was to be involved and b) how much effort and hard work they all put in. Charlotte's cupcakes were divine as ever (how cute are the button cakes – made to match the invitations I sent!?) and Hannah's sweetie display was nothing short of awe-inspiring. She even hand drew the skull labels and the take away bags. Genius.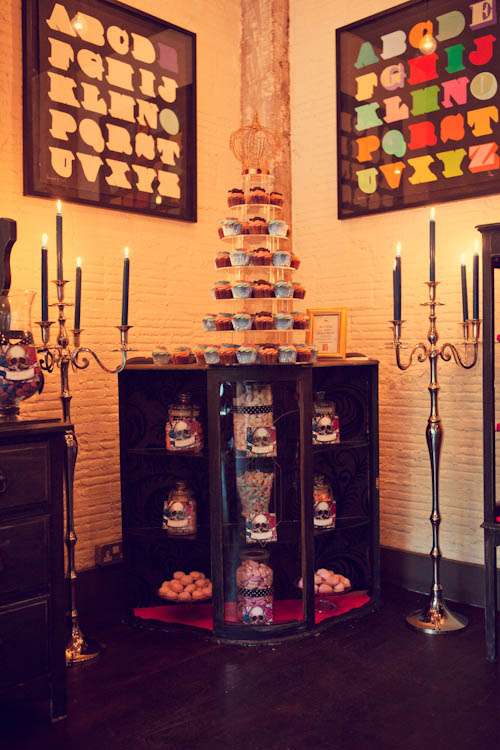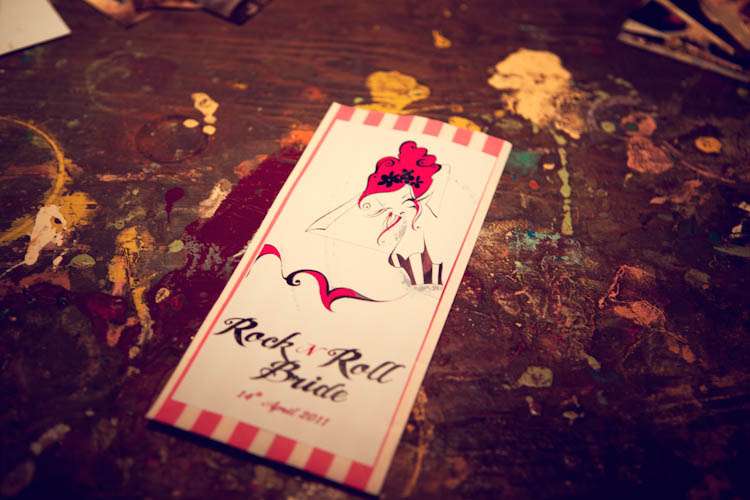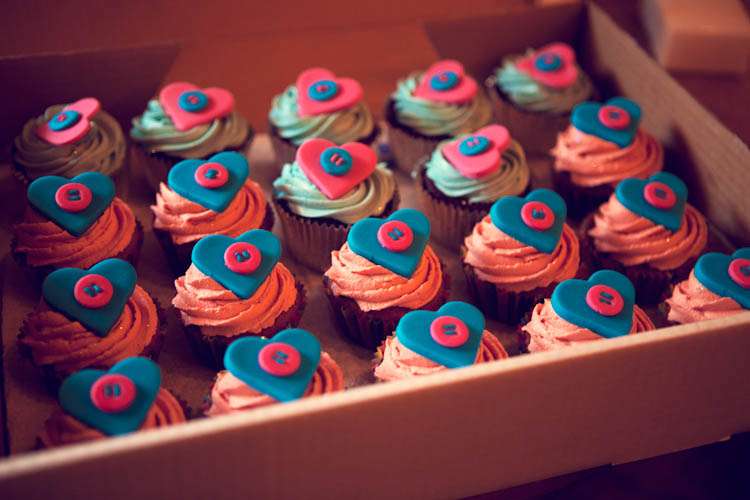 Charlotte made the cute cupcakes to match the button design on the invitations I'd sent out!
Lucy Ledger then arrived with the menus that she's designed for the custom cocktail (and yes they were delicious) and some caption boards for the photo booth. The "I want pink hair" board was particularly popular! (you'll see more of this in the photo booth photos which I'll be posting later today…)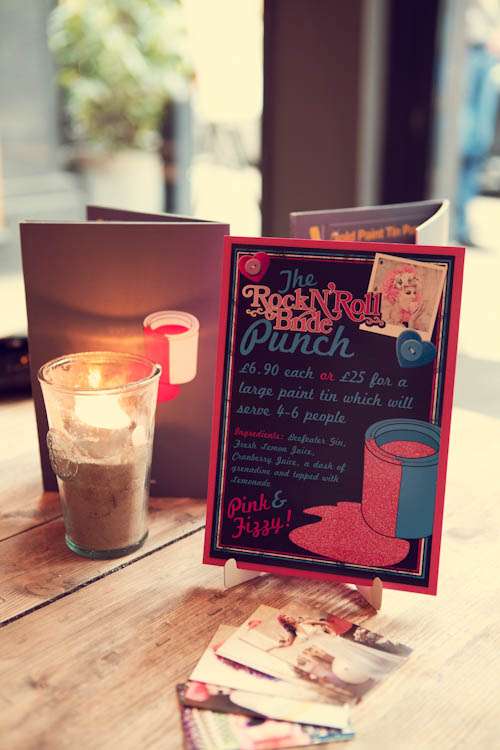 Then it was show time! People started arriving at 6.30 and didn't stop arriving until about 10pm. At one point I looked outside and there was actually a queue to get in! People squealed and hugged as they met for the first time (often after talking for months on twitter!) The vibe was joyful, electric and exciting…I couldn't have hoped for anything more.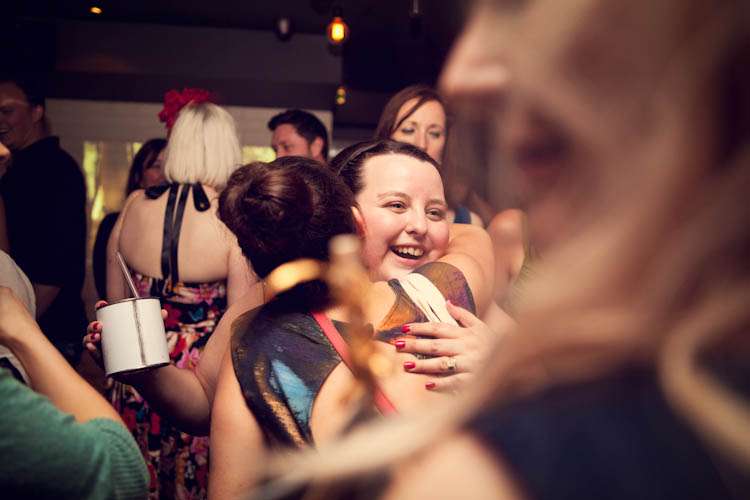 At about 8.30 I took to the mic and did a mini thank you speech. It was too dark to read my notes so I hope I didn't forget to thank anyone. People whooped and cheered and I got a little teary saying an extra special big thank you to my wonderful and supportive husband Gareth.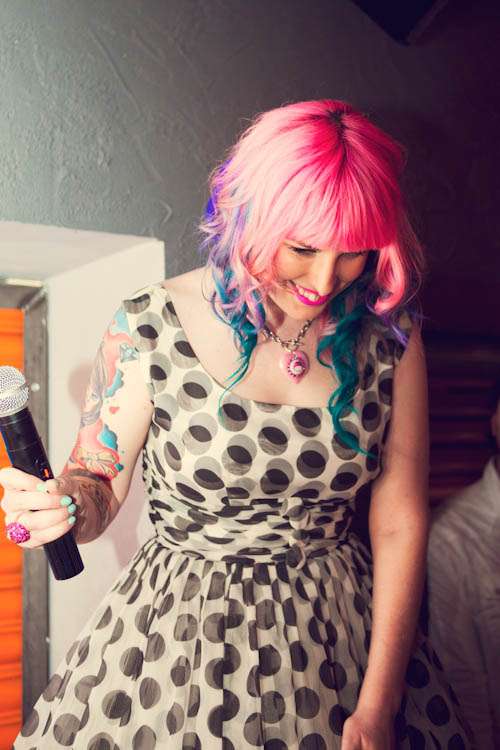 The rest of the night pretty much consisted of me running around, trying to say hello to as many people as possible and hopping in and out of the photo booth to have pictures taken with everyone that wanted one. I was blown away by the turn out and I'm so so thrilled that everyone seemed to have such a fabulous time.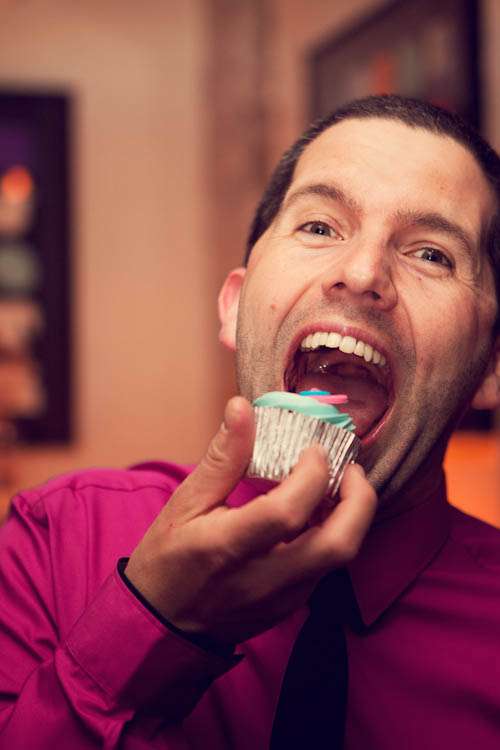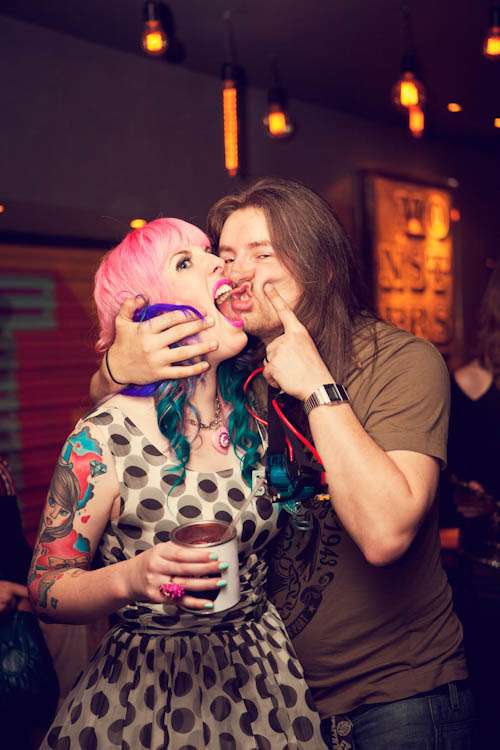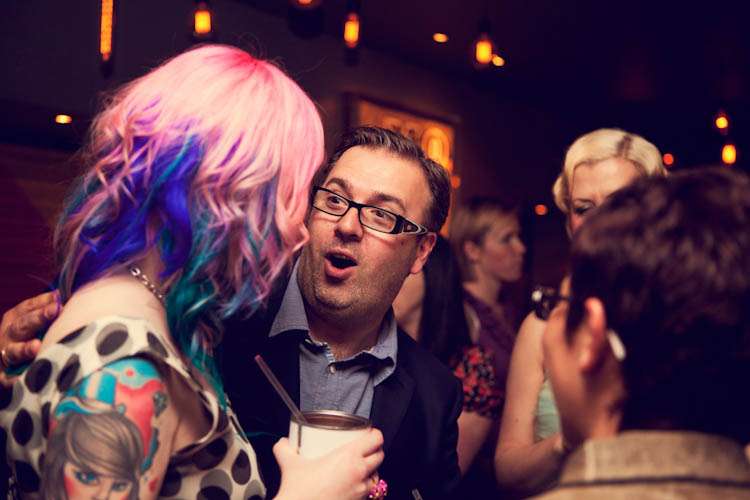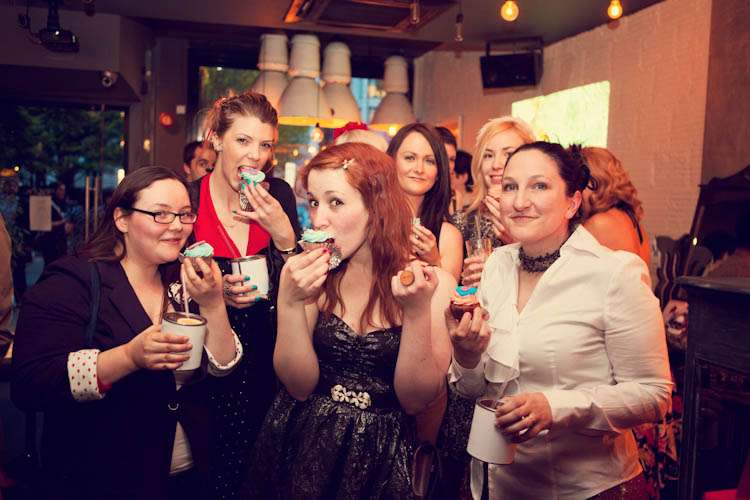 Check out these reports written up by some of the attendees…(if you've done one that's not listed here, let me know add I'll add yours!)
Segerius Bruce Photography
Ruby Weddings
Love Illustrated
Miss KTP
Fifties Wedding
Wedding Sparrow
Ali Lovegrove (with some exclusive quotes from me)
Emily Jayne
Tattybojangles
Mark Osborne Photography
A Postscript Bride
The Creative Factory
Mark Niemierko
Here's to the next one huh!?  But for now, I'll leave you with a huge selection of photos by the awesome Jayne Sacco who worked her butt off all night. She was bloody brilliant.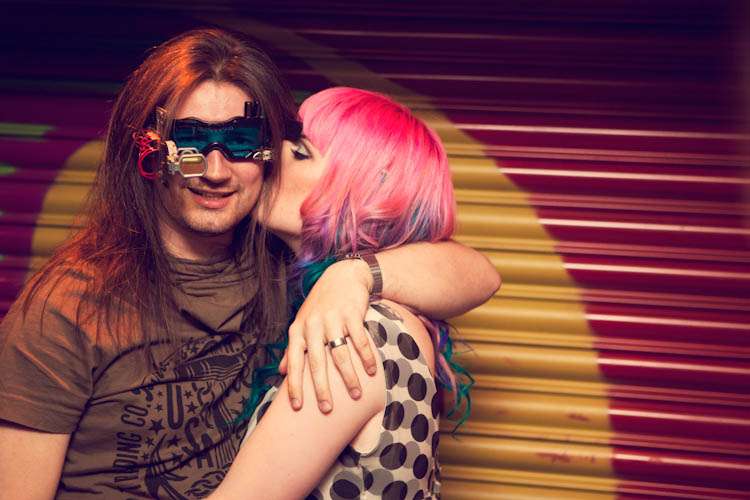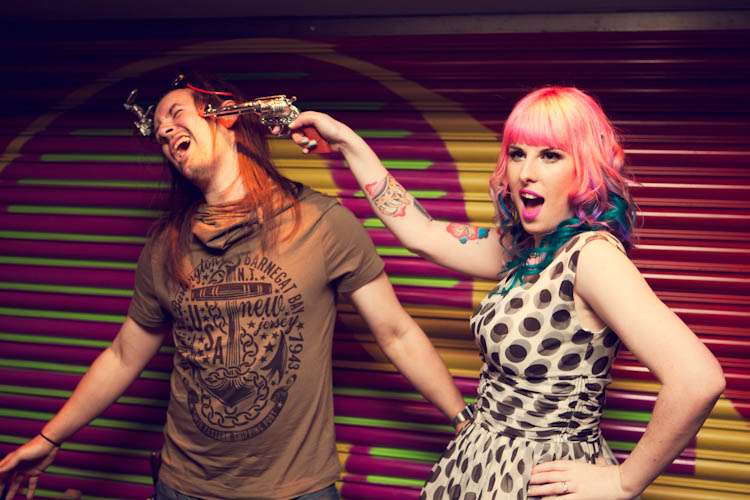 The Rock n Roll Bride & Groom! More photo booth photos to come later today…
There are many more photos (too many to put in just one blog post!) so for more, check out my flickr stream.
Pop back at 3pm today for the photo booth carnage! Best. Idea. Ever.