Three week's ago photographer Annamarie Stepney was in Reading (where I live) so she popped by to say hello…to my cats. Yeah people never come to see me any more, it's all about the internet sensations that are Henry & Rachel! Anyway, as we walked Henry round the back garden on his lead (I kid you not) she was telling me all about the wedding she was shooting the next day….at my wedding venue…well in actual fact, what should have been my wedding venue. You see, as soon as Gareth & I got engaged, I knew I wanted to have our wedding at The Forbury Hotel. It's an amazing venue and I wanted it. Bad. But sad face for us, it was already booked on our day. However I am really excited to see how Laura & Ian's Rock n Roll wedding turned out at the venue that should have been mine!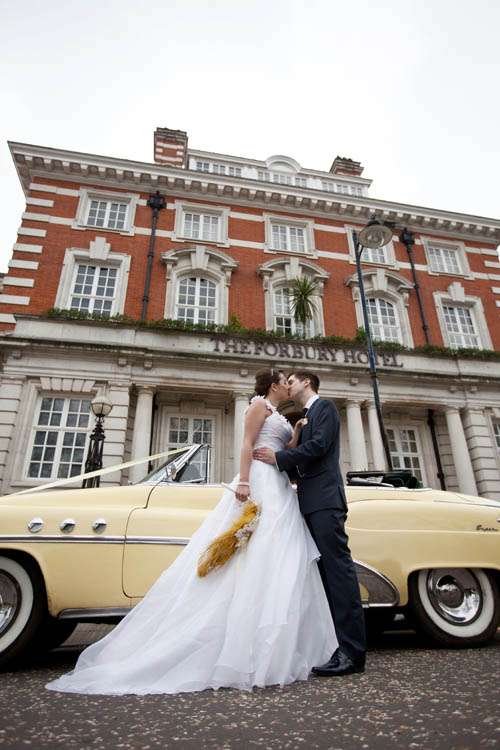 The wedding had a glamorous Hollywood theme. With Laura being a hair & make up artist, she sees a lot of weddings in her work, so she was keen that their wedding was really different. "We had a very short think about a theme and instantly came up with old Hollywood glamour!" Laura told me. "We both love old fashioned styles and music. As a hair and make-up artist I absolutely love this era its beauty and artistic flare."
"It could never have been anything else for us. All our guests spent hundreds on outfits and everyone conformed to our theme! Very well dressed wedding. We thought it was really nice for ladies too, to wear the outfits they always are dying to wear but would usually feel too overdressed or think they might upstage the bride. At our wedding there was no such thing as too overdressed!"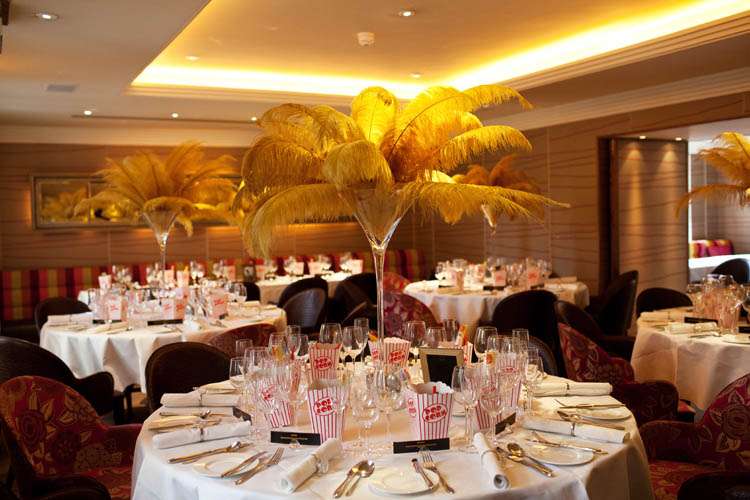 The couple really went all out with their theme, DIYing a lot of the details and hiring a popcorn machine, a photo booth and a 1952 yellow buick convertible ("Which is the car that all our feature stars on the day – Marilyn Monroe, Frank Sinatra and Audrey Hepburn etc used as their chauffeurs" Laura continued.) The couple even made their own invites to look like a cinema ticket stub with an 'admit one' part for the RSVP.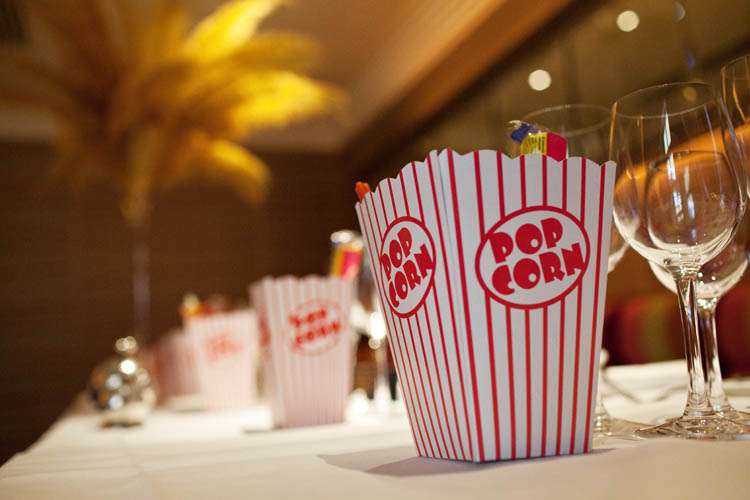 Thanks to Laura & Ian for sharing their day and to photographer Annamarie Stepney for sending over her fabulous images.
Photography Credit: Annamarie Stepney Photography
Ceremony Venue: St John's Evangelist Church, Woodley
Reception Venue: The Forbury Hotel, Reading
Bride's Dress: Alan Hannah, Melita
Bride's Shoes: DIY (friend)
Bride's Tiara: Retro bridal on eBay
Bride's Veil: Bride to Be
Bride's Jewellery: Highland Angel
Groom's Outfit: Limehaus
Bridesmaid Dresses: Courtesan Boutique
Cake: Alexander Taylor
Flowers: Bouquets and Favours
Pianist: Hannah found through Alive Network
DJ: Entyce Entertainment
Hair: Liz Patey 07990647648
Make Up: Liza Hayward 07931474369
Photo Booth: Rentabooth