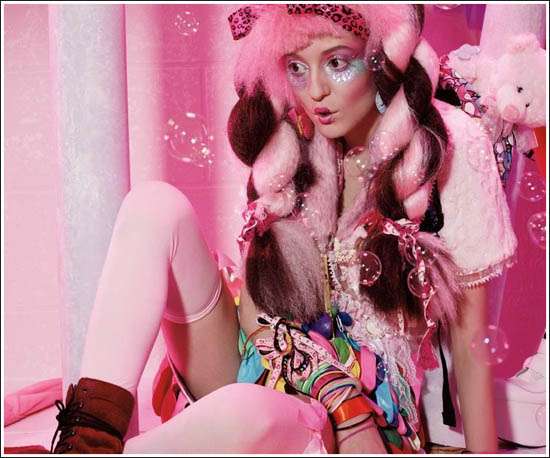 MAC's newest collection, 'Quite Cute' (launches in April) is quite simply perfect for me. Credit cards at the ready girls!
It's been a pretty exciting week for me this week. I was sat on the London Underground yesterday evening with photographer Penny McKinley-Rodgers (who had come to meet me to take some behind the scenes shots of my preparations for my catwalk debut at The Luella's Boudoir Wedding Fair on Monday.) I turned to her and said…"Wow, my life is weird huh? How do I get myself into this situations?"
You see I'd just spent the day having my pink head crimped and coiffed at a hair trial, trying on some pretty darn stunning wedding dresses and meeting lovely people who'd made me lovely things to wear down the catwalk.  I'll be posting the pictures to show you how my day went on Saturday so I hope you'll pop back then to see them.
Talking of The Luella's Boudoir Wedding Fair, I'd also like to thank everyone who entered the contest to win 5 VIP tickets to the Luella's Boudoir Wedding Fair. I'm delighted to announce that the Rock n Roll Bride reader who'll be there to see all the madness unfold is…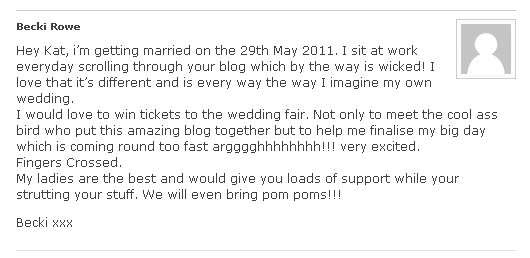 Exciting. Becki, I'm looking forward to meeting you…I'll be on the look out for those pom poms! For those of you that didn't win but would still like to come (I'll be there on Monday 21st from 4-9pm), tickets are still available for just £12 (or £18 for 2) book yours now by emailing info@luellasboudoir.co.uk or calling 020 8879 7744.
Alrighty then, let's get on with these yummy treats shall we?
♥ From Portland to Peonies' beautiful wedding
♥ Coco De Coeur To Raise Money For Japan
♥ Anthropologie Gift Card Design – wow. just wow. Forget the gift, I'd be happy with just the card!
♥ Want To Move To New York City? An International Playgirl Tells You How!
♥ Adorable & Fun Bridal Shower Party Ideas – by my girl Jen at Green Wedding Shoes
♥ Model Muse: Charlotte Free – How gorgeous? New pink hair inspo!
♥ Relaxed Southern Vintage Wedding
♥ Wedding Attire Inspired by Coloured Tights – loving this trend
♥ Chelsea + Rajiv (Photography Credit: Sloan Photographers) – and yes that is a wall of post-its!
♥ Of love & style… – raising the bar of photo shoot styling
♥ Kallisto – Nashville Pin Up Glamour
♥ Doug and William had a couple shoot and proposal shoot rolled all into one
♥ Miami Love Shoot
♥ How to get published in wedding magazines & on wedding blogs – great video by Chanelle Segerius Bruce with some lovely mentions of me!
♥ Cupcakes + Cake Pops = Awesome!
♥ Sweetie towers – yum…sugar craving…
♥ Gary Glitter Inspiration
♥ Terryn + Jon's Bohemian Green Wedding
♥ {wedding} ~ Todd & Alyda ~ Las Vegas – another beaut. from Jonas Peterson